Post by mylittletony on Dec 18, 2014 10:42:56 GMT
As I find myself reading more on here than contributing and inspired by Xbolox's tat thread I thought I should redress the balance.
I only recently returned to old cars having had a few years of commuting dullness, but I filled the void with 2 wheeled goodness (or junk if you're my wife) I thought I'd document/summarise that here…
Vehicle number 1:
I bought my XS650 about 3 years ago, with a view to bobbing it. First job was to MOT it which meant a new rear tyre and removing the leaking, rusty, scraped exhausts. Bought some universal cans off ebay which were crazy loud. MOT man mentioned he struggled to get the front end square but it was a pass, advisory for loud exhausts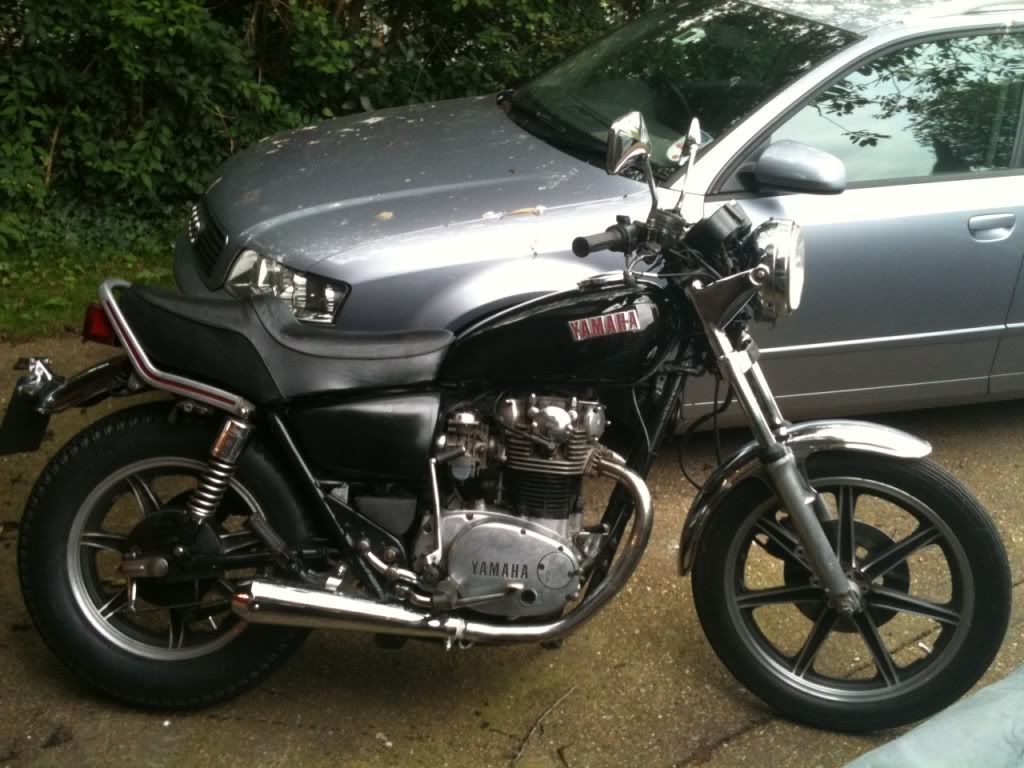 Next to go was the large seat, grab rail and rear light, homemade seat using folded steel from a PC case scavenged from work.
Getting there:
Then lower the suspension. First can of worms opened… Should have spotted it sooner, but this bike had been down the road. The forks were not from an XS650… Cue replacement set of forks, new stanchions, new top yoke, all to find that the bottom yoke was bent/twisted. Bought a replacement, also twisted – ARGH!
This in turn meant that my front caliper no longer fitted, as it was for the old forks… Might as well fit a better one, Brembo from an XT660 enduro bike: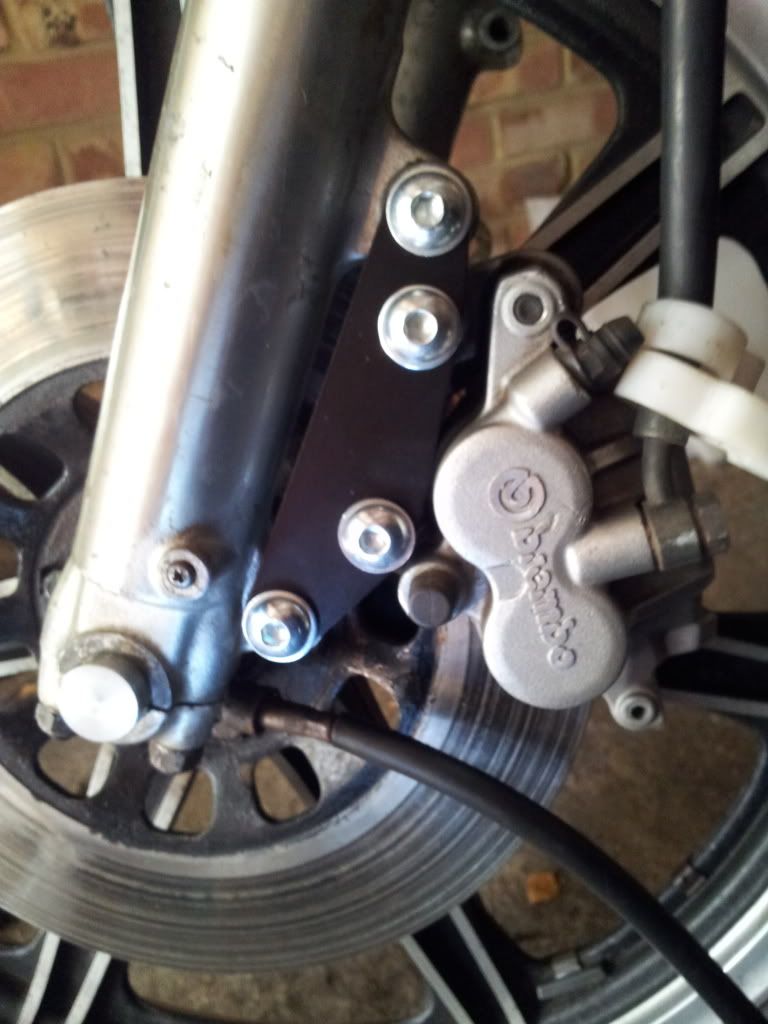 Anyway, eventually got it together with some new rear shocks and 2" shorter front forks. I also was donated some downpipes for a Motad system which were lashed together with some straight drag pipes with baffles in, much quieter but sound awesome!!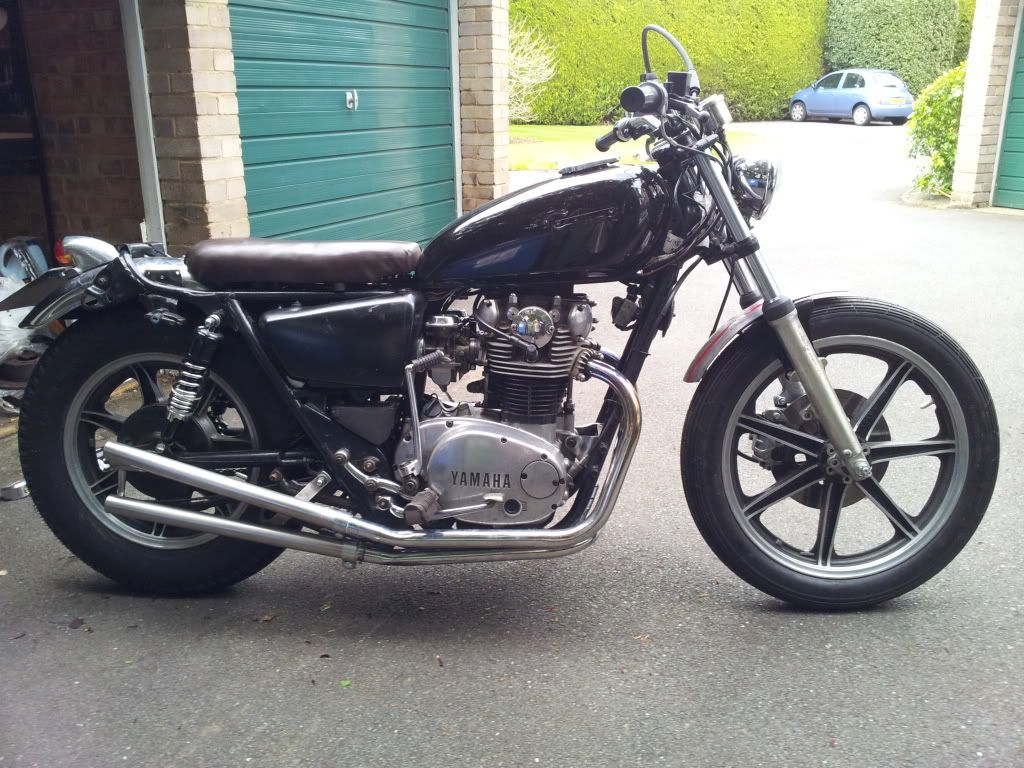 Rode it for about 50 miles and one of the carb diaphragms perished. Carb rebuild and new diaphragms needed.
Rode it for about 100 miles and the alternator packed in!! Second can of worms opened…
I was faced with a decision, either rewind the original rotor and wait for other 30yr old electrical parts giving up the ghost or buy a new permanent magnet alternator, new electronic ignition and have a brand new engine loom. No point in using old wires for new parts so a complete rewire.
I'd also discovered previously that the camchain tensioner had gone (plastic in oil) so an engine rebuild was required at some point, might as well remove the clapped out electric starter at the same time, might as well rebuild the lump at the same time – right? In for a penny, in for a pound! Found someone locally who was a bit of an expert who would strip, inspect and rebuild for £300 + parts. Only caveat being he wouldn't rebuild with worn parts – fair enough…
If I'm getting the engine out and rewiring it, might as well cut all the old tabs off the frame and fit that 59 caddy taillight at the same time…
So… battery box was removed, new mini battery and fuse box installed in a Villiers stationary engine fuel tank under the seat.
Mockup:
Rear frame loop was cut with much help from
HARDCORE
and some thick steel tube inserted to french the caddy tail light.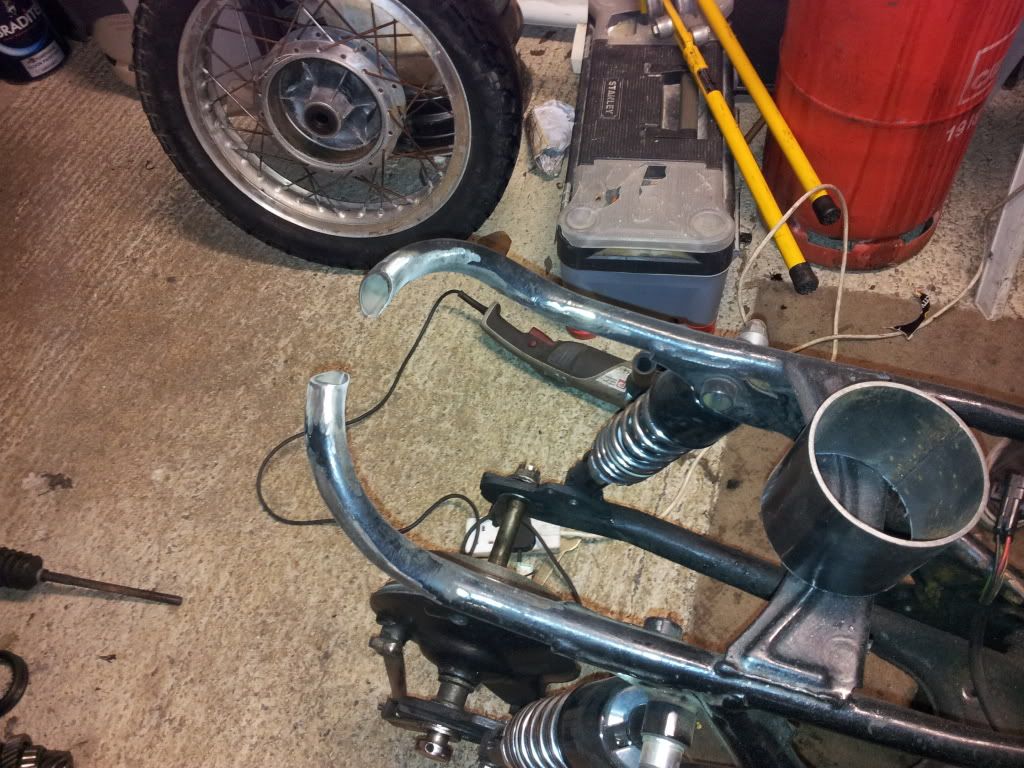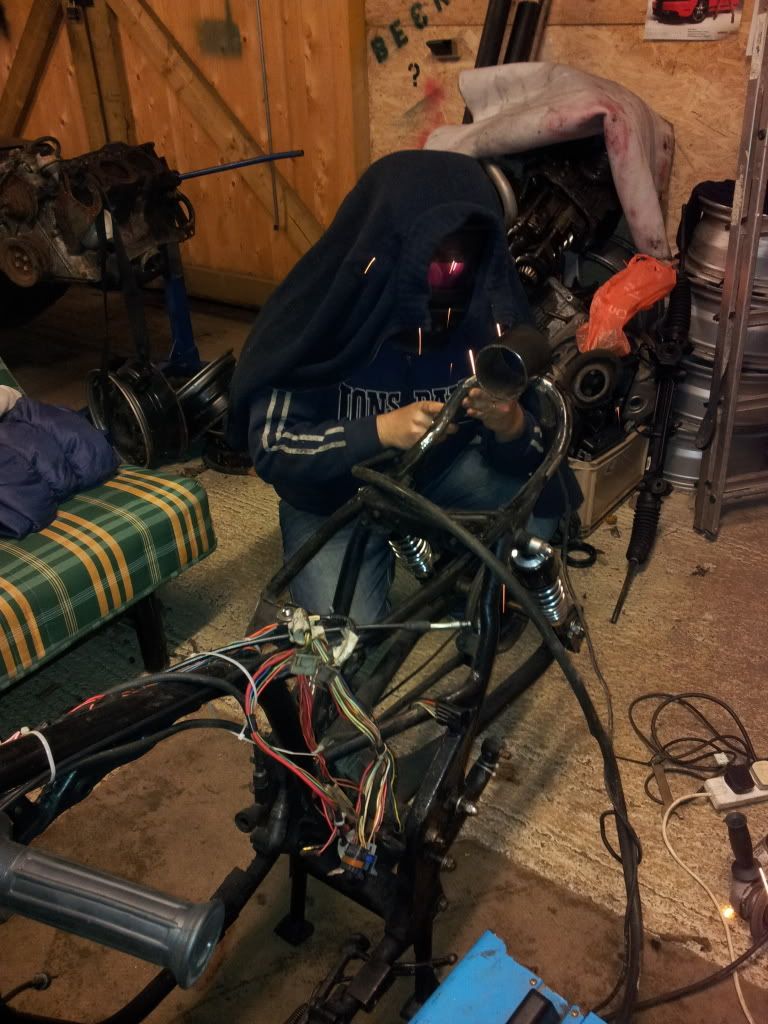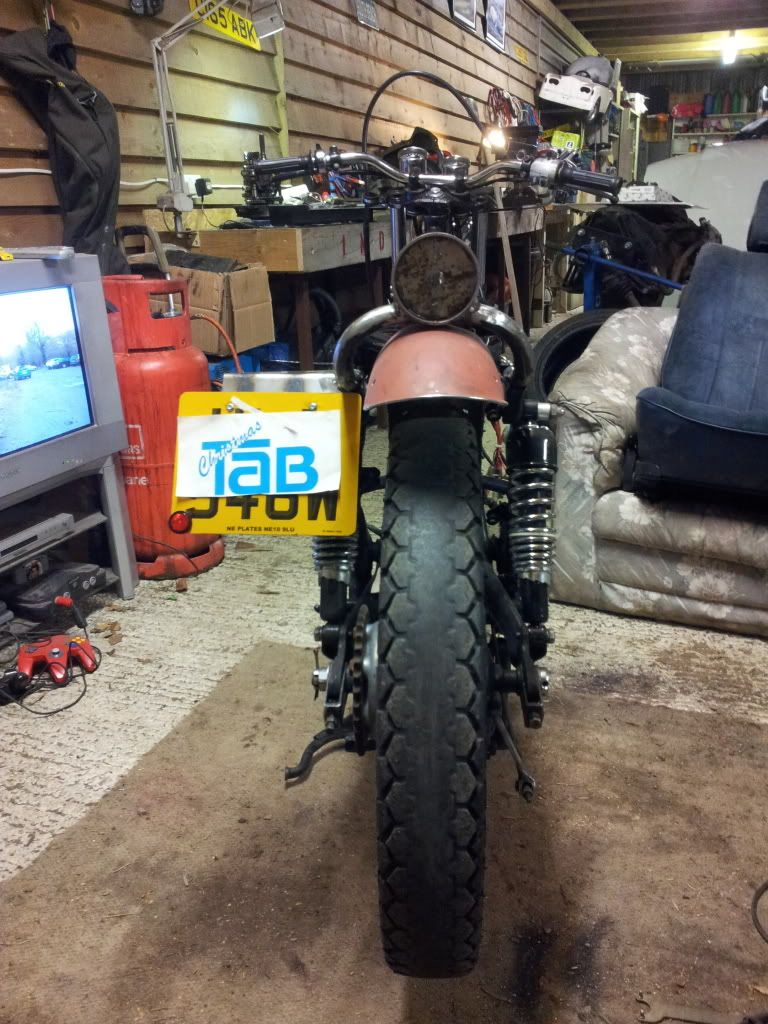 A new seat hump was fabricated from GRP and mesh. Wiring loom constructed form mil spec connectors and new wire.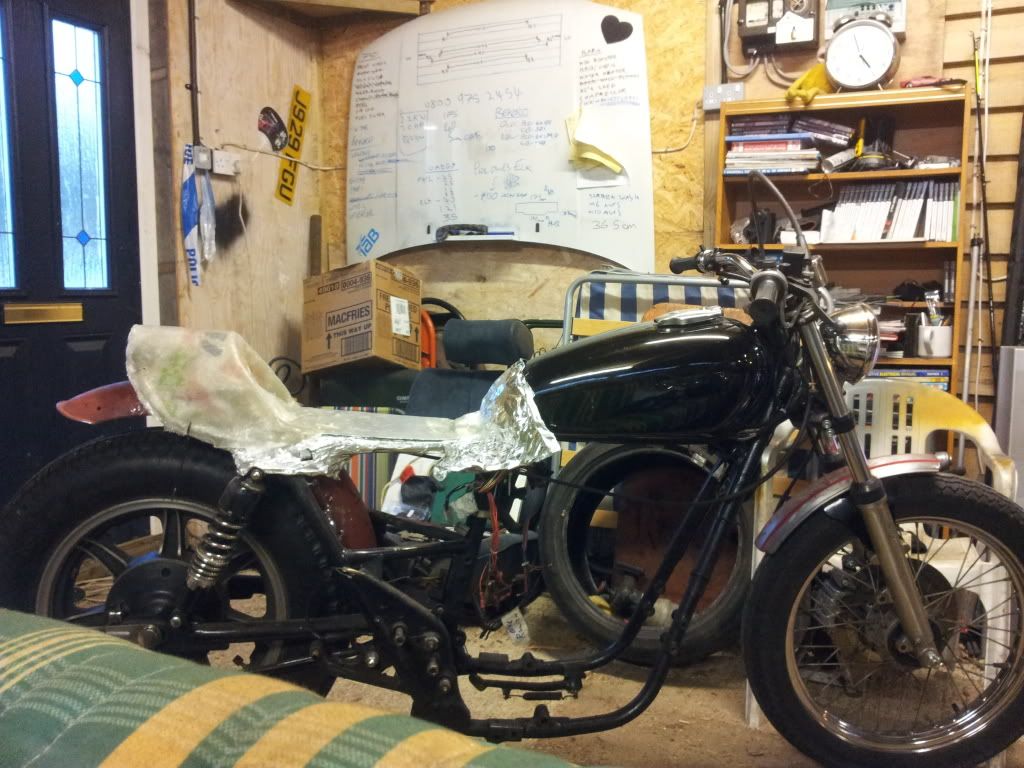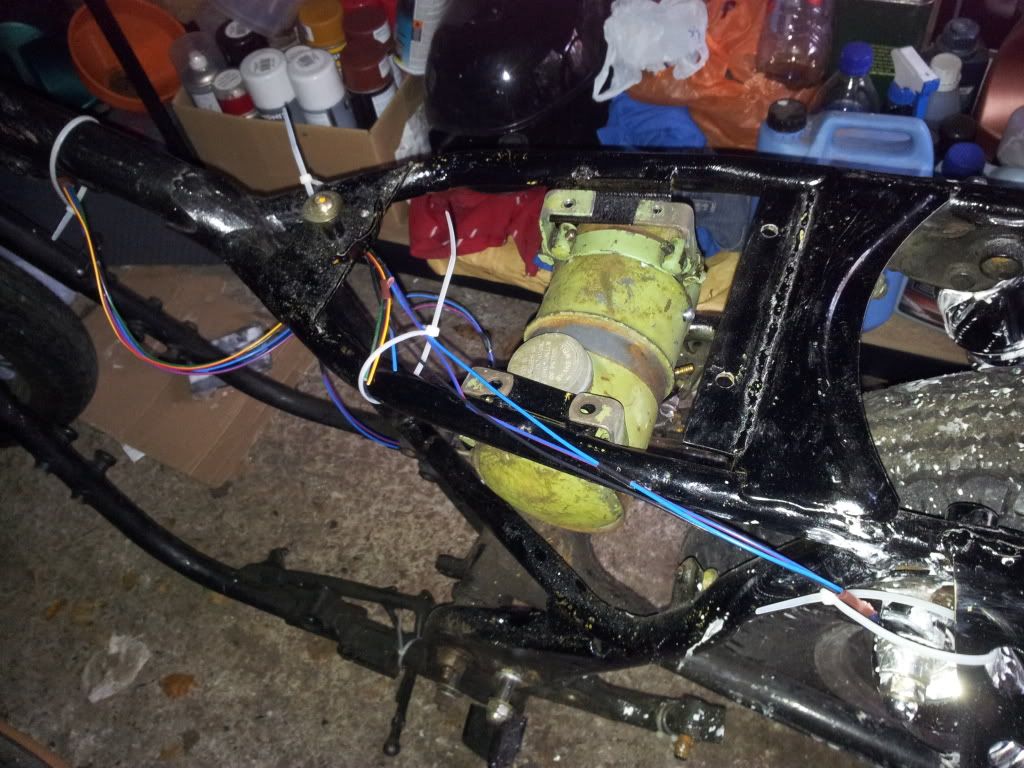 The engine rebuild quickly snowballed: new conrods & pistons, crank re-assembled & balanced, rebore, new valves, springs & collets, new cam chain and guides, spin on oil filter conversion, starter motor blank, ported head, new alternator fitted, new ignition fitted. £1000 of parts – BOOM.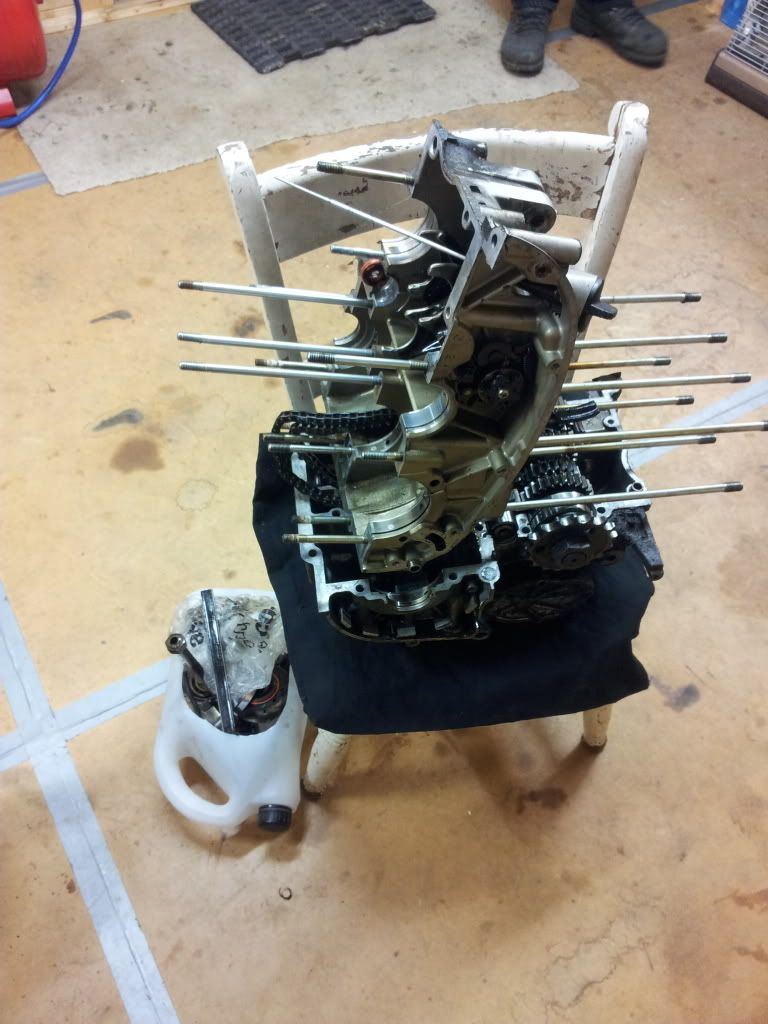 Suffice to say my wife was not pleased…
Re-assembly: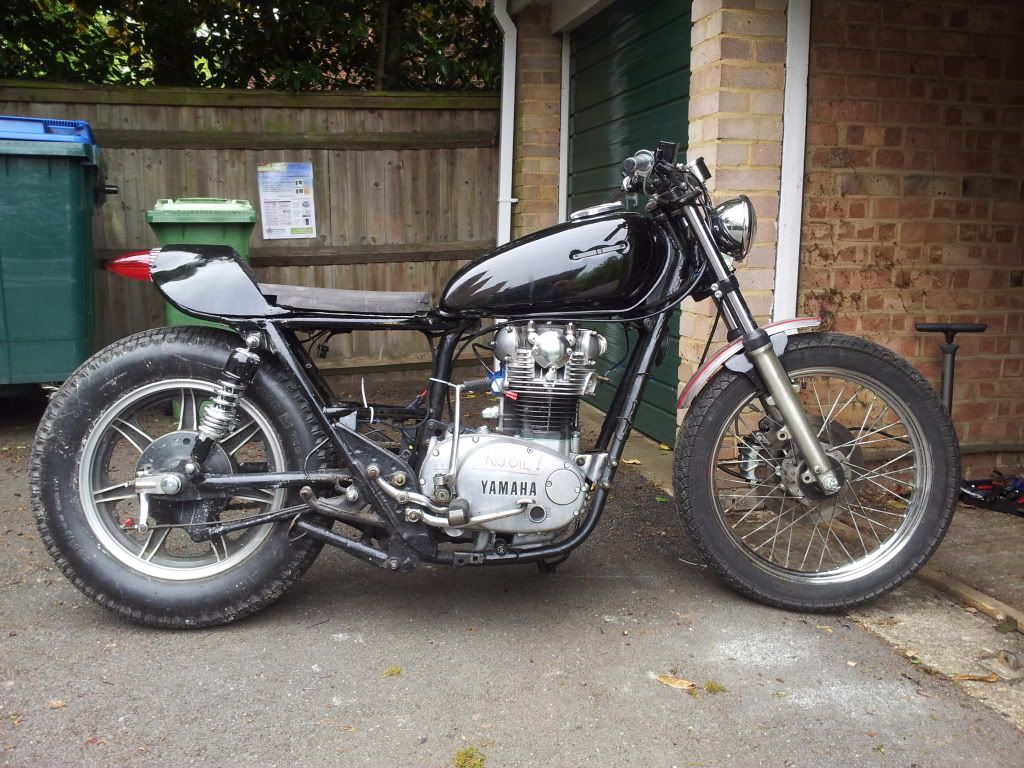 Got it all together, and it looks like this:
Without rear mudguard: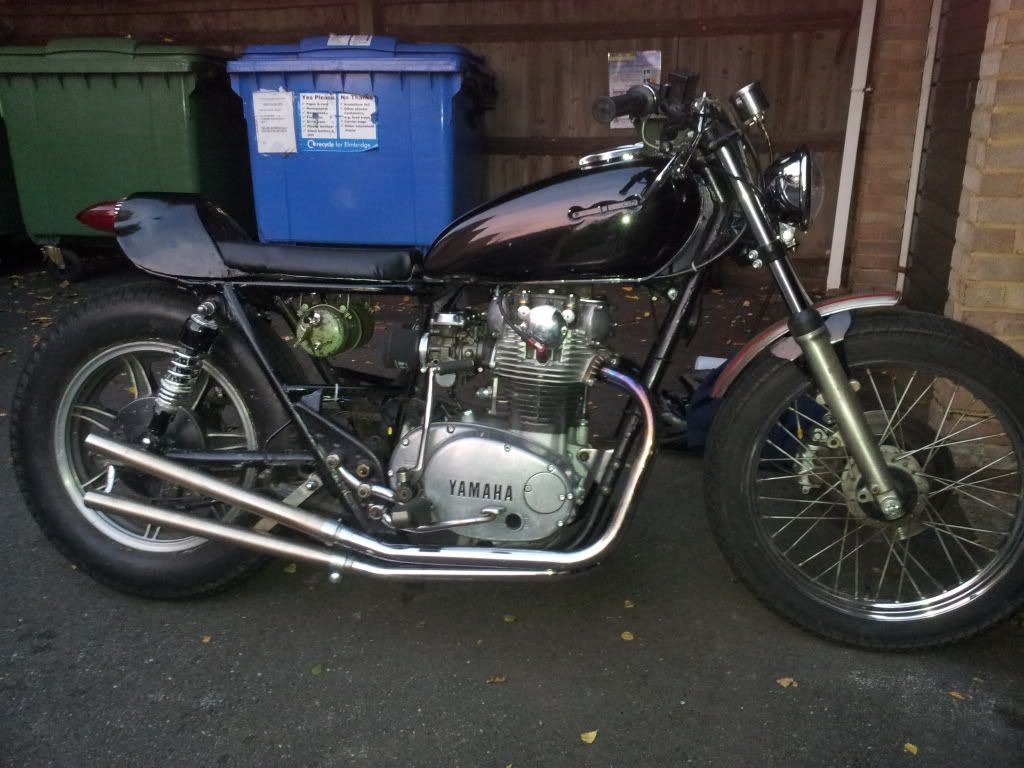 The engine pulls like a frickin train, it sounds divine and turns plenty of heads. I'm in love!
Rode it for about 750 miles and the "fit and forget" PMA conversion broke… Fixed it, MOTed it and then my son arrived so has sat in the garage since June! Now SORN until the spring…
Future plans: make a better (good) seat hump with pro upholstery, the current one is pretty wobbly up close. Paint. Smooth, de-tab and powder coat frame. Re-jig headlight wiring so main beam works… Re-jet carbs. Fit spoked rear wheel, maybe find an ally rim spoked front. USE IT!!