Post by Stigian on Jun 28, 2015 18:37:20 GMT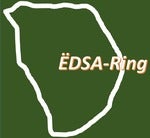 Made my Thursday morning that. Thanks!
Thanks George, glad you enjoyed the vid

A Why Not "after 1st test drive" status update...
The good news I've fitted a rev counter and worked out how to wire in the temp gauge.
The bad news is... The brakes are rubbish.
The steering is a bit heavy, does not self center, does not have enough lock and is not enough turns from lock to lock..
The throttle pedal is at a painful angle for my ankles, as is the brake pedal.
The throttle pedal needs better return springs..
When braking it's hard not to hit the throttle at the same time!
So she needs a few tweaks..
The rear brakes have now been sorted, new shoes and adjusters did the trick, I also gave the inside of the brake drums a de-glaze for good measure.
A few mods to the throttle pedal had the "hitting both pedals at the same time" sorted.
The front brakes will be sorted by moving the master cylinder up a bit so it gets more leverage, a job for this coming week now WN is back up on the bench.
As for the steering... I bought this small steering rack from a Aixam 751/500 micro car to fit..
But the steering rack won't be fitted as it just wouldn't look right..
Also Nigel and I were playing with the current set up yesterday, with a few tweaks and some shims the steering lightened up and even started to self center.. So with a better steering box the steering should be quite good.
A new (well used) steering box should be here Mon/Tues. I'm not 100% sure what it came from, but it may be possibly from a Morgan! I will find out when it arrives.
Thursday WN went back up on the bench something my back is very much regretting! Even though there were three of us lifting!
So I spent Thursday doing some gentle paint stripping and knocking out a few dents.
I managed to get a bit more done Friday, the fender pan this time. as you can see the fender pan does not quite reach the foot plates!
Some more recycling, this was part of a Spear and Jackson sign.
Two plates tacked on..
Both sides done and on the bench to be fully welded. As you can see a little trimming of length is needed..
If all goes to plan and my back sorts it's life out I should have the fender pan finished Monday just in time for a new steering box to turn up.
To finish off this update, a few photo's of the beast outside.
This photo really hit's the spot for me
And a second test drive video.