Post by samwise on Nov 22, 2009 18:01:17 GMT
So, I had this:
80's top of the line for Raleigh tourers, full 531, nicely kitted out retro tourer. Made a great commuter, too; fast enough, carries loads well, not particularly attractive to thieves. Trouble is, things started to wear out; a pannier slipped and took out the rear mudguard, the rack broke, and then one fateful day I snapped the rear axle mashing up a hill. Now, I could have just replaced the axle and carried on, but I decided it was time for a rethink. I take my commuter on the train a lot, and the derailleur is pretty vulnerable. I have an old Raleigh Superbe 4 speed, and it has a lot going for it; chaincase, IGH, nice and low maintenance. So, when my company decided to offer Cyclescheme (where you get a bike, and pay for it in installments, tax free, for commuting purposes), I decided to investigate. I got the local bike shop to quote more for building a Nexus 8 wheelset, swapping to a suitable crankset, fitting long reach brakes (27" to 700c conversion), Marathon Supreme tyres, etc etc. They told me that the cheapest way would be to buy this: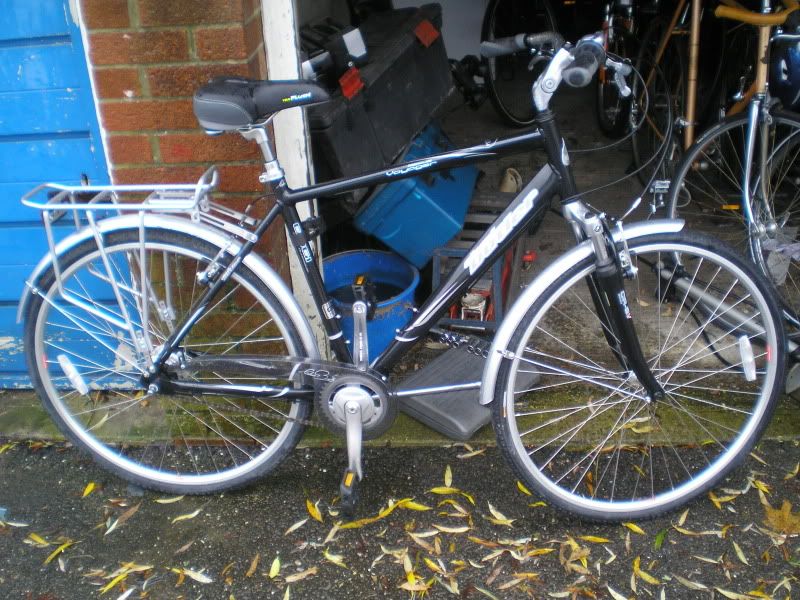 And to swap the drivetrain over myself. Now this bike, the Claude Butler Voyager Nexus, has most of what I'm looking for, but it's not available in a suitably large size (I'm 6'3), it looks shiny and stealable, I don't like the riding position, and, you know, steel is real. So, today, I set about it. First up, I put the Marathon Supreme on the front: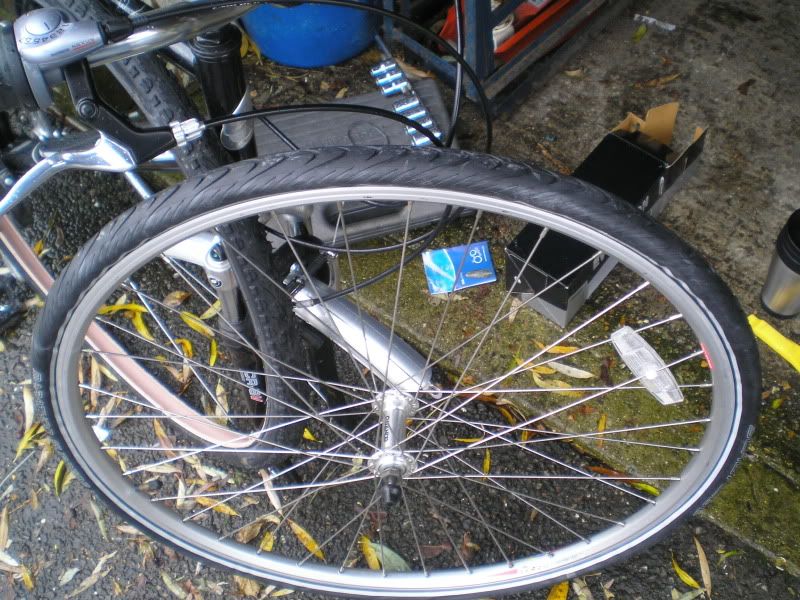 Then moved the front mudguard over, installed the wheel, and the cranks, and found that the bike shop had been right, the old centrepulls had enough reach, no need to change the calipers.
Of course, Nexus hubs only come with either revoshifters or thumbshifters, neither of which will install on drop bars. I had planned to install a stubby bar-end on the end of my drops, pointing in, and put the shifter on that, but it turned out the diameter was too big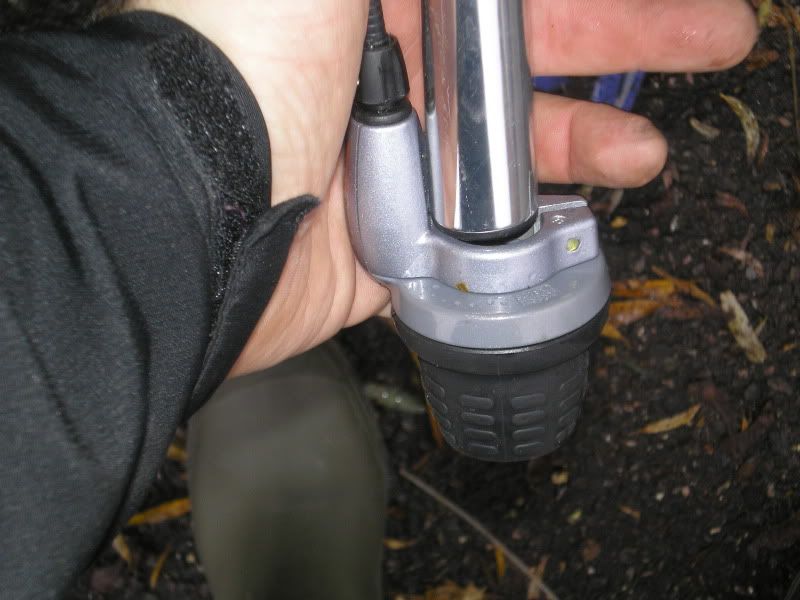 I had pretty much decided that I wasn't going to be able to finish today, and was planning to order a Minoura SpaceGrip as an alternate, when I had a brainwave. Could it work?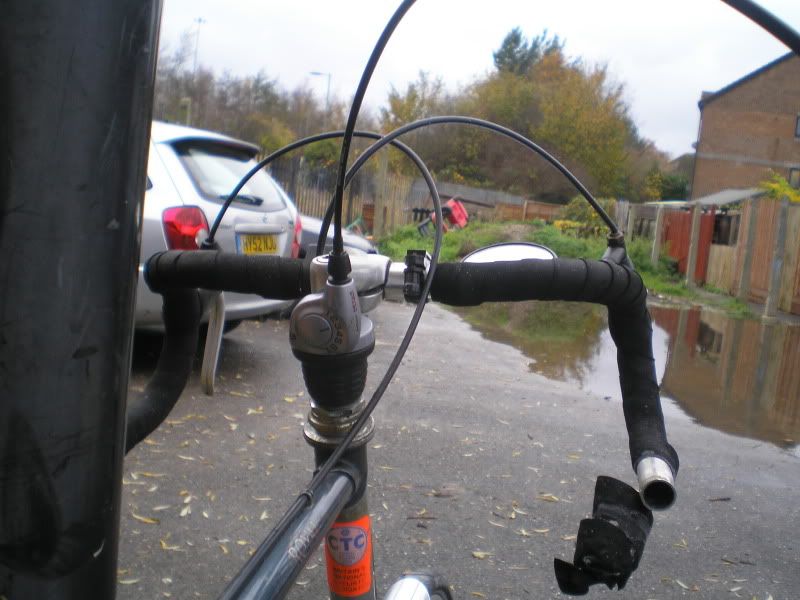 Yes, it could! A bit more work and a couple of p-clips had the rear rack on. The rear mudguard required some futzing about, since all the hardware was wrong, and I'll confess I ended up cable-tying the end of the fender into position. Installed the rear wheel, found a sensible run for the shifter cable, and spent what seemed an age getting the brake blocks in and the brakes adjusted, and it was done!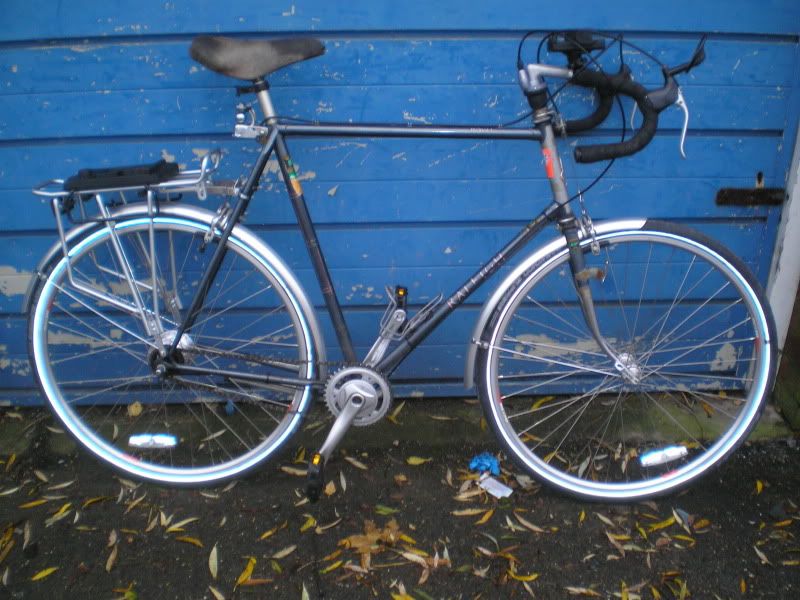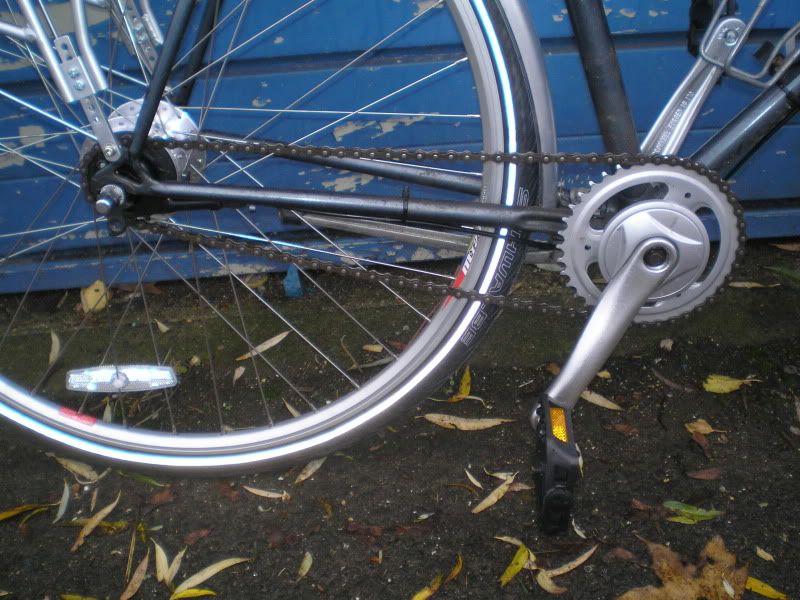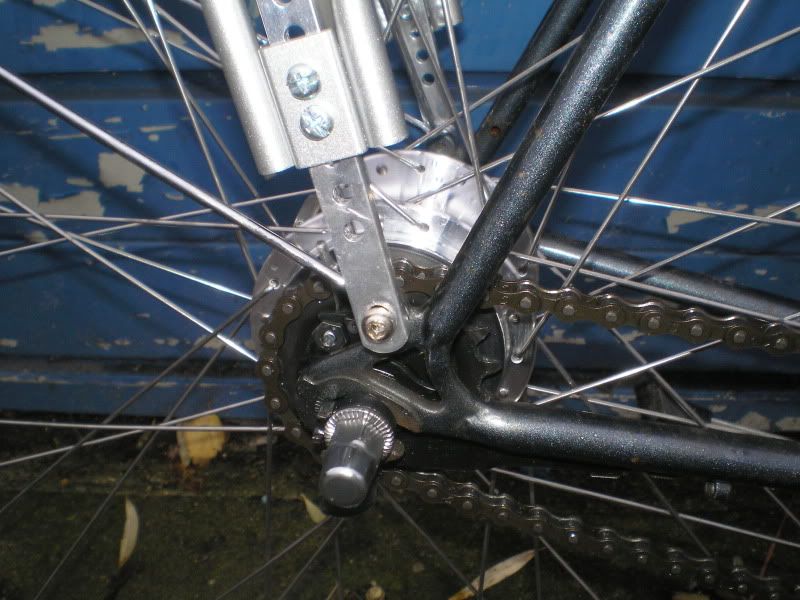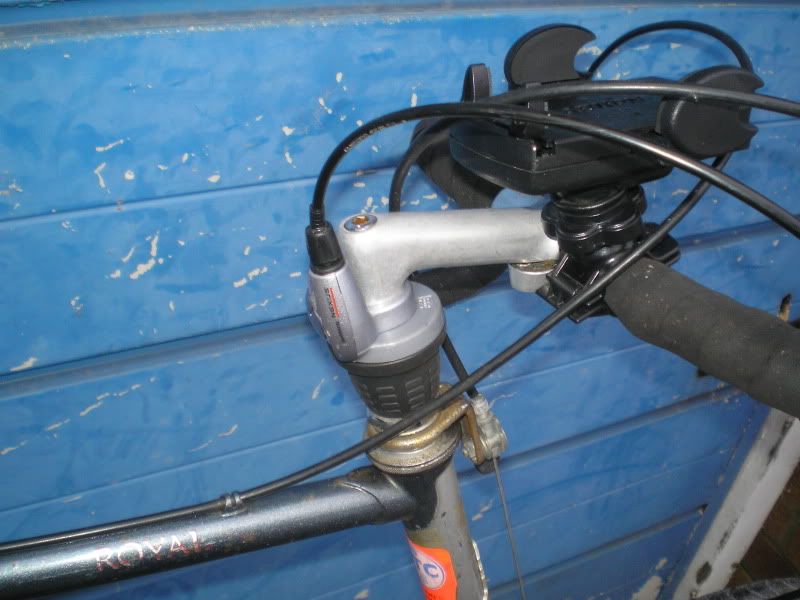 It's only been up the road and back, but everything works. It's not difficult to shift, but not being able to see what gear you're in is a tad frustrating. I'm working in London on Wednesday, so it'll get it's first outing then. I'll report more!