Post by thewindscreenman on Dec 29, 2009 2:01:30 GMT
I'm fairly certain that this qualifies as retro & I'm making much more progress with it than my Escort so looky here then.

Bought on a whim earlier this year as I fancied something (else) to get my hands dirty on & love my Yammy's.
Saw the above picture of it on ebay (not the item for sale), made a few enquiries & 1 week later found myself bombing down the M5 to collect it from Burnham on sea in my van. At first I just took a few bits off it to see what was needed. The first thing that had to go was the skinny rear wheel & tyre so having found a forum dedicated to the FZ I discovered that the FZR1000 Genesis swinging arm was a straight swap & allowed for the wider FZR wheel so these items were duly purchased & fitted (loosely for now).
Just wheel swapped for now looking better already with a 160 section tyre in place of the old skinny thing. I then hit on the idea of fitting my spare TRX850 seat unit in a bid to do away with the one thing I don't like about the FZ, the seat & side panel assembly so I plopped it on just to get a rough idea.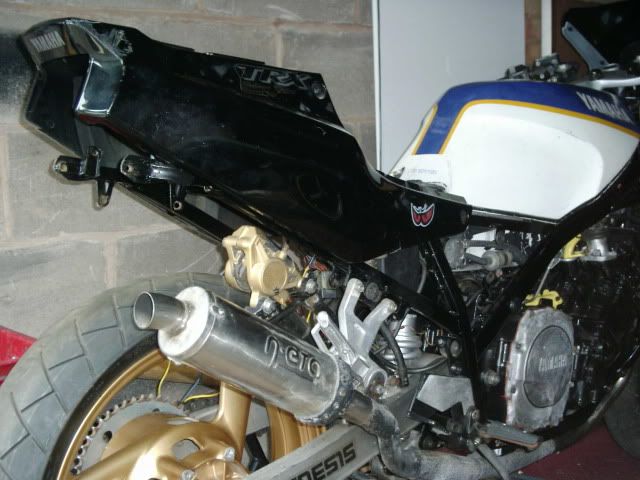 Side panels were shafted anyway so it seemed like a good idea to me & in my unbiased opinion, looked very cool indeed from all angles.
I know there is a huge chunk out of the FZR arm, it's inkeeping with the rest of the bike.

FZR arm in place I wasn't liking the rear ride height so decided on some drastic rear subframe alterations. Purists look away now.
With a Vee cut in each of the 4 rails in question I was able to bend the lot up to a better place.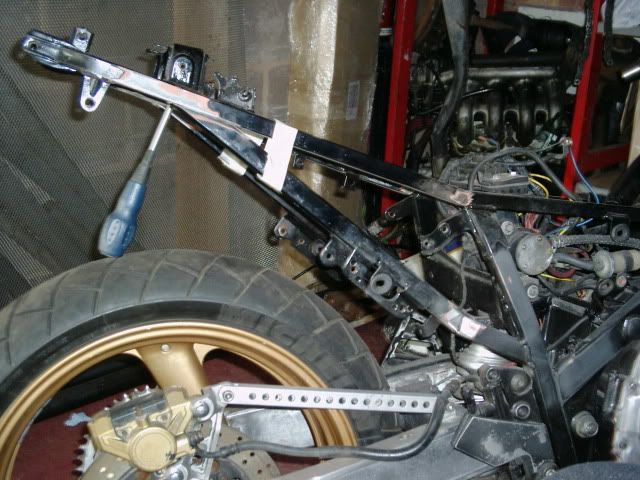 No measuring involved, just cut it & see.

Up to now the bike has slept in a rented garage with no electricity, about half a mile from my house. This meant I had to crank up my old generator to power the angle grinders which was fine, but the next stage was obviously going to require welding so I needed a mains supply. Several pints of persuasion juice later & the FZ now lives in a mates garage where I can plug stuff in.
Bike rehoused, I made this subframe at home using the seat unit as a jig.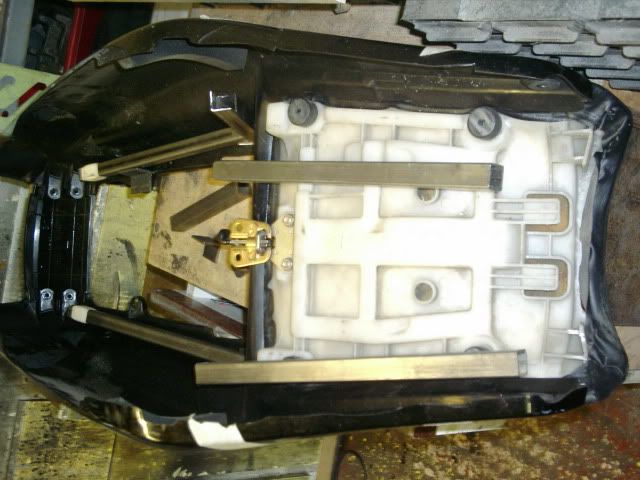 Then took it & the welder to mateys house & welded it to the FZ frame.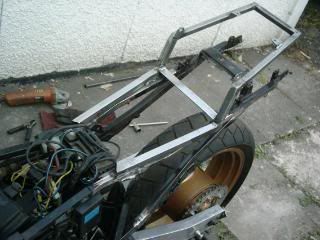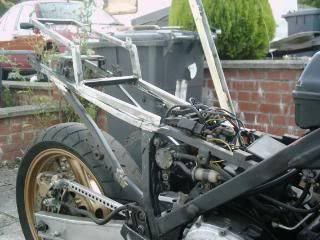 The whole thing has evolved a bit since these pictures but you get the idea. ;D
It took 2, half days before I was happy with all the lugs & brackets that were needed to house the stuff that hangs off the rear rails.

Feeling pleased with myself I proceeded to spend most of my spare cash on bit n bobs I thought I would either want or need for it. Having recently sold my TRX I am still a regular on the forum which puts me in contact with several TRX owners & is a good source of reasonably priced spares. Here is my reasonably priced TRX seat, cunningly altered to fit my Frankenbike. R1 rear light with a few minor tweaks also fitted & reasonably priced TRX seat unit in place.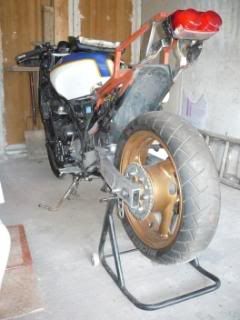 Returning the TRX back to standard in order to sell it meant I had a lovely pair of FZR600 (foxeye) 41mm forks with Hyperpro progressive springs & new oil, a 17 inch wheel complete with tyre & discs, a pair of Yamaha R1 twin piston brake calipers & a YZF front mudguard all going spare. The lot was destined for ebay as the forks alone cost me £100, the springs £60, brakes £60 & so on but the FZ was crying out for better suspension & brakes so I looked at fitting all the good stuff to it. Standard FZ front end has 39mm forks, a 16" front wheel & really bad single piston brakes. Once again armed with info gleaned from the FZ forum I bought FZR1000 top & bottom yokes which were cleaned up & painted & bolted straigh in allowing me to fit my lovely front end. ;D

I haven't got pictures of it on the FZ but here it all is on my old TRX.
Whilst fitting the forks to the FZ I noticed for the very first time that the exhaust studs were either missing or weren't studs at all but bolts which went in to the cylinder head at varying angles thanks to someone who should never be allowed anywhere near a drill ever again. Sorry for the long sentence but it's getting late. The exhaust was only ever loose fitted as I bought the bike "spares or repair" so didn't take much notice of it. Obviously this was going to be a problem further down the restoration road so I have removed the engine now & took the oportunity to strip the bike back to a bare frame (which didn't take much) in order to paint it properly. For 50 notes I recently bought a spare engine from a guy on the FZ forum & have relieved it of its cylinder head which is now stripped & waiting for me to lap the valves in.. . all 20 of them.

This was supposed to be a cheap & cheerful restoration so I would have a winter hack & not ruin my Fireblade but to date it has cost me nearly 1500 quid & is no where near being finished !


What's worse is I have just collected "another" basket case FZ today, also bought from ebay & in worse condition than the one I'm restoring.

I may need help but at least I'm happy.. . until the missus finds out.

;D
I hope at least 1 person finds this thread slightly interesting. It will help to make the 2 hours I've spent typing it out seem worth while.