Post by on Dec 1, 2010 1:52:34 GMT
Dick Landy's 1964 Dodge: the first 'Funny Car'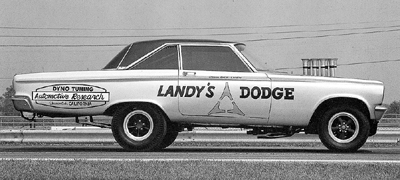 In the spring of 1964, Chrysler Corporation built a small number of Dodges and Plymouths powered by its new 426 ci Hemi engine. These were to be used in sanctioned drag racing. California racer "Dandy" Dick Landy was given access to one of the first of these cars, a Dodge 330, and he campaigned it during the summer of '64. These cars were raced in NHRA's Super Stock class with either automatic or 4-speed transmissions. Dick Landy competed in this class at the "U.S. Nationals" on Labor Day weekend of '64 with his silver Dodge. The car had an automatic trans so it was lettered with "SS/A,", super stock automatic, and its competition number "676".
In the fall of 1964 Landy decided to go "match racing" so he made several radical changes to his car. To reduce weight he removed all of the front suspension and replaced it with leaf springs and a solid front axle from a Dodge van. Because traction can be improved by having the rear axle carry the majority of a car's weight, Landy relocated the rear axle forward about 8 inches. The front suspension was moved forward about 6 inches. These changes moved the majority of the car's weight over the rear tires. Landy used the car in this configuration for numerous match races in me last few months of 1964.
In late 1964 Chrysler was building 1965 production cars and several special race cars, the "A/FX's" for the upcoming 1965 racing season. About a dozen of these cars were to be built with the rear axles moved forward 15 inches and the front wheels moved up 10 inches. These were at first called "altered wheelbase" cars and they were intended to compete in NHRA's "A", factory experimental class ("A/FX"). However, given an early preview of me first altered wheelbase car, the NHRA abandoned this idea.
Also in late 1964 some unknown individual observed that the radically altered wheelbase Mopars appeared somewhat silly-looking from the side view. The front wheels were almost touching the front bumper while the rear wheels were very close to the doors. This person came up with the phrase "funny car." Chrysler went ahead and completed several of the A/FX cars. They first raced at the winter AHRA meet in Phoenix in early 1965. Dick Landy received one of the altered Dodges and he ran at this meet. In films of this event the announcer was calling the Mopars the "first funny cars".
Note that Landy's 1964 Dodge was converted to an altered wheelbase configuration and was at the strips at least three months before the factory's '65's raced at Phoenix. Although the factory '65's had more "alteration" (10" front/15" rear versus Landy's 6" front/8" rear) it is clear that Landy's 1964 Dodge is truly a "funny car". Since Landy's 1964 Dodge was on the tracks first, it could legitimately claim the title of "The First Funny Car".
Mr Norm's Grand-Spaulding Dodge
In 1965, funny cars were gaining popularity across the country. A lot of drag racers and fans alike regarded the funny car/FX cars as "circus" acts and not real race cars. The car that changed a lot of peoples' opinions on funny cars was the Mr. Norm's Grand-Spaulding Dodge. When Norm Krause and Gary Dyer brought the ex-Roger Lindamood factory altered wheelbase car to Lions Drag Strip in 1965, the team was not known outside of Midwest USA. Dyer then ran 8.63 at Lions, and it went down as one of the great runs in history. The other new funny cars had just broken into the eights.
Don Nicholson's Eliminator I & II
Nicholson earned his "Dyno" nickname as one of the first to utilize the benefits of a chassis dyno. His racing career spanned nearly 50 years, and involved nearly as many forms of racing, from circle track to dry-lakes racing, and most notably his efforts in Stock, Factory Experimental, Funny Car, and Pro Stock drag racing.
Dyno Don became a Ford racing icon in 1963 when GM pulled out of racing and Mercury picked up his sponsorship. He debuted the 427 SOHC powered Comet Cyclone to 10 second ET's at over 125 mph. The Cyclone would receive wheel base alterations and eventually a revolutionary "flip-top" design that would propel the car deep into the 8′s at 175 mph. In 1968 Nicholson appeared in the new Mercury Cougar. The "Eliminator 2″ would also mark Dyno Don's first foray into supercharging the 427 SOHC. The 1000 bhp cat would set a class record at 7.37 at 190 mph.
Art Chrisman's Comets
Drag racing experienced monumental change during the mid sixties. In the space of two short years, vehicles resembling those available at the local dealership, transformed into purpose built monsters, designed to run down the quarter mile as quickly as possible.
In 1964 Jack Chrisman picked up a new Mercury Comet from the Sachs & Sons dealership in Downey, California and drove it to Bill Stroppe's shop in Long Beach to begin tweaking it for competition. Debuting at the US Nationals, his car was an instant hit with its ferocious tyre smoking runs and by the end of the season Jack was running in the 9.60's at 165 mph. Chrisman's Comet, in essence, wasn't really all that far removed from the plethora of garden variety Mercurys roaming suburbia.
However things were about to change.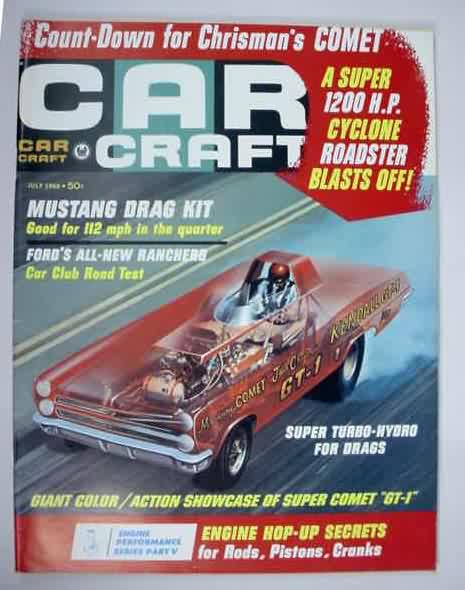 Few racing machines in drag racing's storied history have been as well-remembered and truly unique as the 1966 Mercury Comet flip-top Funny Car campaigned by who's who of legendary racers such as "Dyno Don" Nicholson, Ed Schartman, Ron Leslie, and Jack Chrisman.
Following the racing and sales success of the Ford and Lincoln-Mercury brands in 1965, it's major competitor, Chrysler, was rumoured to be developing radical appearance changes and modifications for the 1966 season, including the use of exotic fuels. At a time when "win on Sunday, sell on Monday" was still the heartbeat of the sport, Ford had to the step up the plate.
And so at the beginning of the 1966 season, Fran Hernandez and the Lincoln-Mercury team enlisted the Logghe Stamping Company to construct four chromoly tube chassis that would sport a one-piece, flip-top, fibreglass '66 Comet body. The steering and front suspension would consist of a tube-style straight front axle with coilover shocks and utilizing a 9:1-ratio steering box, riding on Halibrand wheels with a 10.75-inch M&H slicks in the rear.
The revolutionary car was powered by a stock bore, stock stroke SOHC 427ci Ford with a 10.75:1 compression ratio, with a Crane camshaft and Hilborn fuel injection, burning a roughly 80-percent mix of nitromethane – producing upwards of 1,000 bhp – and mated to a C-6 auto and 4,000 RPM stall converter. These cars, weighting in at a paltry 1,700lbs, were capable of running in the low eight-second zone at over 180 MPH – impressive numbers for their time.
Chrisman's Comet was eventually destroyed in a crash at the '66 Super Stock Nationals, and Nicholson's Eliminator 1 met a similar fate later that year, becoming airborne at the finish line at Cecil County Dragway in Maryland. But not before amassing an 86% winning record that put the flip-top Comet on the map. These cars were commonly referred to as "dragsters in disguise" and later became what we affectionately know and love as "Funny Cars." Regardless of their untimely and early demise, these cars have left a lasting impression that will forever remain part of the history books.
Jim St. Clair's Jungle Jim Chevy Nova
Jim Liberman was much more than a touring professional; with his wild wheelstands, 100-mph backups from burnouts, stubborn refusal to lift on even the most out-of-shape runs, and his curvaceous companion, "Jungle Pam" Hardy, (a Woman who deserves a thread all her own…) Liberman provided all the entertainment of a travelling circus.
Liberman ranked number 17 on the list of top NHRA drivers, had two NHRA national events victories (one of those as an owner), and an infamous legacy rivaling that of a rock star. Russell began his funny car career in such cars as the "Hercules," the "Gypsy" Corvette, and the "Brutus" GTO. Russell's stardom skyrocketed when he built the first "Jungle Jim" Chevy II. By 1969, "Jungle Jim's" long, smoking burnouts (some preceded by a fire burnout), high-speed backups, and long, twisting wheelstands had cemented his place as a popular racer with the fans.
The showmanship had previously been backed up with average finishes, but these stopped in 1969. Russell had two Chevrolet powered Novas in 1969 with Clare Sanders in the second car. The two started the year off with a bang with Sanders beating Jungle at Pomona for the Winternationals title. Liberman then went on the match race circuit to win countless races, running the best of 7.28, 198.64. By the end of 1969, Jungle had one of the most successful years in history for a Chevy powered funny car. Liberman knew that the day of the successful Chevy powered engine in AA/FC was limited. By the end of the next year, "Jungle " had switched to the Hemi.
Liberman's life, like the lives of many fast-living icons of youth such as James Dean, Jim Morrison, and Janis Joplin, was short as it was fast-paced. He died at the age of 32 after suffering fatal injuries in a road car accident in September 1977. His premature passing left a void in the sport that wasn't replaced until Force's explosive personality emerged in the late 1980s.
Clare Sanders' Lime Fire
Clare Sanders' Lime Fire was an absolutely beautiful, beautiful car, a flip-top Logghe car with a fibreglass Barracuda body, a blown Hemi and a paint job of this gorgeous lime green metallic colour. Sanders is on the left here, pushing on the right-front wheel, and he was so skinny, he was the last guy in the world you would have thought was a Funny Car driver. I would love to tell you more about the car, but because of the fact that Sander's didn't appear to take the car 'on tour' around America's drag strips, it's a hard car to get info on.