Hi chaps, I have been a lurker for some time and I must say this is an ace forum for fun / talent. You all seem to achieve so much on your cars that I am amazed by such a high proportion of epic threads – and there are some fantastic skills on show!
Here is my introduction and story of my 1993 Toyota MR2 GTi16, I warn you – it has turned into a long long post, but there are plenty of pictures to keep you amused!
95% of the parts I have bought for this car are second hand, and I like to get bargains, so please don't think I am a moneybags – I really am not. I have also done 95% of the work to the car myself bar the engine conversion due to costs / knowledge / space.
First, a couple of pictures of my former cars….
Car 1: 1986 Citroen Visa 11RE – purchased for £60 in 1997. Engine was supposedly duff but my old man wanted me to have my own car so it was swapped for a racing bike found in a skip (seriously) plus £60. We took the engine out only to find that a nut underneath the cam cover was lose and making a tappy noise like hell.
After sorting that and installing a new fuel pump, she was away.
I ended up selling it to a strange middle aged guy who came to see the car with a cheque for £650 already written!!! Apparently he drove it to the south of France and back, and all that went wrong was that a window winder broke! I will try and dig out an old photo of this bad boy……..
Car 2: 1986 Volkswagen Jetta TX 1.6 – purchased for £450 from my Mum in 1998. My first decent car – loved it loads, and took it to about 3 GTi International shows. It was a real minter. Featured in Club GTi's Rabbit magazine in about 2000. Sold it to a couple up the road from me after I had swapped off the snazzy bits. The woman smashed it to pieces 6 weeks later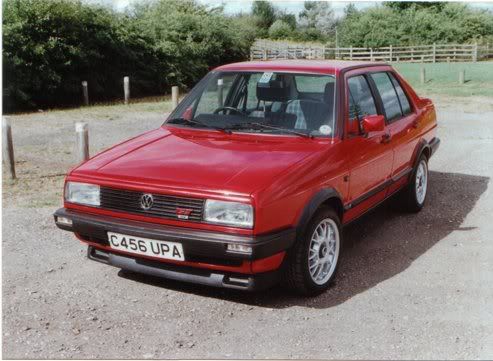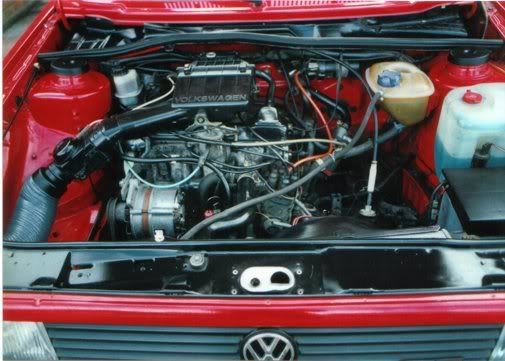 Car 3: 1993 Toyota MR2 GTi16 – purchased in 2002 for £4750. Absolutely stock aside for the K&N filter (which I swapped for a standard part for insurance reasons) and Scorpion alarm. I still have this car after 9 years – story to follow.
The only electronic pictures I have of it after purchase are after I added clear front indicators and a stainless exhaust….