Morning all, i have been lurking on here for a while so thought i would finally join. I have owned my GL for just over a year now, so these first few posts will be large

I have a passion for old school J-tin and volvos

I've had a few civic in the past first was an eg:
It was a Jdm vti with a d15b, and i loved it. But it was way too rusty and was verging on being unroad worthy, with it needing so much work. So i swapped it with some money with a mate, for the following ej9 which was b swapped with quite an extensive spec list tbh.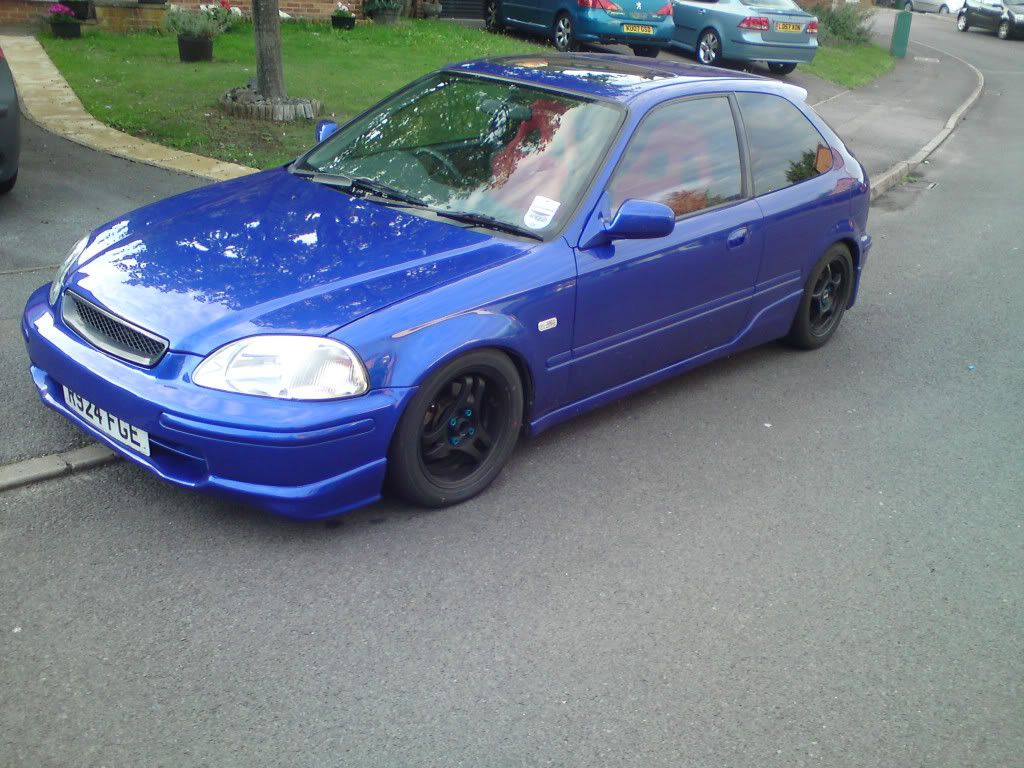 EK's were always my least favourite shape and the bodystyling was cack IMO. The only reason i bought it was because it was pretty quick. So i Sold up. To buy my current GL

.
Here she is when i first bought her.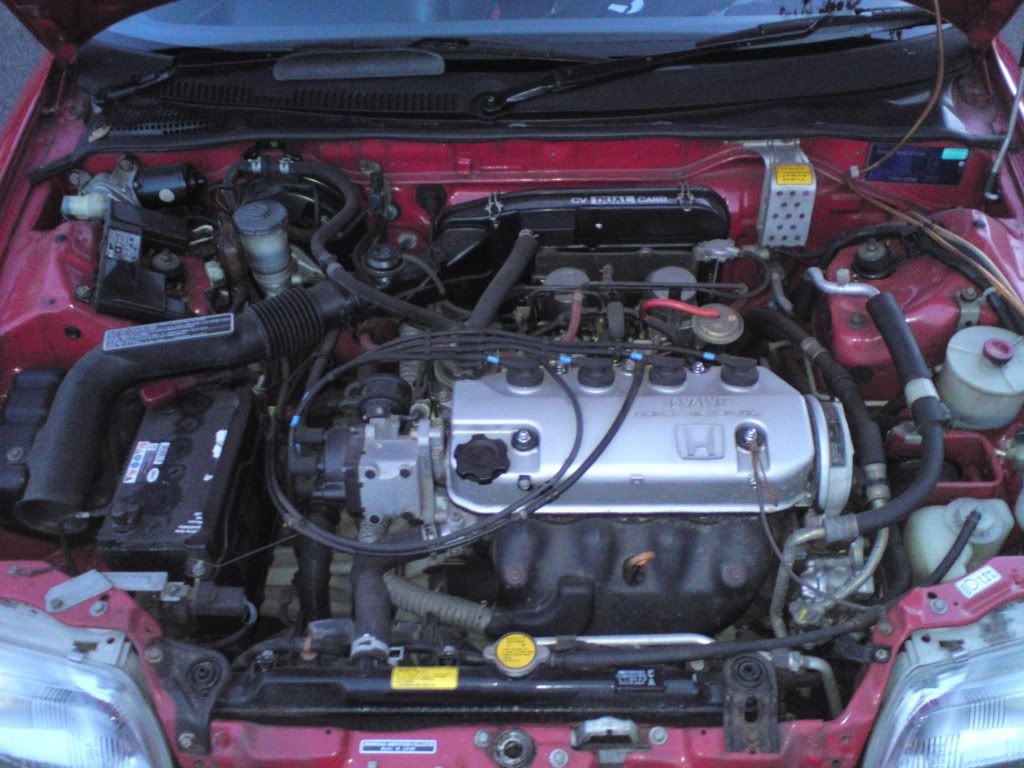 The first mod was a Password Jdm gearknob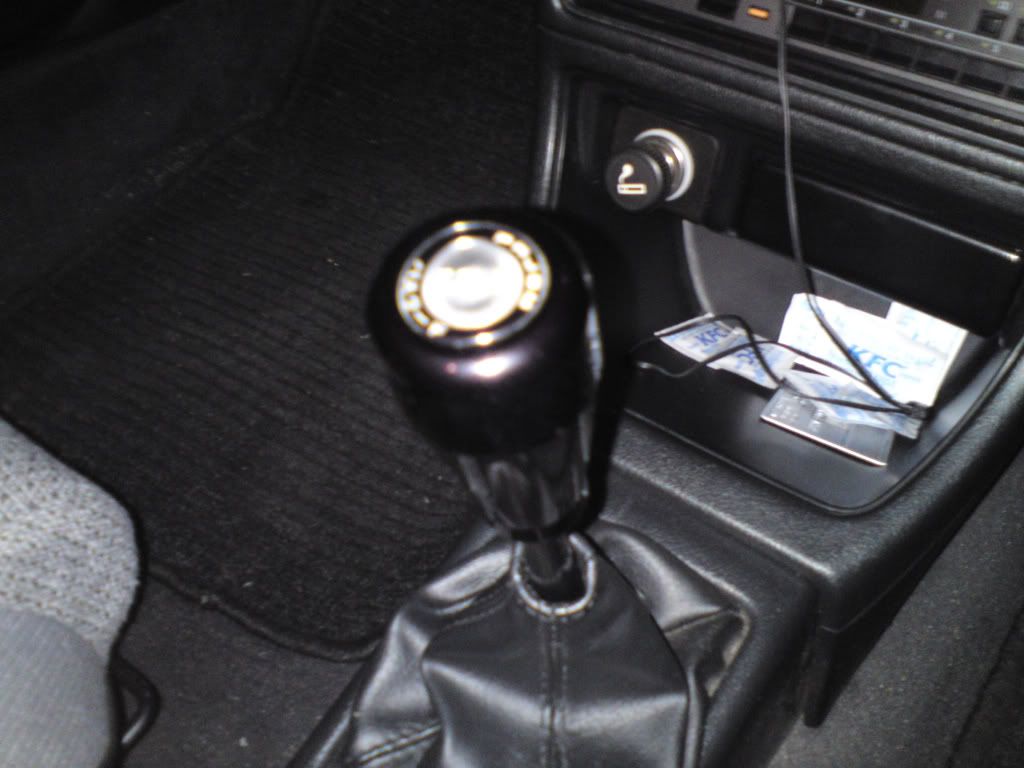 Then came some 16 16 wheels in need of a refurb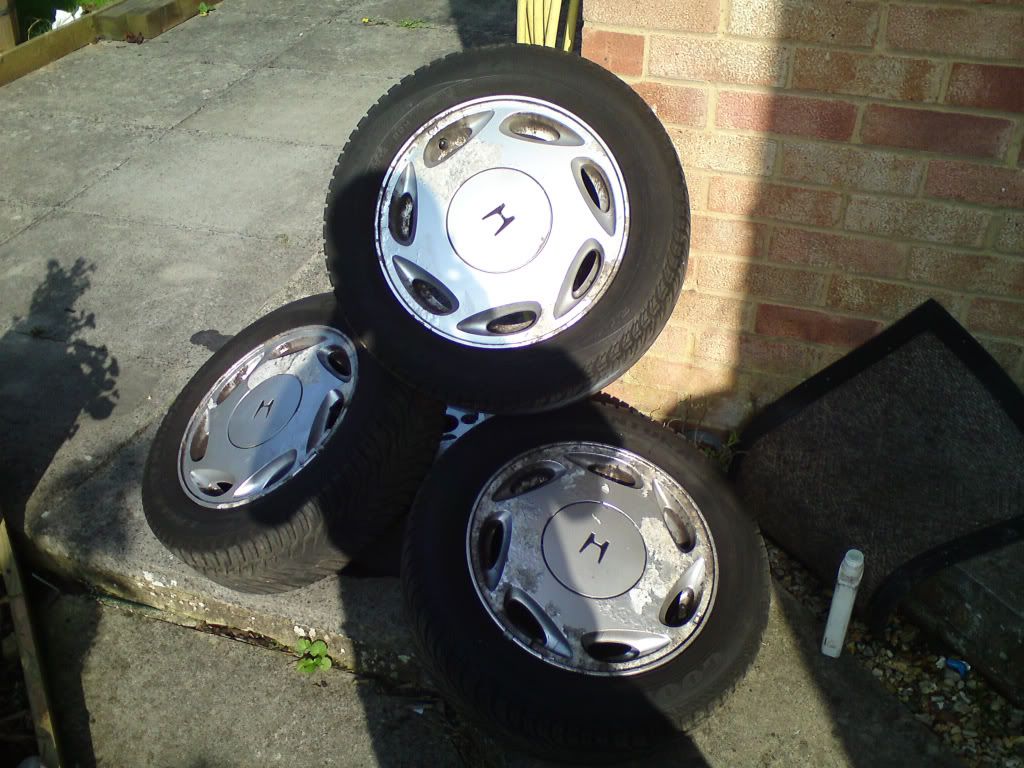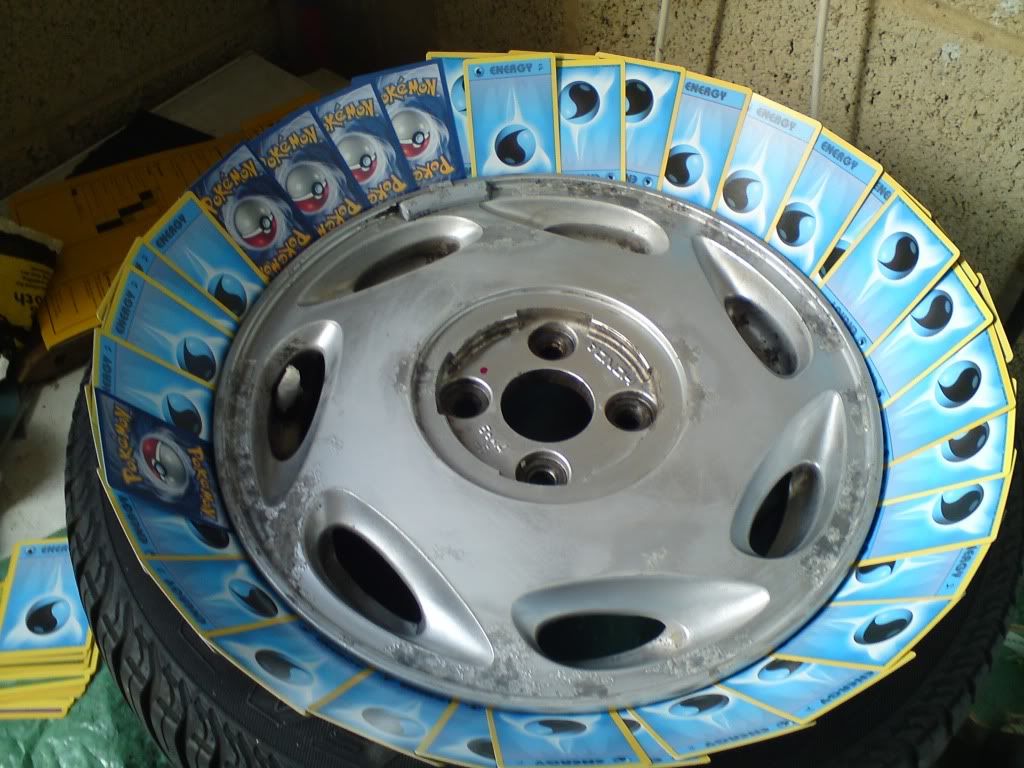 Of which turned out like this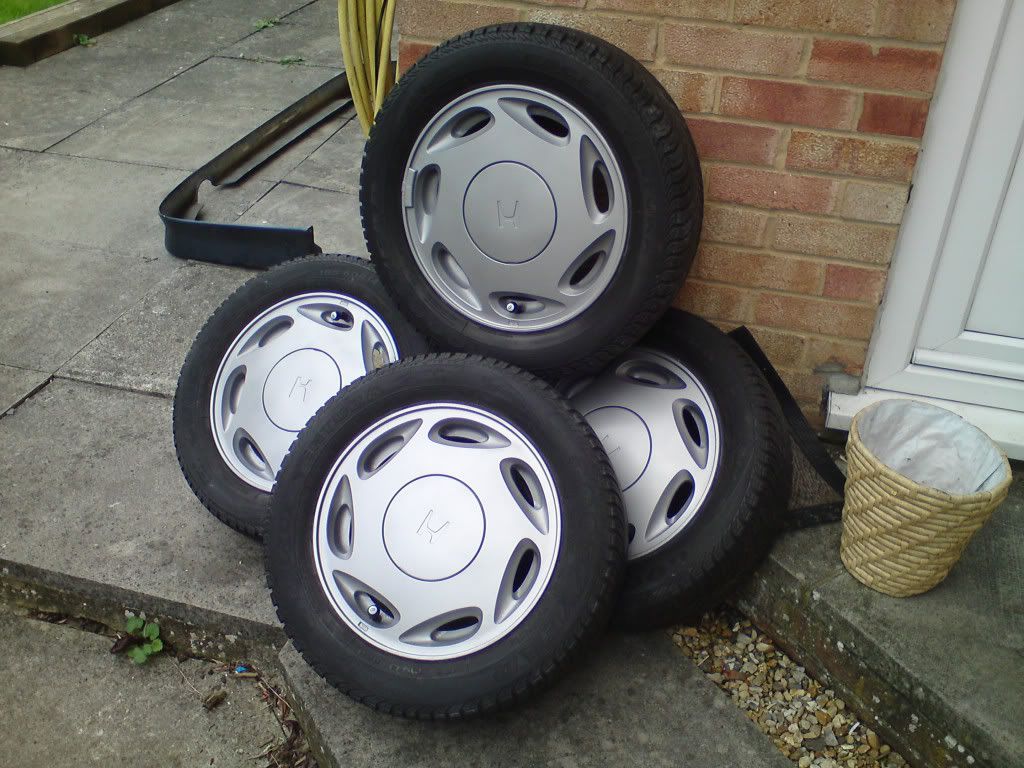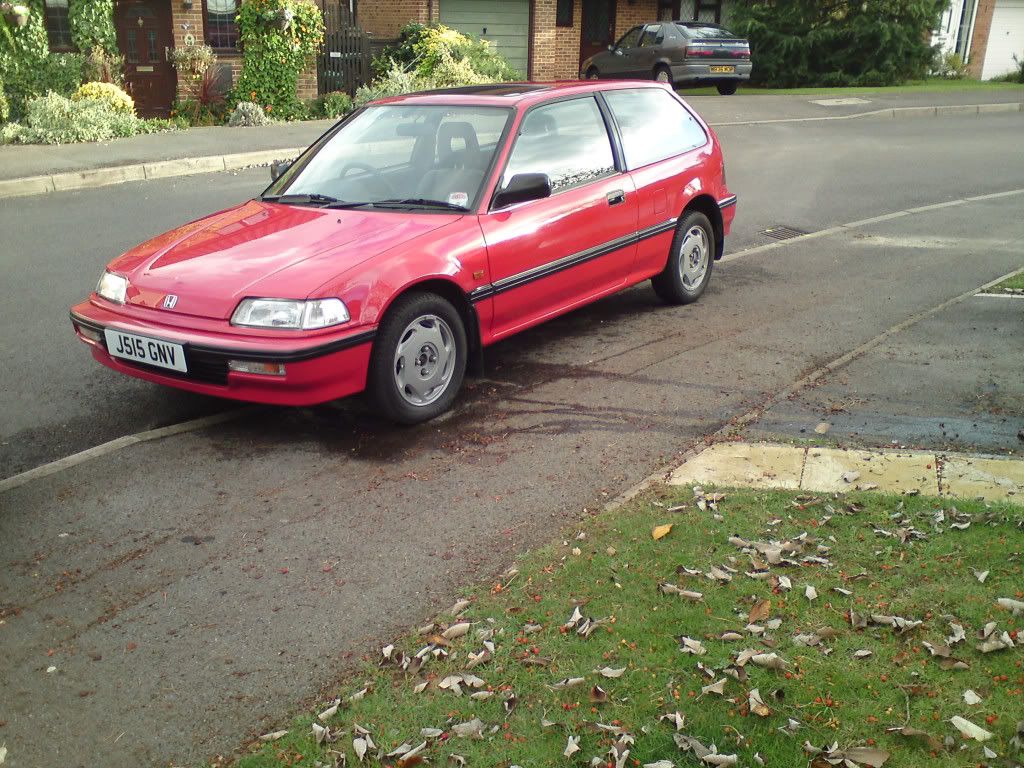 On the car, unfortunately i didn't have the applicable wheels nuts to run centre caps and like a donut i didn't paint the centres all too well :oops:
Then cames it first service in my ownership along with a little clean up of the carbs.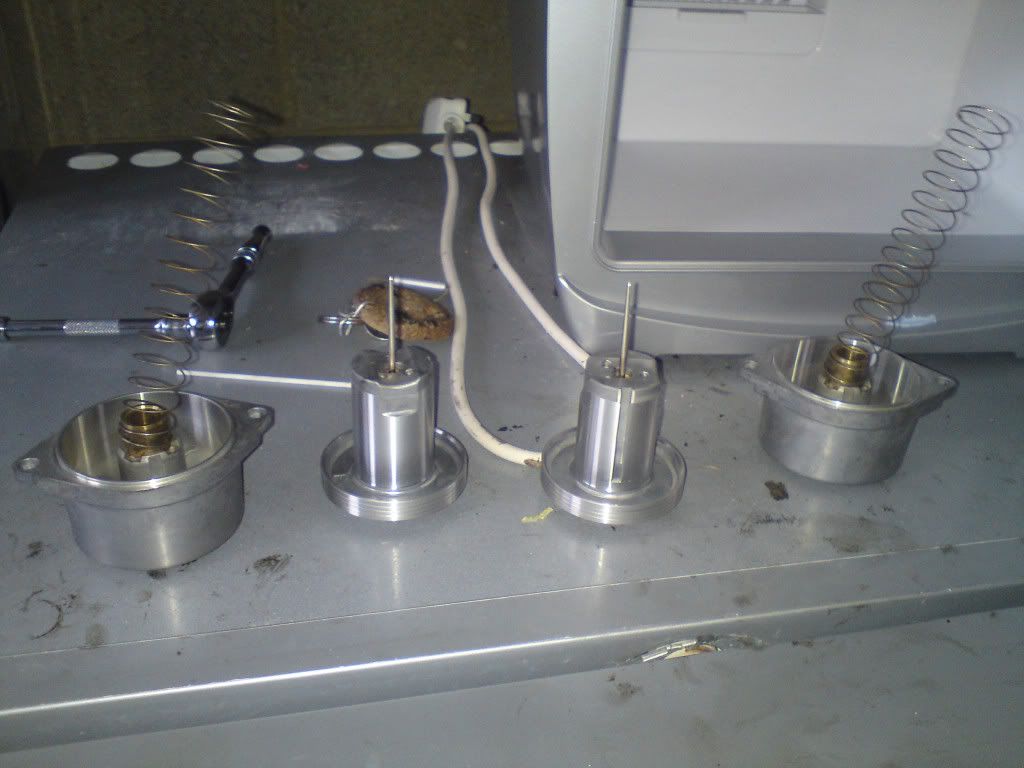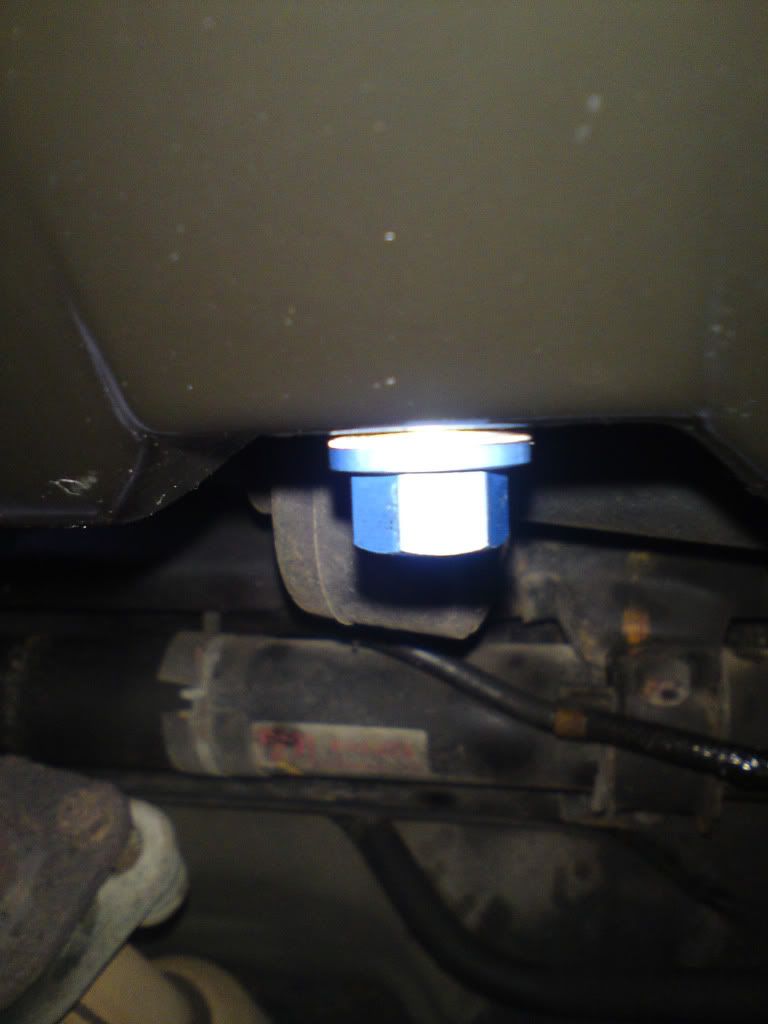 Magnetic sump plug on
When i first bought the car the biting point was incredibly high then a inevitably a few months down the line the clutch started slipping like mad. So i cracked on with changing it, upgrading the parts as i went.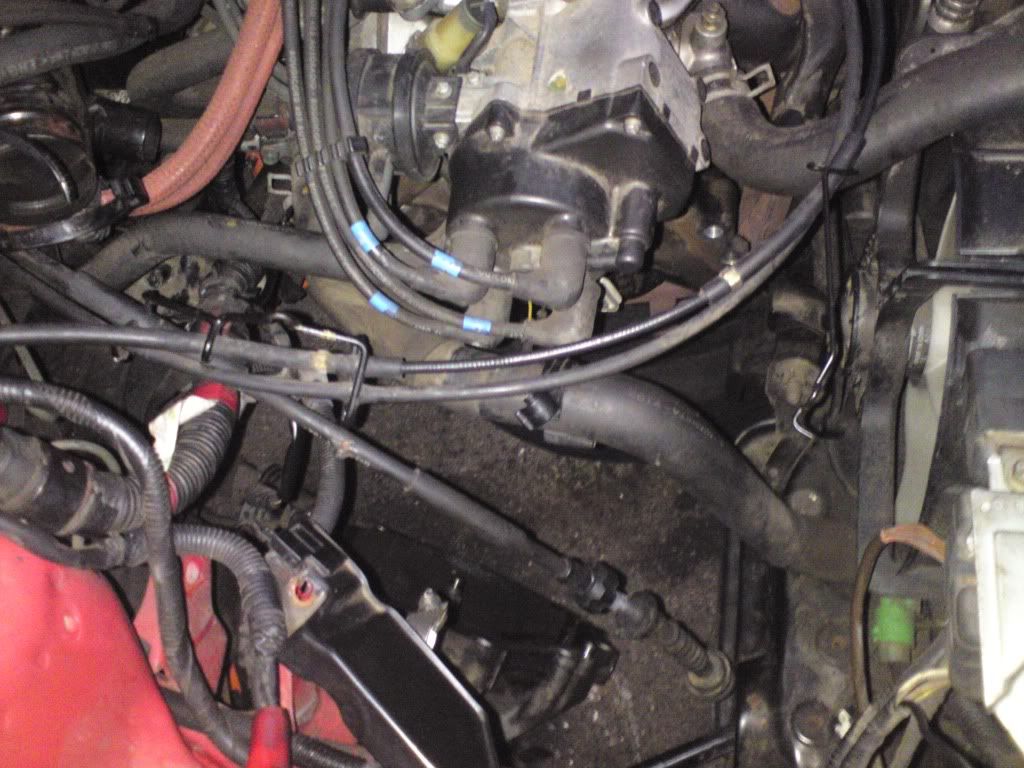 This lot came a few days later

A f1 4.4kg Flywheel and a d16z6 Competition clutch stage one clutch set up. Slight overkill on the clutch front but i planned to up the power soon as it was.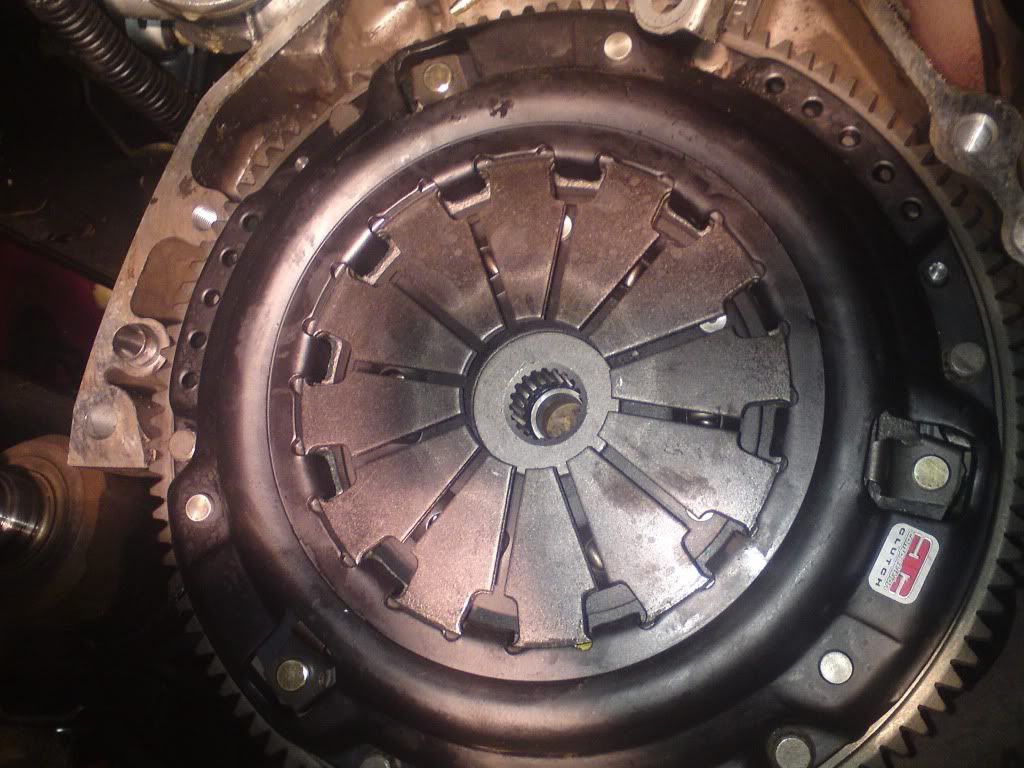 All bolted up and ready to go.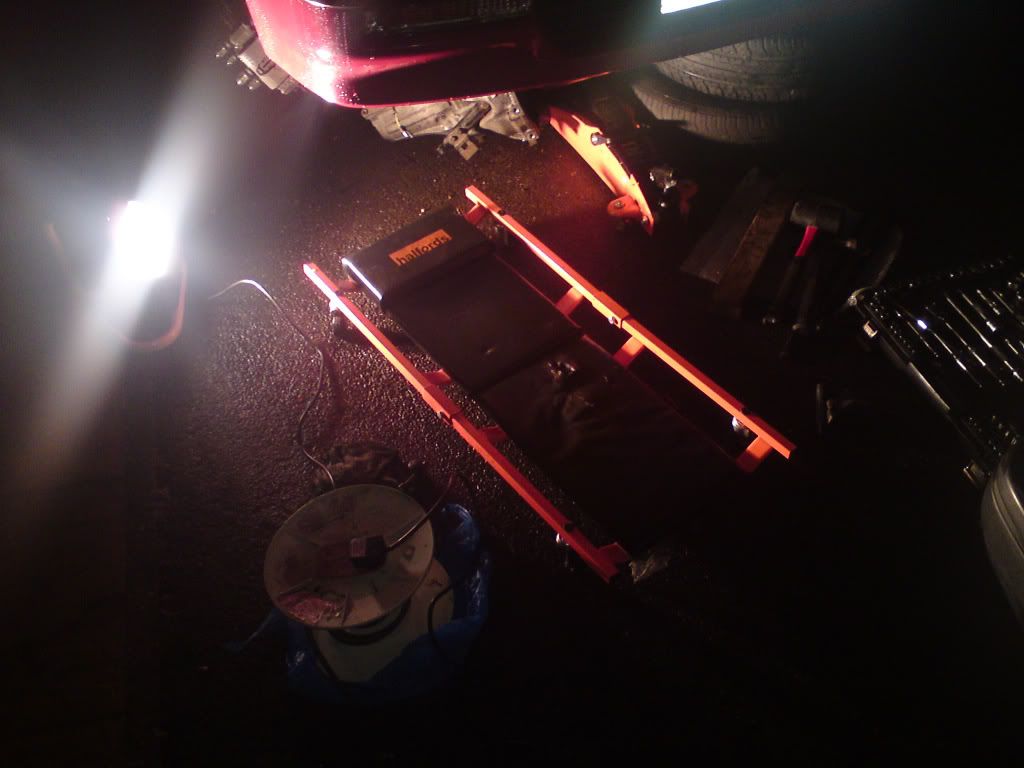 I find myself working in the dark alot! I Just remind myself that daylight is overrated when you have a halogen light!
Next was Monkey and some Full radius trumpets for my carbs, as i felt the d14 wasn't very lively at all!
Fitted...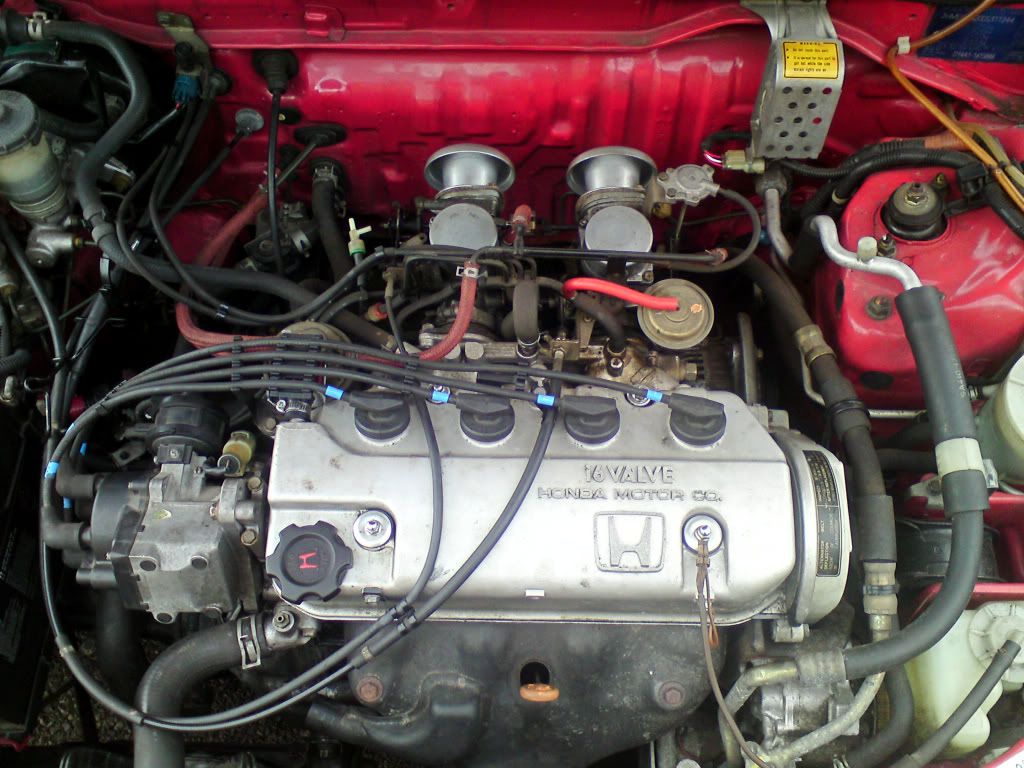 They provided a very rewarding increase in midrange and top end grunt, albeit low down suffered a little(not something that worries me). I'm quite notorious for sacrificing day to day driveability for performance, hence why i have a six puck clutch on a d14 :shock:
Either way, Next up was some sprint wheels from Baber off here. They are light and were cheap so i snapped them up, they had no kerbing at all and were in great condition.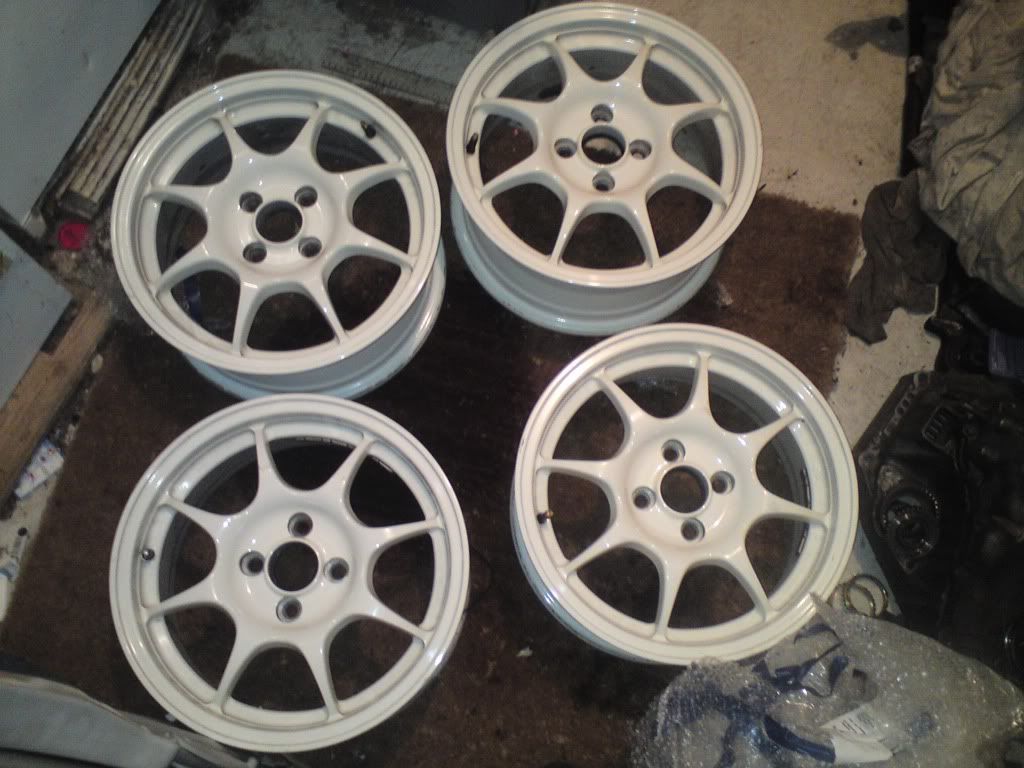 I also picked up some advan A-460 tyre's for £25 8) Although in a slightly chunky profile at 55 they were a bargain.
Got those fitted on an extremely filthy GL
Washing cars isn't my thing.
Soon after these came along
Some Gmax -30mm springs. They were cheap and cheerful so i thought why not.
That same month all the following goodies came along too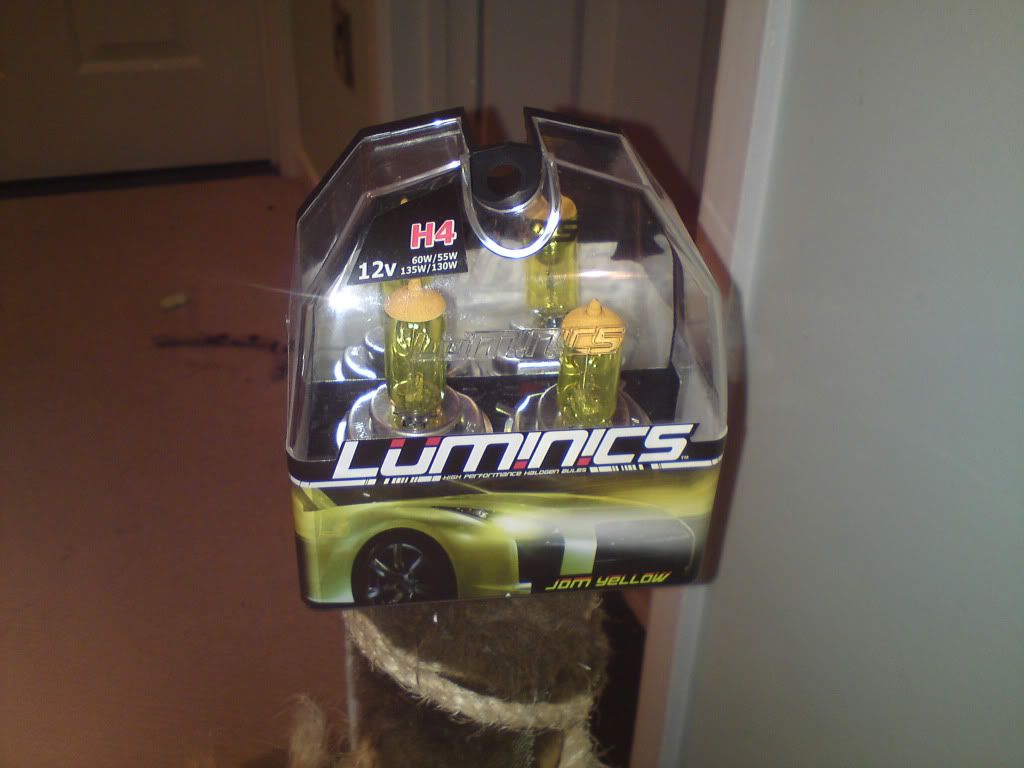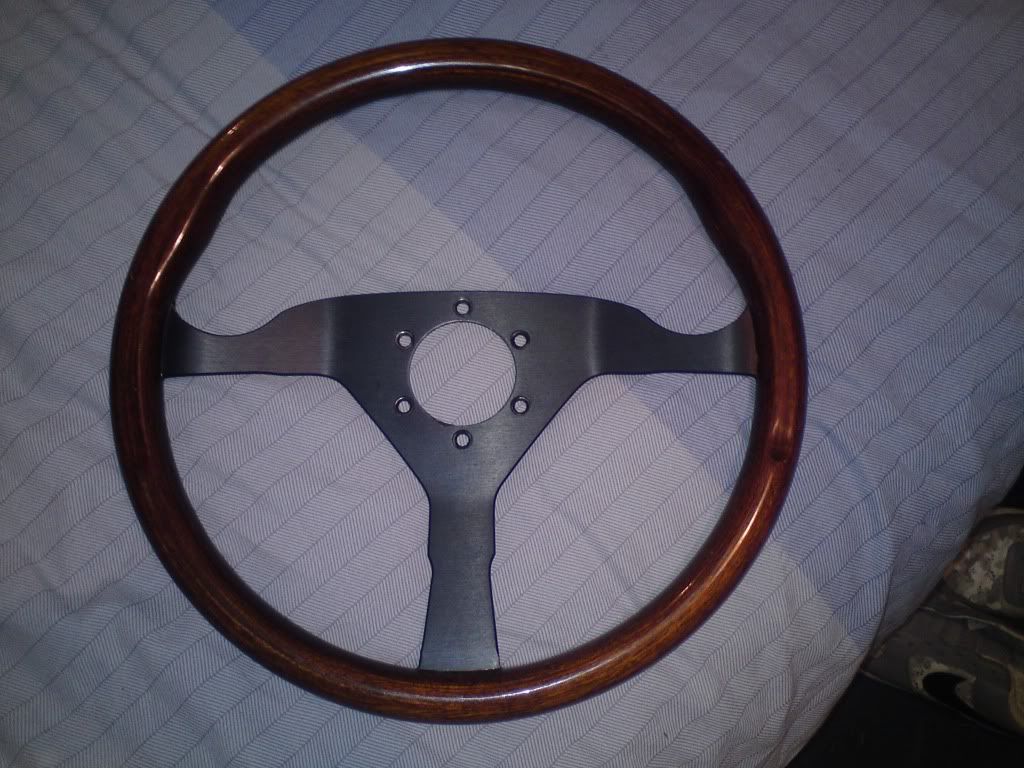 I eagerly awaited a boss to fit the wheel of which i managed to source from christoph(hadstec).
While trying to change the springs over the inevitable happened.
Oh yes the dreaded Rear Lca bolts snapped.
However DanT saved me in the form of a full energy suspension bush kit! At a price that would have been classed a robbery! Thanks again man.
The reason why the bolt did not budge at all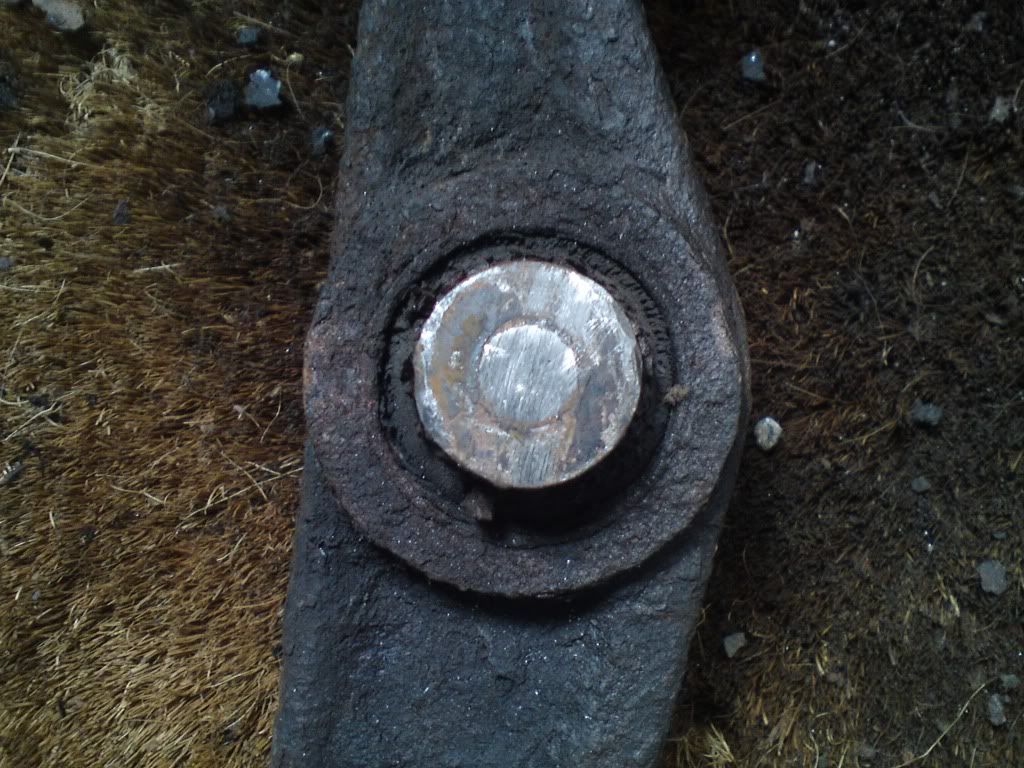 Then i got to play with fire :twisted: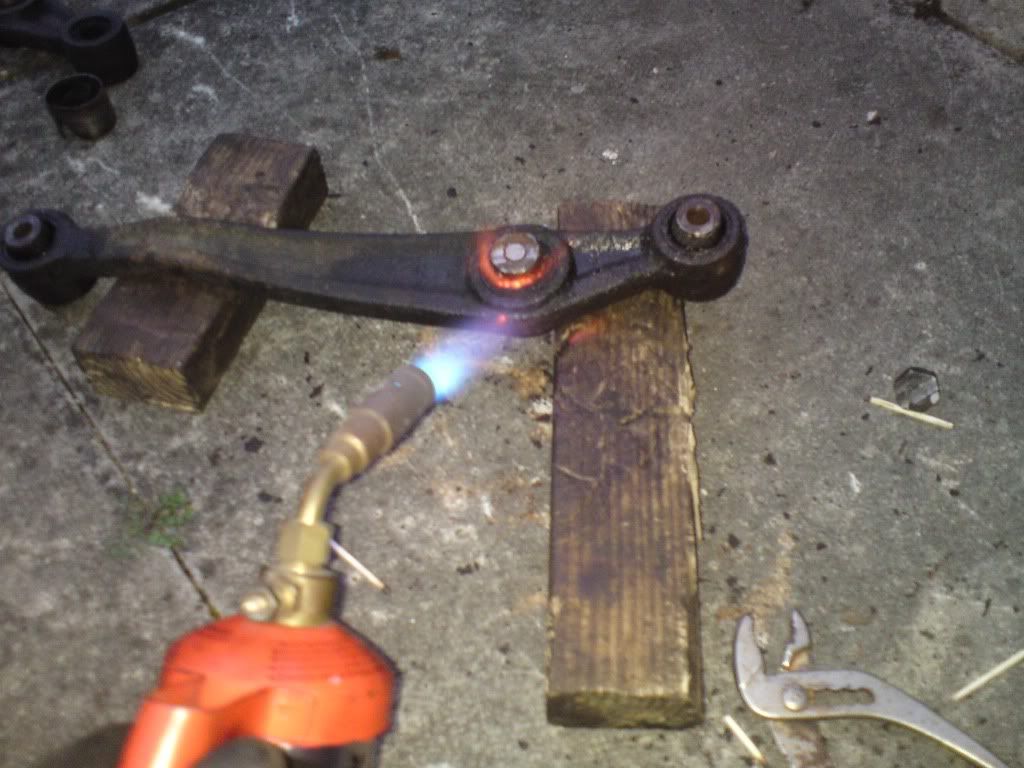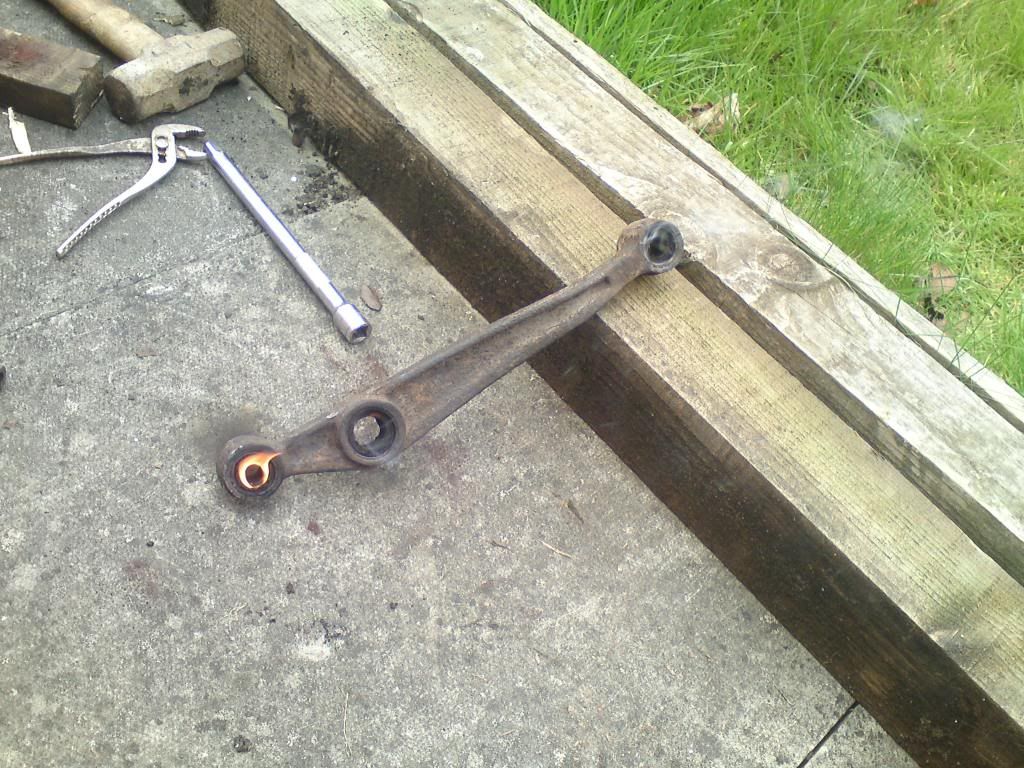 The usual practice of working in the dark.
Work up fresh that morning ready to get them on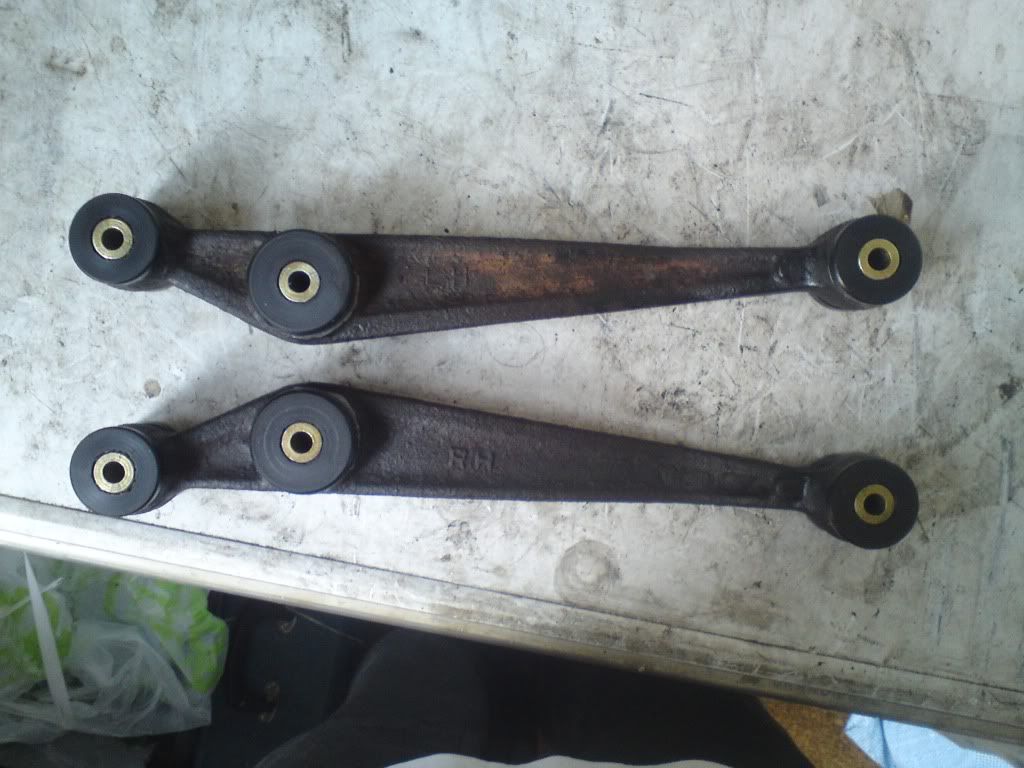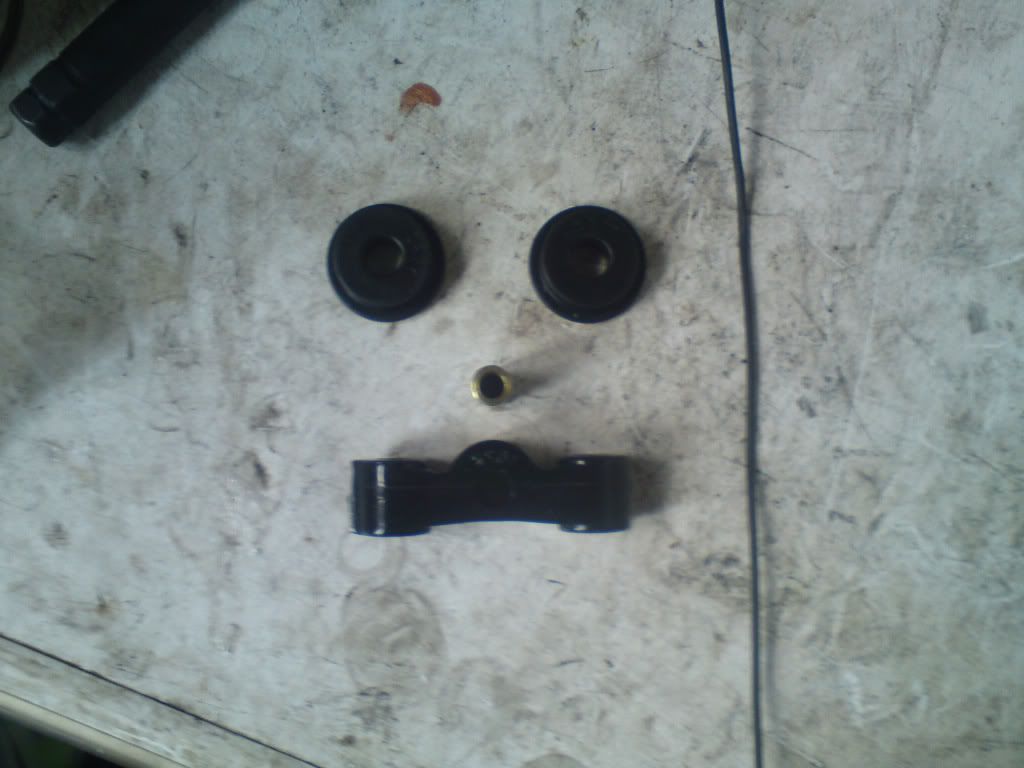 Did the shifter bushings while i was there.
Next day i went on to attack the front of the car.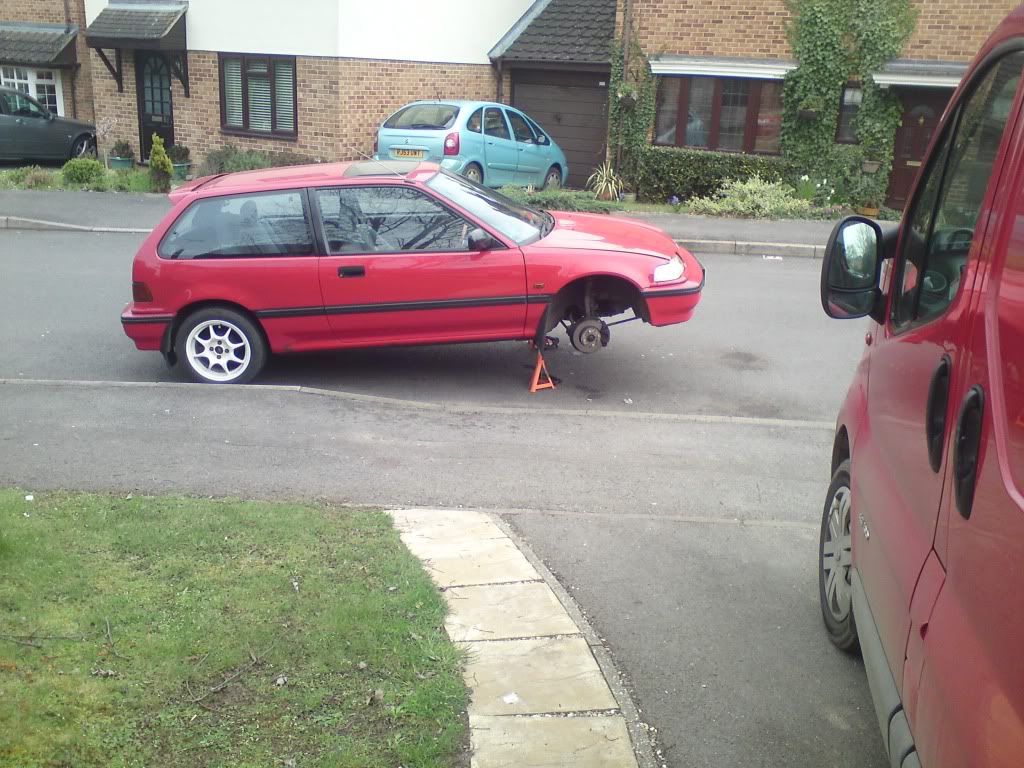 Also bought a new jack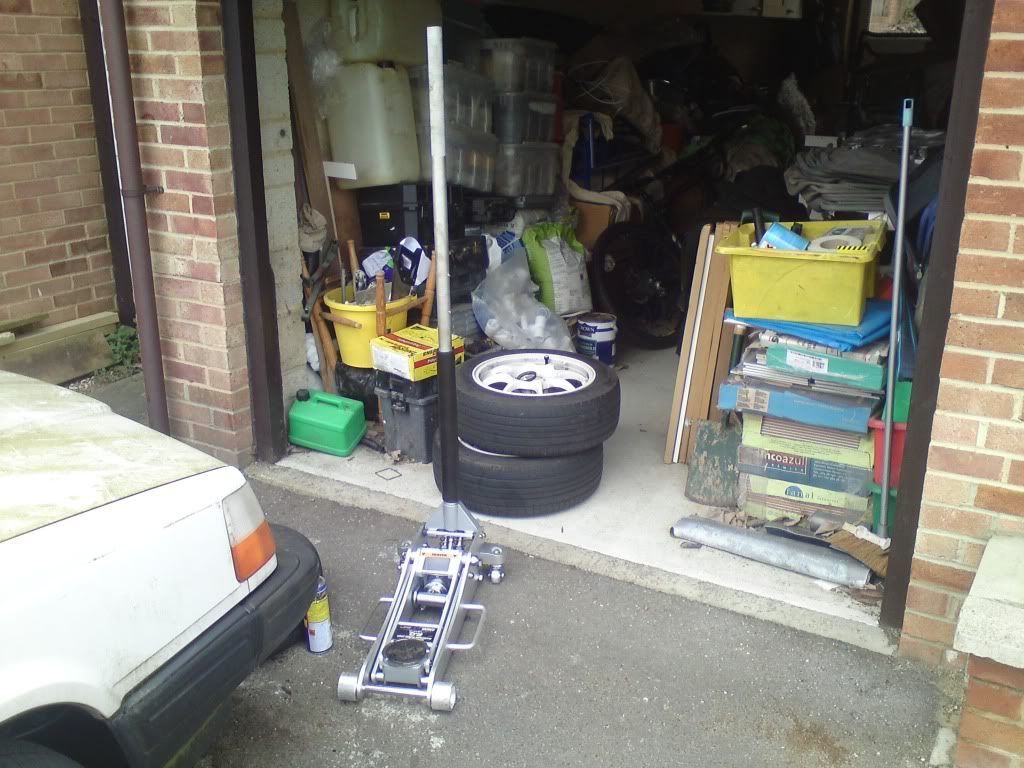 Arcan 1.8t race jack...reccomend them to anyone £84 from costco!
Anyways back on topic
New endlinks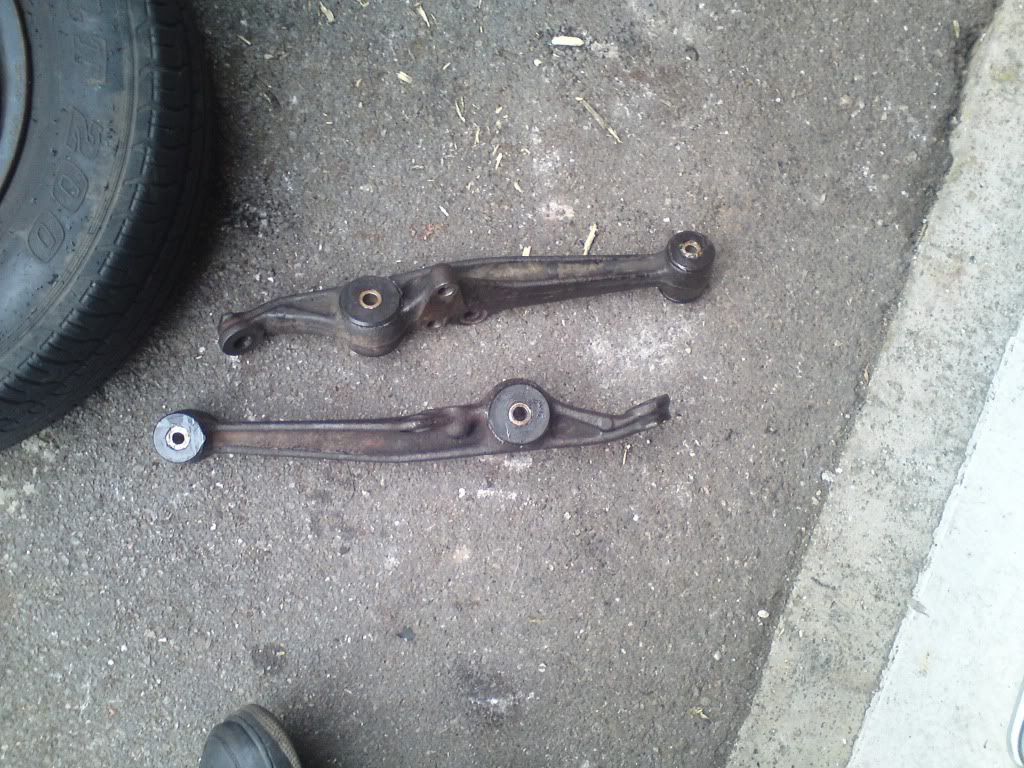 Front arms all bushed and ready to go back on.
Never got any pictures of it back on four wheels. But 30mm is a nice drop doesn't sit stupid low, but low enough to get rid of the monster gap. The polybushes made such a difference, body roll is alot less apparent and turn in improved majorly! Need some better tyres to be honest understeers a little.
Finally got the wheels on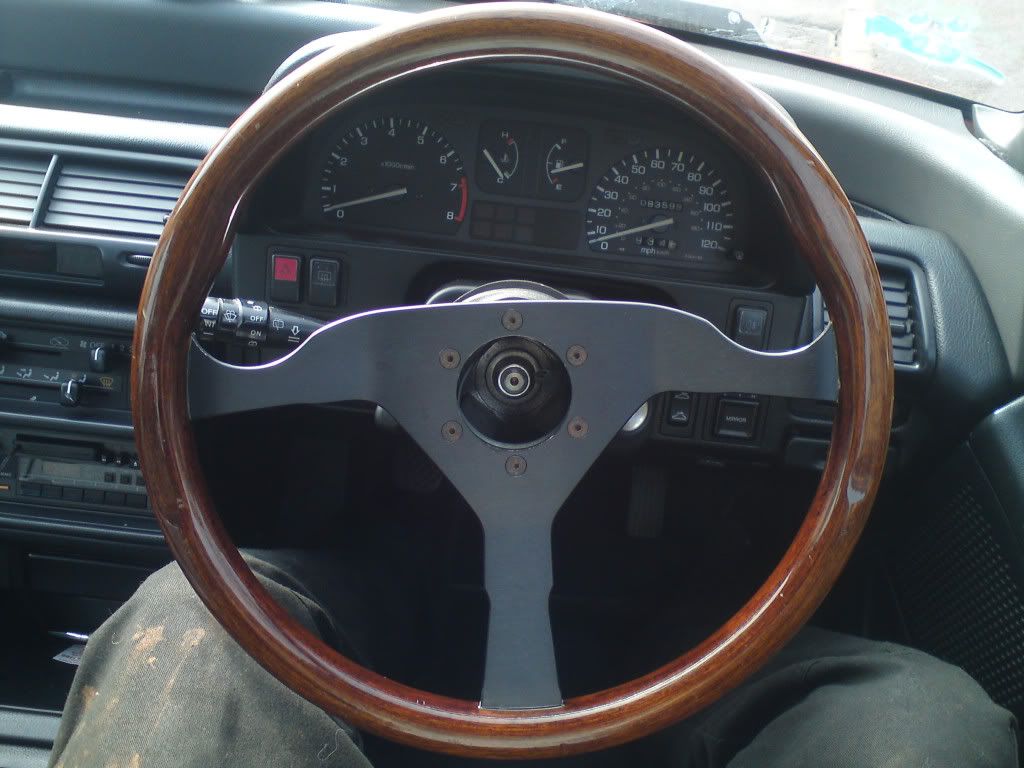 Also got a new knob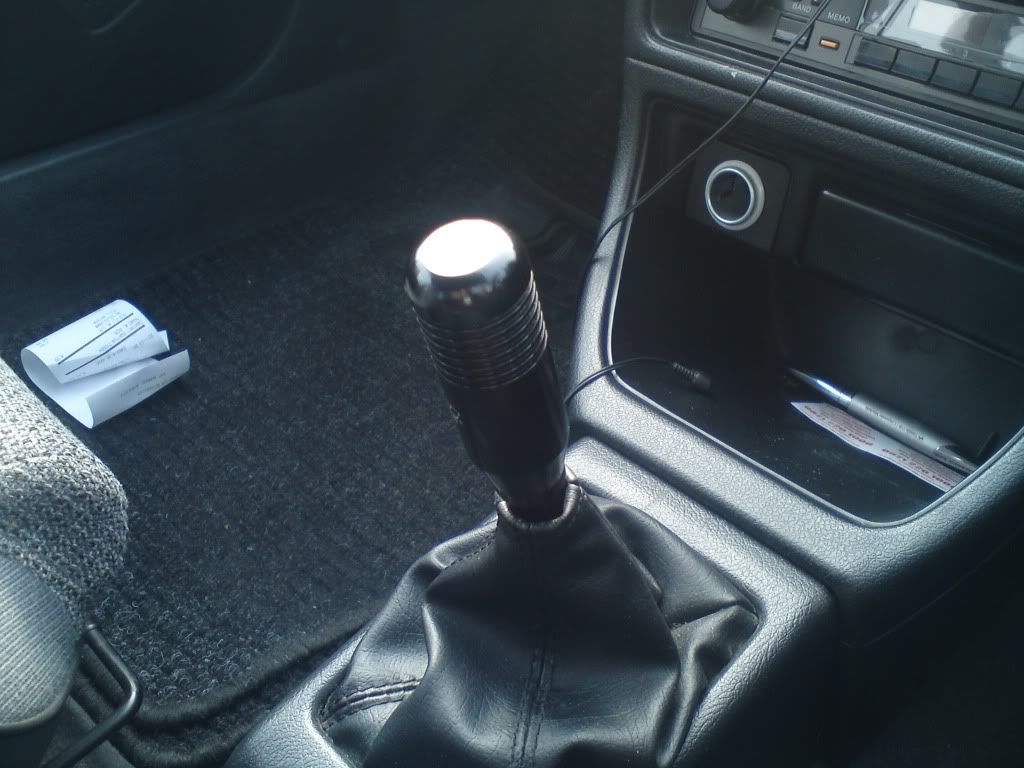 Then came a Manual 16-16 Steering rack as my PAS rack was leaking and i wanted to shed some weight off this car, in a bid that it might move at an rewarding speed someday. :x
This went in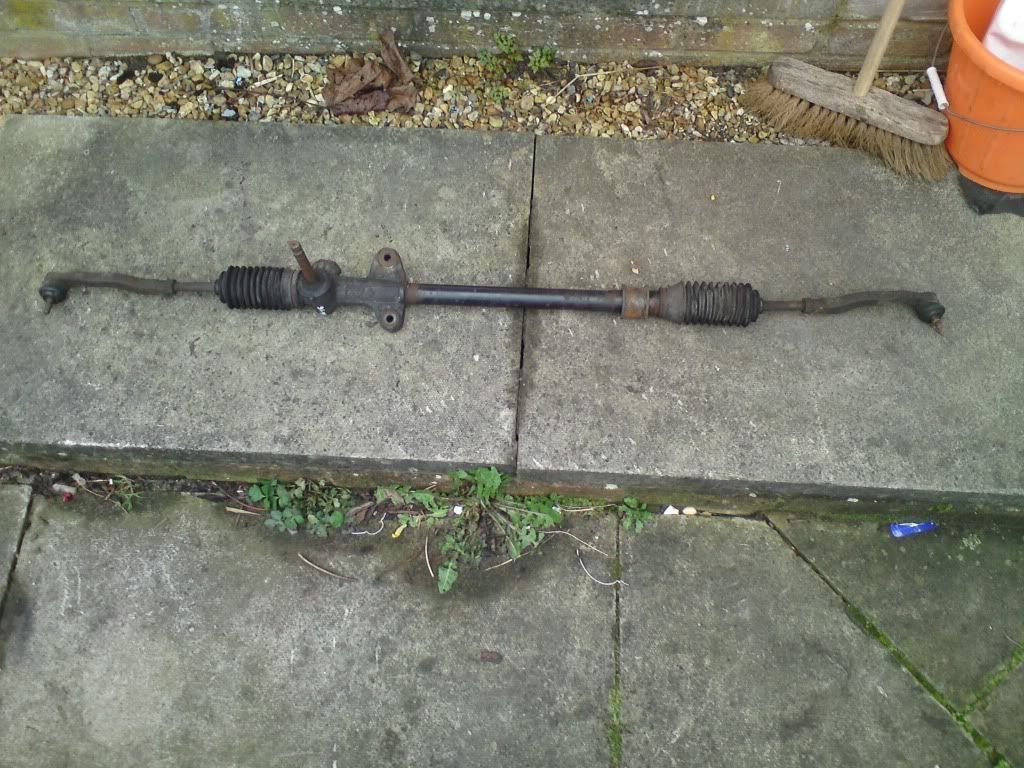 This came out
This made the bay less cluttered saved a shed load of weight and made such an improvement to engine response! As its been relieved of any drag caused by the belts. To be honest it made it a totally different animal.
Making my bay look like this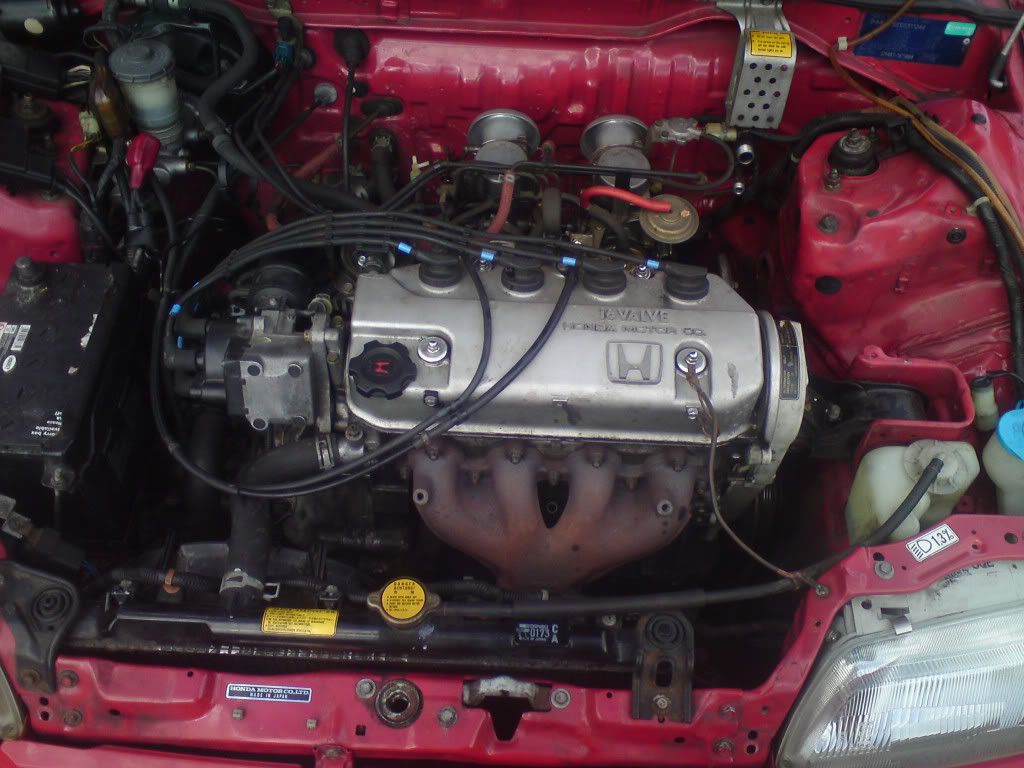 Bought a d15b for it too as its a straight swap and the 1.5 has a little more potential for future improvement.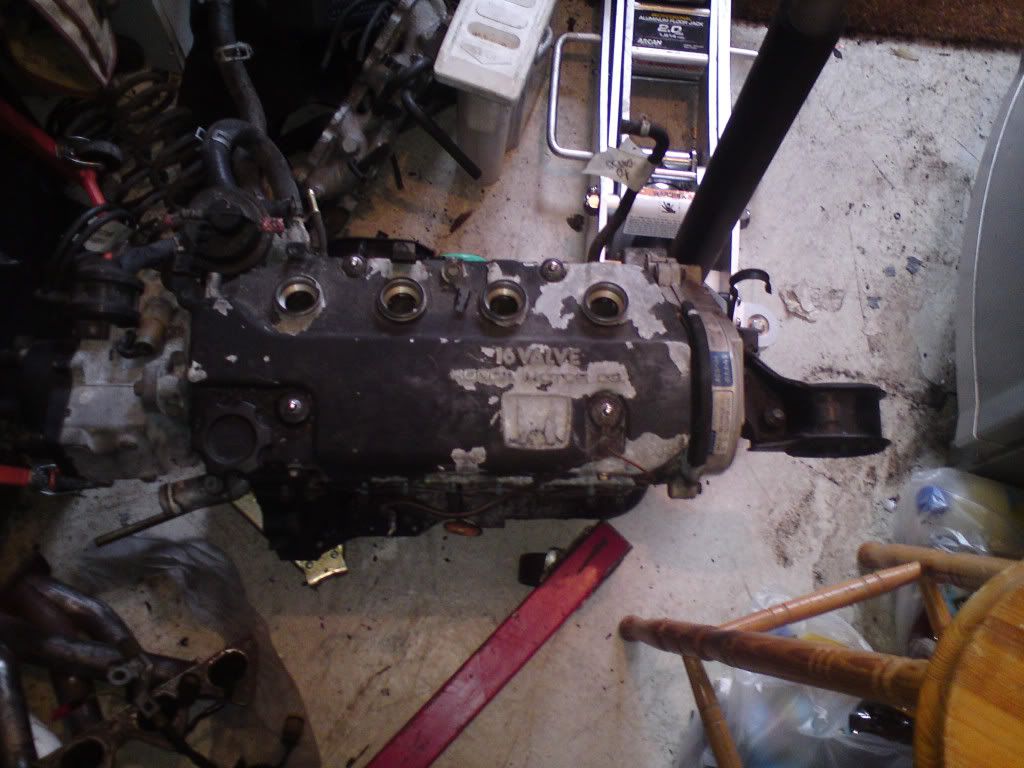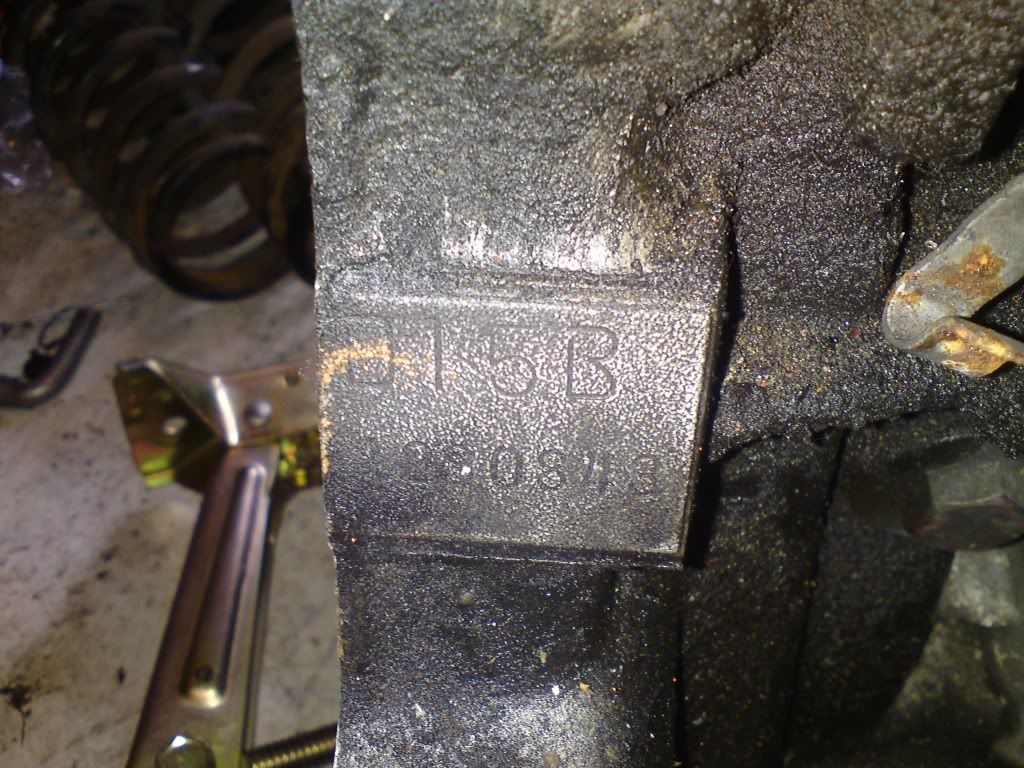 Then came the most important mod!
You guessed it the lots of lollies door card

. I have a sweet tooth.
Here's a few pictures of my car at Mimms.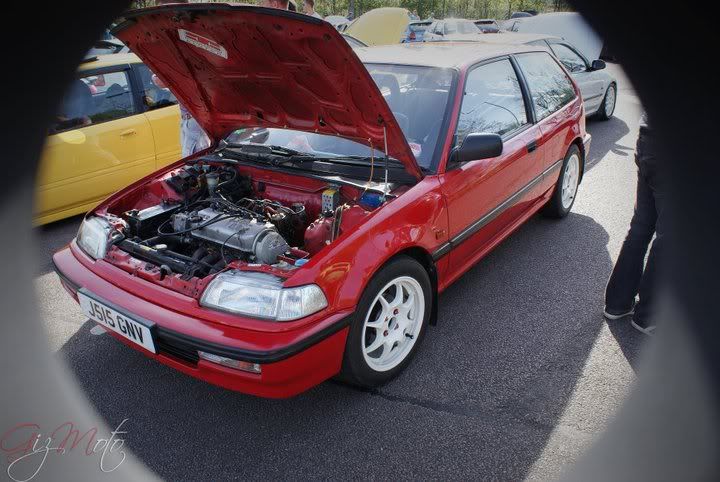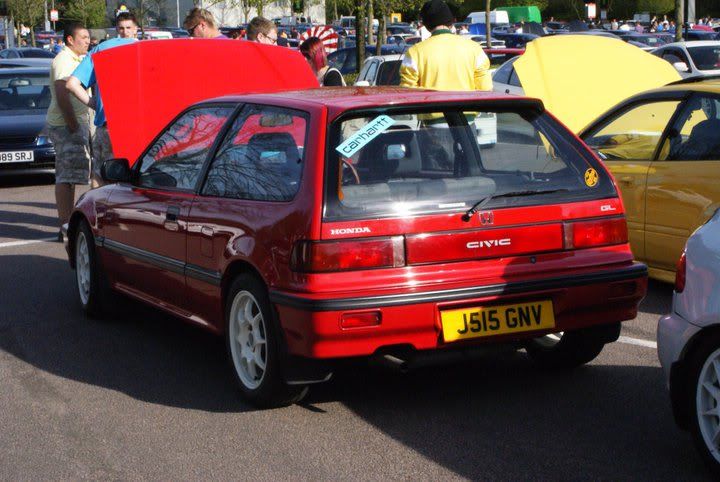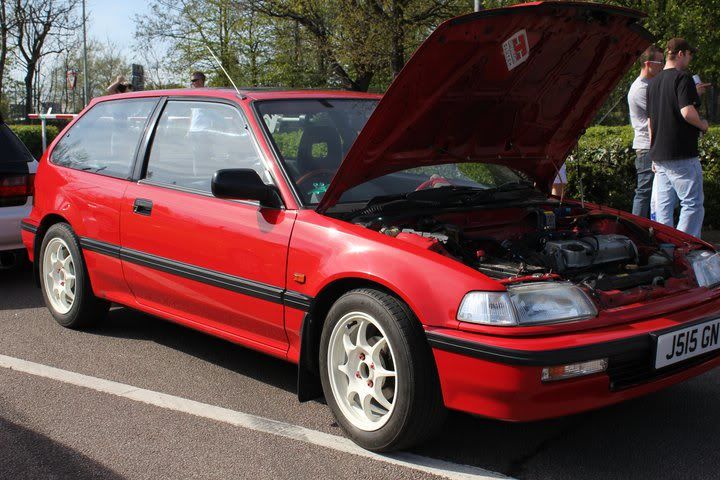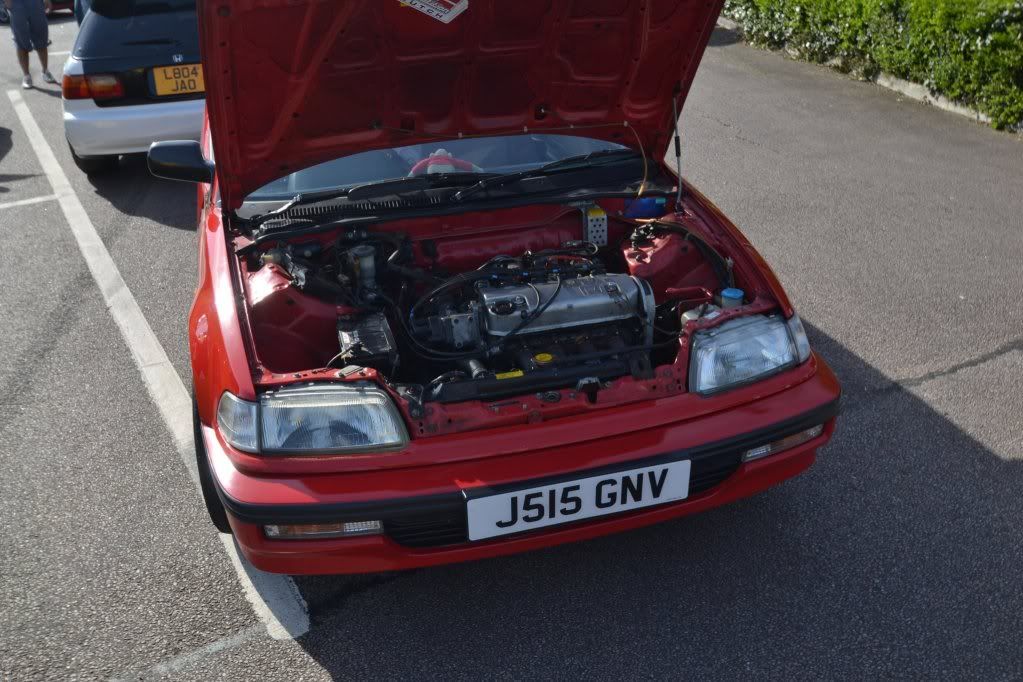 After Mimms i was skint so i created my self a new gearknob using an old GT stunt peg :roll: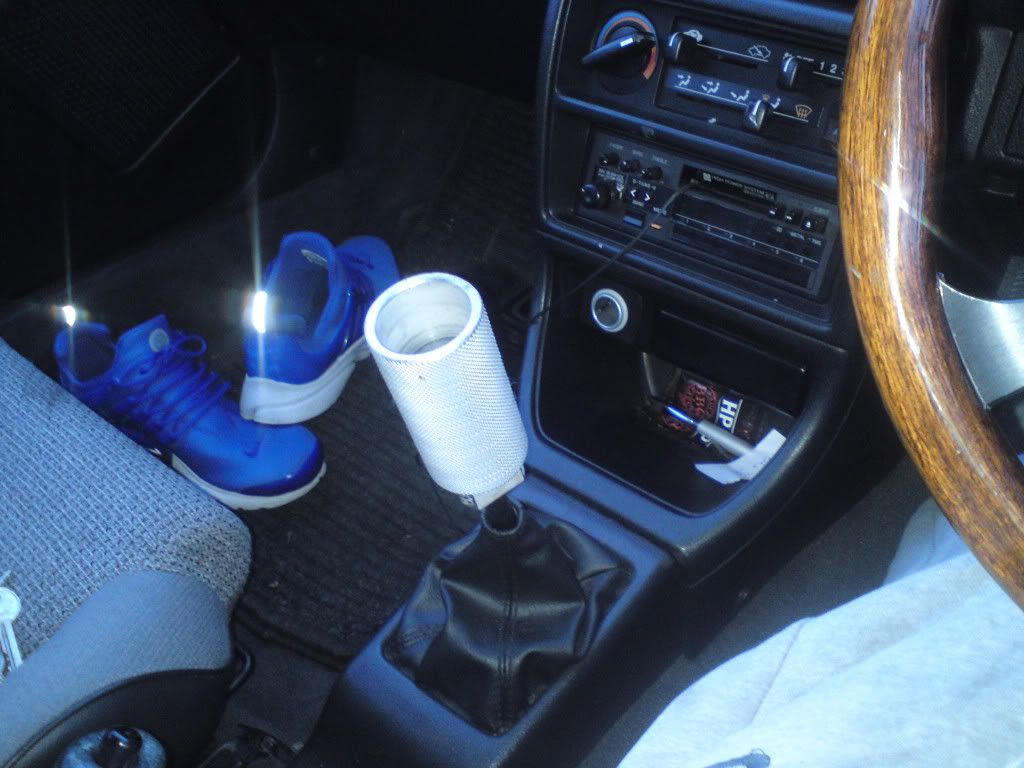 To make it slightly more subtle i painted it black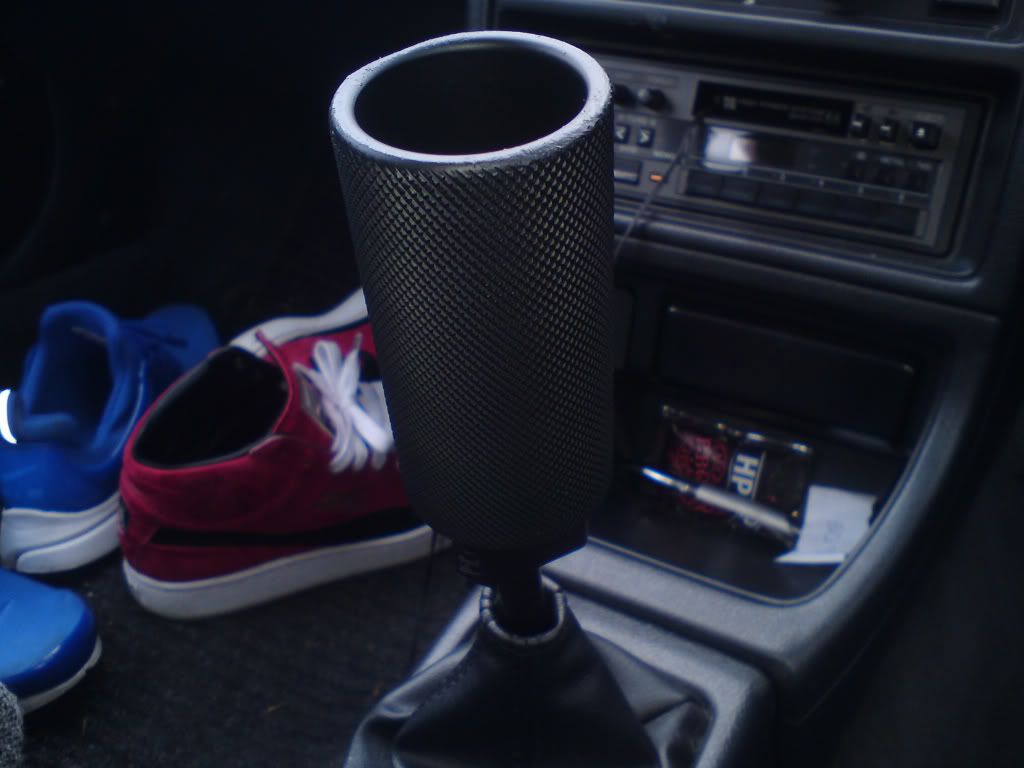 As its knurled it feels awesome its also extends the height a little bit.
An update...
First things first i got rid of my sprints as i was poor and needed the money, they also funded more important things so atm i'm rolling around on some steels i borrowing from rolfe(dan) from here,Thanks again man.
Next was a crx Vtec lip for the bumper which made such a nice difference to the front of the car, set it off perfectly.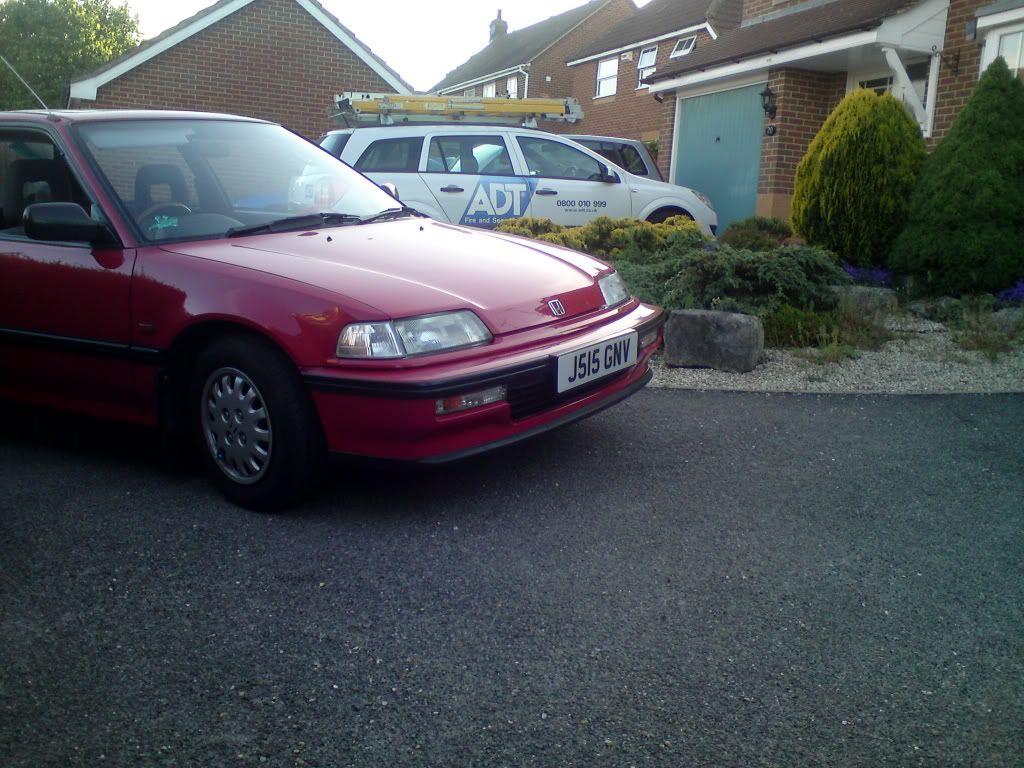 The wheels helped fund this MINT Recaro, it almost looks brand new just needs a good clean and hoover! No bolster wear, no rips or burns just a fresh seat. That is getting fitted in a few days time

.
The selling of the sprints also helped fund these...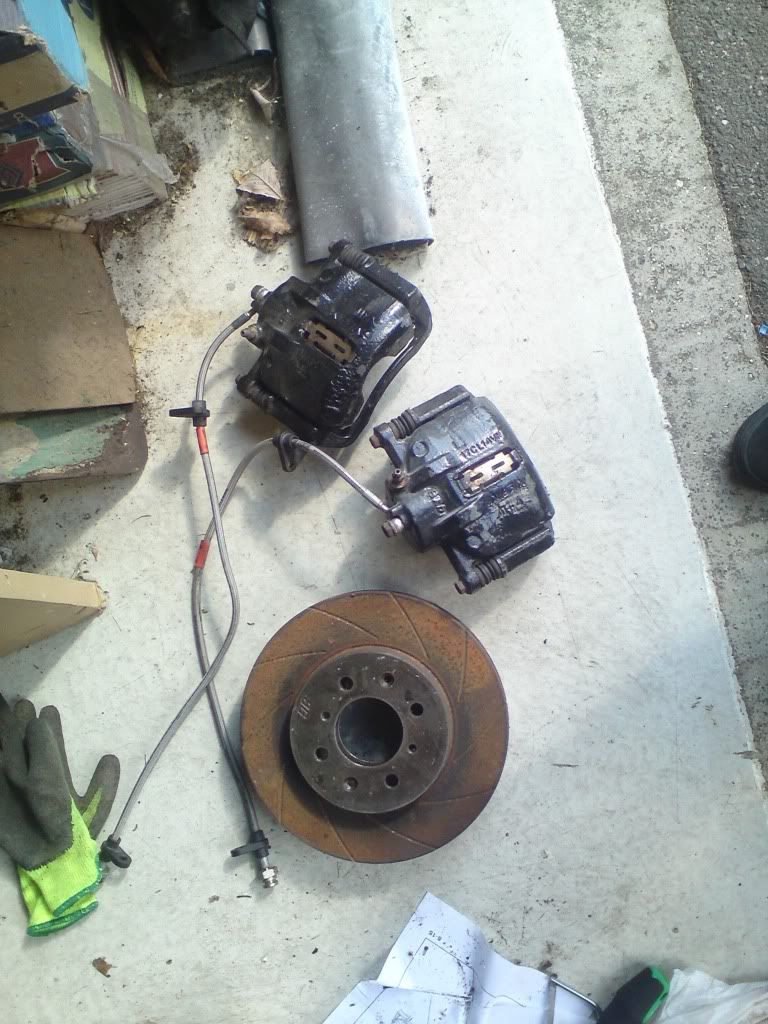 262 calipers, vented discs and braided hoses, i figured with the engine swap needing to go in sometime soon i better upgrade the brakes as GL brakes are dangerous! Hubs are soon to come.
Also a quick photo my car getting all the pussy

Updates

Finally got my Recaro in...
Then these arrived Monday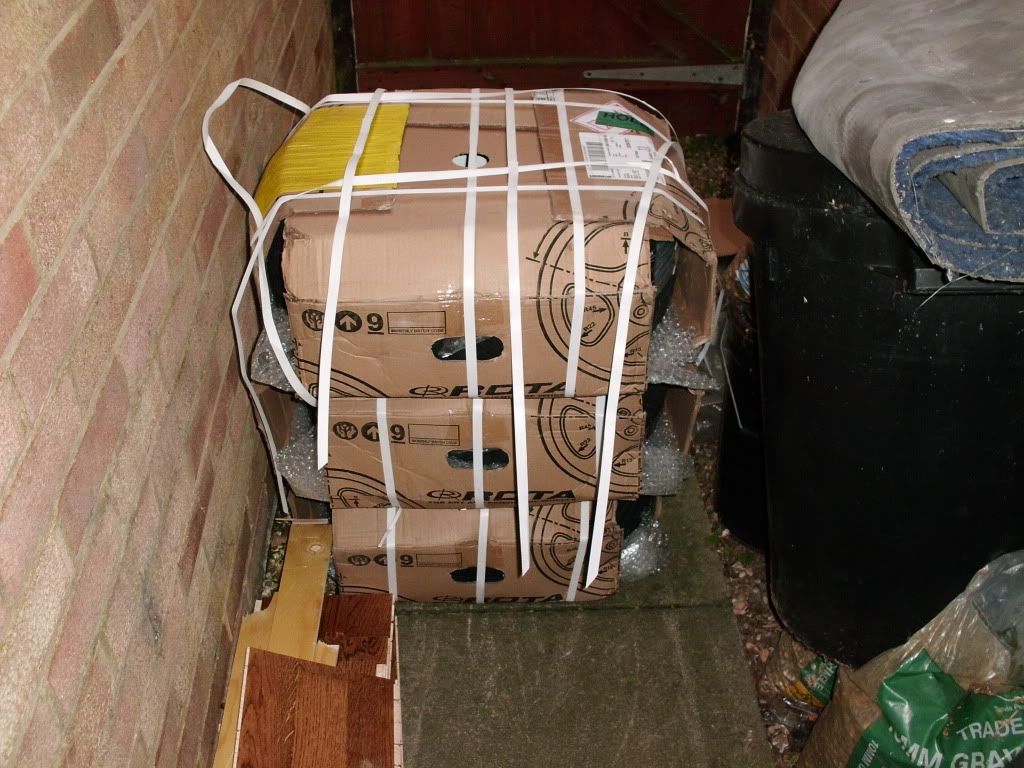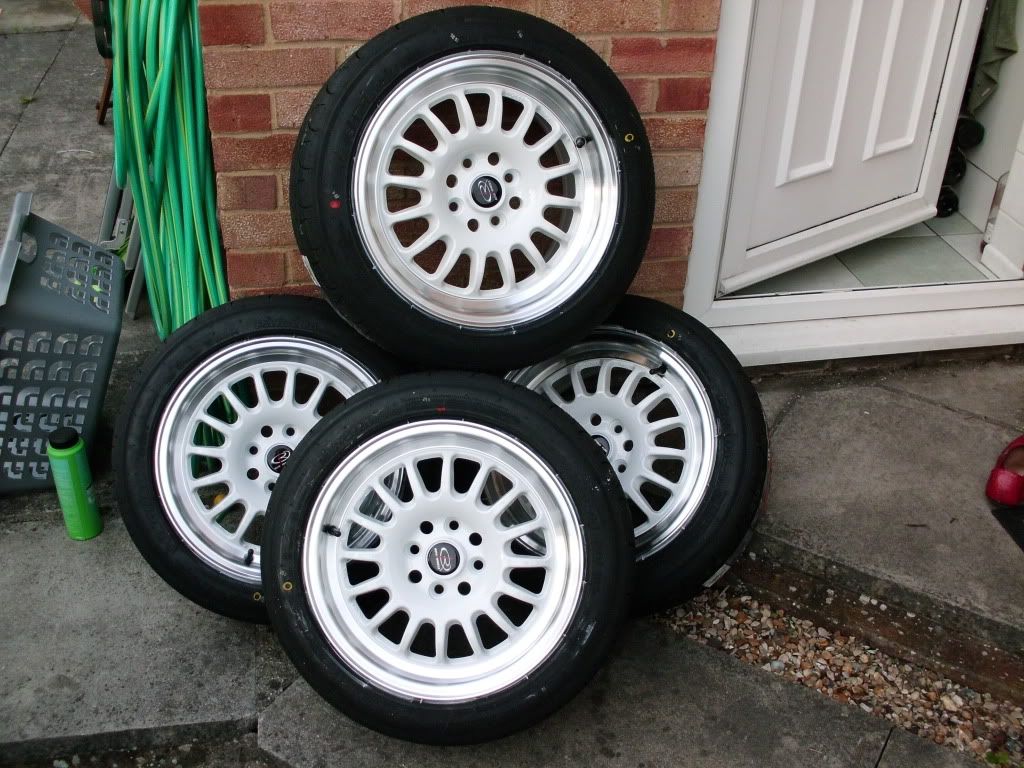 Nom nom nom...ordered them from revolution 247 can't recommend them enough, the service was impecable dare i say the best customer service i've ever recieved.
eager to get them on the car although the wheel nuts are taking ages to get here
The next picture was mainly for pneuma...
Also replaced the lower ball joint on the near side hub today which i found surprisingly easy. However it also led me onto find my TRE's could do with replacing as well as the near side wheel bearing. Of which i will replace when swapping my hubs, As Vtec hubs will only accpet Vtec TRE's.
Finally got the Rota's on. They look brilliant have changed the look of the car so much

, and the yoko's are impeccable!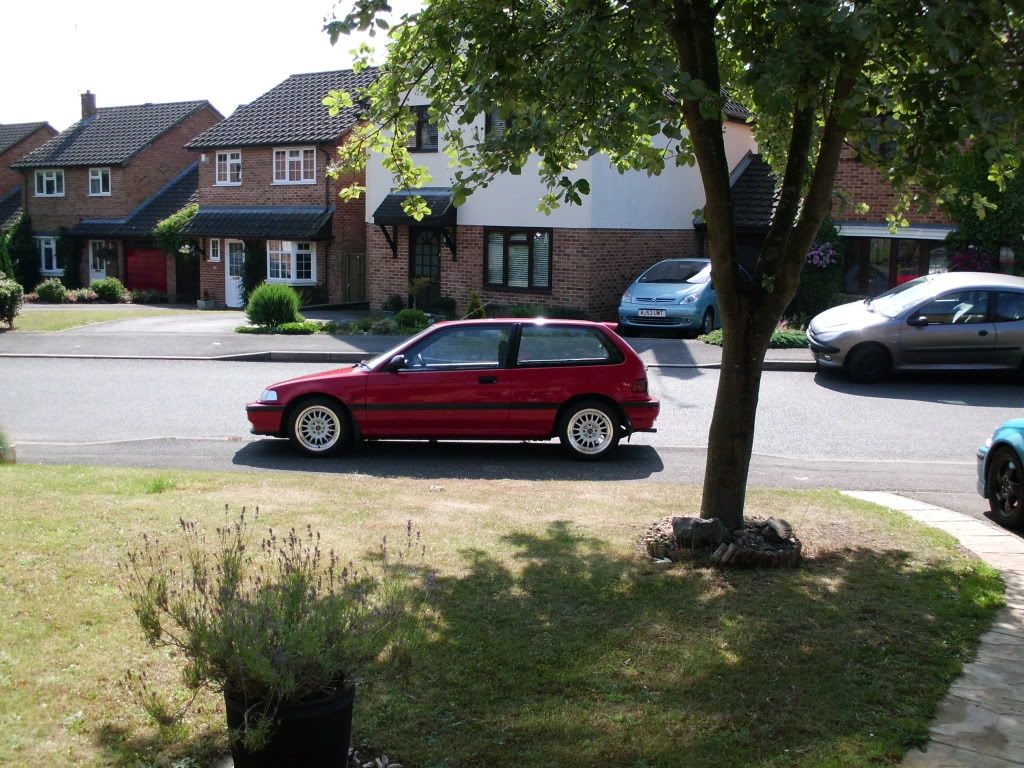 Also spent this morning rebuilding a friends K sport coilover qhich i really enjoyed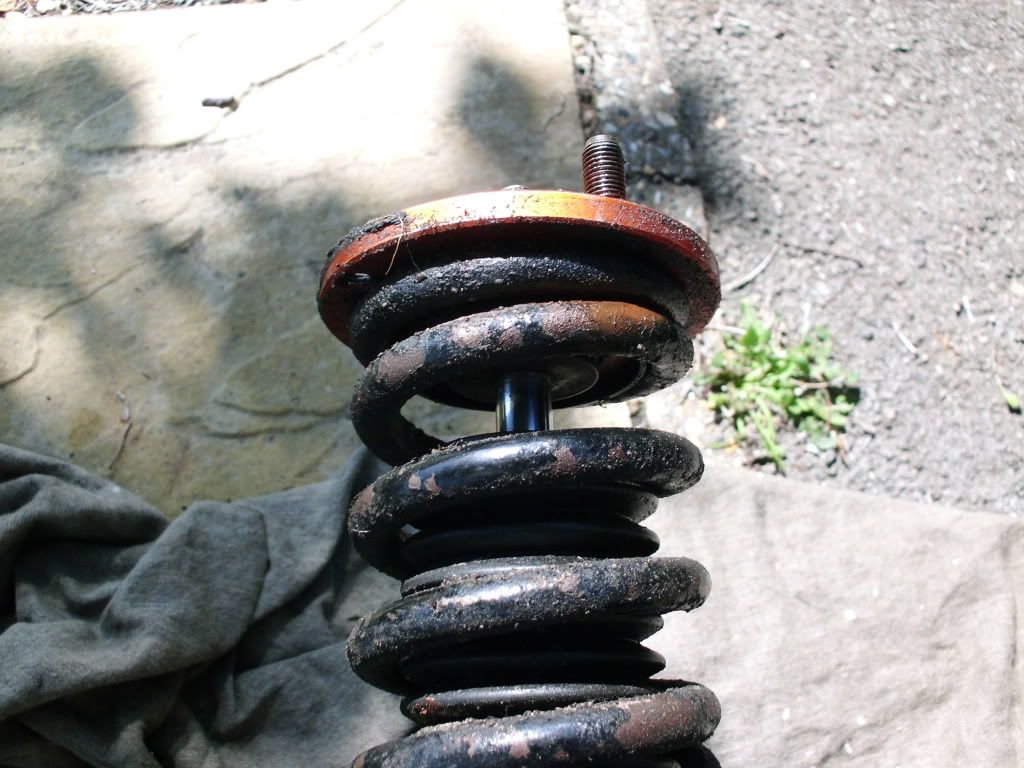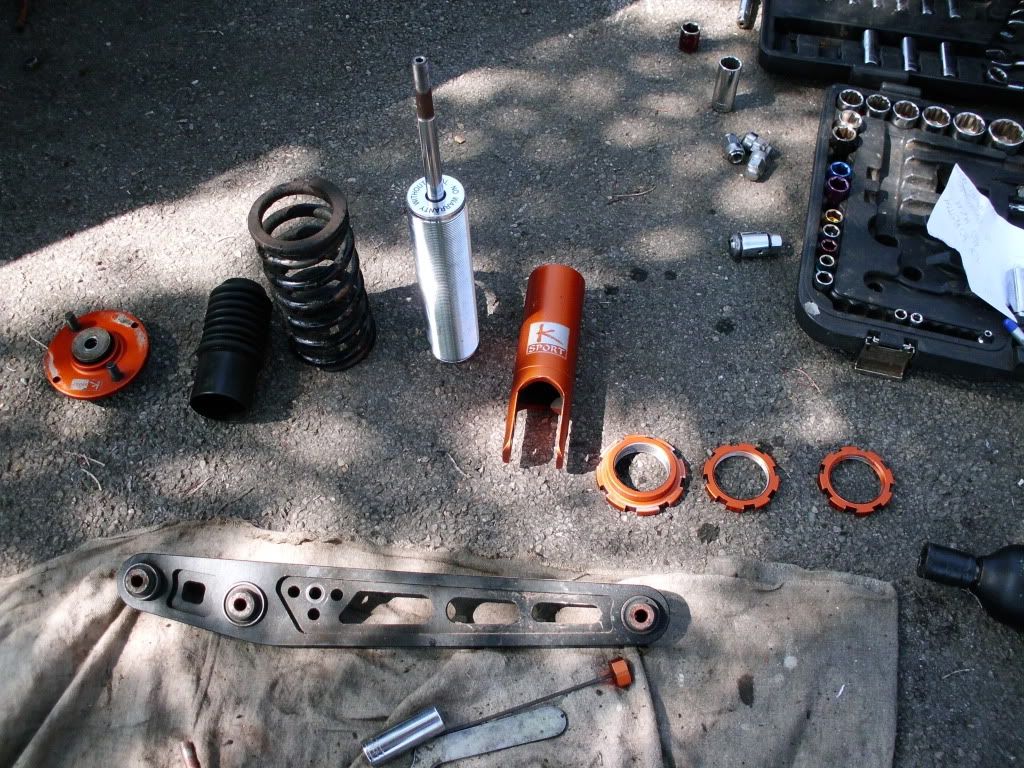 It was leaking like crazy!
Not much to update just a few pictures from meets

A few from the 4GUK dyno day at eurospec.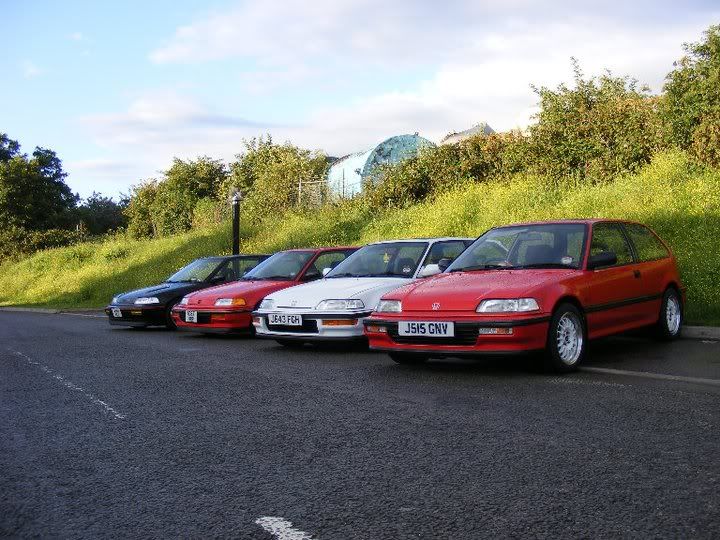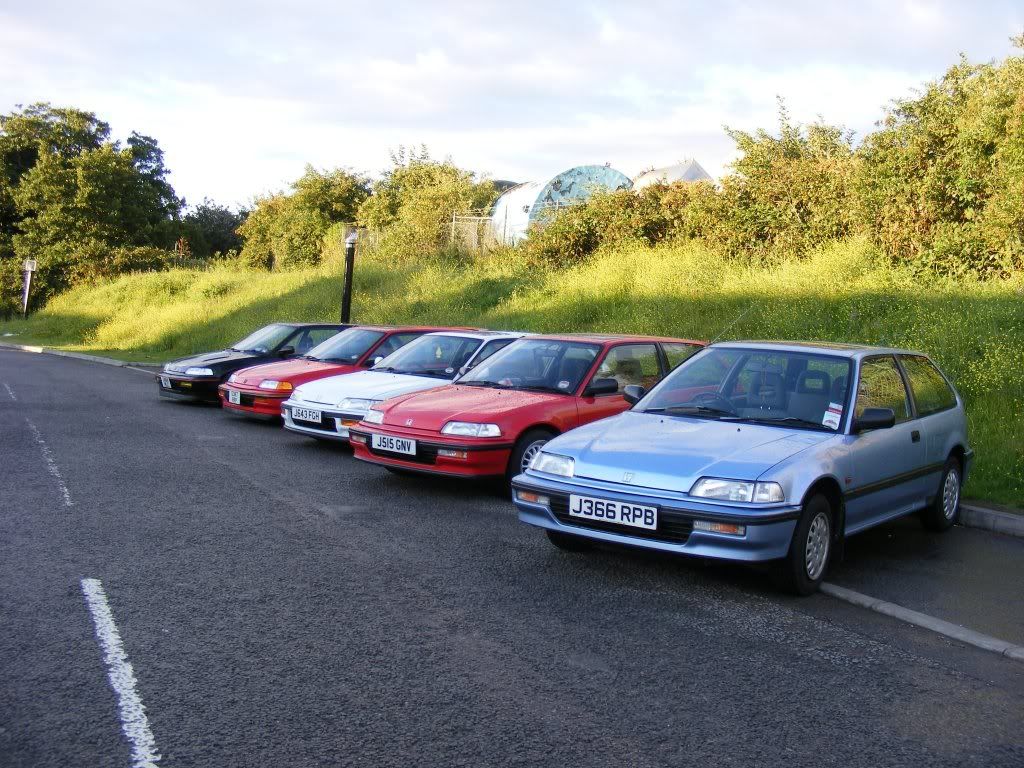 and one from my local Reading J meet of which our very own matt harvey took. This is definitely my favourite picture of the car.
Whoring over for now

Right... Went to do my RTA bushes yesterday. Was a PITA if i'm honest, due to not be able to take the arm off the car with out disconnecting the brake line and handbrake cable, after about 3 hours battling with it. I sufficed and disconnecting the brake line(i did not want to due to not wanting to bleed the system), none the less it was stll curse word as the handbrake cable was still attached and i wasn't willing to take the whole drum apart. So i proceeded with great difficulty bashing the bushes out and in.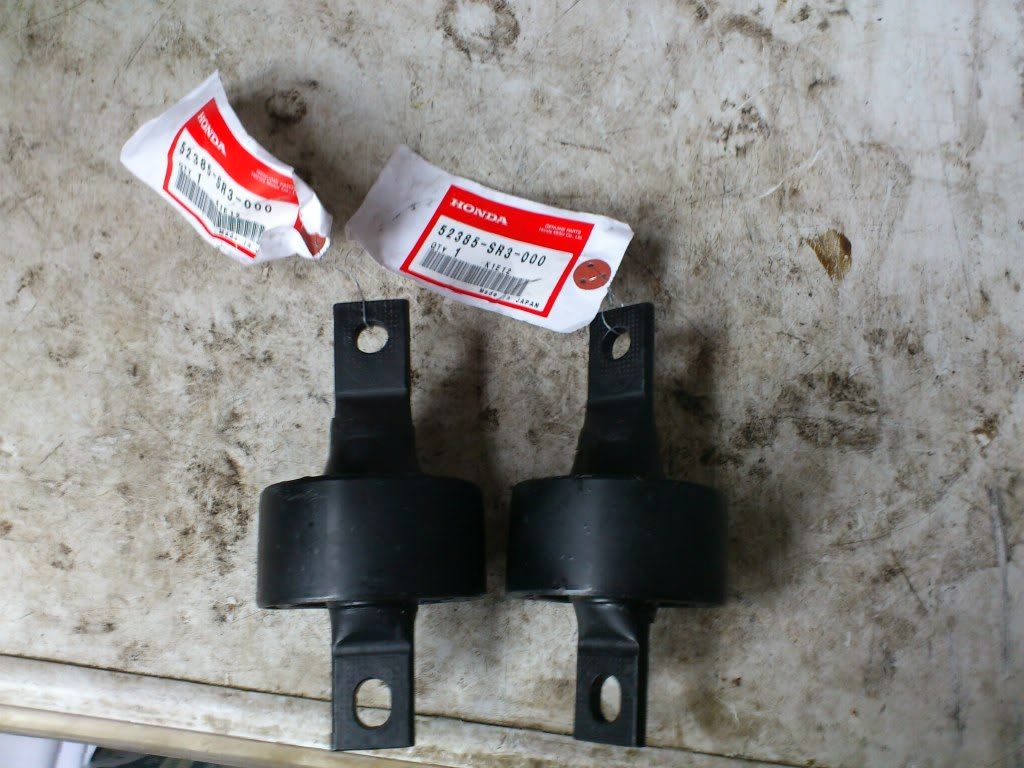 Old VS New. This picture really doesn't show how bad the old ones were.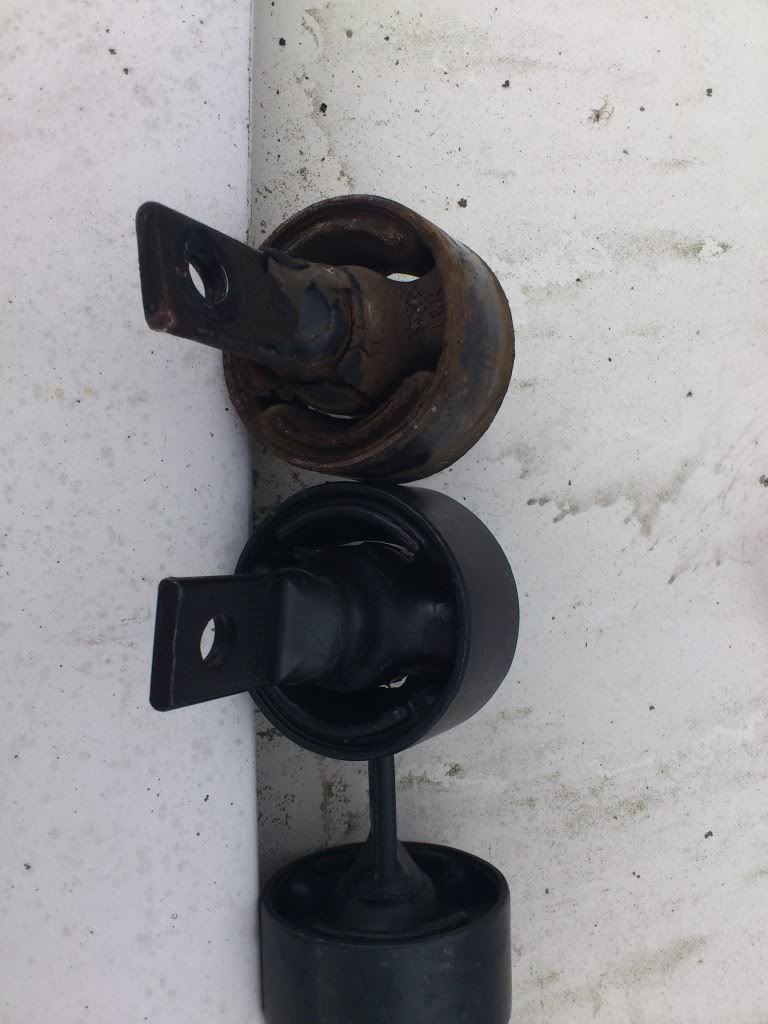 So after that i was to frustrated to take any more pictures of the assembly process. So i bolted everything back up and went to crack the bleed nipples off, as i knew they'd be rusty and wanted to see if they would budge. Inevitably One cracked off and the other made all the sounds of cracking and got me excited then sheared

So i was left with this...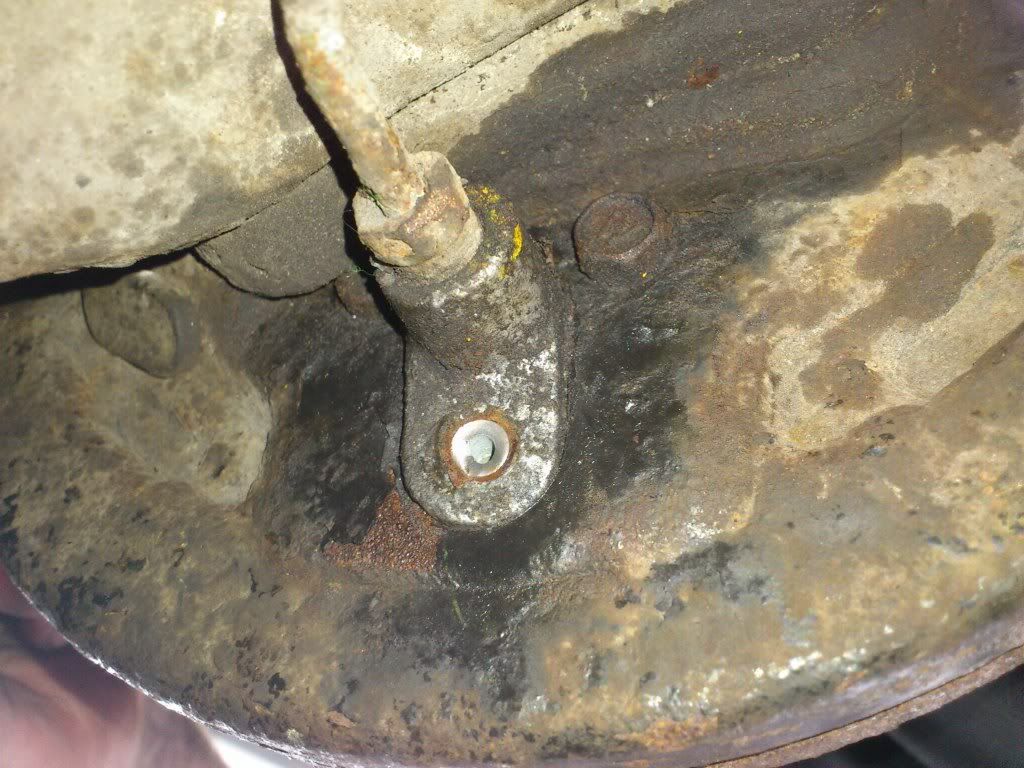 The remnant bleed nipple taunting me stuck in the spanner.
Much to my dismay i know need a new brake cylinder. Which means having to dismantle the drum anyway. Was extremely frustrating seeing as it was the last bolt that needed to be cracked.
Also while doing my RTA's i uncovered lots of RUST!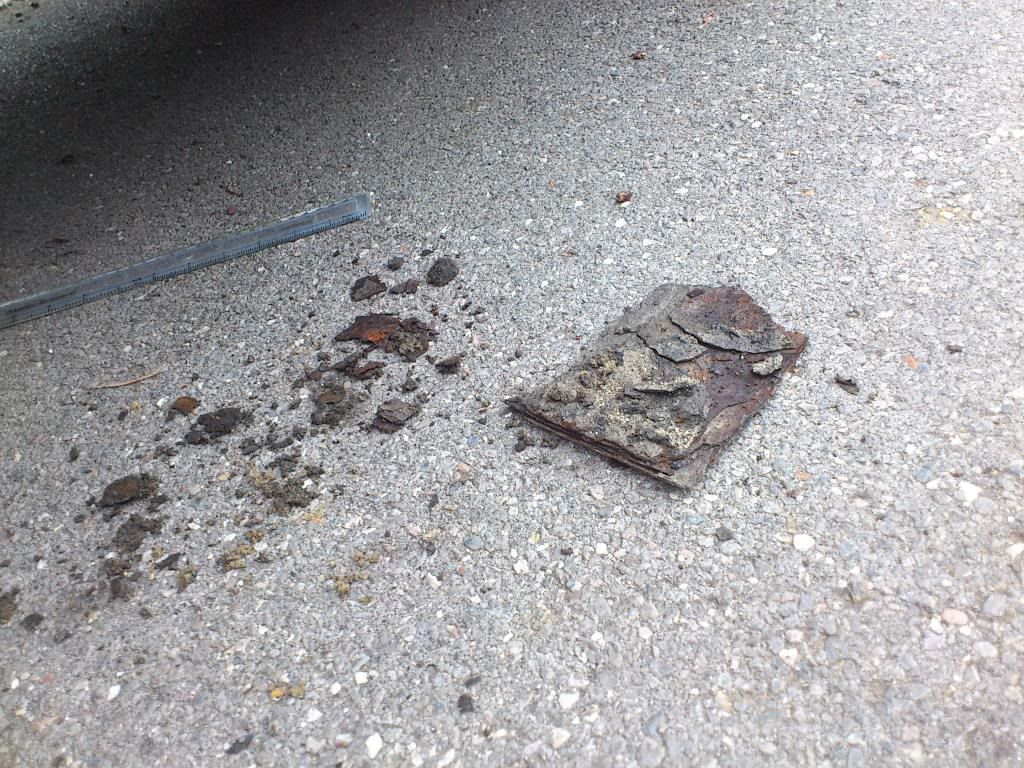 This was where some mongoose just smashed a load of filler on top of the rust patch, when previously owned.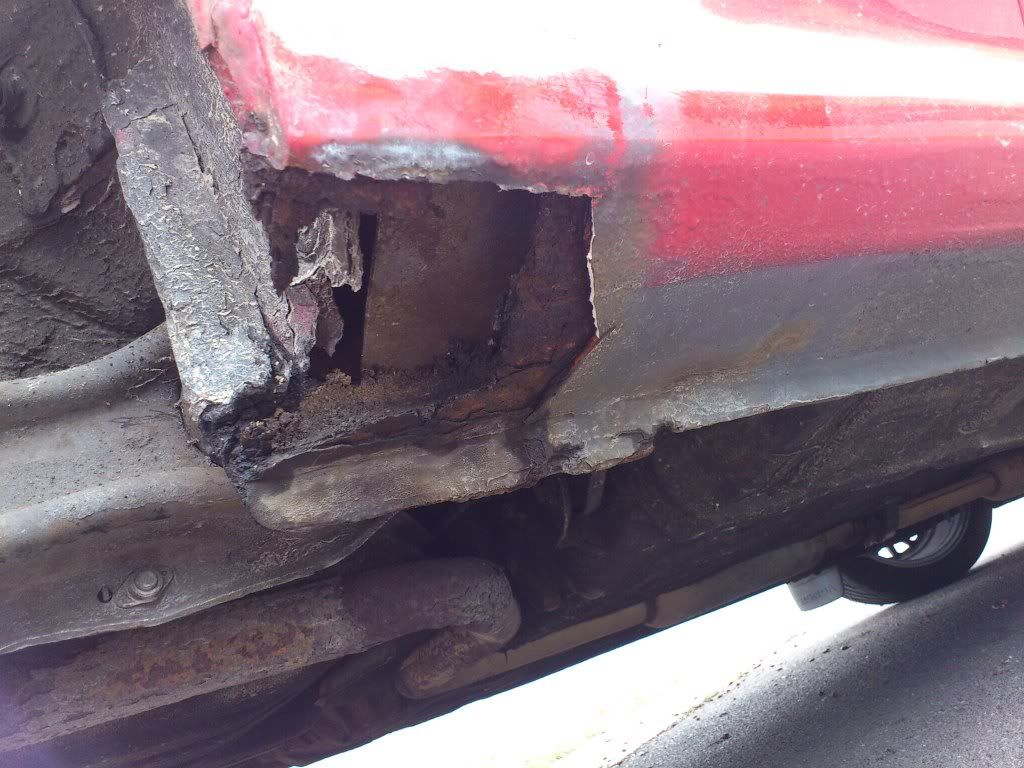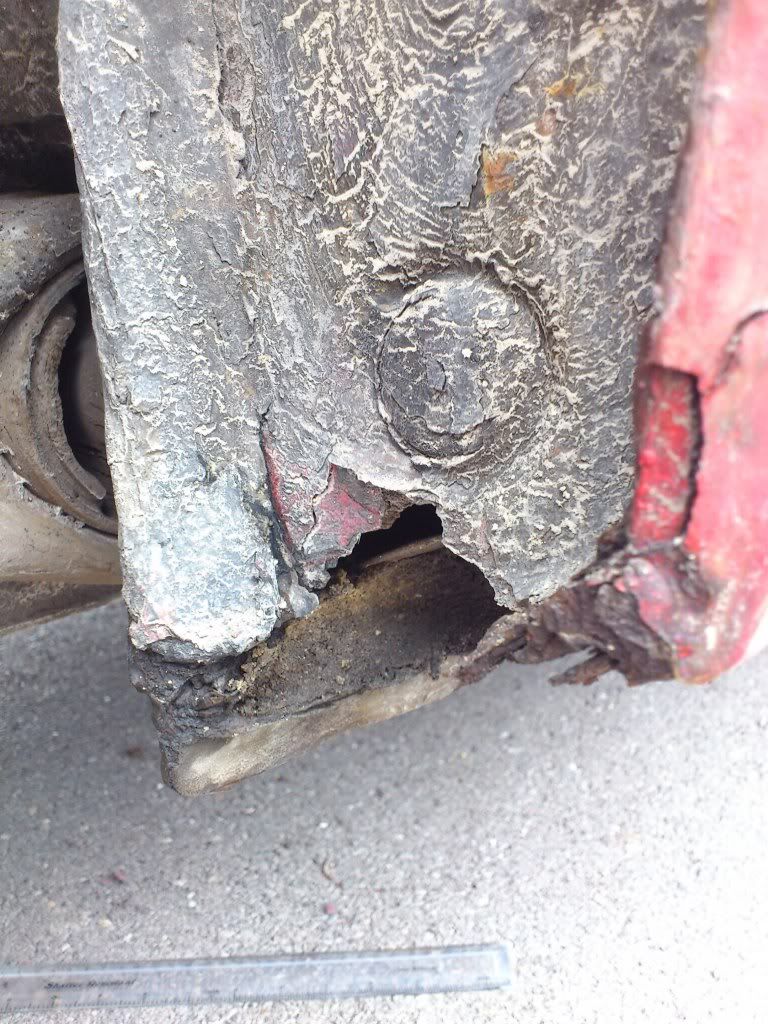 Not much to update really, just a few pictures.
Gave her a bath, and to clean the wheels i always take them off. I Really like this picture for some reason.
The next few are for those of you who wonder what the yellow head lights look like, the photos are not the best but none the less you get the idea...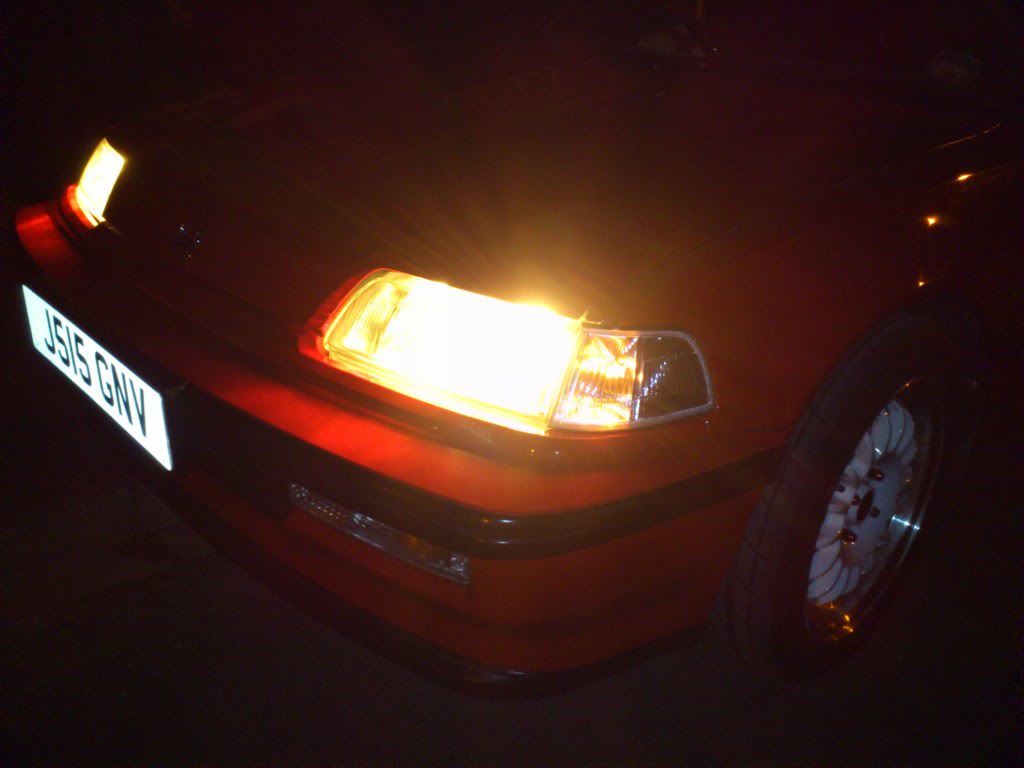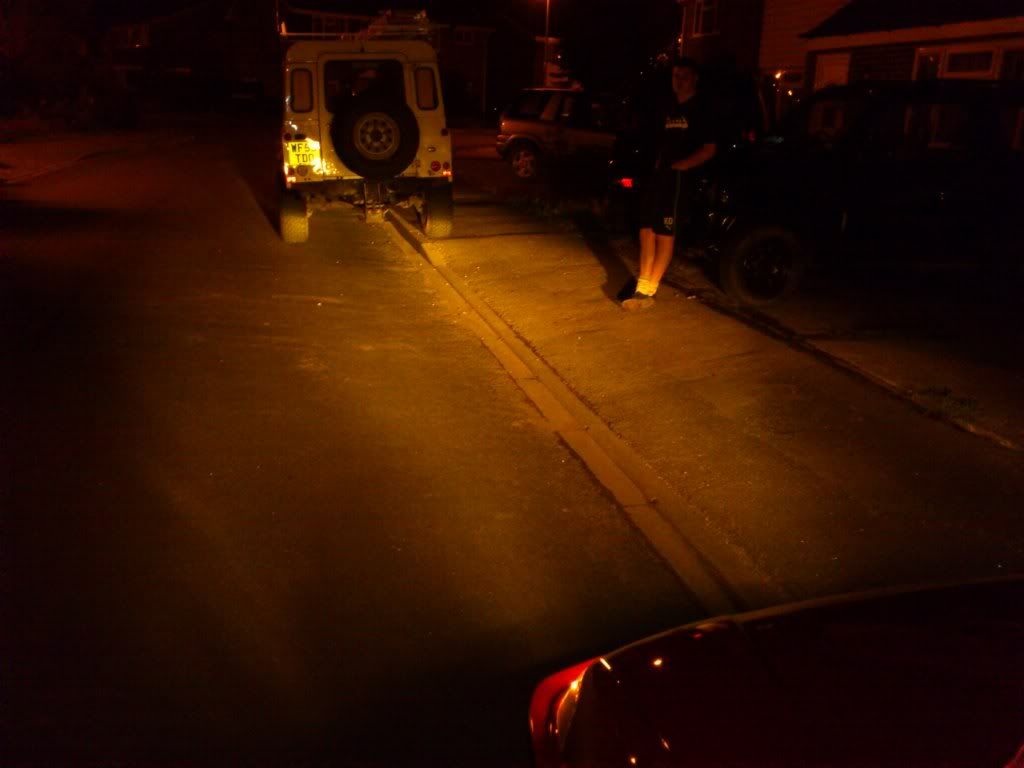 BRAKES!
This episode is of me hoarding bits as usual and fitting a 242mm brake set up from a 16v that i got for Fark all, thanks to Master chambers.
So i swapped the braided hoses from my 262 calipers on to the 242 as the 242s will fit on to my current hubs.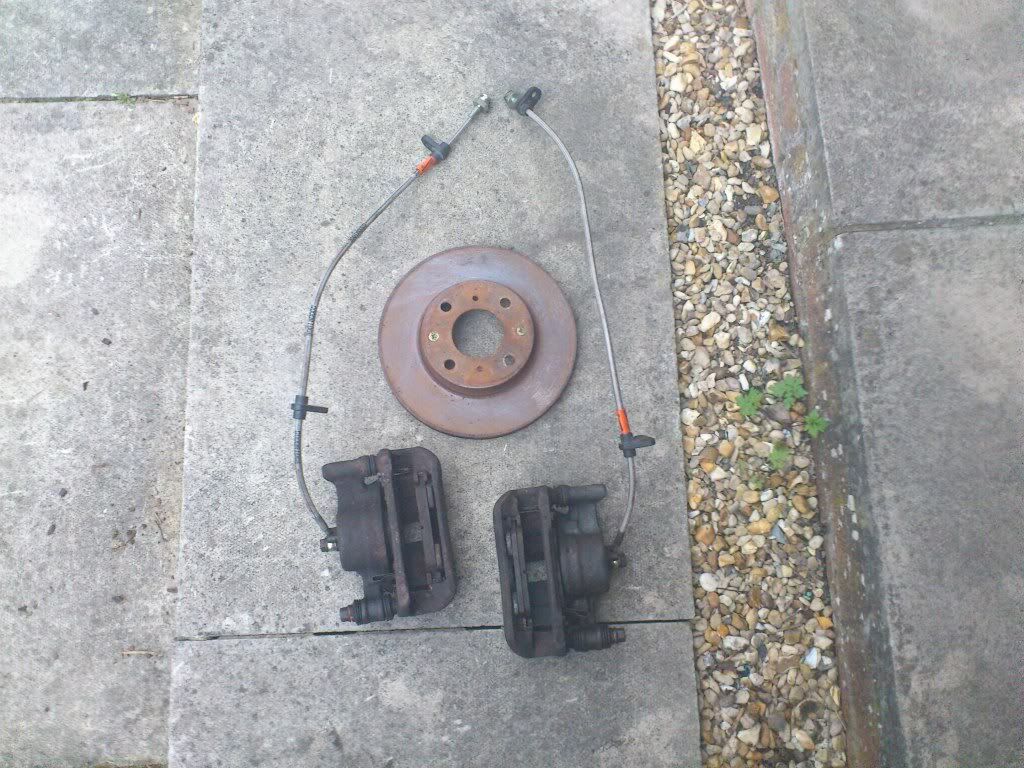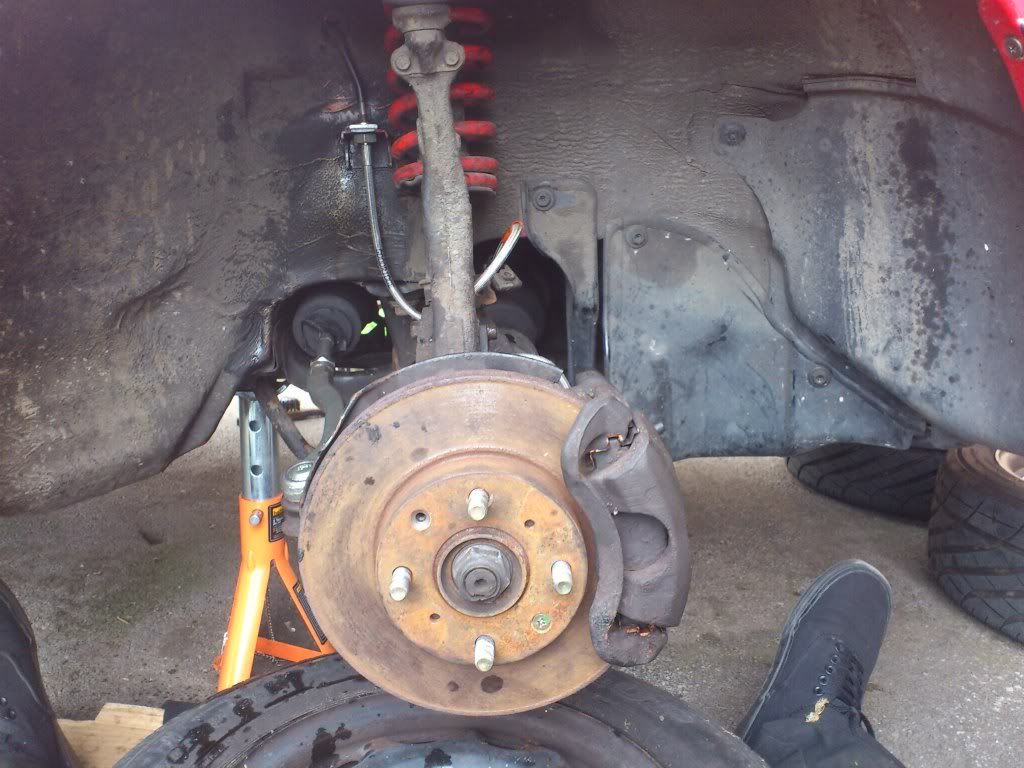 I am yet to bleed them and take it on a road test, but i am hoping for a vast improvement. As my 232 set up was no less than absolutely shocking, pedal travel was crazy, bite was non exsistent and tbh i never felt comfortable braking at speed with them whether it be coming off the motorway or when driving enthusiastically.
Next up is some Vtec hubs i bought with shot bearings. I bought them with the intention of rebuilding them with new bearings, extended ball joints, and extended studs. They were mega cheap and for efs they can be quite hard to get hold of.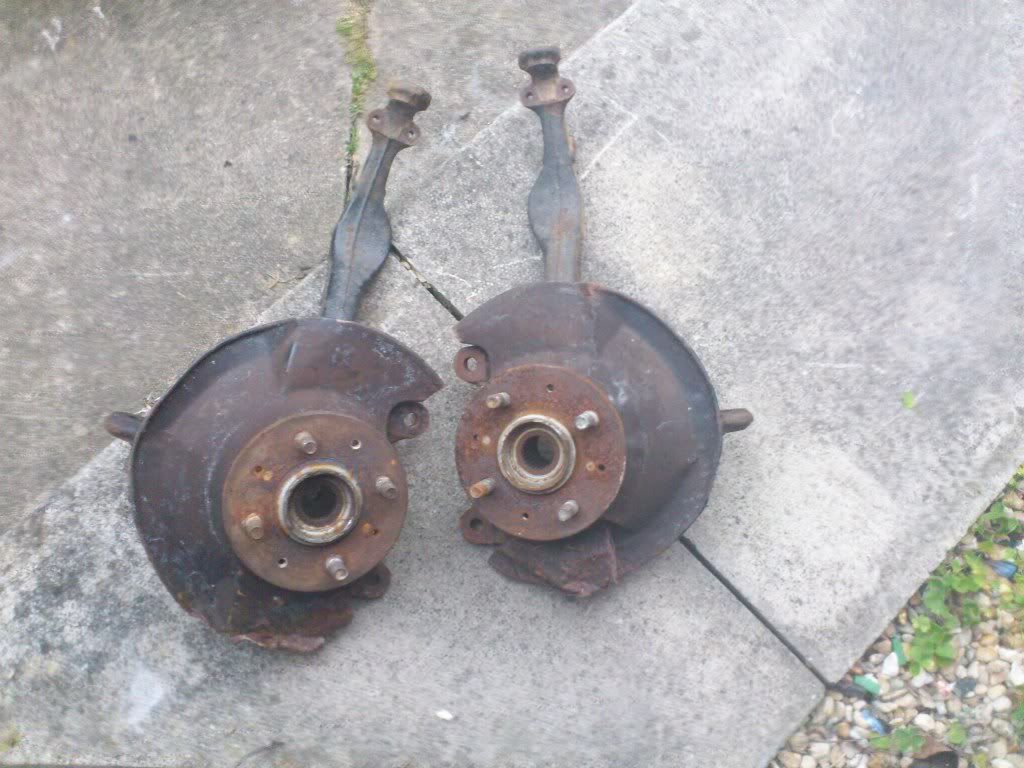 I started stripping them down all ready, i will give them a lick of hammerrite when they are bare.
This episode is about my cam swap

. Has been a brilliant weekend tbh just been chilling at a mates warehouse working on my car, talking curse word and generally not doing any work!
Unfortunately we had a few hiccups but the end result was very satisfying.
Started like this.
Off with the valve train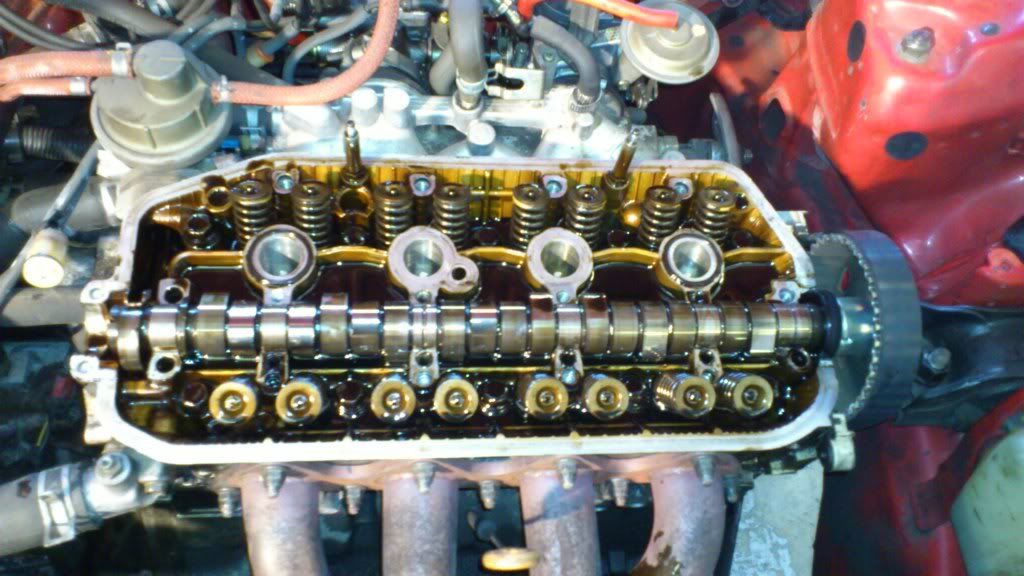 Just about to get torqued up
All back together and ready for action, gave it a quick wipe over with some industrial wipes. Which worked wonders.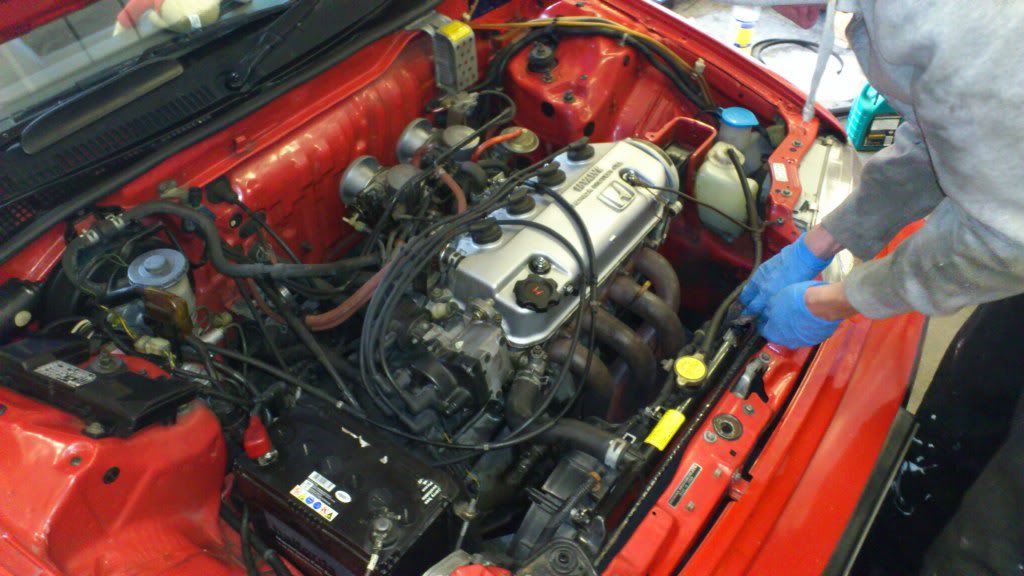 Home!
We had alot of problem with an oil leak. Which meant stripping them cambelt cover off 3 times in total! We got it down to Cam oil seal now all is dry

The cam has made a very nice difference at first i didn't notice much, apart from the incredible noise it made, then after a drive about i started noticing changes. Low down was alot smoother and delivery felt alot stronger and linear, it does not drop off at 7k like it used to, it wants to carry on going, and generally feels like it has more torque. The sound is brilliant you can here the cam tapping away through the exhaust and has made me smile the whole way home. Looking forward to spending more on the engine now

.
Big thanks to Alec for letting me use hi warehouse and generally being willing to help and jam all day.
Noise after the cam swap <3
Finally got my hands on a cold air feed. This alone made tonnes of difference to no surprise. As heat soak was rife with the carbs being right next to the bulk head with no cold air getting there at all.
It looks a bit ghetto but is extremely functional and i genuinely felt the difference upon fitting it. Low down it didn't bog down as much as it used to and pulls through top end alot better

Winning.
Morning all,
Got something productive done this weekend. Recently i have been researching alot into hybrid gearboxes, and have decided to build my own. Using a EC9 L3 box and an ed7 L3 box. The Single cam box has a rather desirable 4.25 Final drive but to counteract this has rather long ratios, where as the Twin cam box has a long final drive and shorter ratios. So i have bought both boxes to see if i can swap the twin cam ratios into the single cam box. From my research i have not seen this done anywhere else, so it may not actually work. I have seen alot of rex owners using rover Final drives but never the civic final drive.
The gains from the hybrid box are pictured below in blue, the standard civic box is pictured in red. 1st in both boxes are the same ratio so no gain, it really gains in 3rd 4th and 5th which is where my car lacks.
The stripping commences;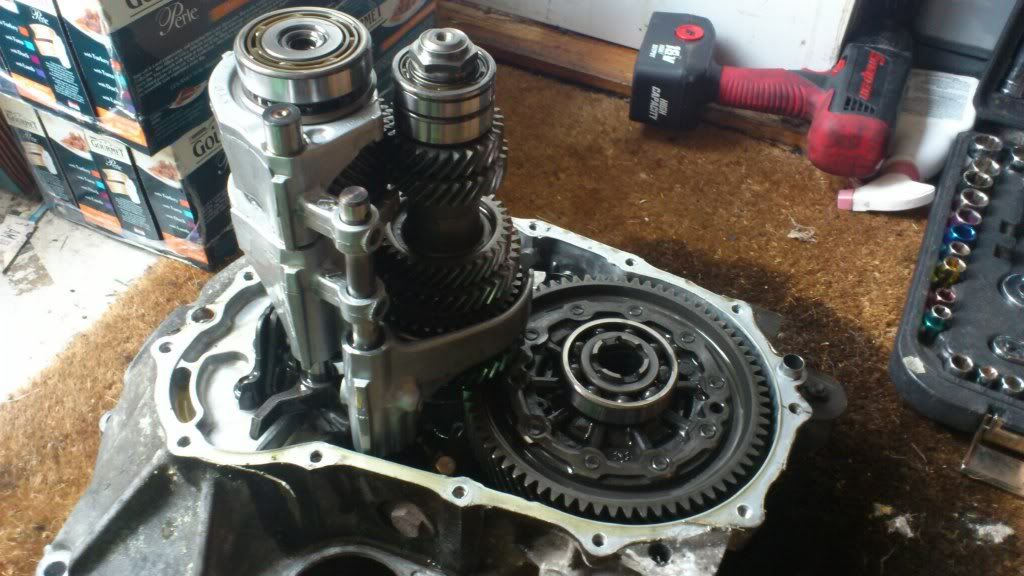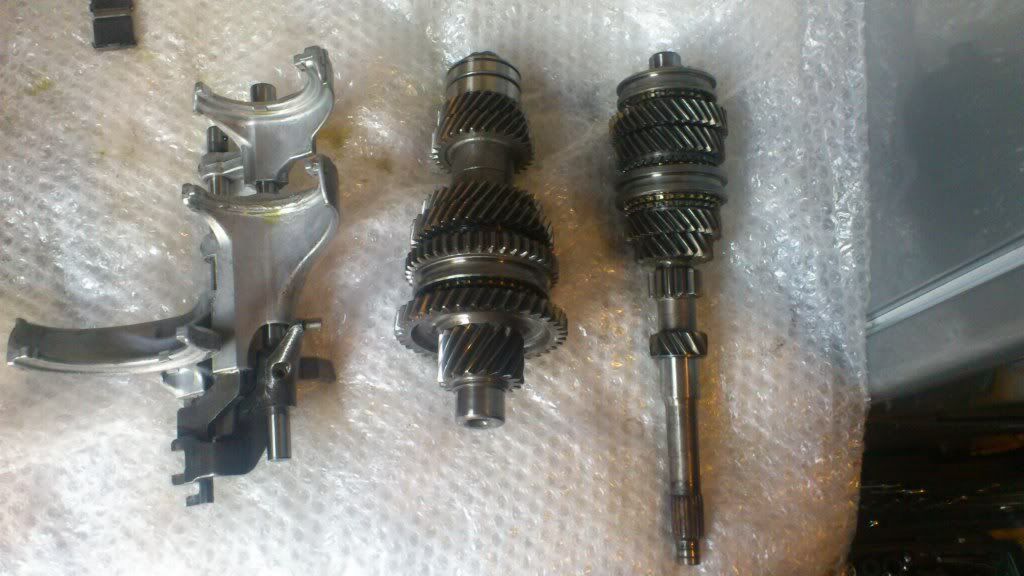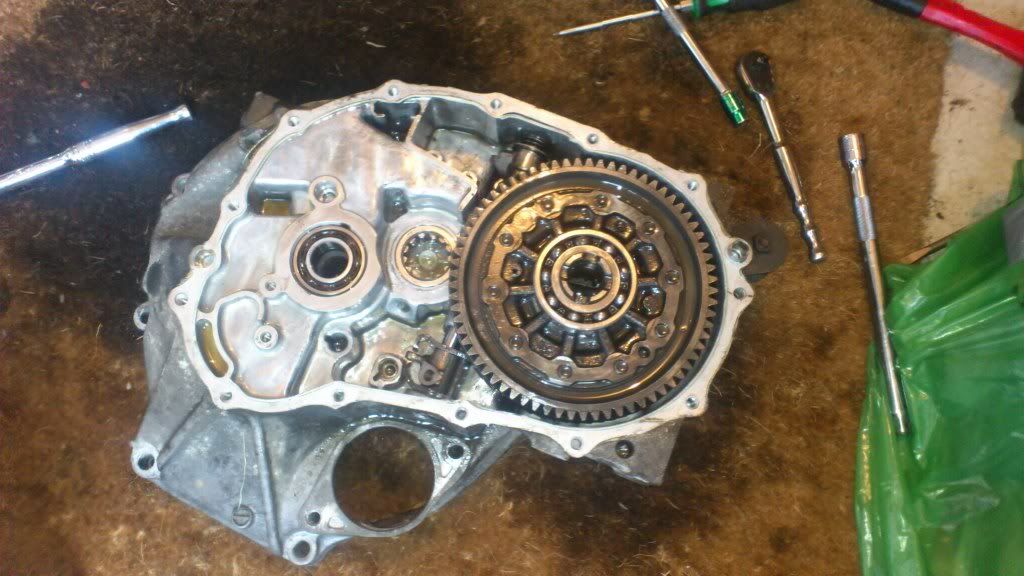 The twin cam box will be getting stripped Saturday and hopefully the box should be all finished by sunday

My dad making full use of the snap off boss i just bought

It was a bargain and has bought the steering wheel right where i wanted it to be! Feels better to drive and its a little extra safety

Carrying on from the last episode,
This evening i got busy stripping the other gearbox and swapping a few cogs, It was daunting to say the least, but hugely satisfying having one shaft built up...
The shaft on the left is the one i am utilising, i noticed a difference in size for the input shaft bearing at the top, so i used the on applicable to the casing it is going in. The 16v Bearing was larger than that of the GL if anyone is curious, i used the GL on due to it going back in that casing.
I didn't need to build both shafts back up but i did anyway for practice. I really enjoy gearboxes tbh... Its almost the realm of the unknown to alot of people. I look forward to doing a rebuild at somepoint... that is of course if this box combo works as intended.
Also just so you remember what my car looks like heres a crappy snap with my mates valver, She looks filthy in this pic!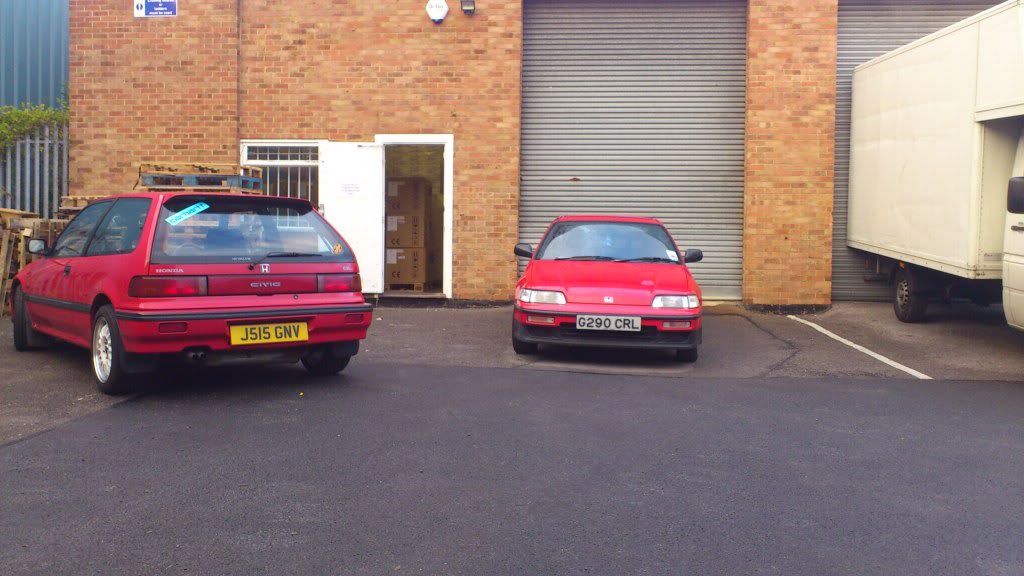 Got wood? Finally source a horn button albeit this was months ago i am yet to throw a picture up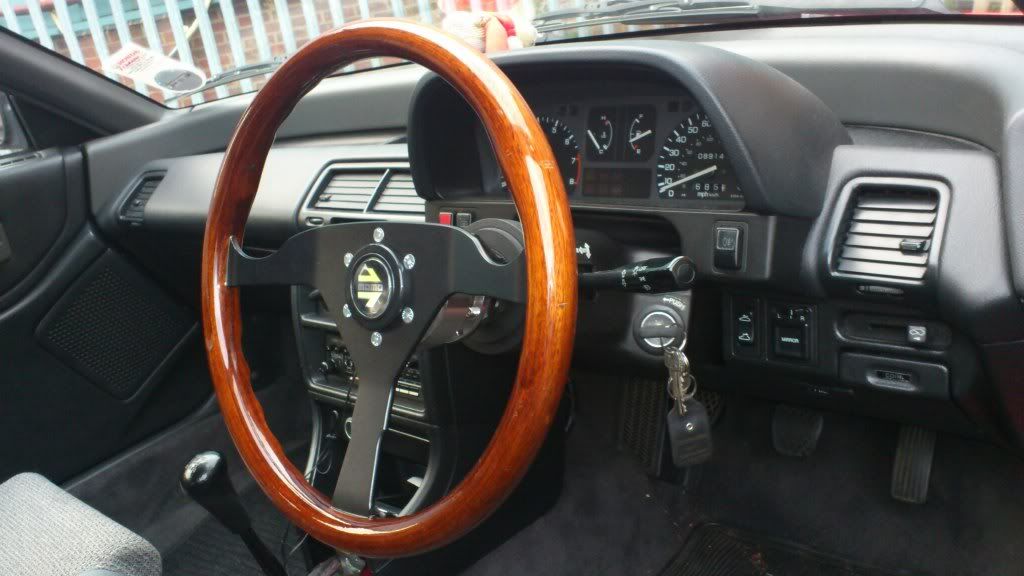 I will get the counter shaft done when i can as i need access to a vice and quite possibly a gear puller... i am hoping college can help

Gearbox update.
I started to swap gears from one countershaft to the other, however it did not go as expected, the gears came off the crx shaft with ease, yet it took a bit more force and e lever bar to remove the gears from the civic shaft. Also after a few part searches and a schematic diagrams of both shafts on the Honda original parts website i found that one bearing on the civic shafts is 0.2mm smaller than that of the crx. So there is quite clearly some differences in shaft diameter albeit very small.
Also like a curse word i cracked a tooth on one gear, but not to threat i am sourcing another box this weekend. I will not give up to be honest as i know that it should work, there is no reason why it should not as the yanks have done it and proceed to do it regularly. None the less the battle goes on. I only managed one picture due to being at college and not having much time(This didn't help)
Updates! Got some wheels for winter and a new daily drive project

Got both at a complete bargain.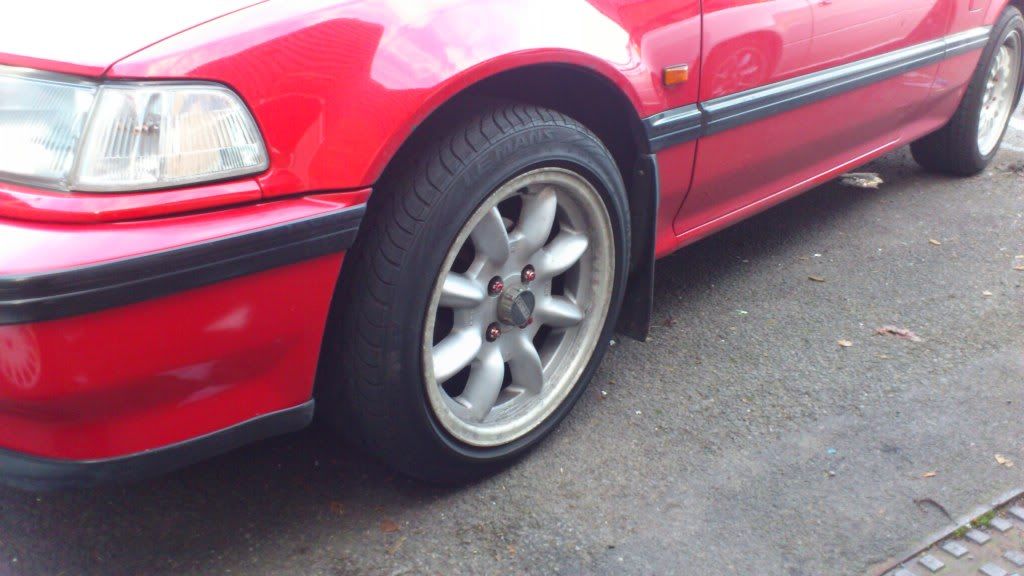 15" Panasports

they have seen much better day. But after winter i will try and put some life back into them...
Also this is the first time i have ever filled up with a full tank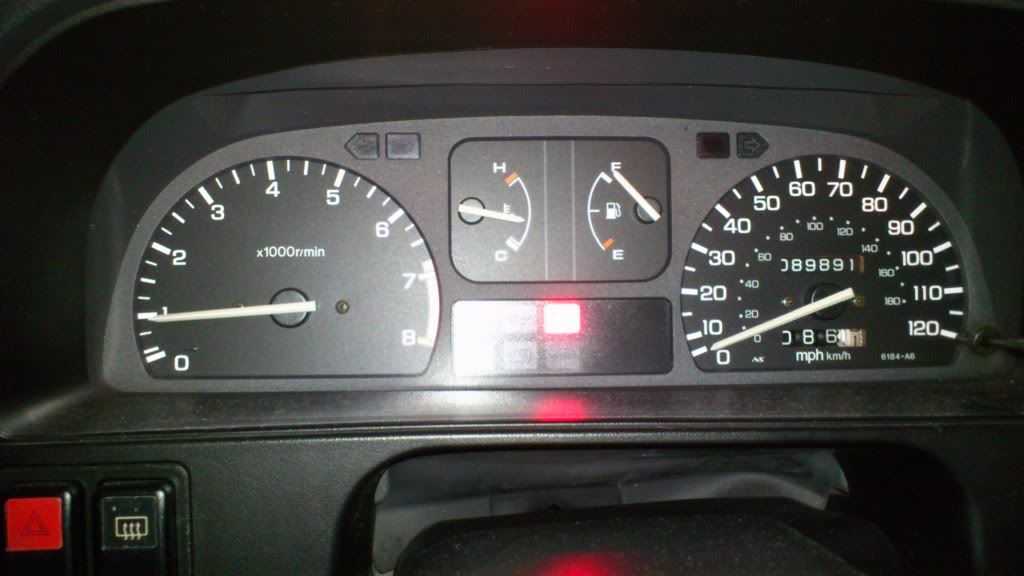 Also the new daily...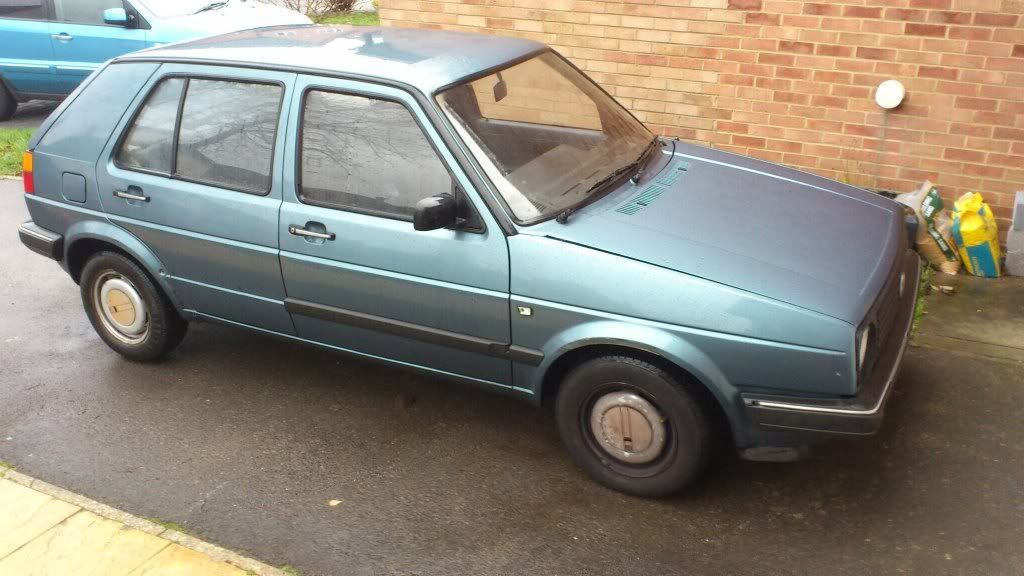 1.6 auto CL. Perfect daily drive, Cost me the grand some of £125
Needs a few bits tbh. But i will rebuild the carb replace all fluids, plugs, leads and try and sort the few bits of trim missing and generally try and make it a nice clean car.
Sorry about the extremely lengthy first post that was 14 months worth of ownership right there. Also as you may be able to tell the posts were copied from one of the numerous honda forums i am on. Enjoy.
Cheers for Reading lee.