So as someone who used to own a Geo Prizm in a past life I have some sort of inexplicable appreciation for USDM "poverty spec" plop.
Shameful. I know. Don't tell anyone.
I think it has something to do with the fact that you can't find those particular models of plop here. We have different plop. The plop is always, er, browner? A bit like how the US VW crowd are all after euro bumpers and the euro lot are after USDM stuff. It's cool to be different.
Anyway, I digress, the low end of the market over there has always been full of some pretty shocking cars, and the badge snobbery is so bad that nobody perseveres with the lower end makes. So it's cool to see less-obvious cheap stuff that's had time, thought and effort applied.
It's nearly impossible to find a tasteful looking Geo Prizm, most are covered in chrome and bodykits - the best I could do is this:
which is nice
Here is another Geo, the car that rekindled my USDM poverty tat interest recently, iirc it has it's own thread on here somewhere.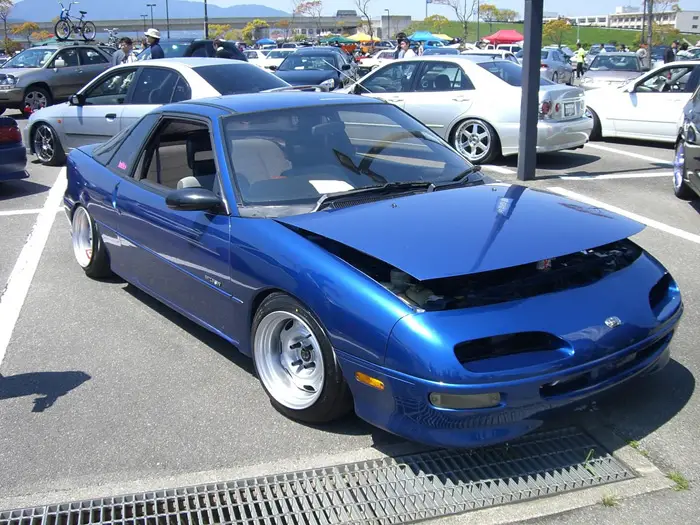 Or how about some Toyota Tercels? I saw (a newer) one on here the other day, but I can't remember which thread it was in.
And here is another one I found today, a Ford Aspire:
Not sure on the orange dish, but definitely thinking outside the box, those Aspires were HATEFUL, and it makes me happy to see one I like.
Hyundai Accent anyone?
Maybe a Mitsubishi Mirage?
So, post some USDM tosh that has been made acceptable, if you're struggling for ideas, try the following
ford aspire
mazda 323
geo metro
geo prism
geo storm
pontiac sunfire
pontiac sunbird
oldsmobile firenza
chevy cavlalier
isuzu impulse
isuzu gemini
isuzu stylus (these are cool)
toyota tercel
hyundai pony (aptly named)
hyundai accent
any saturn
maybe a suzuki?