Wotcher all. I wasn't sure if this strictly counts as "retro" but...
Following a couple of requests for more info on my FD RX-7 I thought I'd do a retrospective on it, bringing it up to the present day where it's (almost) finished. When I say finished, I mean as God and Mazda would have wanted it to be were tedious grown-up things like budget, emissions, deafness, insanity, etc not all considerations for both a major car manufacturer and the Supreme Being. I, on the other hand, am a total buffoon with no such restrictions, and this is my very silly Mazda...
Right, before I go on, I'd like to say that at no point was there a definite aim in mind, a strategy or a plan of any kind. I've just sort of blundered my way through, learnt a lot on the way, made some great mates in the process, wept tears of blood, had some of the lowest lows and the highest highs and I wouldn't change a thing. It's been epic. It does mean I've changed the same thing over and over in some cases, and you can take this as an example of how not to mod a car if you like, I could have done it a hell of a sight cheaper and quicker if I'd gone from A to B without going through C-Z en route

OK, then, our story starts seven or so years back. My only transport for ten years had been two-wheeled, including a couple of years as a bike courier both in London Village and long-distance. I've moved on to working on the trains since then. It's winter, and I've just fallen off my winter hack Z400-4 in the snow on the way to work at about 4 a.m. "Y'know what," I think to myself, struggling to heave the 400lb pigiron old Iron Barge off my leg while the 4-1 Motad slowly but painfully scorches my waterproofs indelibly into my flesh..."I think I might buy a sodding car..."
So off I went out shopping. Bear in mind my last four-wheeled transport had been a Morris Marina (fastback coupe mind, in sorta BRG if you squinted) and it'll be clear I've no idea about sensible car purchasing strategy. So it seemed to me the only rational choice for practical, economical, every day transport was...drum roll...
A Ford Probe 2.5 litre V6 (basically a Mazda MX-6 in a fat suit). Ueah, have a good laugh, this is as good as this thread'll ever get lol

It's not all bad news, it was in metallic blue. With Shelby Cobra stripes. See;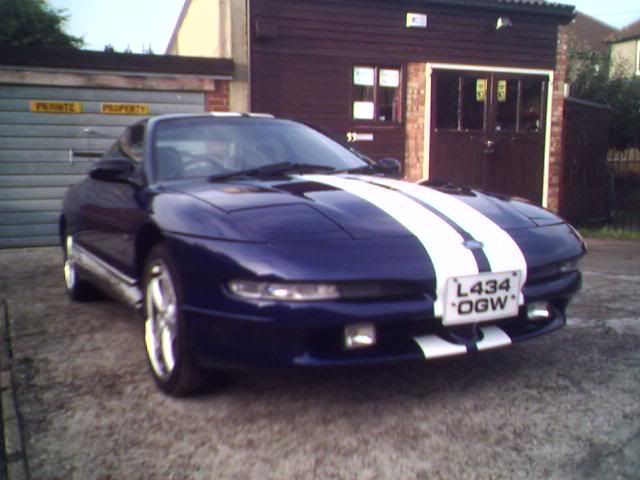 Dang!
To be fair, despite the modifications of questionable taste, it was an excellent motor, sounded brilliant with that lovely v6 burble through a full Scorpion exhaust, and children used to laugh and point in the street, which is the only true measure of whether a car's cool or not. I will grant you the carbon fibre Big Gay Wing was possibly a bit overkill on a front wheel drive car...
Anyway, moving on. In the mess room at work, we're lounging around chatting about cars. One of the guys is selling his M3 because he's fed up with people keying it and leaving footprints over the bonnet when it's parked up in the carpark at work. He's thinking of a 944 and the conversation turns to whether the cachet of a Porsche is worth the premium they command over Japanese "equivalents" like 300ZXs, Supras, etc. I'm keeping quiet, I've got a Ford Probe with BGW and Viper stripes for God's sake... and I've also got a FireBlade that can break the National Speed limit in first gear so it's all a bit academic to me.
Fella pipes up his RX-7 would eat any 944 for breakfast... and he's got it up for sale because he can't afford the petrol.
It's mine.

I don't even have to drive it, it's mine the instant the words are out of his flapping stupid mouth. Most beautiful Japanese car ever made, ridiculous performance, unique power plant (I've been in love with rotaries ever since the days of bad-boy headbangers Haslam, Nation and Spray on the jet-black JPS Nortons, and of course the immense late great Steve Hislop giving the Hoover-pipe special absolute Larry over the Mountain). I'm besotted. And that's even before we mention "that" film with Mr Vincent Diesel and all those funny glow-in-the-dark cars.
Still, let's try to appear sensible about it, even if only to pacify the wife. Fella brings the Rex round so I can test drive it. Like, what the hell do I need to test drive it for? Just
look
at it...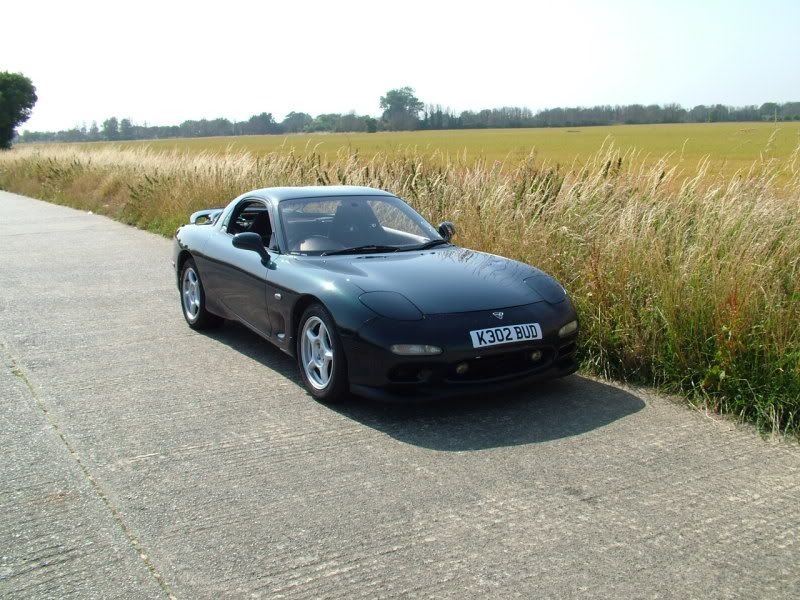 ...it's
beautiful!
Ahhh.... that's why I need to test drive it; the brakes are warped like Marilyn Manson. All of them by the feel of it, I get double vision from the vibration every time I use them... or is it the knackered wheel bearing doing that? The boot's full of water. You could keep tropical fish in the spare wheel well. There's a big dent in the bonnet where one of his neighbours hit it with a hammer to "teach him a lesson"

Wha? Nice neighbourhood.
"Do you use high octane petrol?" No, he uses the cheapest he can get. "What oil do you use when you change it?". Oh, you don't bother changing it, huh? Oooooo-kay. Jesus, I'm even more determined to buy the poor thing. I'm not buying a car, I'm rescuing it.
Right, it's got the all-important piece of paper when buying a rotary, a receipt for a very expensive engine rebuild. In this case, a bill for over £5800 from reputable rotary experts Rotechnics in Reading. He wants five and a half for it, we shake hands on 4.6. I've bought a rotary engine with a free car thrown in. The wife
will
be pleased

. The Mighty Probe goes to an organic cattle farmer from Chichester way for a bargain price.
K302BUD is mine
Oh yeah, did I mention the paint?...