&nbsp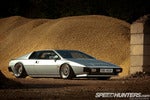 I'm currently fabricating new front control arms so the front can be lowered to chassis or there abouts, well spotted. The rear end was a doddle but the front has been a bit of an issue. Not the modification but stripping the originl 30 year old kit off-

Goldnrust, spotted you too have you got a bit of a buil diary? Love the car mateB-)
Sorted a sticky rear brake caliper last night so fingers crossed with the weather I will be at santapod the weekend
Cheers Dean
Hi,
I have the white Esprit also on air bags. Yes I also found out the hard way they don't like the Lotus messed with! it did get a bit stressful posting on the TLF but I stuck with it. do you have any issues with bump steer? what PSI you running in the bags? are you running the dampers on a hard setting? hope to have mine on the road very soon and kind of shitting it taking it out for the first time in case it all goes horribly wrong!
Rob
Hey Rob, just had a look on the lotus forum at your build and the comments. I understand, when you have an original esprit, keep it that way. Mine wasn't original when I bought it so might as well make it how I want it. I notice your front bags are very wide, do they rub on the top control arms when at the highest point? That's an mot failure for sure, would be pretty worried with that too. It wouldn't take long to wear through a bag and fire you off into a bush.
I've got a load of updates but I think I should hold off until after rides gathering. All being well I should be there.
Going to immy at
torqueflow
this Thursday so mot soon too.
Dash is looking nice and seats are back. Photo this weekend if it comes back
Just a pic of my new seat and new 2 month old son Finley