Two updates in a week, miracles do happen!
First up a simple but important job. Rear axle has now been serviced and is ready to go on the car. That involved a new pinion seal, an oil flush and a brake service - have a piccy of the new seal, though I have no idea why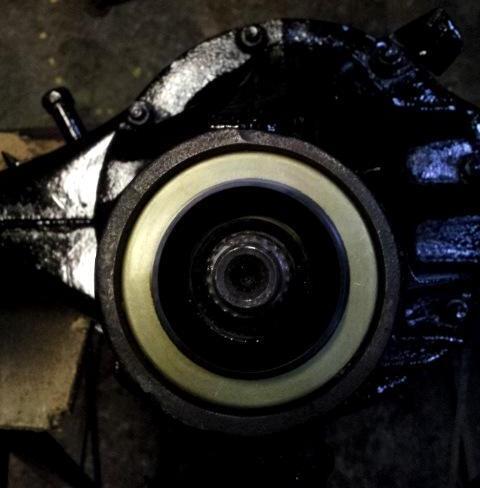 But the big news is that the power steering setup is nearly done! Not sure if I've gone into this much before, but my mate Nathan was short of a project so offered to help with fitting Corsa electric power steering. As the whole car is going to be set up to be usable daily, and as comfortable as possible (while still being a xflow engined Capri) we decided that power steering would be a nice idea.
Having read up on a few other people's conversions, and looking at the space behind the dash, the integrated steering column/pedal box and the differences between the Corsa B and C setups I decided that with a bit of thought it'd be possible to get it all fitted so that it looked like it was meant to be there, using the standard mount points, cowling and steering wheel - I've used a Corsa C set-up, mostly as that's what I found in the breakers yard, though I think it's better for what we've done than the B.
The gearbox/motor unit was cut out of the Corsa column, and the Capri column sectioned to allow the gearbox to fit in line - then the two steering shafts and columns were joined using a few adaptors/sleeves - actually not much harder than it sounds if you have a mate with a lathe. All that was trued and welded together, then the pedal box was cut to get the motor etc to fit in, and then a load of new metal put in to give it it's strength back, plus adding a couple of mounts for the gearbox mount points. After which all that was needed was to trail fit it in the car.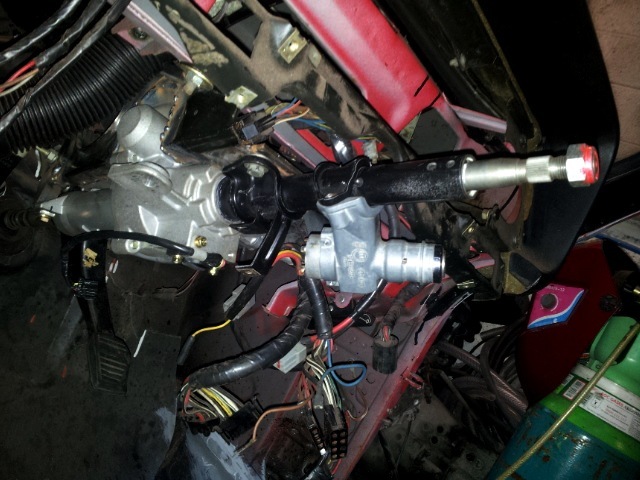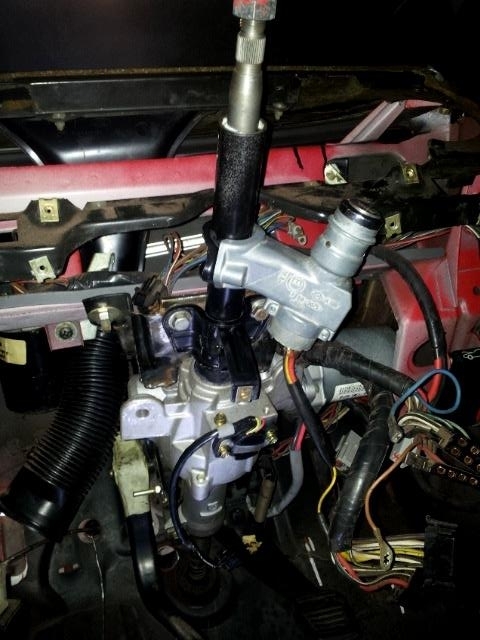 The good news is it went in like it was designed to, which I suppose it was and the standard heater routing etc is retained

So big thanks to Nathan for all his work on it. All that's left to do now is get the bulkhead end piece fitted and shimmed correctly, then get it wired up.
Wiring wise I'm going to use the standard ECU setup, so will have inputs of engine speed (from the coil) and vehicle speed. To get the vehicle speed I've been lucky in getting a late Sierra Type-9 box with an electronic speed output, this will be fed through a little box of tricks - basically it applies a factor to the signal, meaning you can calibrate it. Normally these are used to retune electronic speedos when the diff ratio has been changed, but in this case I'll be using it to control when the steering gets fully assisted - i.e. on the Corsa the steering assist reduces as the speed increases and eventually there is no assist. By setting the signal to tell the ECU the car is going faster than it actually is, the amount of assist is reduced (so the steering won't feel nasty and light) or vise versa I could tell it the car is going slower than it is to get more assist. Some people have done this using a variable frequency signal generator, but that means a lot of faffing with a little dial. Keeping the standard input types means it's all nice and automatic, once it's set up that should be it.
That's it for now.