I thought I should start a thread for the wifes fiesta since we have had it over a year now,
so story begins when the wife (unusually) showed an interest in an old car,
while looking at pics on the internet she said "that was my first car, I wouldn`t mind another one of those" at that moment the idea was planted, and with her birthday fast aproching a mk 1 fiesta was the thing to get.
as luck would have it a friend of ours had one sat in his field a solid mk1 in red, engine in bits but the guy told him it ran ok and missing its tailgate,
so after a quick look at a relatively straight car no rust to speak off and a set of refurbished rs alloys on it we agreed a price at 225 english pounds,
well I thought the alloys must be worth that alone so the deal was done,
it was at this point that I realised the wifes birthday was less than a week away and any ideas of presenting her with a taxed and tested car were gone I decided to give it her as it was.
now in our house if 200 quid goes walkies questions are asked so I owned up and told her what I had bought and she seemed excited and off she went to search google for pics and maybee have a daydream about her new old car,
it was as she pointed to the picture on google and said "thats exactly like my old one there" that I started cursing she was pointing at a mk 2 well love I said thats a mk2 fiesta and you now own a mk1 .
she didnt mind though and was still excited so this is what it looked like when she first saw it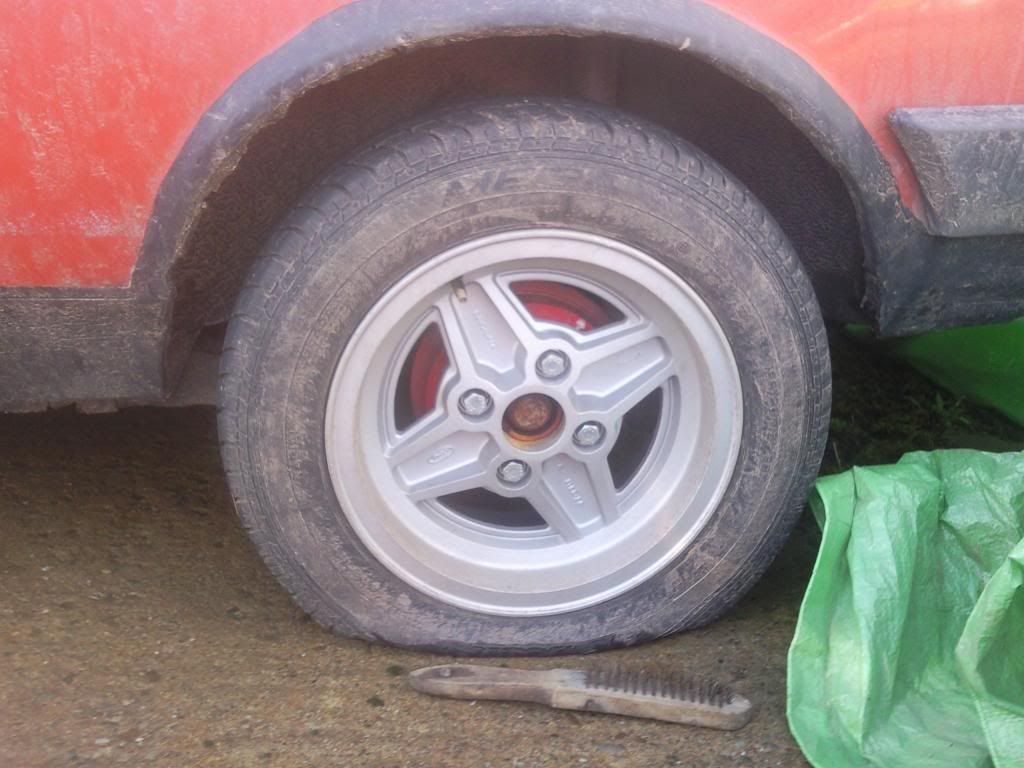 so having missed her birthday plans were put in place to spray it nice and tidy it up I put the engine together and it ran,
there was a little welding to do here and there but that was to be expected,
what wasnt expected was as I welded in the boot floor I managed to set fire to the fuel tank as some helpfull sort had punched a hole in it under the rear seat at some point to steal the fuel. that was a little scary at the moment I realised the fuel tank was on fire on the inside but I put it out and repaired the hole,
I had also managed to find a tailgate in blue so the car was now compleate.
while this was going on I had also discovered retro rides and learned of the gathering, so I managed to get tickets and we decided to take the fiesta, time was short and spare time to work on the car shorter so with a week to go before the gathering the car moved under its own steam for the first time,
and it felt like the wheels were falling off, so after checking they weren`t I found out it was the steering rack it was badly worn to the point it was undrivable, bearing in mind the gathering was less than a week away I managed to find a rack on ebay recon bargain for 25 quid.
so the rack arrived on thursday, mot passed on friday , saturday we loaded up and set off for the gathering looking like this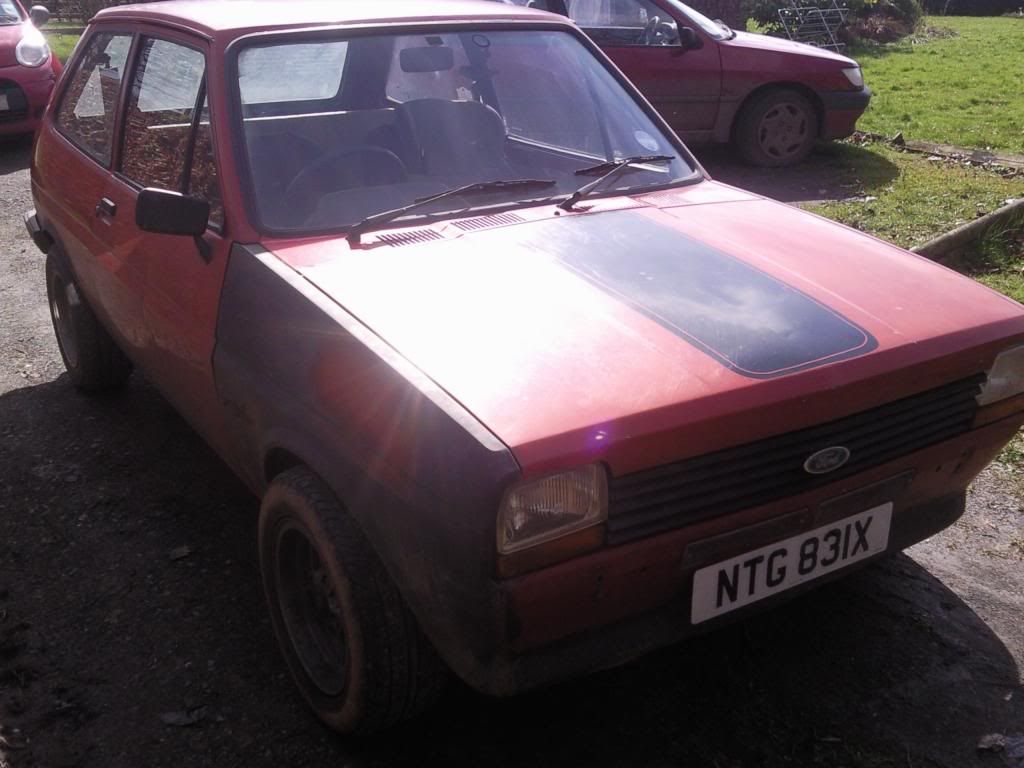 however shortly after we left we hit problems the rear wheels rubbed on every little bump, badly, but I was dambed if we were turning back now so I reached for my trusty hammer and remodeled the rear arches in a pub car park just up the road (yes we did get some funny looks)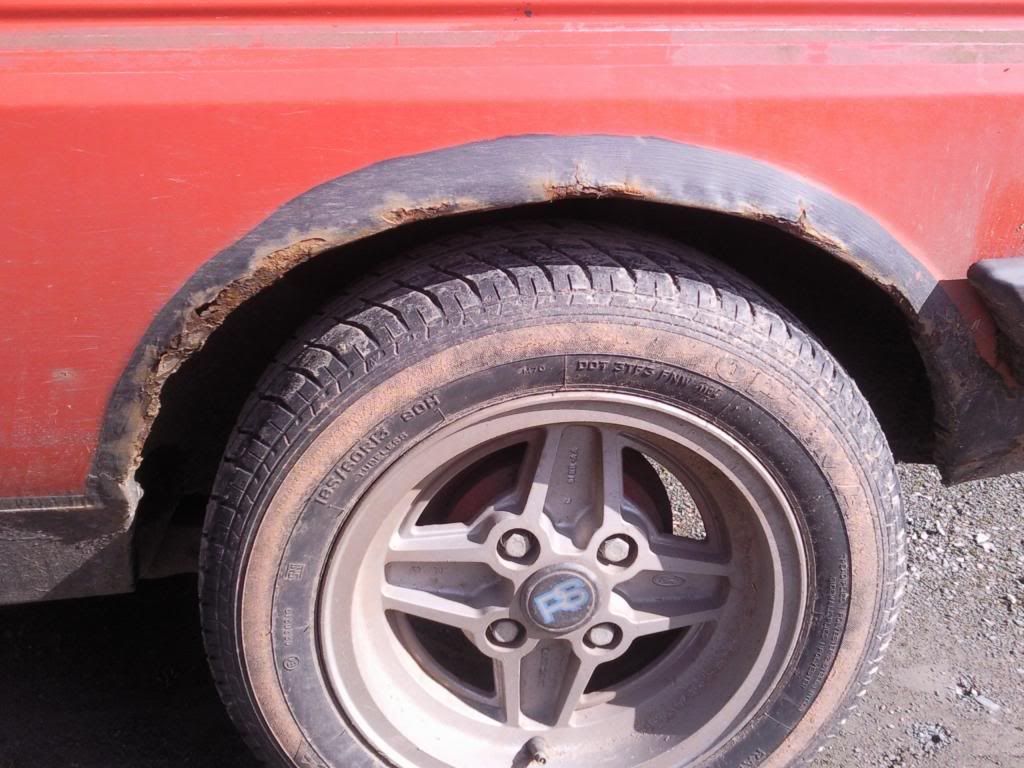 I remember thinking I will fix those later and I will.
so we set off again but all was not well in fiesta town and we started to miss badly so we stopped and I checked the points,
then I spent half an hour looking for the little contact from the middle of the inside of the ditributor cap that had usefully fallen out into the gravel of the laybye we were in,
so I found that and we set off having done nothing to the car but it seemed to run again, or at least for a while eventually I found a wire had fallen on the plug leads and tied it uyp that seemed to help, all was ok but down on power to witch I thought "its a mk1 fiesta its suposed to be down on power"
well we soon neared the car park but hit a little traffic on the way in and alarmingly the car began to overheat at some pace and refused to tick over but we made it and I decided to have a poke around under the bonnet,
I concluded that the head gasket had gone (I would later realise this was because I may have totally missread the tourqe wrench setting when I did it )
but with the car overheating fast in traffic we decided it would spent the show in the campsite, so it did.
so the gathering was over and we returned home refitted a new gasket and the car was used on the odd evening by the wife while it awaited properly finishing.
that was untill my peugeot failed its mot badly on almost all the front susspension and I didnt have the cash to put it right so the festa was put into daily use and thats where we are now nearly six months later and she has been good but now I have some cash spare the resto has begun again, and I felt it time to start a thread before I really get stuck in.
so watch this space