Got a few spare minute so thought I'd start a build thread on this. A to the MF-K bought it a couple of years ago and started a build thread -
retrorides.proboards.com/index.cgi?board=readersrides&action=display&thread=118748&page=1
On it you'll notice my comments badgering him to sell it to me. Fast forward to 6 months or so ago and Akku had decided that the car was not worth the effort to restore (good ones are importable reasonably cheaply) and put the word out that the car would be available less motor/box/propshaft and a few other sundry bits that he wanted, so me and KFW decided to go halves on it.
Once we had word from Alistair that the motor and box were removed we arrange to go and view the car on the way home from the Essex swapmeet at the beginning of March. We were all absolutely knackered after 2 days without sleep, it was dark and it was snowing. We'd also pretty much decided it was gonna end up on my drive whatever the outcome, but still we got underneath and came to the conclusion that it was more than do-able if we didn't care about it being 'proper'. The important bit (chassis) was sound as a pound, the rest is cosmetic. However Akku wanted the Slotmags so the car was wheel-less and left on bricks.
Sooooo, delivery was booked with Dusty at Lohrspeed Vehicle Transport for the morning of 4th April. At 6am a small band (me, mk14dr Dave, morrisoxide James) of slightly disheveled, sleep deprived from excitement men set off down to Nottingham to get the car on it's wheels, along with Kevfromwales who was already there having slept outside where it was stored.
Then the first problem struck. Just north of Sheffield on the M1 Kev rang to say that the wheelnuts he'd brought didn't fit. We had to call into Ryan (rytilkubi) to pick an engine crane up, so left him to Facebook message Alistair to see if we could call to his and get the nuts. Meanwhile Kev set off to Albert Looms scrapyard to see if there was some old shonk to nick the nuts off. A bit further down the motorway and we get a message from AK via Ryan - AK at work, try All American Autos which is close to where the car was. Gave them a call, yes we've got lots of wheelnuts. Got there, they had about 50 wheelnuts (singles not sets) and the only imperial one was a 9/16" UNF. Kev also rang and said that Looms didn't have anything suitable.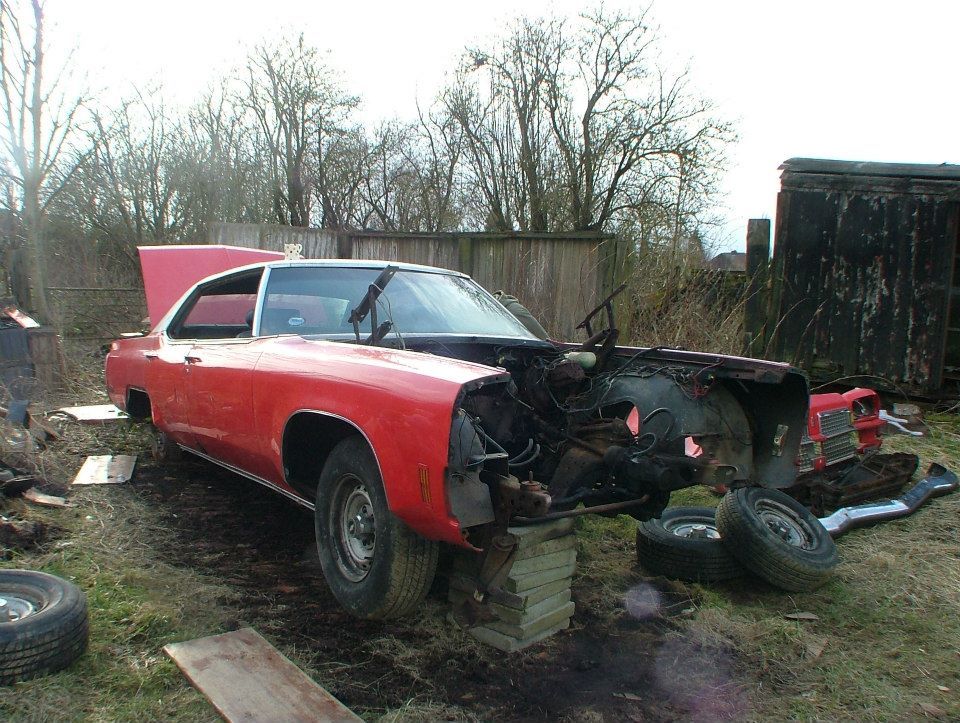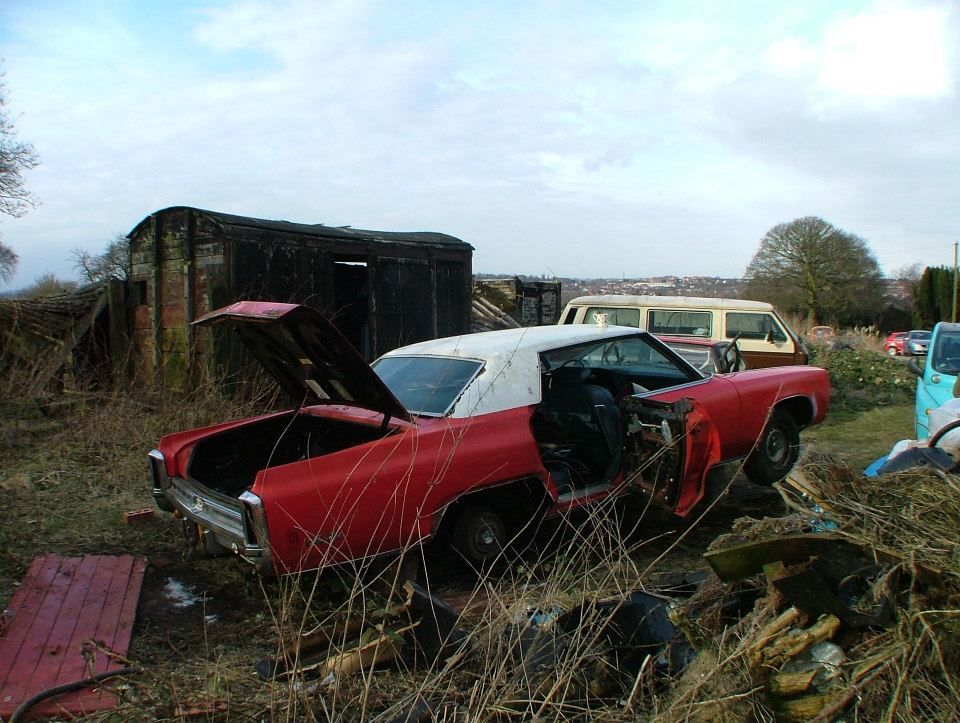 We decided to head to the car as Dusty was due to arrive around 9am, and also to see how close the 9/16" nut was to fitting. It was too big, which led us to think that Kev's nuts (fnarr) were 7/16", and therefore our nuts (fnarr x2) would need to be 1/2" UNF. Therefore we decided to leave Dave with the car while me and James went to the closest food establishment with Wi-fi to google some fastner suppliers. The first one we rang gave us the name of another shop. That place had 1/2" UNF nuts and washers, so we blasted through there to get some, getting a call on the way from Dave to say that Dusty had arrived.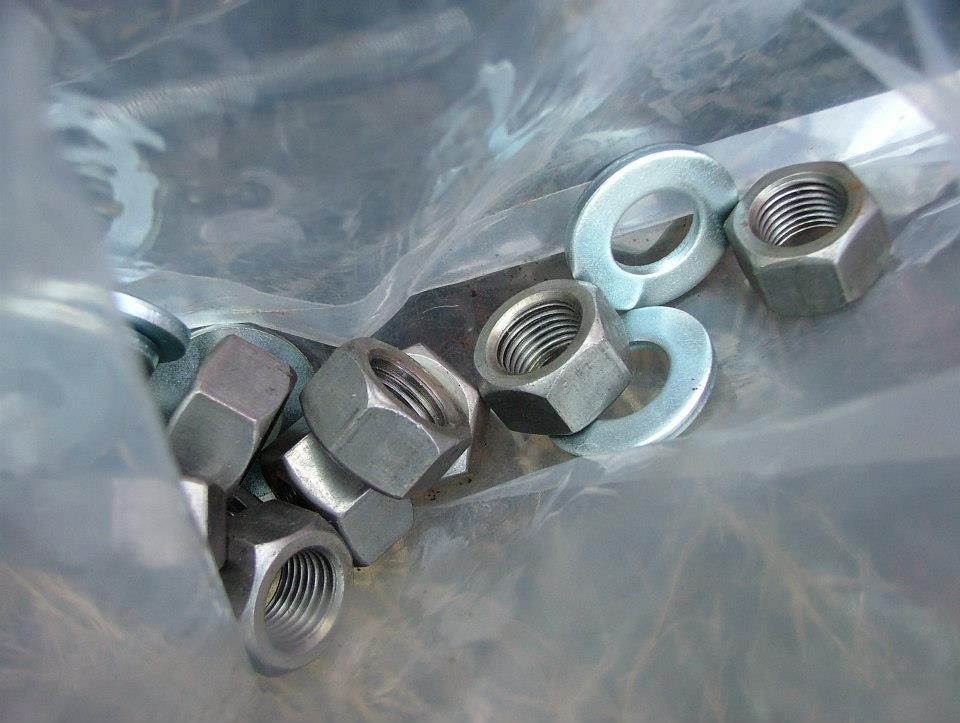 Back at the car wheels were quickly bolted on, all the tat was emptied onto the floor and generally we just shot the curse word. Dusty has been around the hot rod/drag racing scene for years, but I haven't seen him for a while so was nice to have a catch up and talk about rockabilly curse word.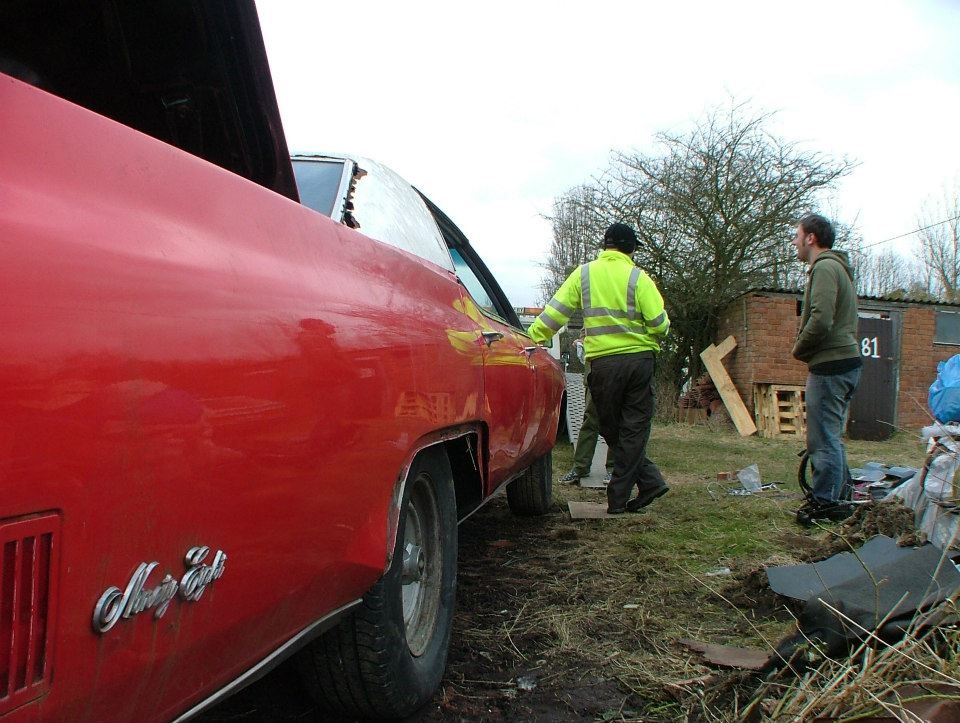 And then loading began, went as smoothly as you could expect.
We then decided that it would be easiest to send Dusty on his way as he sticks to a steady 55mph, whereas we could chuck all the remaining bits in the cars and have a fast ride back up the motorway and catch him up. Excellent idea, or so we thought.............