After finishing my last project the wife insisted I spent my spare time renovating our house which was way over due. (Like 15 years) To be honest the love affair I'd had with hotrodding for the last 40 years had died. I was utterly sick of spending ALL my waking hours in the workshop. For 2 years I did normal family things (I think) days out, relaxing, gardening ect ect. But slowly and surly the urge to build another hot rod based vehicle was returning. During this period we spent a lot of time at the beach with me becoming heavily involved with Kite buggieing/surfing. We tried using the splitty for these trips which was fantastic but with the V8 only giving about 20MPG it was knocking a huge hole in my wallet. Also the sea air was attacking the wheels and other aluminium parts. A T4 was bought which was great but totally characterless. So the search for another vehicle was started that would cover every angle.
i.e. Hotrod / camper / surf bus.
Long story, short… A Citroen HY van.
When one came up on e-bay last week I immediately called the owner for a viewing.
At 10 am the next day I arrived at the garage in Hull where it was being stored.
Within 10 minutes I had paid the "Buy it now" price and was on my way home. A few days later I was back in hull to collect my new project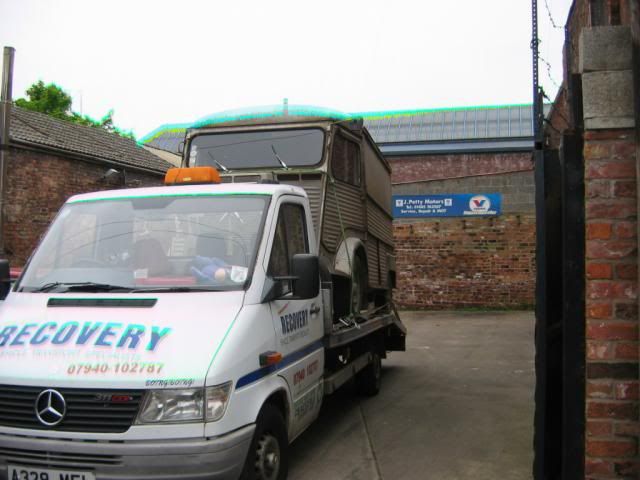 Safely back in its new home this picture either makes my splitty look small or the Citroen appear huge.