This may be a bit cheating as it's not current and it's not mine but I did help my boss to build it.
This project goes back to 2008 and took a good year to do and even longer in planning. Early progress pics are sadly lacking but as the room progressed so did the documentation.
We started off by having steelwork erected free floating from the rest of the building and then built up from that. Here's one of the earliest photos showing pretty good progress as we've already started on the roof trusses.
The approx. size is 6m long x 5m wide x 4m high which apparently conforms to some ideal size for sound or something. You can tell I was the labourer rather than the brains behind it.
As we're already up to the ceiling here you can see the roof joists being insulated to act as bass traps with rockwool insulation and a covering of plasterboard and numerous cartridges of acoustic sealant.
The next pic shows the joys of constructing the room in a converted former Victorian iron foundry with tie-rods slicing through the corner of the room at one point and the charming iron sheet roof high above which turns makes working under it like being in a furnace.
Also a big problem was the huge wooden roof beam which dissected the room and can be seen here provng ideal for some temporary lighting.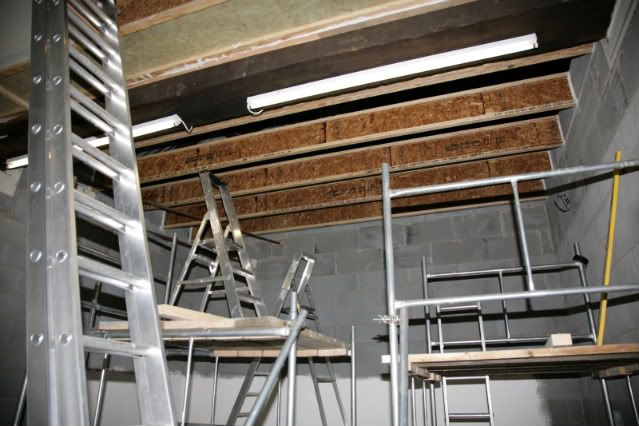 Here's one of the first roof to wall corner bass traps being built, stuffed with insulation and finished off with wrapped rockwool for a nicer look.
If this is of interest to any of you I'll show how the build went and how the room performed and how it looks today.