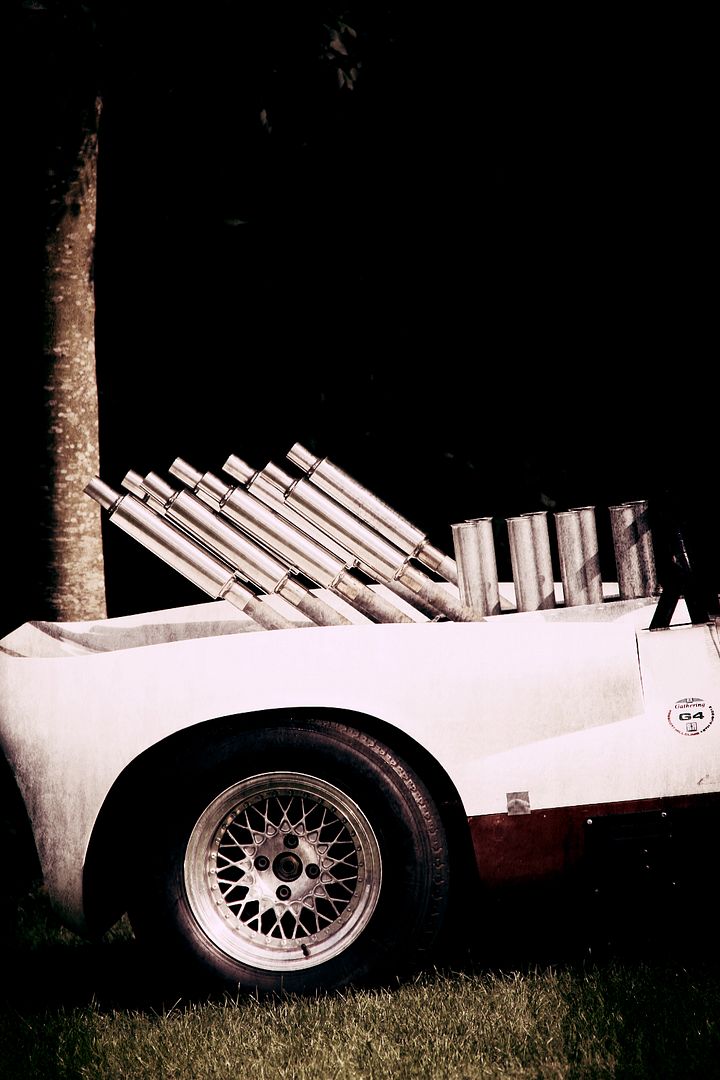 Nik's totally excellent and not-at-all-belated Retro Rides Gathering Thread.
All inaccuracies, inadvertent throwaway insults and scurrilous miss-information purely the authors own work, no resemblance intended to any persons alive, dead or undead. If you don't like it, get over yourself. Bring a sense of humour and we'll get on fine. Let's crack on then, loads to get through!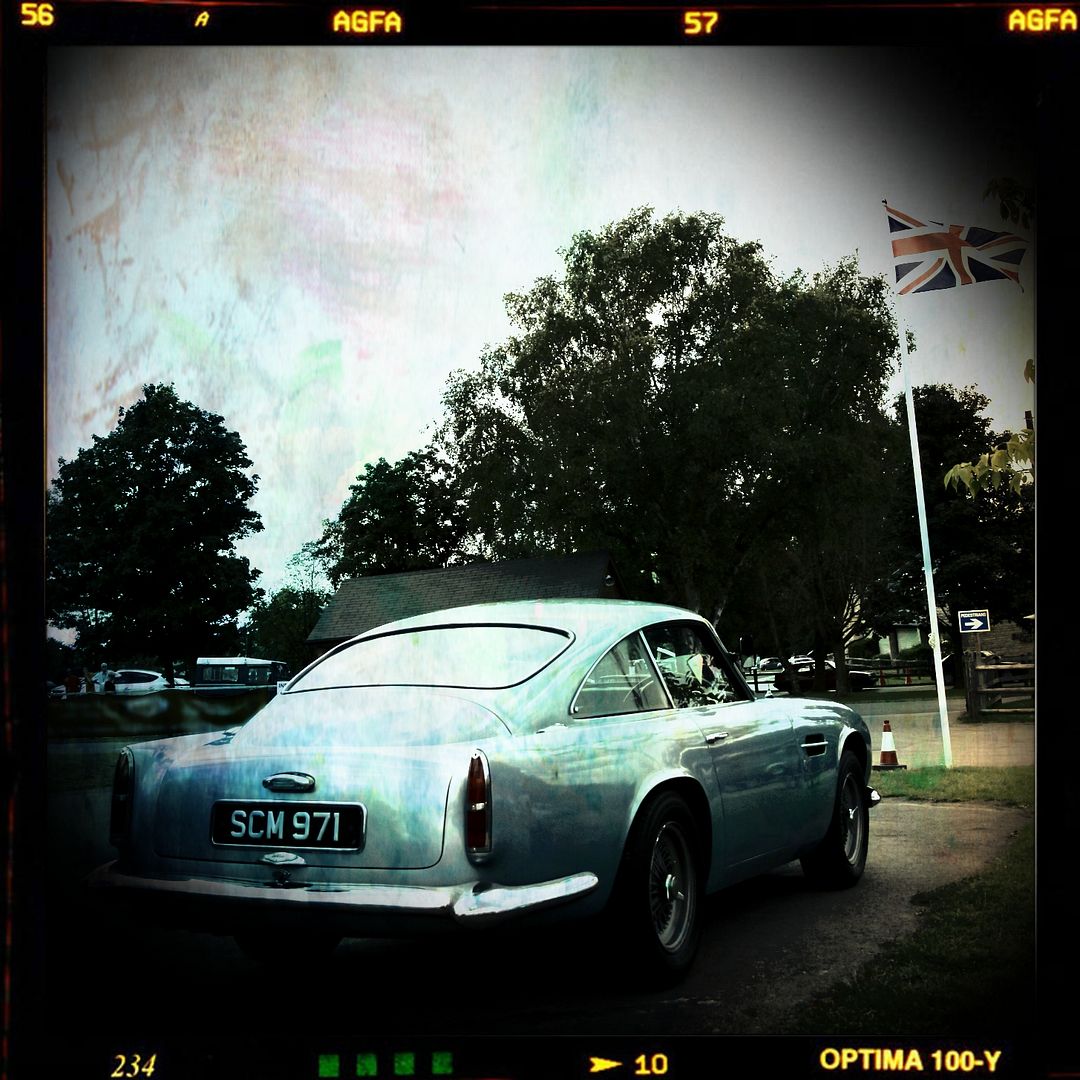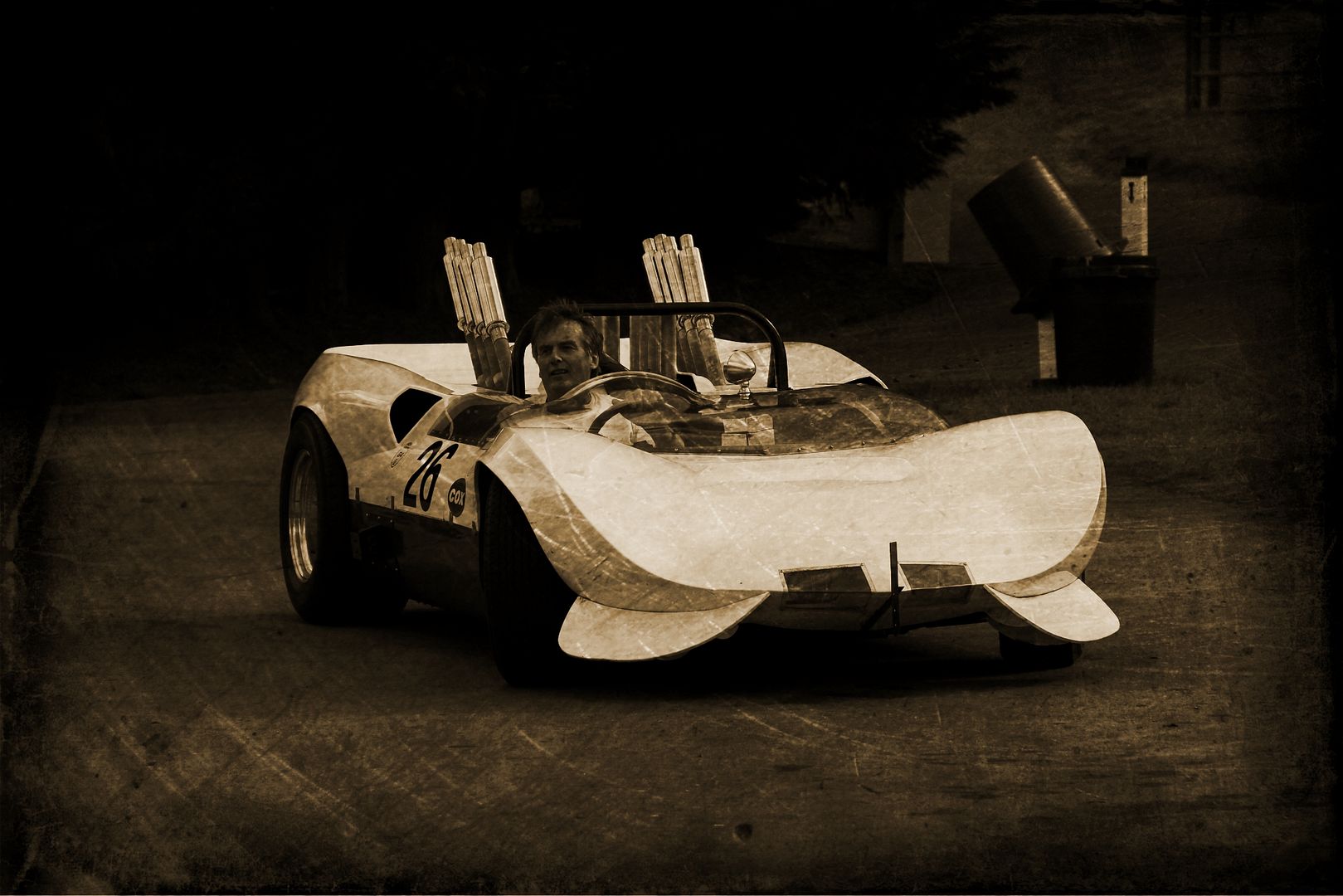 I thought my personal experience of the Gathering was going to come to a cruel and abrupt end before the sun was even up over the hills. En route to pick up Madame le Jo I was barrelling along the country roads when my Rex began behaving most unpleasantly. It was pulling markedly right and every time I used the brakes it would violently veer left. Since it was a twisty road, I was using the brakes a lot...
Eventually it penetrated my dim brain (not helped by it being just after 5 a.m. and I was only running on a single cup of coffee) that something might be wrong with the brakes. I tried the optimistic... and bad... idea of stamping on the pedal to see if that'd cure it. What it in fact did was send the car heading for the verge, and as I wrestled with the steering it turned into a massive tankslapper that took up both sides of the road and eventually ended up in an ugly heap half-on the grass. Dang. Fortunately it was early enough that I had the road to myself and the verge was wide and flat. I pulled into a turning, cautiously, got out and the problem was immediately obvious.
The offside brake disc was glowing red hot, like a le Mans racer only curse word, and smoke was pouring out of the wheel. I'd got as far as getting the fire extinguisher out of the back seat before I realised it wasn't actually catching fire, and by then my brain had caught up enough to realise the hot/cold stress of dousing it with my bottle of water would probably do more harm than good. If the disc hadn't already warped then I wasn't going to help it along. As it cooled, the caliper freed off and by the time the disc had calmed down from its incandescent heat, I was able to drive the car straight again. It seemed all the sanding dust from the respray had got into the caliper seals, and with frequent use it was gripping the piston and stopping it from retracting, pumping it out basically and eventually locking on.
But what to do? Go home, get the other RX and start again? But that was hardly in the spirit of the Retro vibe. And it'd waste about two hours. Besides, having just spent a shedload of time, money, and hassle on the FB it would be especially annoying to now miss the prime show of the year that suits its metier. I'd already had to take the FD to Retro Show, which hardly fitted in... so what was the alternative? It was about a three hundred mile round trip still.
Simple, really. I'd just have to do it without using the brakes. No way I was missing this. Besides, near-death experiences is what I do best. I've always been lucky...
Fortunately, this plan seemed to work and there were no further attempts by the car to merge me forcibly with the scenery or to catch fire. The brakes were OK so long as they were used sparingly. Fortunately most of the trip was on motorways. And it was only dangerous if you happened to be in front of us. Anyway, enough of my waffle, shall we have some pics?
The Exile Rotorsport stand was already half-full. Oddly, I failed to take many pics of it at first, thinking there'd be time later and wanting to get stuck in and see what the showground had to offer. Here's one though
Some FB and FC noses all nicely lined up. Bit of a blue theme going on, it wasn't intentional. It was great to meet up with Marc and Karissa again, and Peedey the Panda Boy and Major Tom showed up so top company was assured for the day. Without further ado, it was time to wander at complete random throughout the other club stands. This is a chaotic procedure at best, sort of like photographic Brownian Motion, bouncing erratically from car to car as bits and pieces take one's interest. So, in no order whatsoever, some thing what took my interest...
Chrysler (Talbot?) Sunbeam with severely righteous banded wheels
It's a Rota. But I suppose at least it's a copy of a truly original J motif.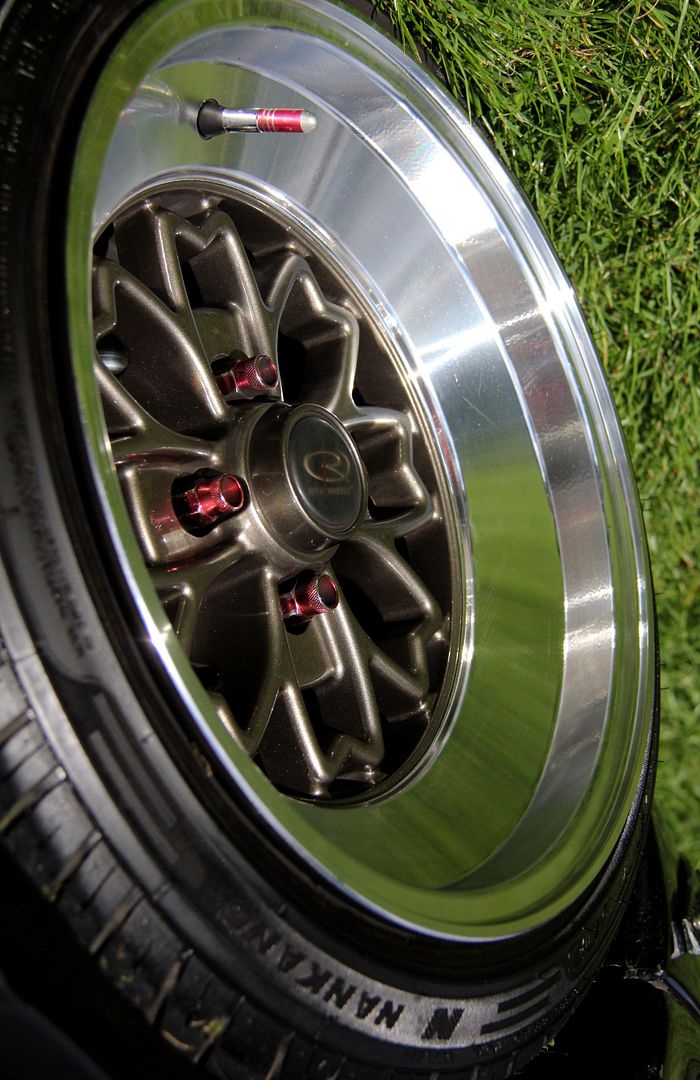 I always promised myself when I grew up I'd have one of these, but maybe I've just not grown up enough yet. Yeah, contrary to what the ads used to try to persuade you, the car you always promised yourself is not in fact a Capri, but a V12 XJS. Well, when you're a serial rotary owner fuel economy is just a random jumble of syllables anyway
Lada. Actually quite cool. Who knew?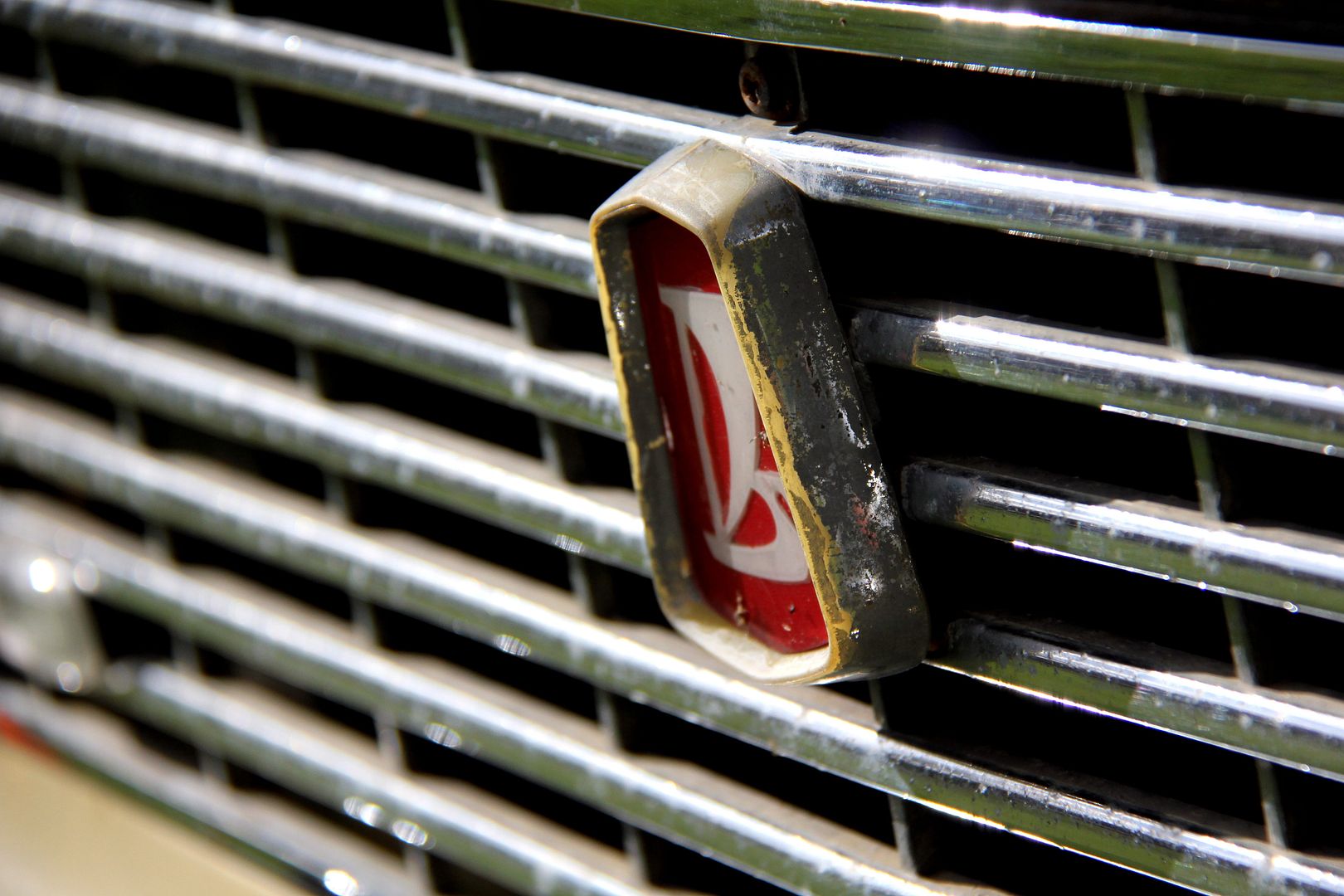 The owner of this Riley Elf (posh Mini with a boot) was very nice, and even didn't get too scared-looking when I confessed to surreptitiously fondling his light-brow nipple things. Well, it was impossible not to
Have to say, if anything, I preferred the pimp Liberace interior to the outside. (Those adjectives are meant in a good way, clearly. Yes, Liberace can actually be an adjective)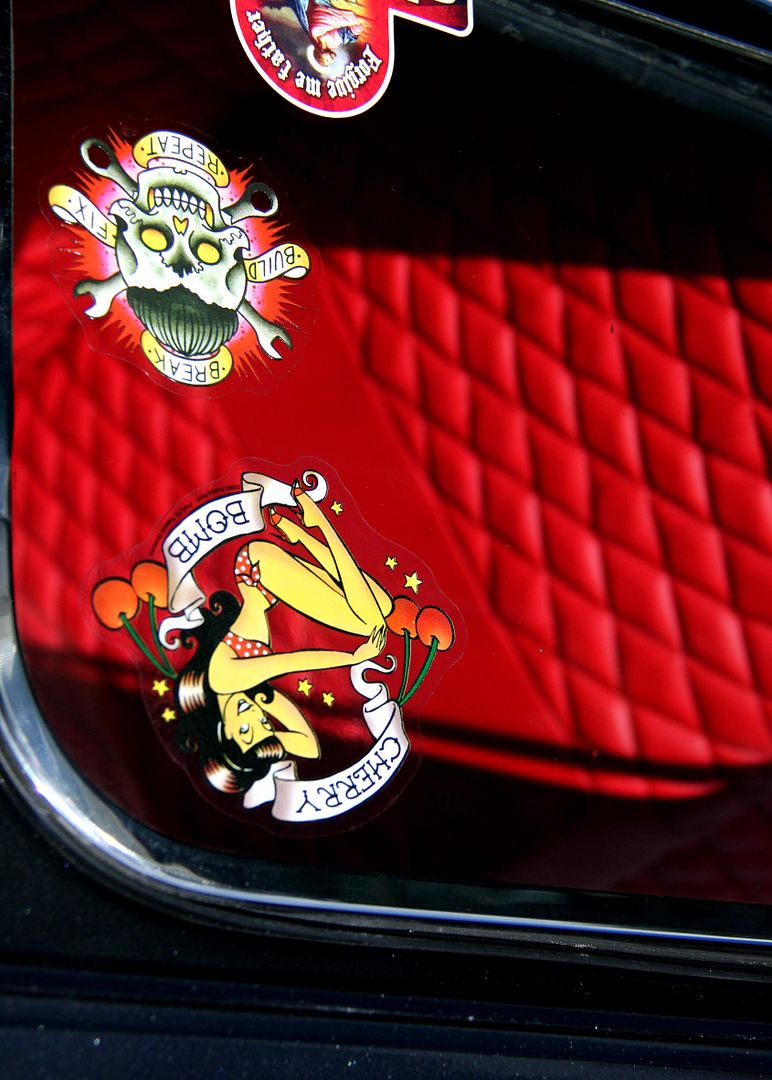 There are almost as many Imp varieties as there are Riley/Wolsey/etc Mini ones. This one's a Chamois from Singer
and is therefore IIRC the posher one. If a posh Imp isn't a misnomer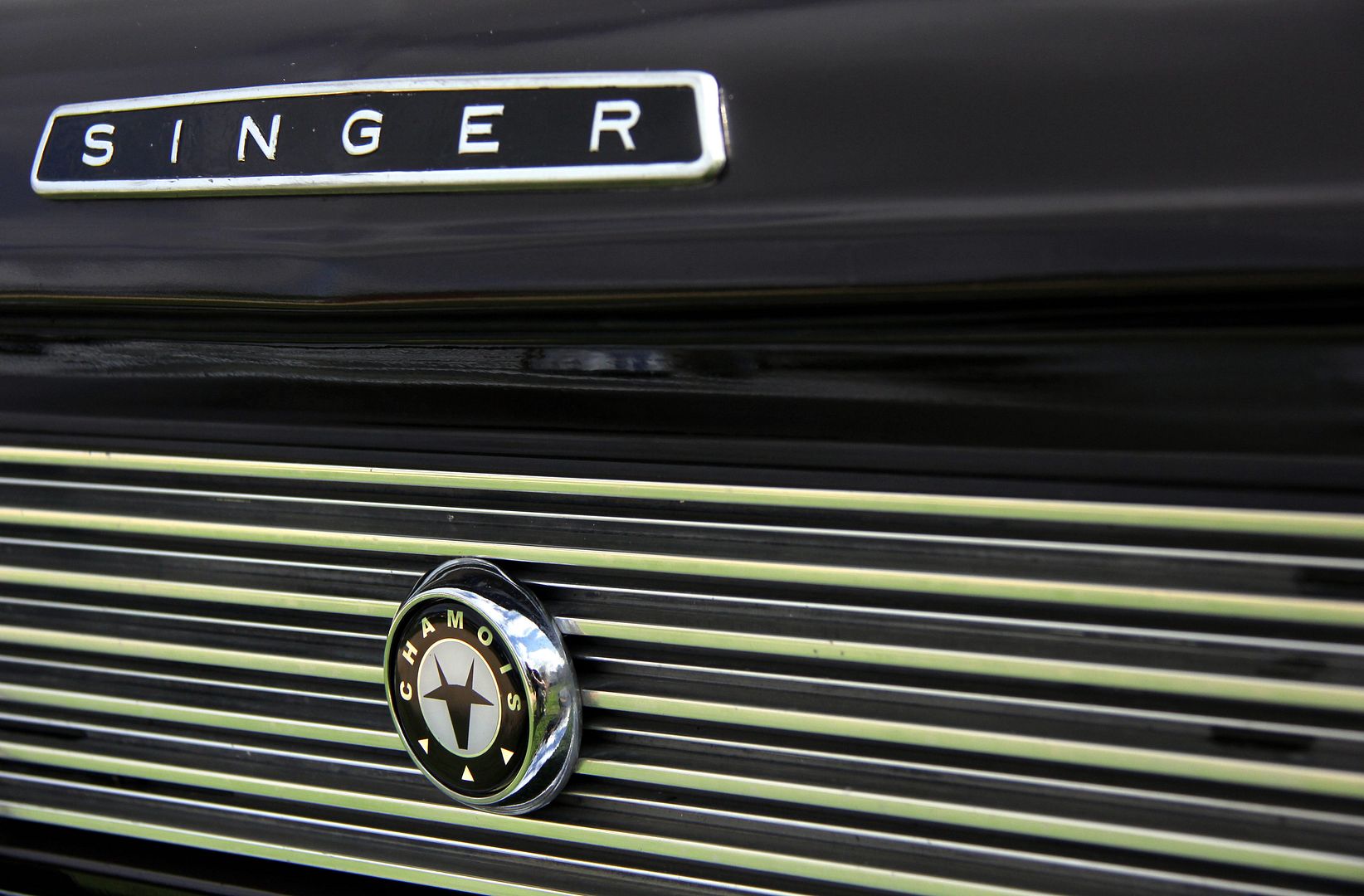 I think this little thing is a mid-70s Toyota Corolla. I could just retouch all the photos of it so no-one can tell any different, lol
Only kidding. Think this is just the right amount of modification to get attention but without being too "look at me". Got a lot of time for this little car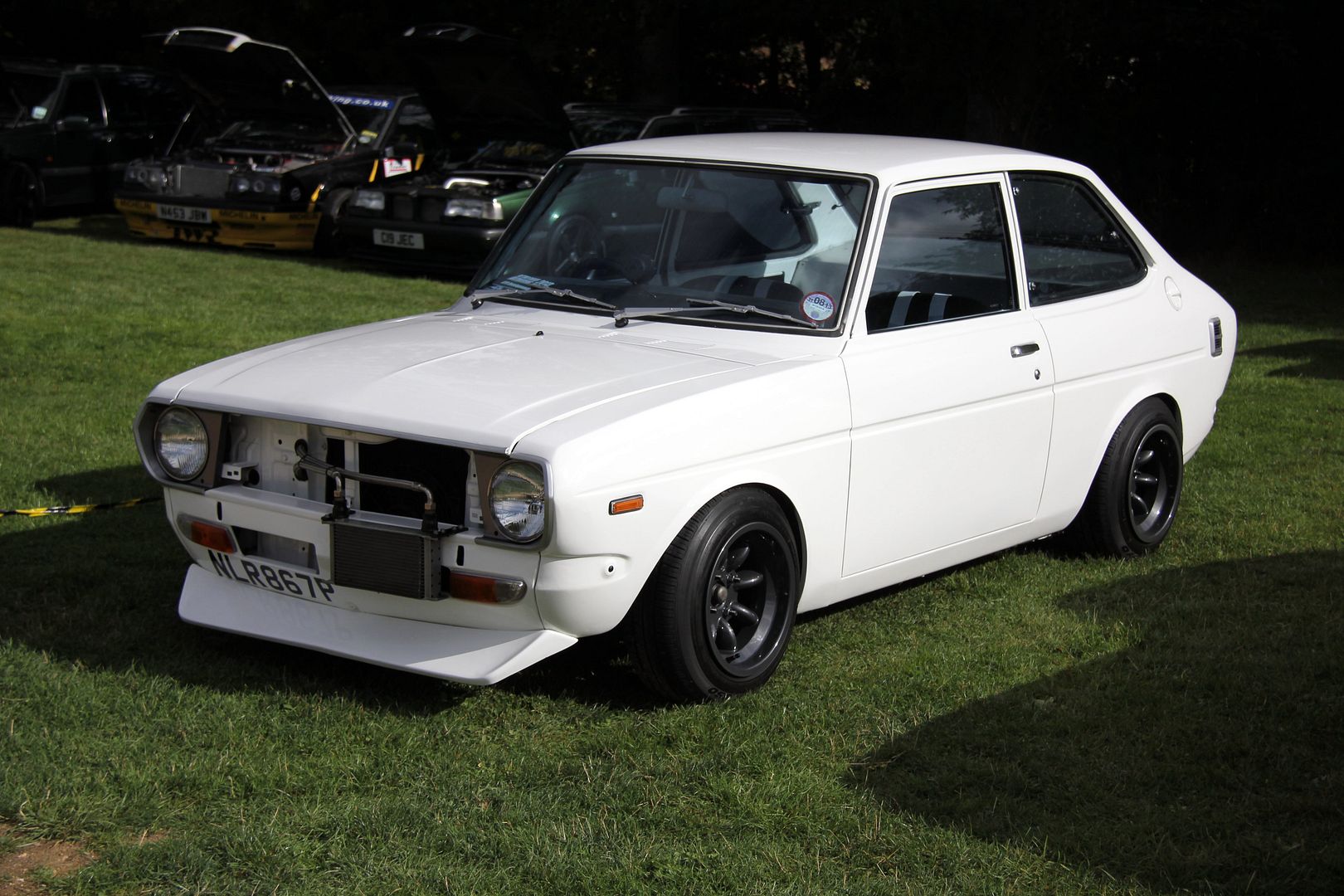 In fact, as a general rule its simple to tell how much I like a car by how many photos I ended up with of it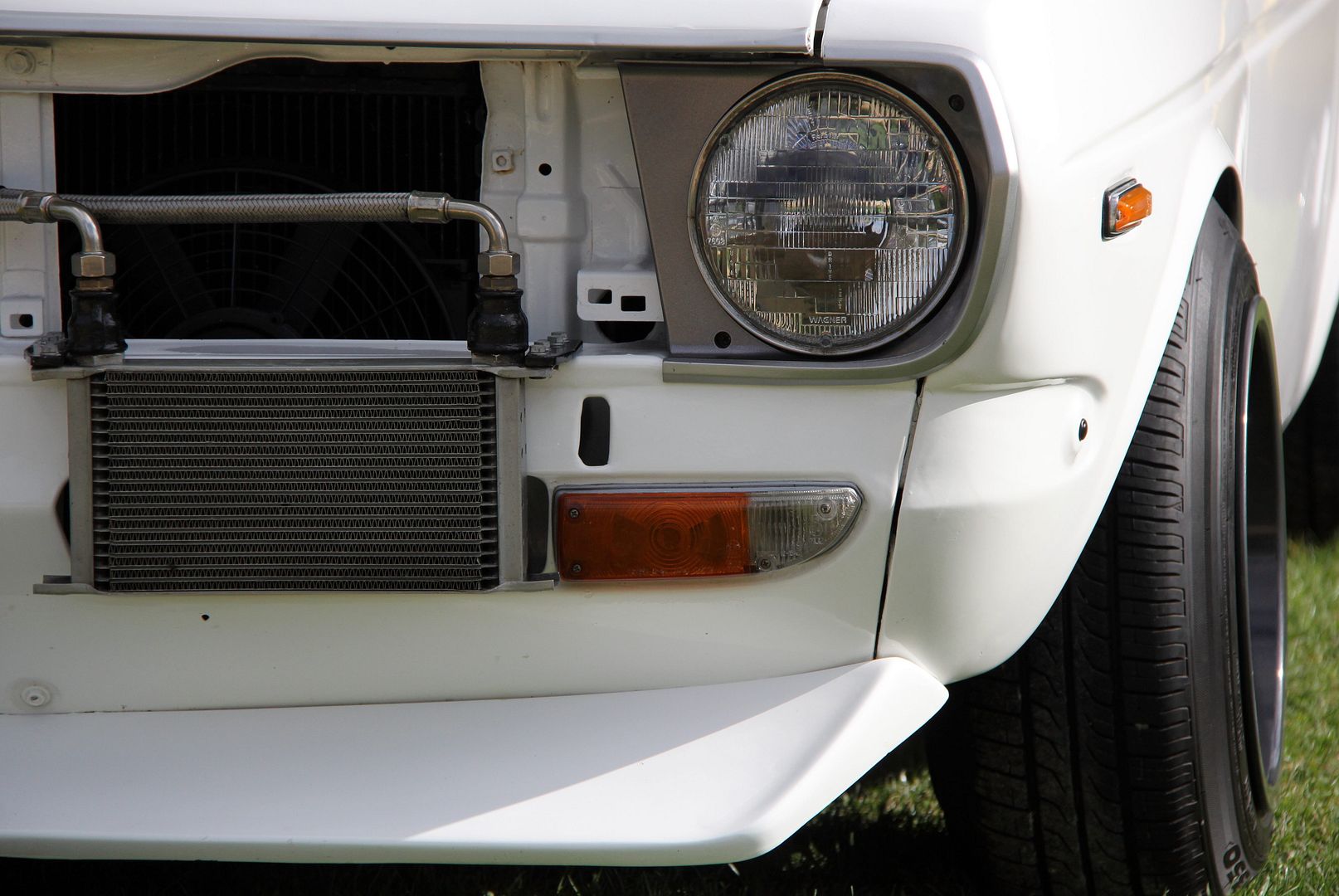 Considering how rare and expensive sound early Escorts are becoming (apparently) its amazing how damned many of them there seem to be at every show! It's almost as if the bulging arches, fog lights and rally decals are some Bird-of-Paradise style escort plumage, each vying with the rest to see who can be most swollen, colourful and attention-grabbing
See? They're everywhere, lol. Not that I'm complaining
Wasp-waisted, curves like Jayne Mansfield, lol.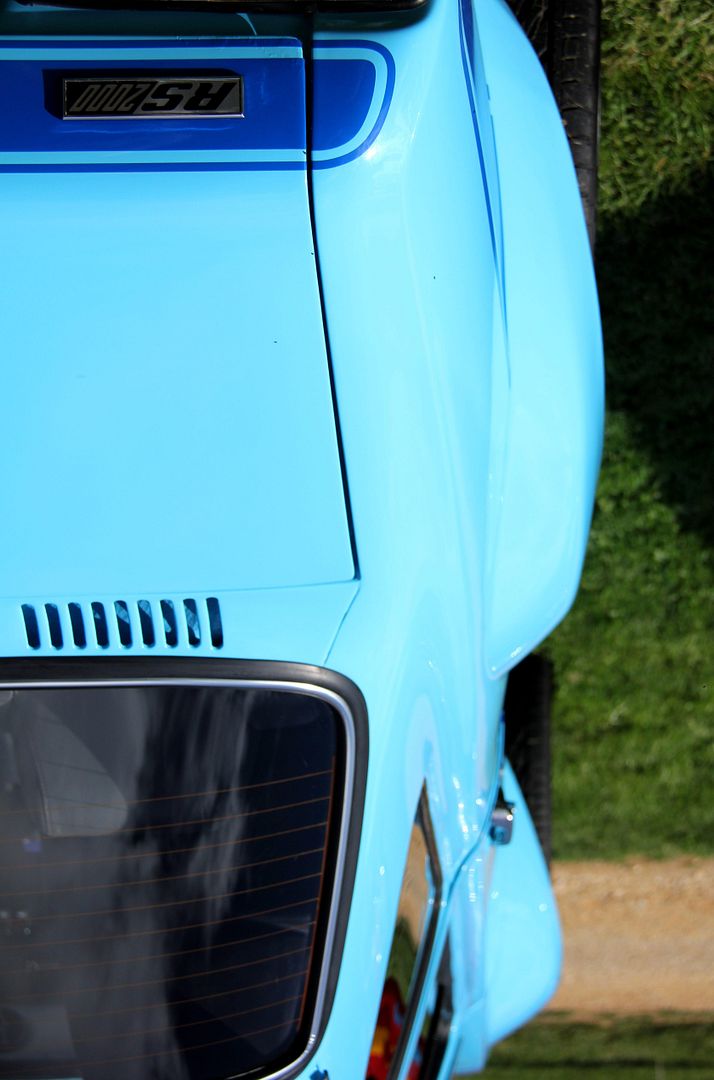 Maybe I'm biased... OK, I am biased but that don't make me wrong... but I love a nice set of Minilites. Especially barely wrapped around such capable-looking Hi-Specs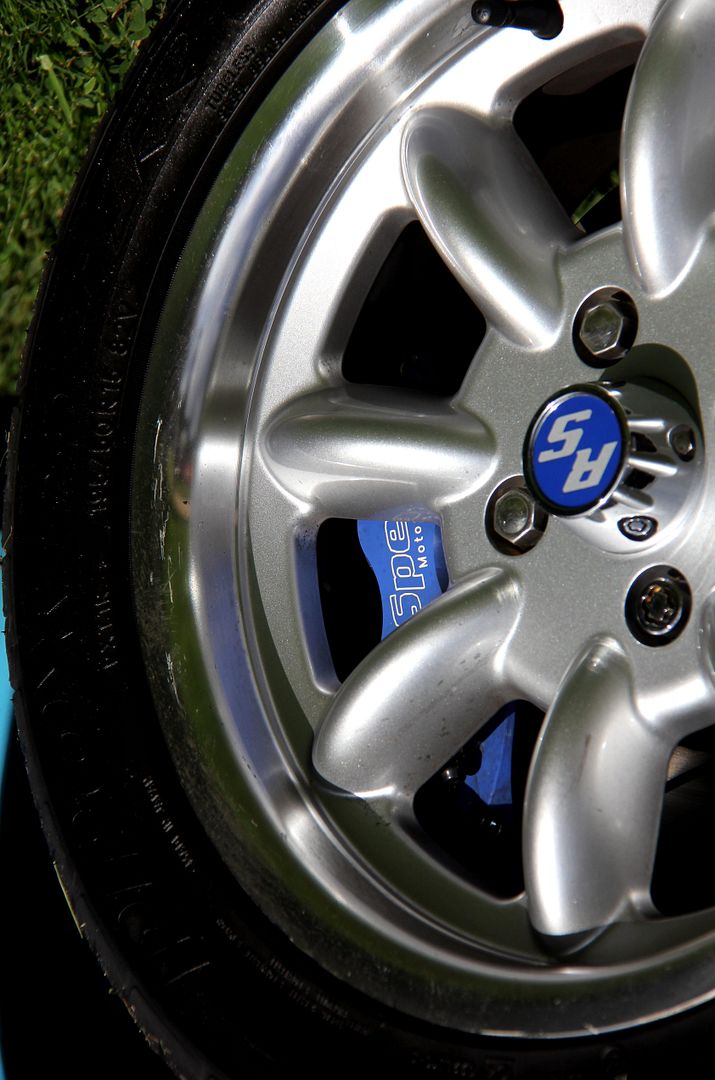 MkII Cortina was present to remind her smaller brother that Escorts are not the only cool Fords. Which is a hard trick to pull off when you have too many doors and are brown, but the old girl manages it with considerable dignity, I feel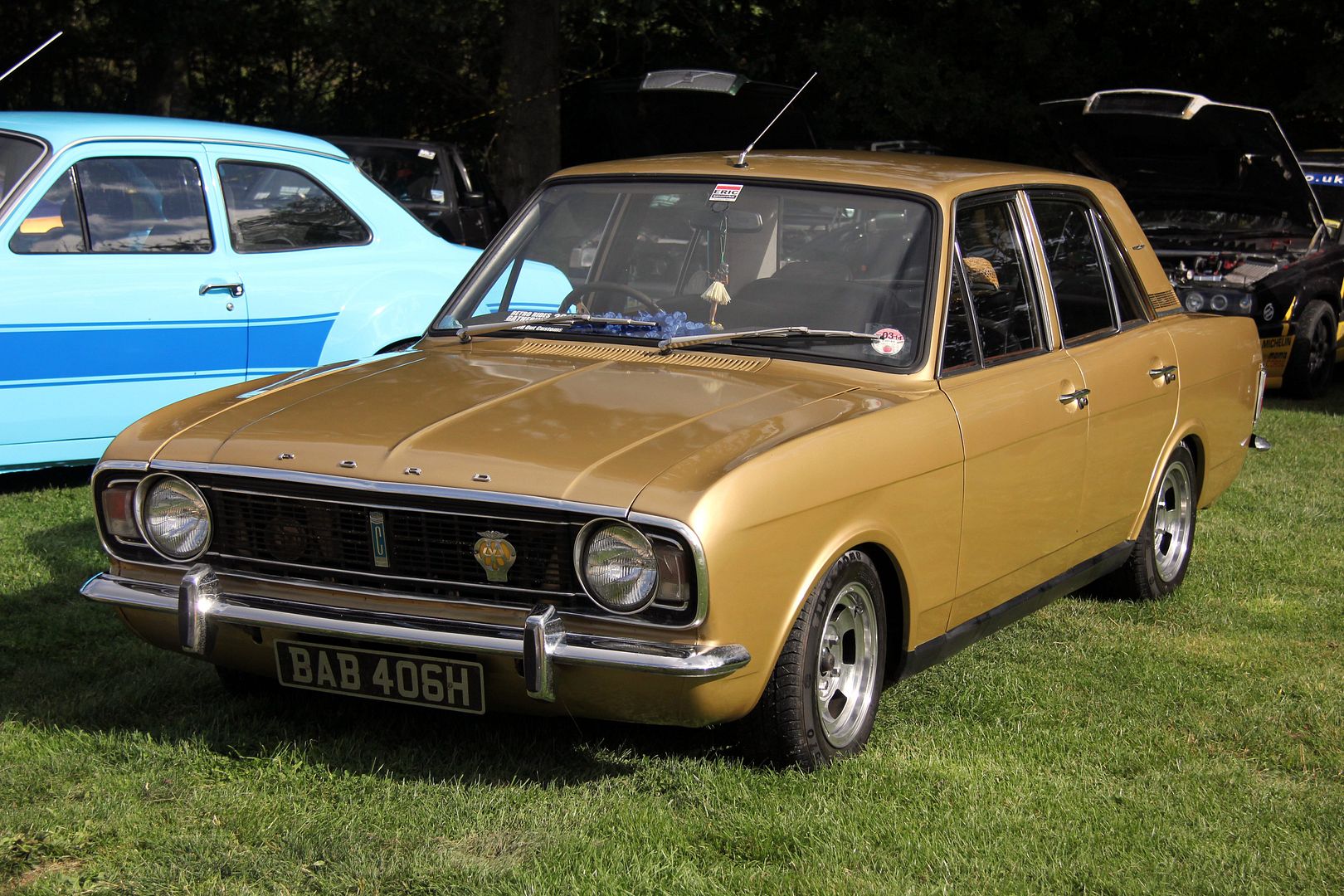 If this photo was scratch'n'sniff, it'd smell of the late 1960s. Whatever that smells like. Given the industrial unrest and strikes, probably uncollected bins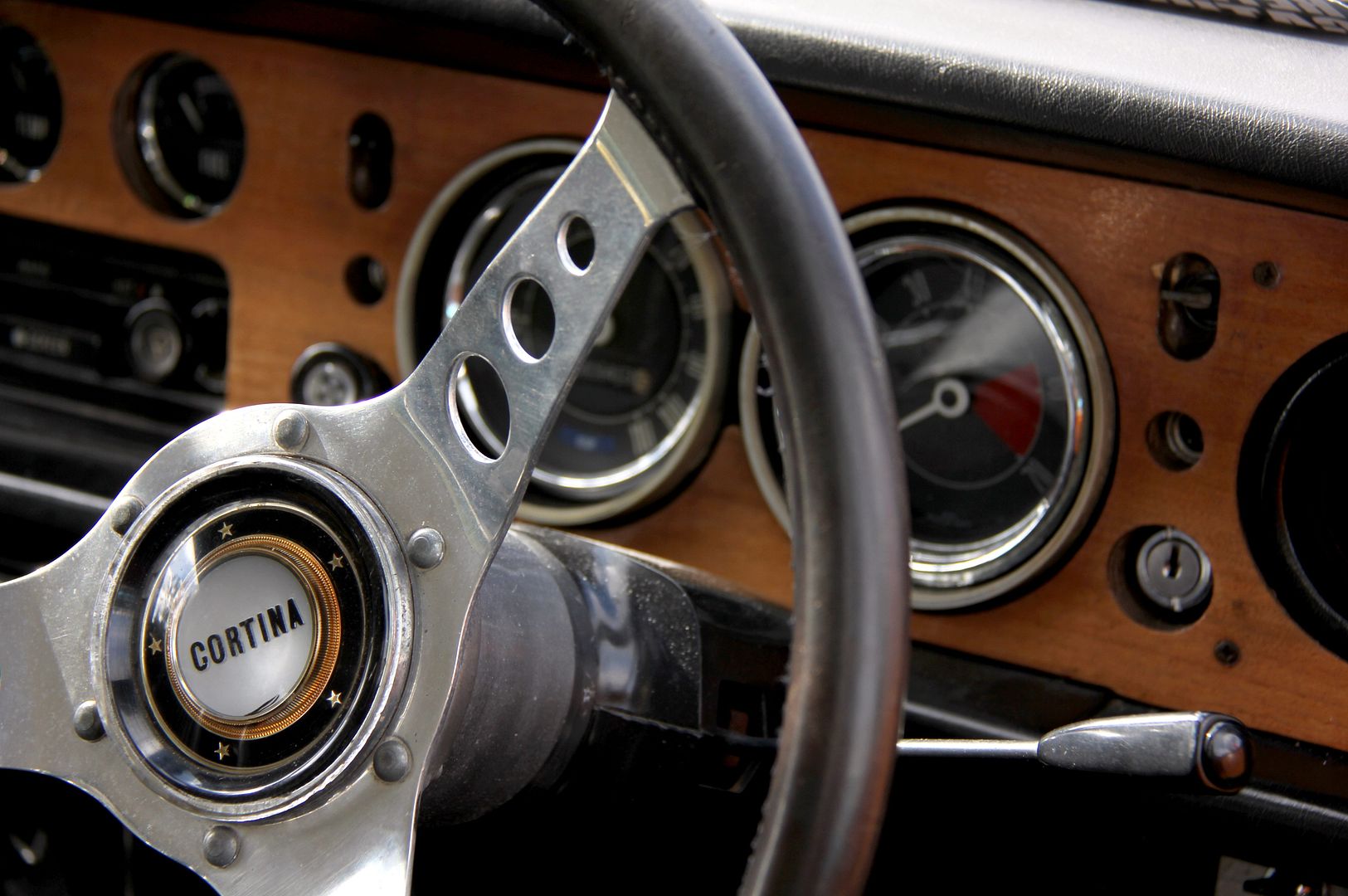 Mr Claymore's rather tricksy Volvo was sitting in a shady spot with it's maw open like a dozing crocodile. It's a shame that a photo can't convey the ridiculous amount of noise this thing makes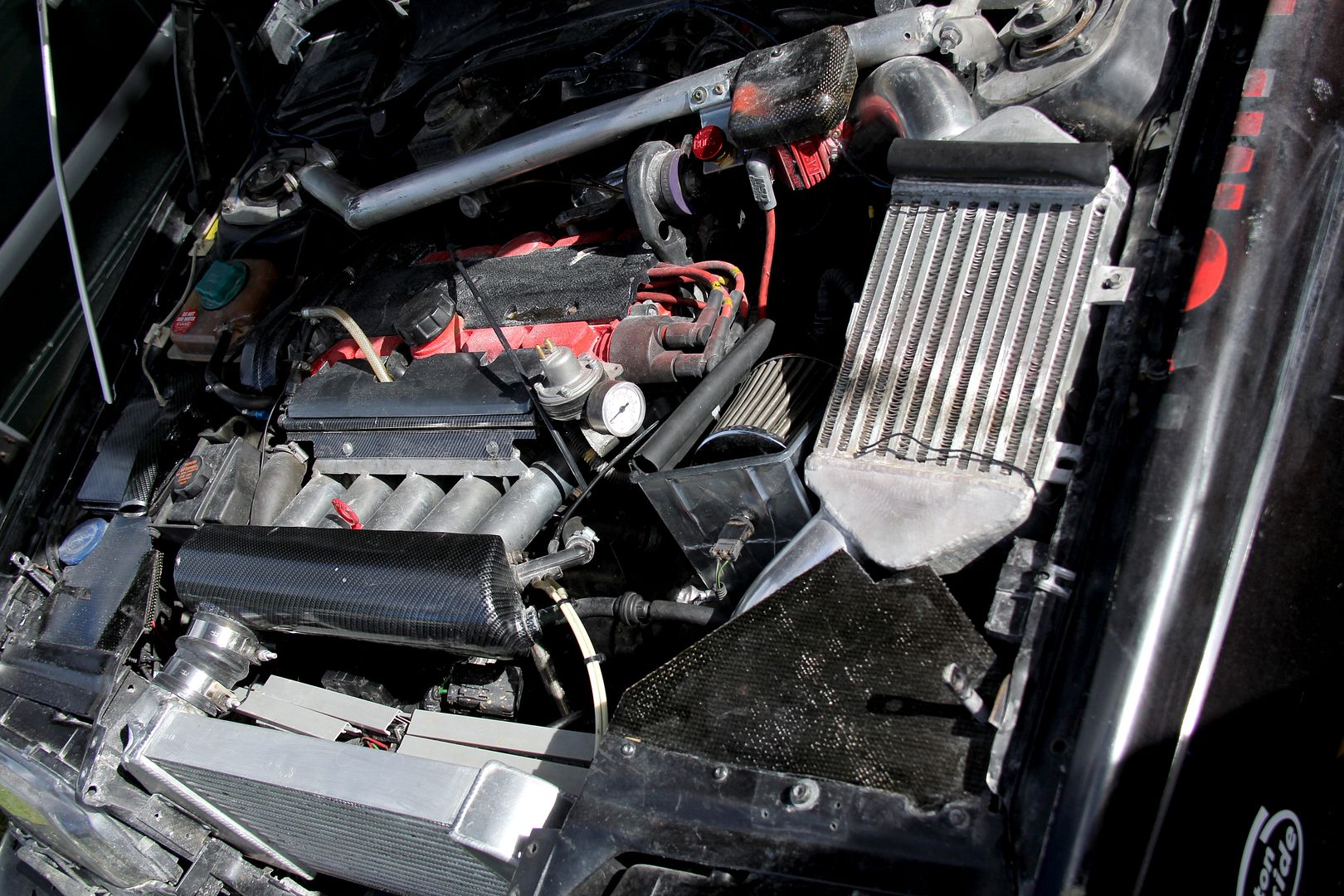 Not sure what's happened to this 1275GT but if the mechanicals are anywhere near as purposeful as the bodywork it should go well.
whereas this Cooper is all-ends-up lovely.
True story, my wife got smashed into by the work van from the Cooper garage in East Preston. It was making a U-turn to be in the right lane for the level crossing. The driver's reason for hitting her? "I do that manouvre every morning and there's not usually anyone else there". Lol
Micra appears to be on a mission to prove the formula that any car + wheels + lows = cool