&nbsp
Bit of a long winded tale but bare with me.
This is the major contributing factor to my Syncro project going quiet.
It all began back in April a group of us went on an epic road trip around Europe culminating in visiting Worthersee, we even had a video made about it. It's pretty good but I'm biased.
Between blatting round the ring, racing classic Porsches on autobahns, losing 5th gears, riding rollercoasters down mountains and being that guy that brought a terrible looking Corrado to Worthersee, we stopped off in Munich and after a night out payed a visit to BMW Welt.
It's a great place and well worth a visit and it confirmed some thing I'd been thinking about for a while, I needed a BMW, preferably with an M badge affixed to it.
I started looking at E46 M3s to begin with, prices were good, add an Eisenmann and a VF engineering 'charger into the mix and it ticked a lot of boxes. I'm already considering it again just talking about it!
Then I was bored on a Saturday.
Decided to pop down to the BMW dealership and look at an E92 M3. Used prices had dropped into my budget so why not aye? After not being taken seriously (probably because of my age) and being told I could only test drive one if I'd already agreed to buy it, I basically got mugged off with a brochure (won't be using that dealership for servicing).
The brochure turned out to be a blessing in disguise however, flicking though it at home I got to this page.
Oh hello what's that there on the left?
4 months later here we are.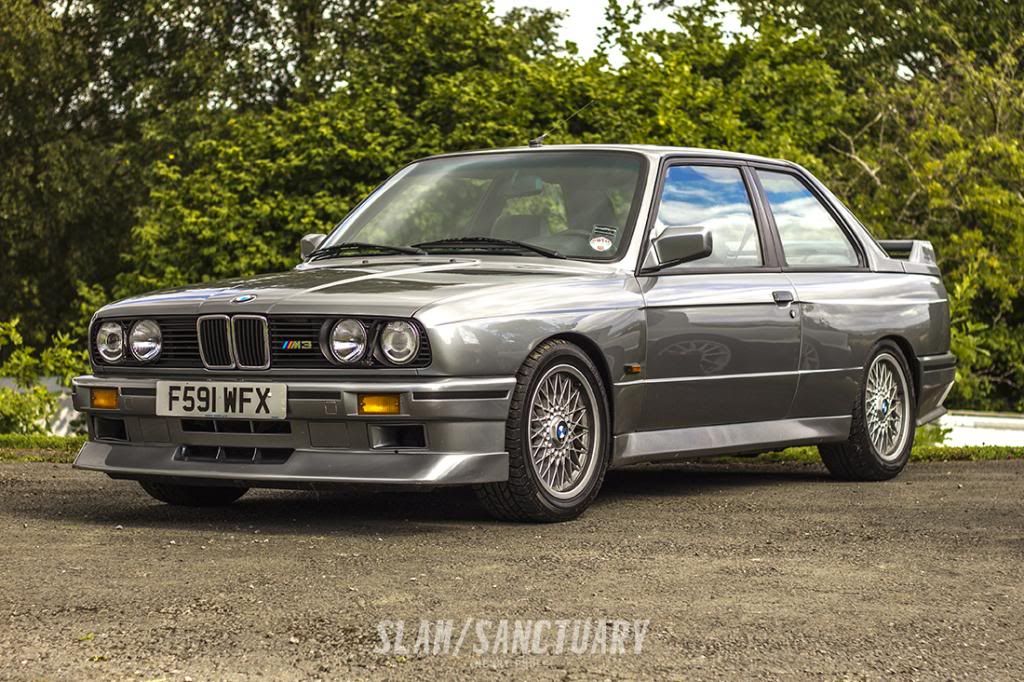 Picture courtesy of Slam Sanctuary from their Retro Rides Gathering coverage.
After a fair bit of research, viewing an absolute dog (note to sellers, claiming an engine rebuild with a bit of note paper with 'Engine rebuild 23/8/11' written on it is not very convincing), and forking out a fortune on a specialist inspection I tracked down this beauty at an Evo and Impreza specialist of all places.
It's a 1988 E30 M3 (if you didn't know that bit why are you even reading this?) Evolution 2 in Nogaro Silver with 70k on the clock. The Evo 2s were a limited run of 500 that differed from the standard model with raised compression on the S14 engine, improved air intake, lightened flywheel and tweaked management upping power to 220hp.
Also had the 16" wheels as standard, larger chin spoiler, additional boot spoiler and brake cooling ducts in place of front fogs. Thinner glass and a lightened bumpers and boot lid drops the weight by 22 pounds over the standard model as well. Interior is a half leather pattern exclusive to the Evo 2.
My car is number 16 of 500 and rolled off the production line 2 days after I was born which I thought was pretty cool. Most of the options are the ones that come as standard on the Evo 2 but this does have an electric sunroof, headlight washers and air con. It was sold from a Munich dealership in '88 and imported to the UK in '89 by Munich Legends who looked after it for most of it's life. Got a massive folder of history for the car, one highlight is for it changing hands for £8000 in 2001, wish I'd got it for that!
In the last 10 years I've got receipts for £20k worth of work so it's certainly been well looked after. The previous owner was a Swiss banker who bought it in 2009 after instructing Munich Legends to find him a car. He exported it to Spain and kept it garaged with his friends collection of Group B rally cars (including the infamous RS200 that ploughed into the crowd in Portugal). The car was kept UK registered whilst in Spain and collected this year to be sold after the dealership delivered his friend a road homologation Metro 6R4, some people have a hard life don't they.
Modification wise it's pretty limited, the air con system has been updated to use a more modern gas or something and it's lowered on Koni adjustable struts with H&R springs.
Future plans are to look after and enjoy it basically, there's a few rough edges that need tidying up and I'll probably get some new wheels for it at some point, those BBS brake fans on Wheel Whores look mighty tempting.
Oh and dogleg ftw