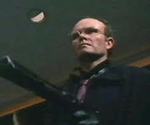 A. He is a very rude and nosey person.
B. it's got feck-all to do with him what you do on your drive.
C. It's your own motor and can fix it on your own drive if you want to.
D. That you're only on this earth a short time and maybe suggest he go out ballroom dancing or rambling? After all, isn't that what old people do?? (In relation to all people who fix cars outside houses being travellers?)
E. He should slurp on your meaty sausage and do one!
Do not let this sort of garbage bother you mate. Let him inform the pope or whoever. You're doing nowt wrong. Crack on with your jobs.
Oh, and most old people are great. Some of the best conversation and advice can be had from older people IMO.
But what if in response to point E he actually drops to his knees !!!