I was actually shocked to come across another beautiful looking Japanese sports car........ that I didnt know about!!
lol.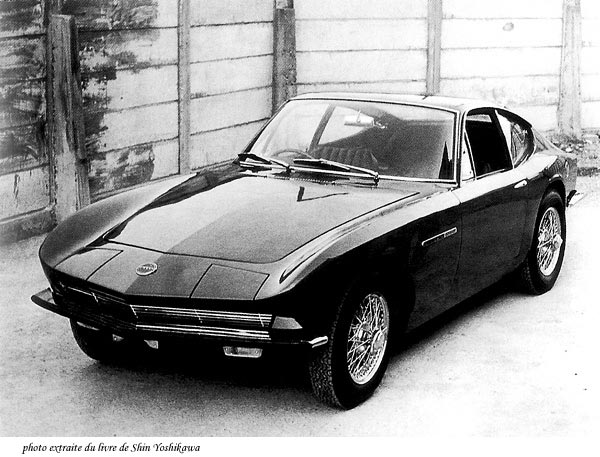 Cue some research
Its actually a 1960s Nissan prototype based on a Datsun 1600 Roadster (No its nothing to do with a 240Z)
Read about it here.........
www.viaretro.com/en/2013/05/from-albrecht-to-z/
More details (Translated).....
We are in 1964 and Yamaha sees escape the manufacture of Silvia. There remains then only focus on the study of future Nissan 2000GT. The code name of the project is A550X.
The main lines are dictated by Nissan: a monocoque steel body on a separate chassis, sharp before, fastback rear, retractable headlights, disc brakes 4 wheel side and a non-flat 2 engine the windows. (YX80). These characteristics correspond exactly to the Toyota 2000GT with the project takes shape at about the same time.
oertz, with Kazuo Kimura and Fumio Yoshida, helps draw the body for Nissan and Yamaha is, once again, forced to manufacture a car in a very short time.
With material and technical assistance to Nissan, a prototype A550X rolls in September 1964. This is a beautiful cut with steel body. Goertz being close to Michelotti, another designer who also worked in Japan at that time, some see it as a resemblance to the Triumph GT6 . YX80 the motor coupled to two Solex carburetors are used, it develops 120 hp.
length: 418 cm
Width: 157 cm
Height: 123 cm
Wheelbase: 238 cm A second prototype is then built by Yamaha. It seems that Nissan Goertz has already left at that time, no matter where at least he no longer spoke on the drawing thereof. It is Kazuo Kimura and Fumio Yoshida which are now fully responsible for his style.
he influence of the work of Goertz line is present but this car is different. It bears the name of Nissan 2000GT and have a body in lacquered fiberglass black.
Unfortunately, tensions between the leaders of Yamaha and Nissan have aggravated since abortion Silvia and when prototypes are delivered to Nissan, the divorce is granted at the end of the year. Goertz was fired and he will not return to work for Nissan.
The prototypes will never be reviewed, making it difficult to identify today thereof. Nissan will develop the project once it has acquired Prince and its expertise in engine and monocoque. Slight inspiration work with Yamaha is still noticeable on the Datsun 240Z which was unveiled in 1969. This is due to Kimura and Yoshida Akio Yoshoda to work with, the latter being credited for the design of the 240Z, edited by Yoshihiko Matsuo. So even if Nissan designers have always inspired design Goertz, the 240Z is a pure product of Nissan.
And some more pics (the bit you really want

)