10 years ago I was in a W H Smith in Nottingham and saw some kit car magazines, I'm not sure why but I thought I'd pick one up and have a read. At his point I had no interest in cars whatsoever, I hadn't even put air in my tyres or changed a wheel. Cars were insignificant to me.
After flicking through the magazine I thought I'd look for more information online. I started my computer up and waited for the dial up to finish connecting and mentioned my car magazine to my friend on MSN Messenger. Weirdly he'd had similar thoughts. A couple of weeks later we were at MK having a look around. They offered us a go in the demo car. I assumed we'd take it in turns to have a drive with someone from MK but they just threw the keys at us and sent two 20 year olds on their way!
My friend Charlie pulled away with me as passenger. I think it had a 1.6 pinto engine in it so by modern kit car standards wasn't very powerful. Charlie slammed on the accelerator and that was us hooked in the space of 5 seconds. About a month later I placed an order for a chassis kit.
I've been looking through old hard drives and I've found some photos from across the years so I thought I'd start a thread about it's past and future plans.
The demo car:
The start of the build. I found a unit to rent via the local paper. An old gentleman called Mr Warr who was in his late 80s charged £20 a month for a place big enough for about a dozen cars, it had a pit too.
A bit further along, with engine and gearbox in (2.0 pinto)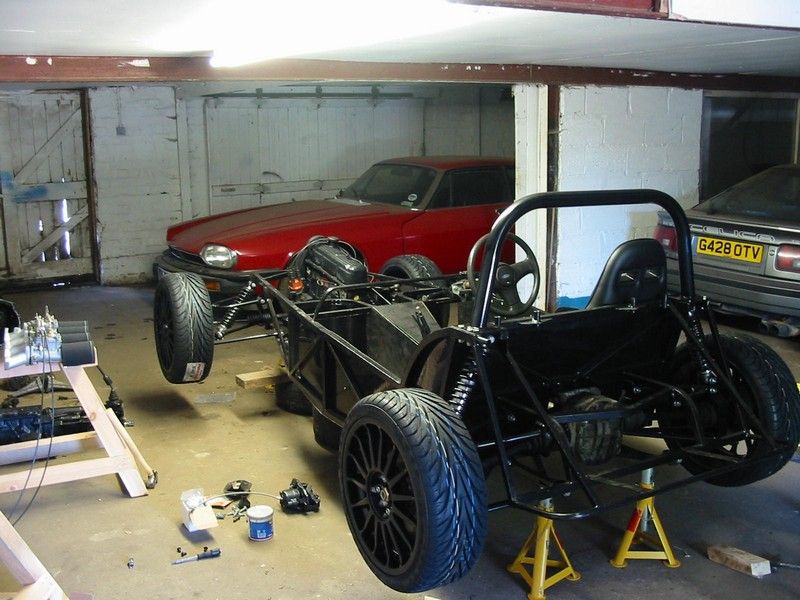 After the summer working on it, the car came back home. It took a few months to get to this point with many mistakes along the way.
Photos are thin on the ground at this point. The car was SVA'd in 2006 and registered for the road soon after. So it was time to start driving. I'm lucky to live in an area surrounded by country roads so I spent most of the time exploring close to home.
Buckminster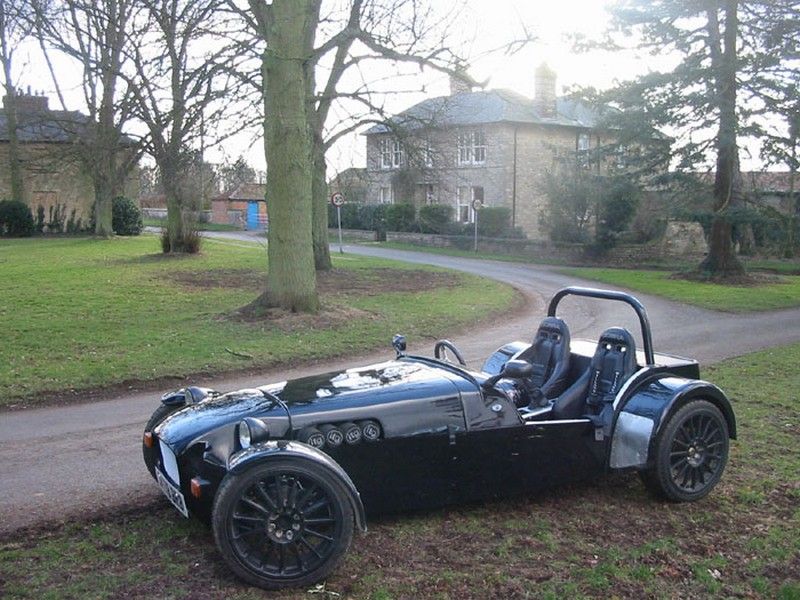 Then my friend got his car finished and SVA'd the following year (1.8 zetec)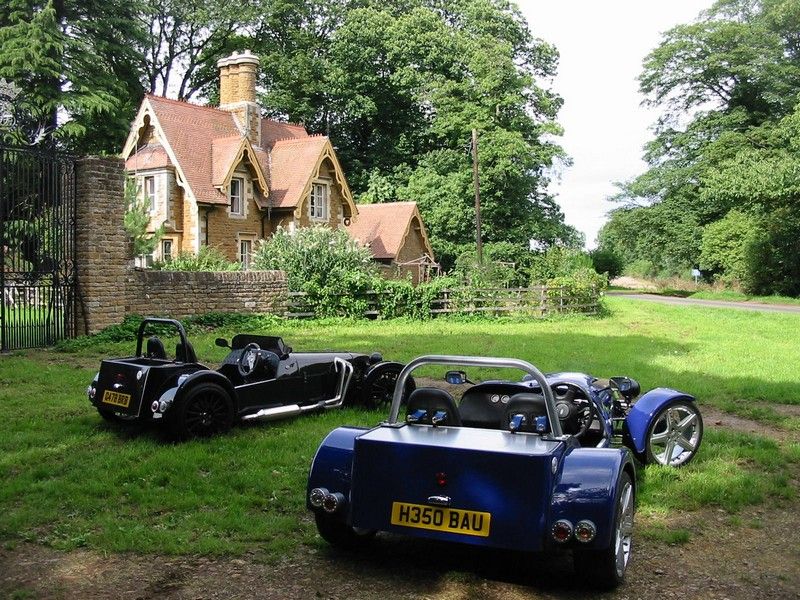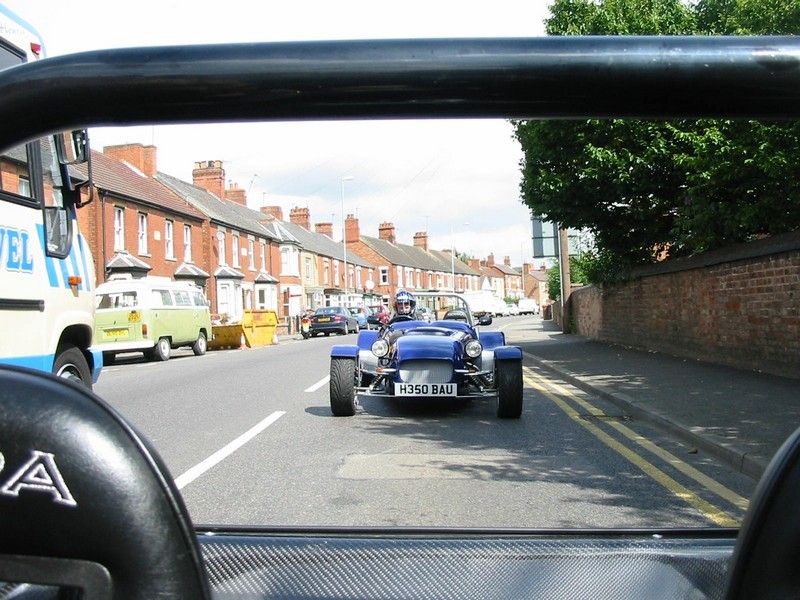 A couple of years passed and I was missing the build process, the desire to take the car to pieces was too great so I started to do so. Looking back I should have got all the new engine & gearbox ready to go first so I could still use the car!
Volvo straight six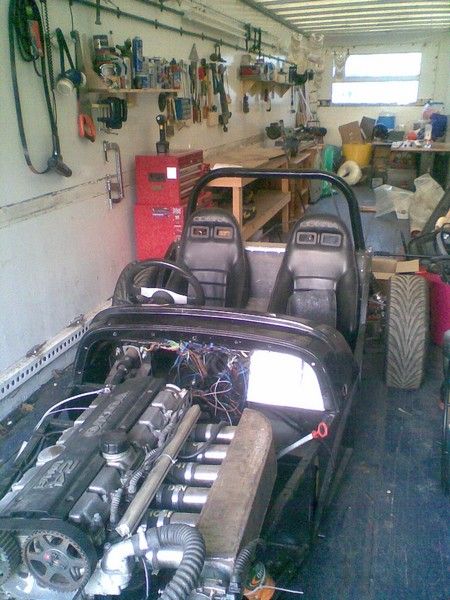 Another workshop change
Me and Charlie decided to go to the nurburgring. I tried to get the car finished in time but it was never going to happen. So I went on ebay and bought a Volvo 940 turbo to do the trip in. It was a great support vehicle.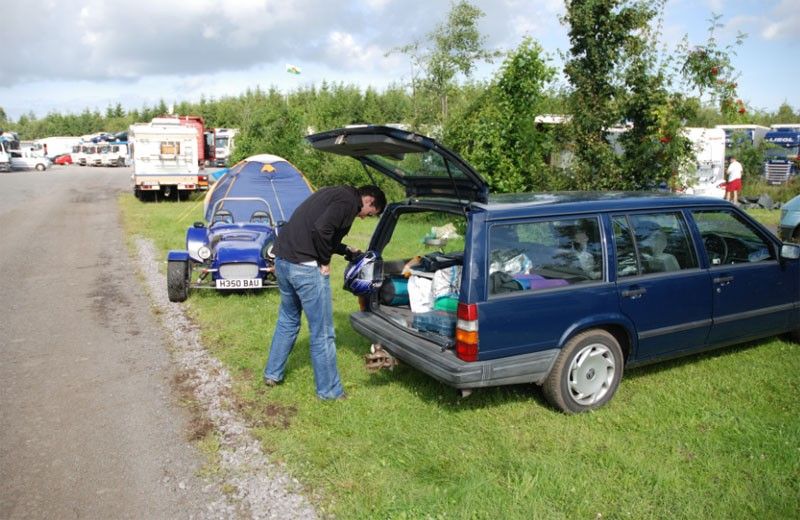 A couple of months after coming back from the ring, my son was born and things were put on hold for a while. I rented a single council lockup and the MK was covered with tat
This engine swap took years and even when finished I didn't get it on the road. I had to lose a lot of pedal space to the gearbox and getting everything to fit and sorting out megasquirt was starting to get to me. The car hadn't been on the road for 4 or 5 years and I was itching to drive it again.
Instead of biting off more than I can chew and doing another mad engine swap, I thought I'd go a tried and tested route. Or at least go a very easy route. A few months before, a workshop friend used to work on Peugeot diesels quite a lot and often told me about his tuned 306. After I heard about the wiring, my ears pricked up. Megasquirt had hugely confused me, and then I hear of the XUD engine needing a single wire for it to run? Shut up and take my money. Also it would bolt up to an LDV Pilot gearbox. I was originally going to use the XUD in my amazon, but decided to use it in the MK instead. That was the easy route sorted.
The engine & box: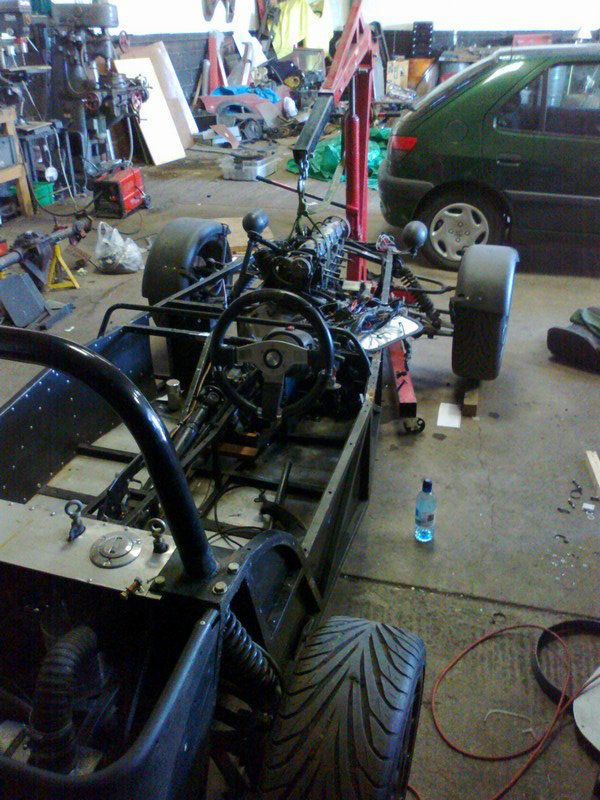 Engine mounts sorted:
Another new friend I met along the way
The engine I bought came with no pump so I got one and fit it. XUDs are plentiful in scrapyards and parts are very cheap at my local scrapyard.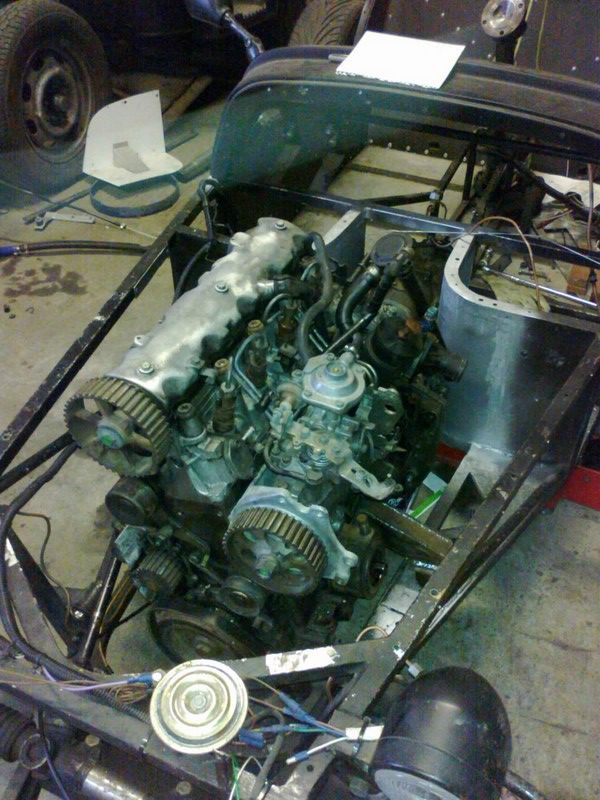 Out in the fresh air. She's not running yet so one person pushes, the other makes engine noises.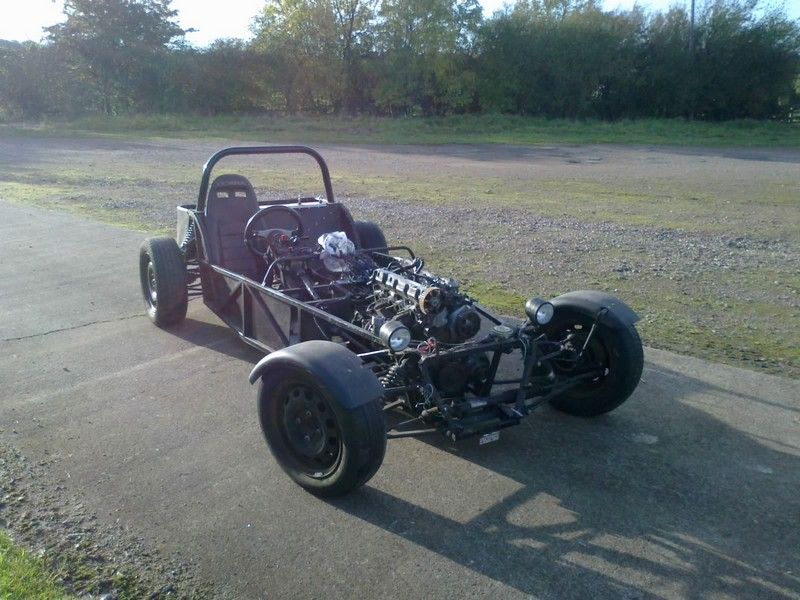 Sorting rad and intercooler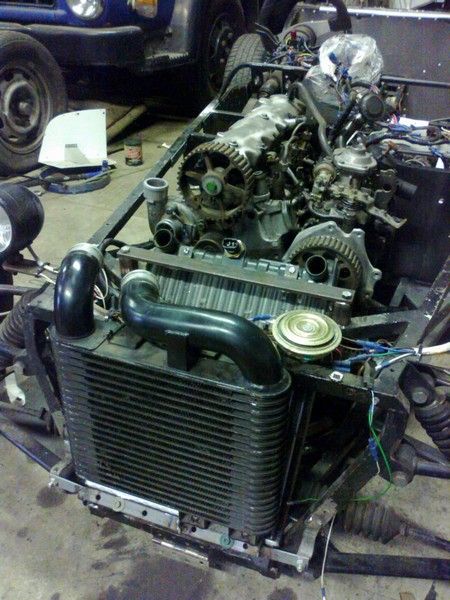 Alternator bracket made
I bought a turbo from the scrapyard and fitted it (just a standard K14)
A first start attempt. Smoke but
no fire
. Turns out the pump I bought was rusted badly inside.
I put together some pipes for the turbo & I/C and clamped some pallet wood to the firewall for the expansion tank to do a
test run
.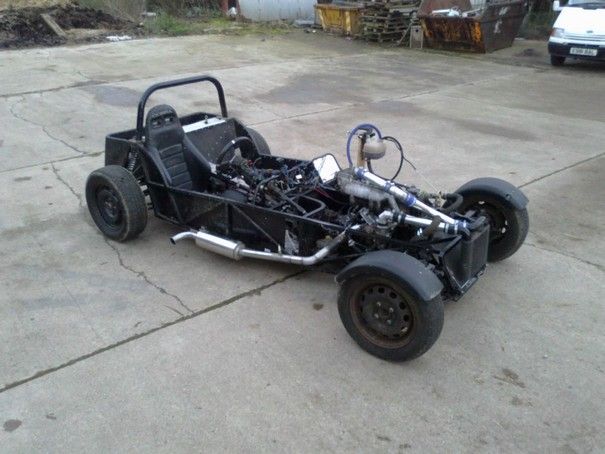 In a few months I'd done more to the car than I had in the last 5 years, moving under it's own power again was a great feeling.
Next came the inlet manifold (2x disposable welding cylinders)
Almost ready for MOT. Sierra steel wheels replace the massive alloy wheels that I had before.
MOT failed on lack of locking nut on the track rod end and horn not working. It passed again that afternoon and I took it out for a quick spin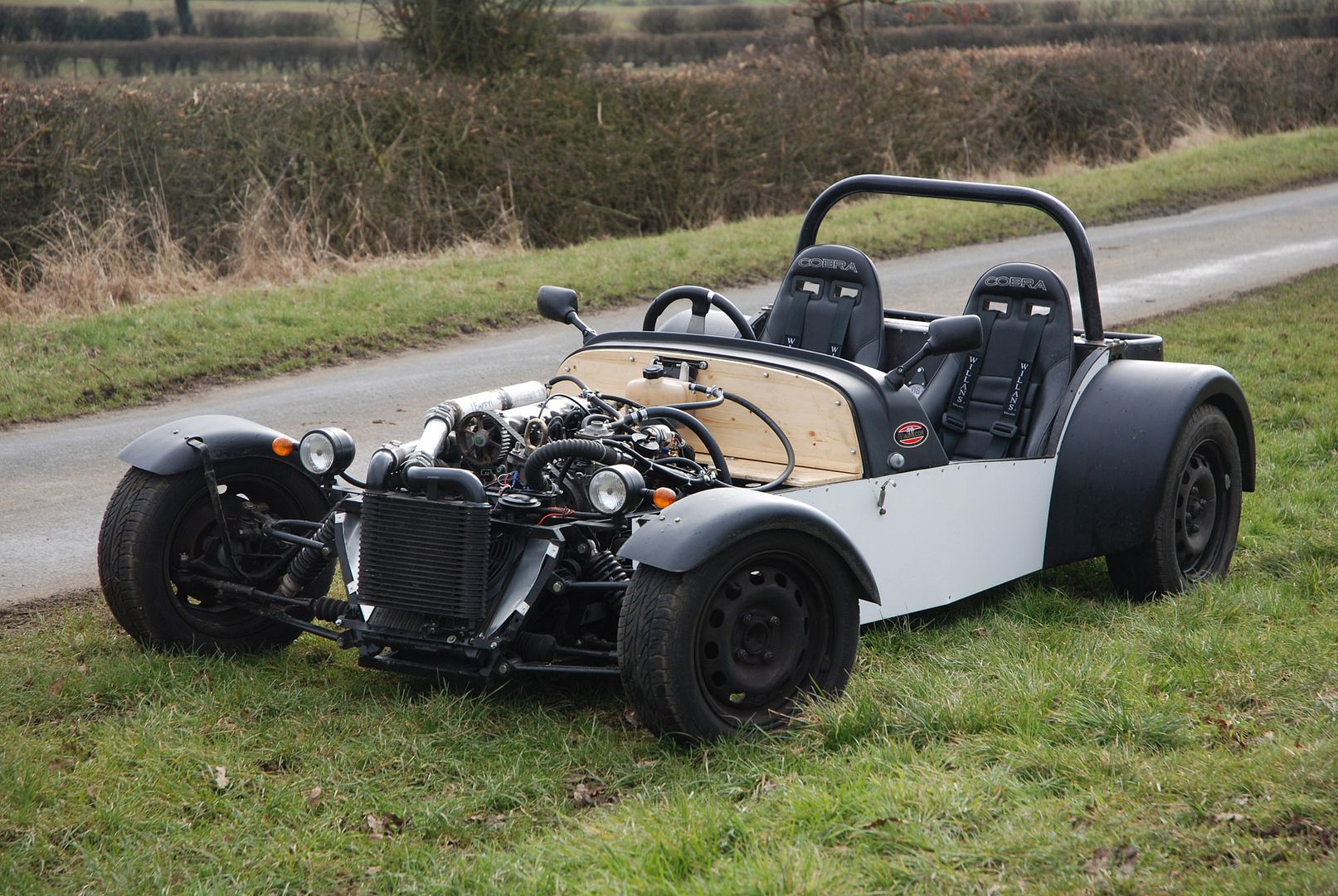 At Newark Kit car show (which it turns out was to be the last after 30 years)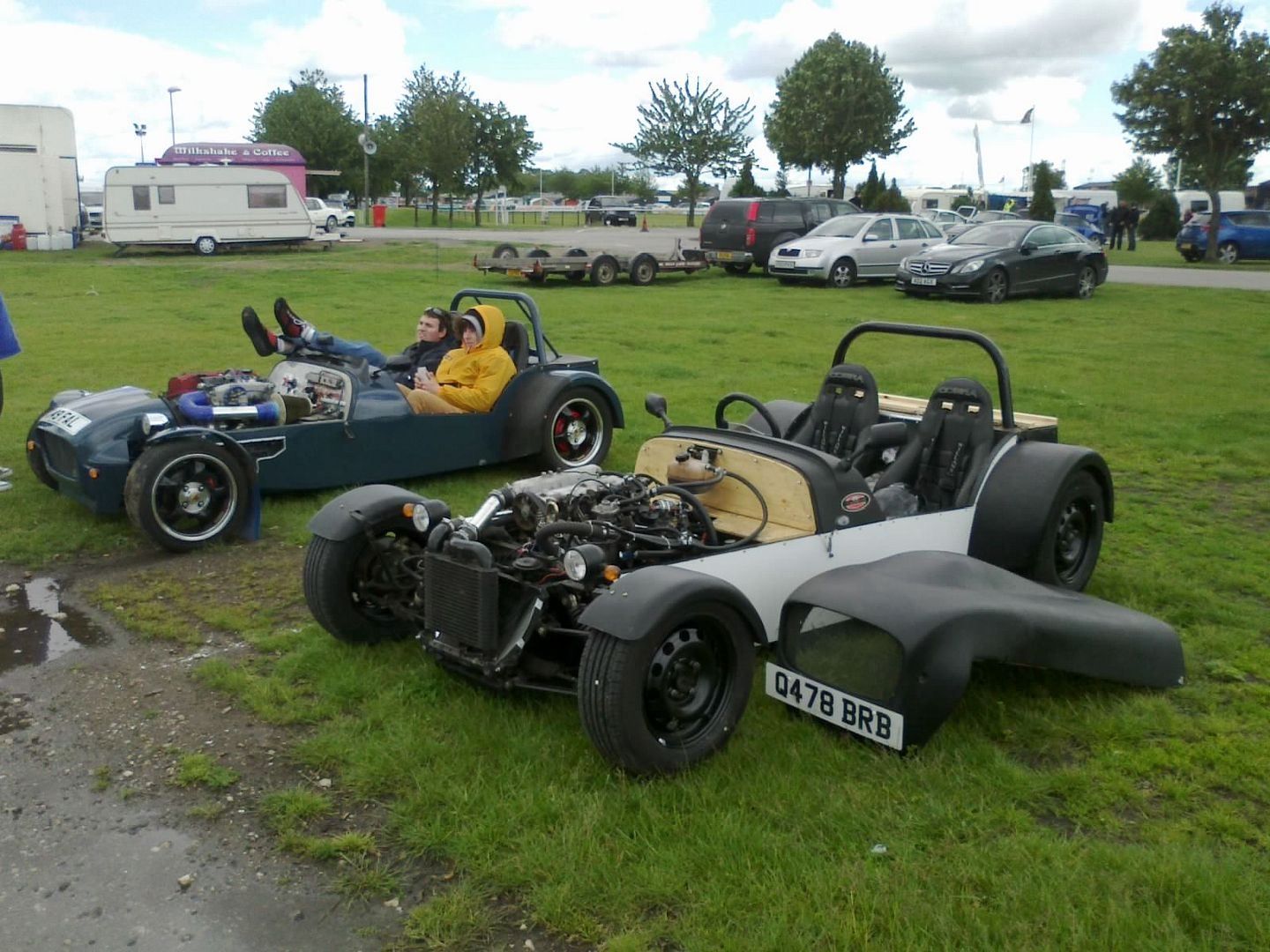 I ran the car til the tax ran out at the end of august. During that time I smashed the sump on a bad stretch of road and lost all my oil. The engine survived but the turbo was toast so I switched to another standard turbo, a T2. I did some mild tuning to the pump and turbo but not a great deal. I also switched my home made intake manifold after a trip to the scrapyard. My friend Sam popped the bonnet on a Tata Loadbeta and noticed it had a bosch pump. After a few minutes browsing the engine bay we realised the inlet manifold would fit on an XUD head. Excellent, an off the shelf aluminium RWD manifold
The loadbeta at the scrapyard
Fitted:
Performance is a great laugh. It's not as quick off the line as the pinto, due to the lag, but once it's on boost it feels a fair bit faster.
Building a kit car was one of the best things I ever did, no doubts there. I got out and about and met loads of awesome people along the way, made great friends, taught myself to weld/use spanners to some degree. Few things top going out for a blast in the summer, the flies to the forehead @ 60mph, tangled hair, strangers waving and petrol station conversations and comments.
This write up ends where the new plans begin. Over the years I've grown a bit tired of day-glo colour schemes and massive alloy wheels on kit cars. Don't get me wrong, I still appreciate them but it's not the kind of look I'm after. Think Powder Keg rather than Power Ranger.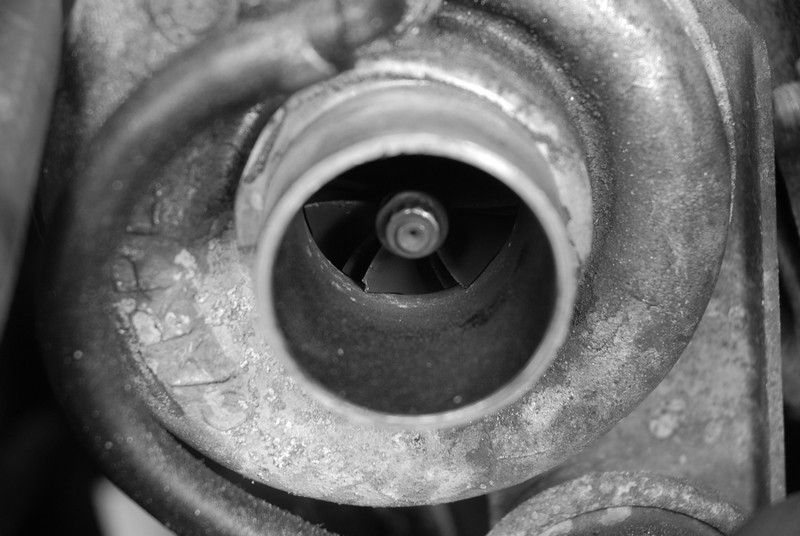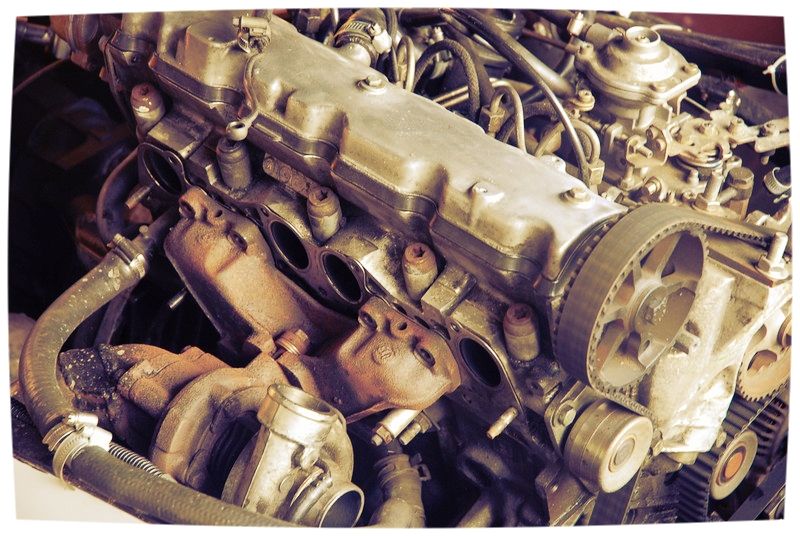 To come soon... more power, cooling, wood & aluminium