I've long argued against starting project threads as I take a long time to do anything. Years, in fact. But, one thread for the whole lot might move at a pace slightly above a snails, and taking some inspiration from xbollox of yore, here it is, one big project thread.
So prepare yourself for a history lesson first.
Please note, that this thread was originally started in 2014. I've occasionally gone back to update it, most notably over 2019/2020 New Years, so some of the stories added in are in past tense despite the cars having been still current in 2014. It should still hopefully make some sense though, just read on, and I hope you enjoy the stories - past
and
future.
Started young: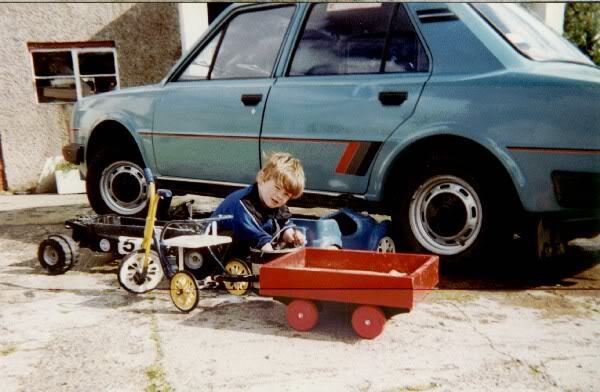 Dad had this...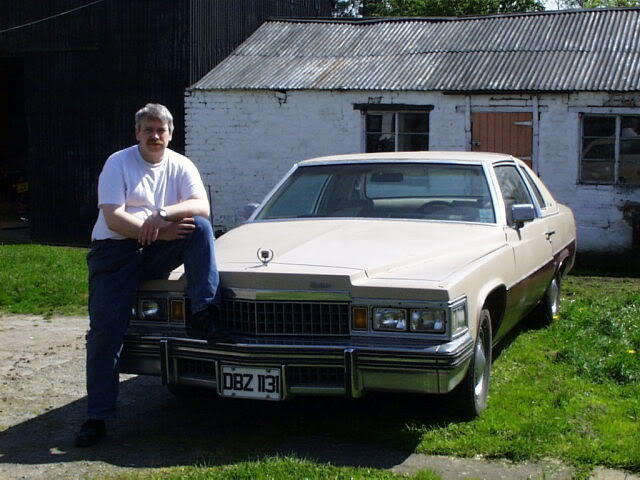 Then this...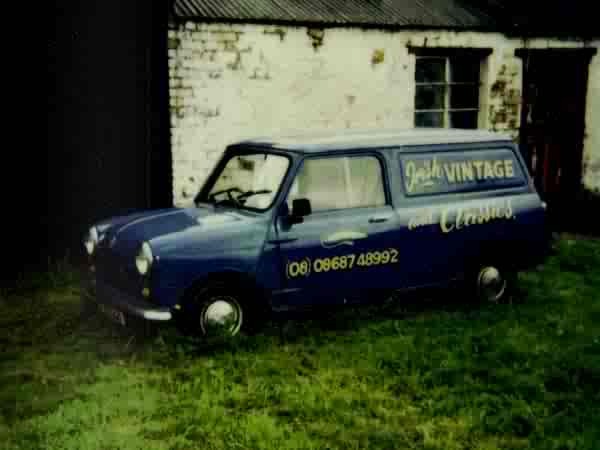 Then this. I had no chance.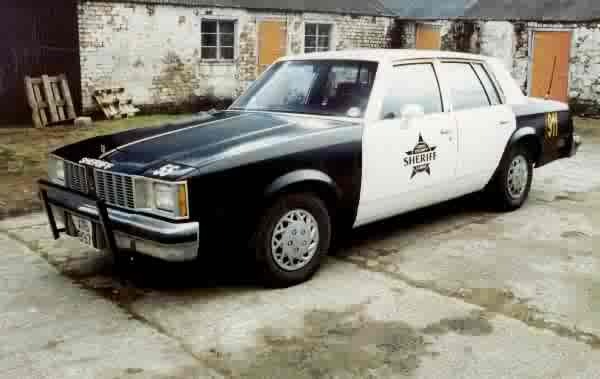 One of my earliest "car memories" is lying on the floor of the barn my dad used as a workshop, holding up the rear bumper for that Oldsmobile, while my dad and one of the guys that worked for him bolted it up to the car.
That must have been around 1996/97. There was John and George, working with my dad restoring classics, which was a side business that didn't last very long. That followed the magazine that my parents founded, edited and published called "Irish Vintage & Classics" from 1992-1996. My dads history in sports photography led to motoring journalism, providing material to most of the UK's leading motoring publications at the time, so the contacts and connections were in place to begin the magazine, and as a youngster I was sat in the back of an orange Estelle 105L, burgundy Sierra, and white Favorit estate as we covered thousands of miles around Ireland covering every conceivable vintage or classic car show or motoring event. My dad continued to supply road racing, karting, and other material to other newspapers and magazines, as well as covering Le Mans a couple of times.
As everything move to digital in 2000-ish, the art of photography became less important, and the old shows of the 90's diminished, my dad started to give up the freelance work he was then doing. Max Power modifying was getting big and the magazines still wanted those shows covered, so I sort of picked up the slack and my dad would drive me to all these shows around N.Ireland, and I wrote up articles and sent in the pictures. This was to "proper" car magazines, not Revs or Max Power, so the bright cars, silly angles, and promo girls tripping over themselves meant the photos were a bit of a shocker. Like my dad I never cared about getting credit, only getting paid, so half my published work isn't credited in the magazines. But I got paid, and as a teenager still in school, that was better than working the weekend shift in a shop.
Everyone I knew in 2002 wanted a Corsa GSi. But I wanted a Skoda Estelle.
I also wanted a bike, and that was far cheaper to insure than a car, so at 16, my dad (having been an avid biker all his life, as well as a bike instructor at one point) took me to the dealers and brought home a brand new Yamaha Jog50R scooter. For it's first service, I rode it the 45 miles back to the dealer, where they offered to de-restrict it so it would take less time to get home!
That scooter got over 8k on it in a year before my brother inherited and took it to 12k.
I moved on to my Suzuki RG125 UN Wolf Hypersport
and used it for two years, then sold on when it failed the MOT on no less than FOURTEEN failures including brake fluid dripping on the front disc and 2-stroke oil dripping on the rear one. it was a complete heap but I loved it.
While still in college, still doing the journo work, and caring for my dad when he took a paralysing virus similar to a stroke, I also started a small business with an older man, buying and selling collectables, particularly vintage toys and models. That did very well, and we even opened a small shop, although the other guy was a total con-artist and nearly got me, but I cottoned on just in time, got my stock out and didn't lose my shirt. The shop was 30 miles away and I used to skip out of college early, jump on the bike (still on L plates!) and zip down there to open up in the evenings. I don't think I slept, or ate, for 18 months - I just kept the caffeine intake high.
I still have vivid memories of slacking off the Suzuki rear axle, re-fitting the chain and tensioning it, at 1 am, at the roadside - several times!
While at college I first joined up to some car forums and my username was borne out of the thing I kept seeing on every internet search I did - "Surprising Skoda". That was the tag line for the late '80s advertising and also the sunstrip on the 130LR rally cars. 18 (Production class) wins in 21 years at the RAC GB Rally, don't you know?
Meanwhile, I saved up and in summer 2004 bought this before I had a licence.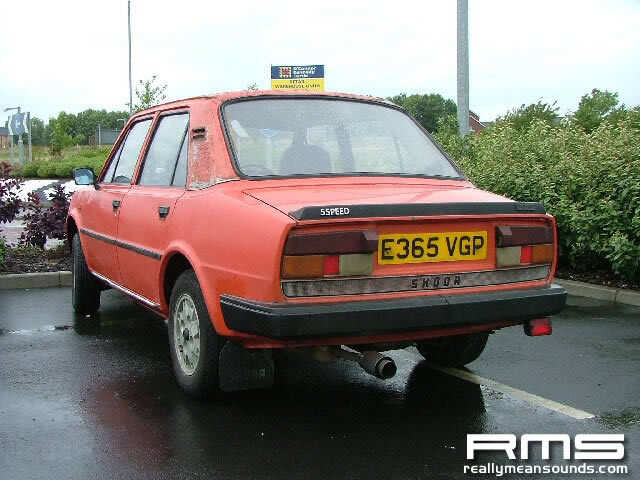 I had wanted an Estelle, and I found one on eBay, back in the beginning days, which I had almost enough money to buy. I ran around the house lifting things I owned that were worth some money, put them all down, and said, "that will cover this" and stuck a bid in for £250.13, which is exactly what it went to, with 8 seconds left, and I won.
Off we went to Kent to bring back my "first" car.
I had bought a very, very rusty beige 120 from a farmer's field in Broughshane prior to this, but there was no chance of ever seeing the road, so it was kind of my "first" car, but not really.
Also before that I had driven my dad's old Escort MkIV around the field after the T&T ran out, so maybe that was the "first".
But no, actually, the first car that I ever drove, by myself, at 15,
I think
, was our Austin 7, and thinking back on that, if it's true, which it very much might be, then that is an amazing fact that I've only just realised in writing this.
Tragically, being 2004, "modifying" was a different ballgame then and I sank £5k into fibreglass arches, spoilers and speakers before coming to my senses and stripping it all back to a shell again.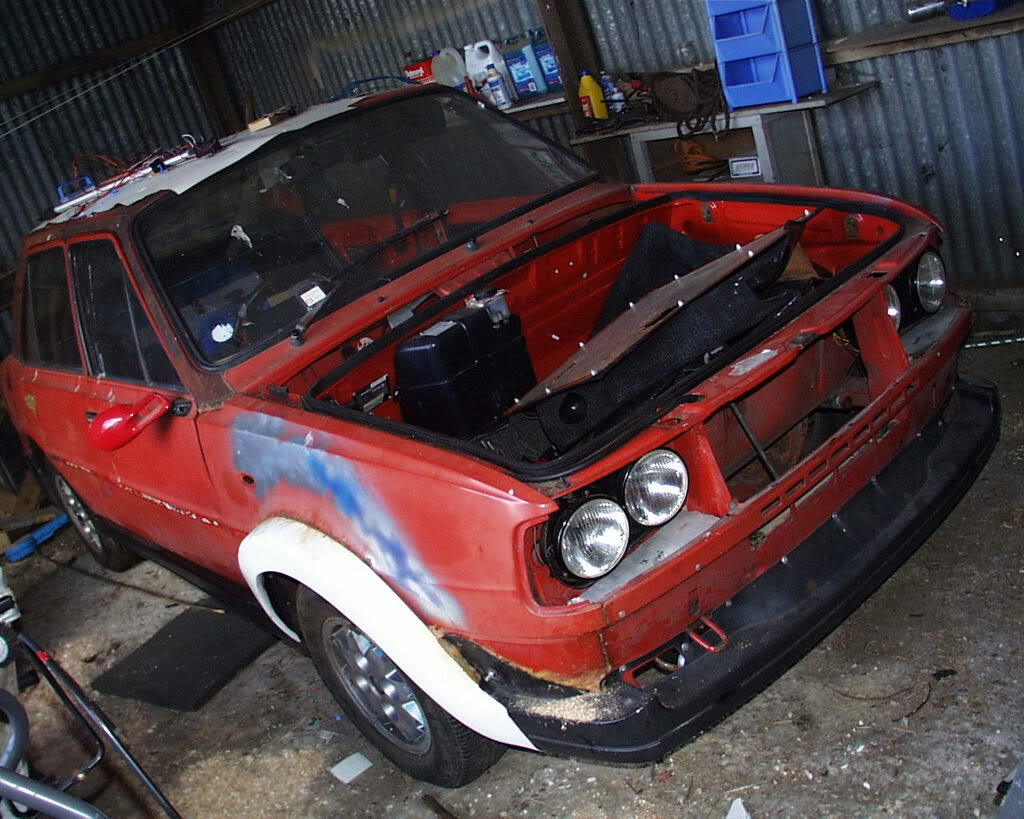 I still have this, it is a rolling bare shell awaiting (more tasteful) customisation. It's still solid!
I insured it as a L driver, my dad went with me all over the place and I used it to go to shows to do photographs. The photo above of it in a carpark was at a show at Halfords in Craigavon, where I later worked for several years alongside people I met that day.
then bought this in April 2005: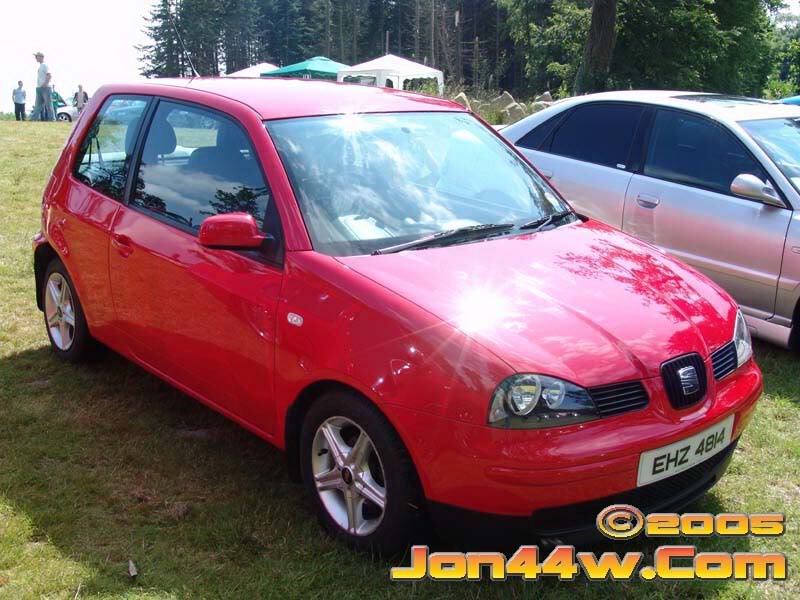 One of my biggest motoring regrets is that I had two choices, and this was the wrong one.
I had a grand by now in savings, having done temp work as a chef in summer 2004, then starting working in a Spar shop in Dungannon - and with the ink still drying on my newly acquired licence (only took 5 goes!), I wanted to be on the road immediately. I could either use the grand to pay for insurance (about £1200 IIRC) for the Arosa, and finance the car through the dealer I bought it from - OR - I could have bought a green Mini 998 with T&T until December from another dealer about a mile away from home - for £950, and paid £200 extra to transfer the insurance I already had on the Estelle over to the Mini.
Why I went for the Arosa can only be explained by stupidity. I think it was the lure of a "new" car - 16 months old, one owner, 21k on it already - but I should have went for the Mini and I think my parents, especially my dad, would have backed me on that.
Idiot! And if that wasn't bad enough, I also used the chance to trade in my mums old Opel Astra that she couldn't insure as it was an "import"; the dealer allowed me £400 for it, and then of course wrapped it up inside the finance so I still paid for it anyway. Naive AND an idiot.
Came to my senses very quickly, sold Arosa at a massive loss (well, what actually happened was, I handbraked it outside work, bumped it up a kerb, through some grass, off the kerb, and did £1000 of damage to the front subframe and suspension, had it fixed, took out a 3yr bank loan and paid off the finance, gave the car to my mum to use, then sold it in Spring of 2006 for £2.5k). In April 2005 I also bought this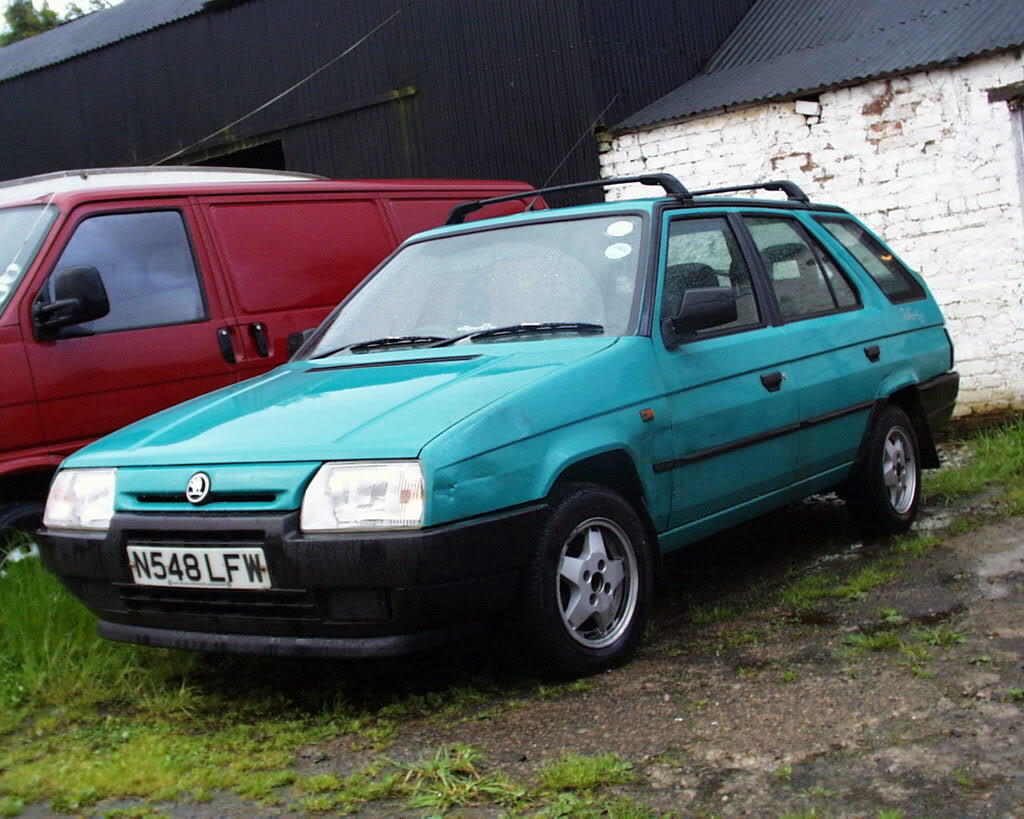 After giving the Arosa to my mum, I jumped into the Favorit, and was far more at home and never missed the Seat one bit. I did thousands of miles in this, lots of stupid things - the poor thing was once covered in shaving foam by what might have become my brothers-in-law as a result of one of those stupid things, so the car endured with me, keeping me safe too during a time when I had five accidents in it in five weeks, including reversing it into a police station barrier-door, and also evading a police car in a chase, and then two major accidents.
The picture above was taken after an Escort van came up from behind at twice the speed limit, at the back of Belfast City Hall, while I attempted a right turn across three (empty) lanes - resulting in the Escort obliterating itself into pieces as it connected with the front wing of the Favorit. As you can see, I prised the wing back out so it was straight, and that was that, Favorit passed the MOT the next week. The van, well I had to pay £1000 to have it repaired, because I was a Restricted driver, so the police decided it was my fault.
The photo below was the other accident - I sweeped across the carpark in Tesco's and found a signpost with no kerbing around it, so I walloped it head on and it ripped out of the ground, flipped up and speared through the passenger side of the windshield. It took out the A pillar as it exited. My fiancee was less than impressed when I continued to use it with the windscreen caved in for about another month, including taking her out for her birthday. Then I took it off the road, chopped the A post out of another spares car, and had it repaired in a bodyshop, as well as ordering up lots of new panels for it.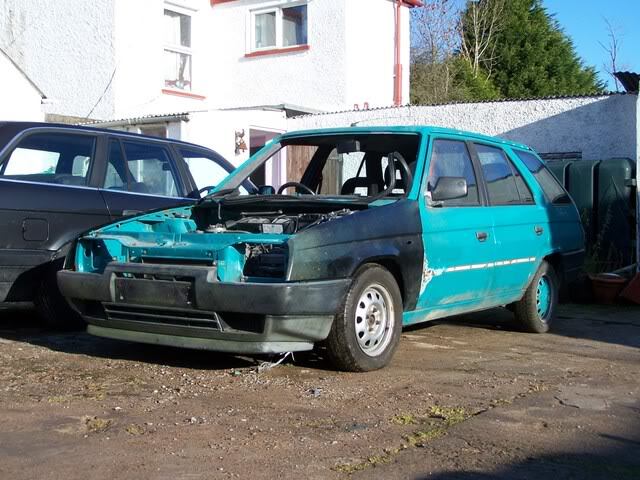 I still have this, and it is perpetually NEARLY DONE!
and then proceeded to buy a whole host of old Skodas that were not very good.
Then I did something right, and bought this orange 120L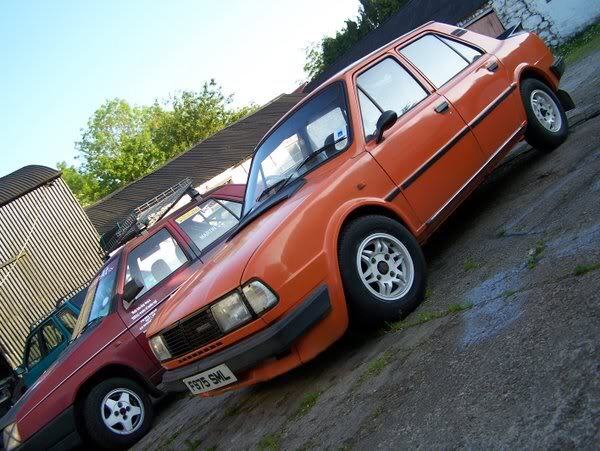 -originally a 120L5 in yucky green; had been badly painted and badly fitted with a 130 engine, and I stripped the engine down four times in two weeks (while using it daily for work!) until I found the flywheel bolts had not been torqued up by the engine fitter, had rattled around in the gearbox casing and only one bolt was holding the flywheel on... ended up needing a gearbox as the flywheel was running askew and had cut the gearbox casing apart] - there's another thread from 2006 somewhere on here about how the garage that fitted the transaxle for me totally messed that job up, and put me off sending cars to garages for work for a long, long time.
My friend Dave (aka DaveRapid) came over for a week to totally sort the car out top-to-toe, doing kingpins and everything around the engine and gearbox it needed to undo all the ropey work and leave it stock and standard, and working.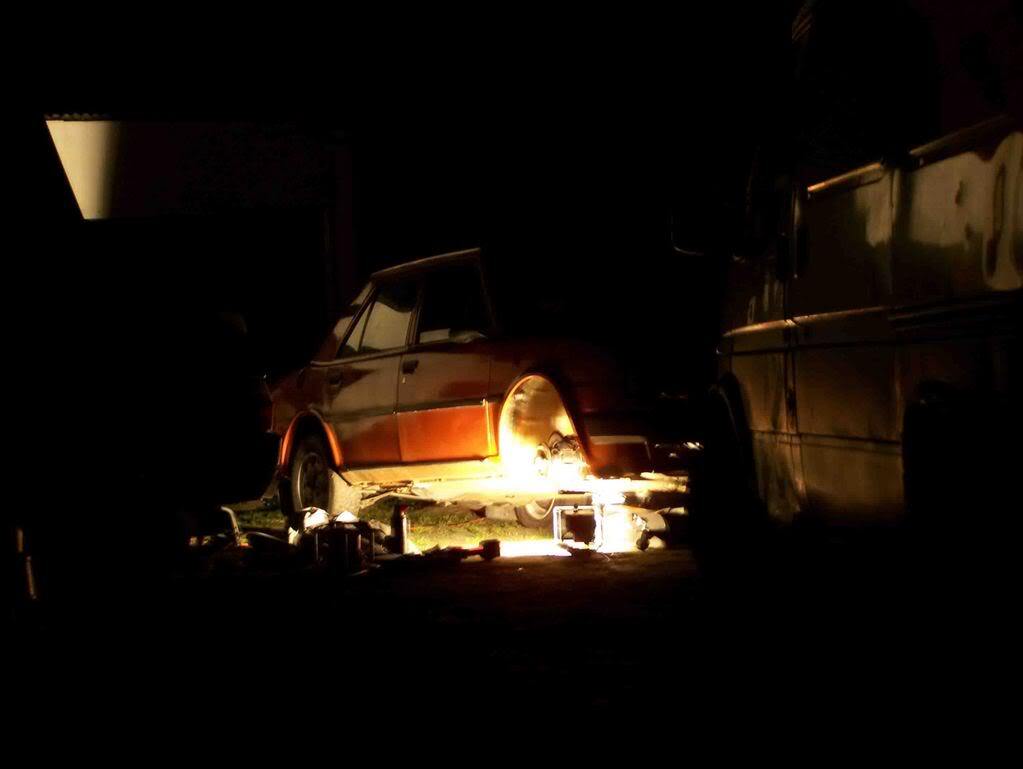 I then turned the Estelle into this: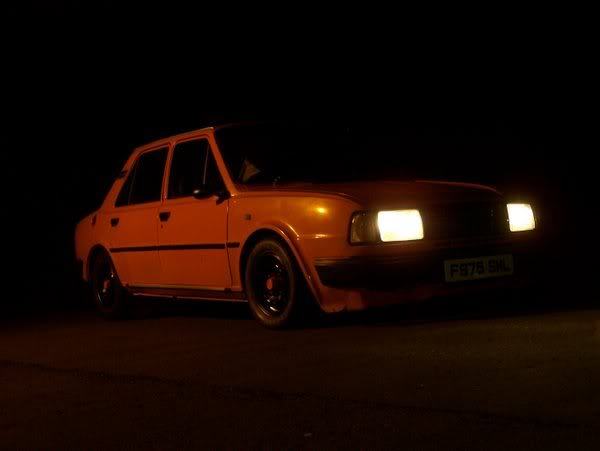 Kept that for a long time. Some of you may remember the second RetroRidesGathering in Yeovil...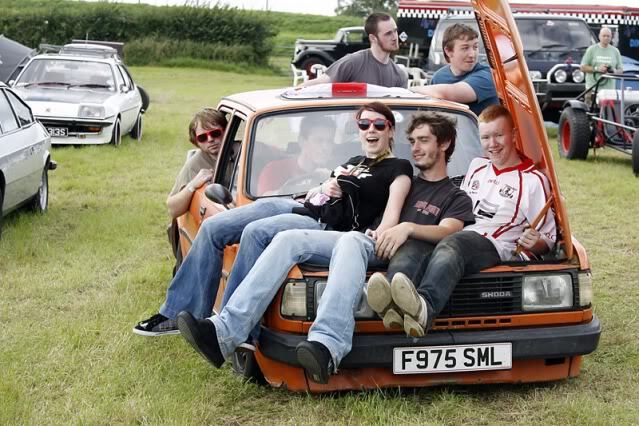 There's not many cars I miss, but I miss that one.
I sold it, after putting it back to sort-of standard spec, to someone from Donegal who promised to keep in touch... and didn't
I needed the money to start my business. I regret selling it, and I would buy it back in an overly sentimental heartbeat.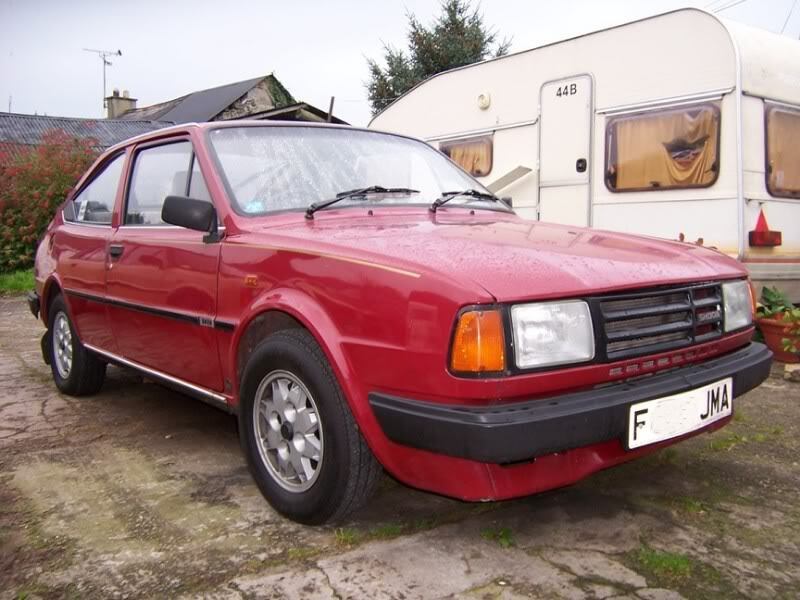 This was my first Rapid, and about my 6th-ish car. Bought from a Skoda-forum member in Liverpool, 2 owners. Didn't need it so my mum used it. Then it lay around, I sold it to a work-mate, he slid and walloped the back end. I bought it back, later sold it to my brother, who let it lay and it eventually rusted beyond salvaging. Bought it back, started breaking for spares. But then I stopped doing that, as I still think it's a shame to kill it off. It's still sitting around here.
Then DaveRapid gave me another Favorit.It was his mum's (or gran's?) old car and was a bit patchy already, and he really didn't want it to end up baled. I needed a car and next thing you know he's driving it from Cambridge to Northern Ireland, suffering a battery/wiring loom fire along the way as well!
Given the paint was already terrible, I didn't mind having some fun with it, and painted the bonnet matte black and did some other aerosol work.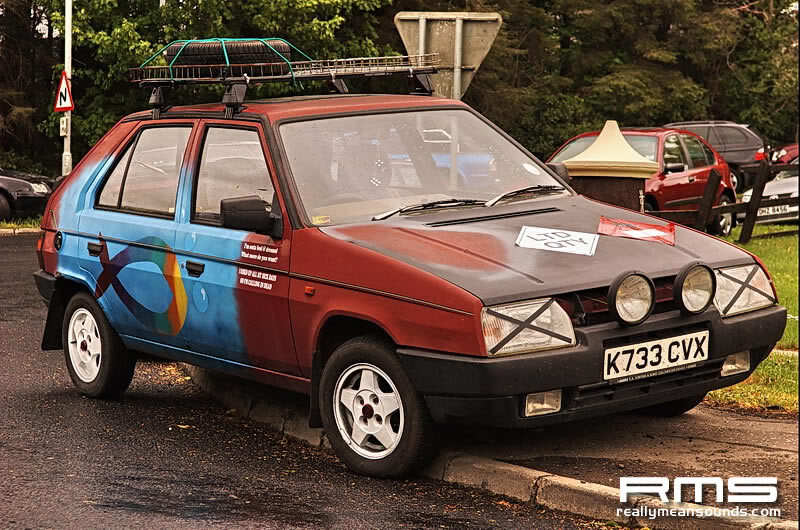 It was spotted parked outside a car-show in Fintona and got coined as being the first "rat" style car in N.I. Being that it wasn't done to be rat-style, I denied that one, never mind there were a few rat-cars before it I'm sure. But that meant I could take it to shows, albeit ironically...
Christian fishy symbol was soon replaced with "Jesus is Lord" graffiti - after all, if I could use it to grab some attention, it might as well say something useful - but nobody could read it, so again it got changed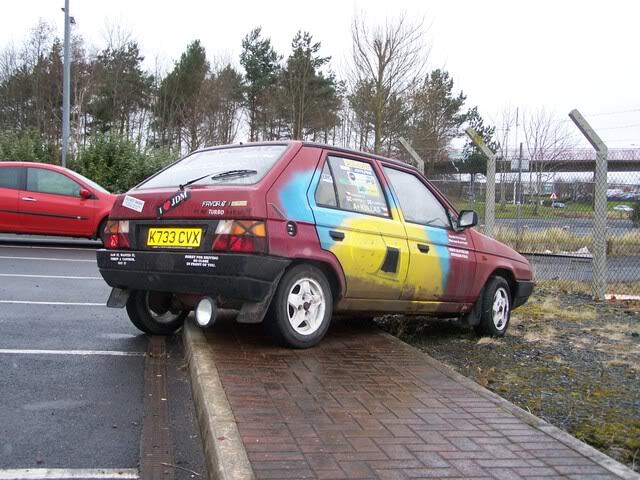 And the other side was right the first time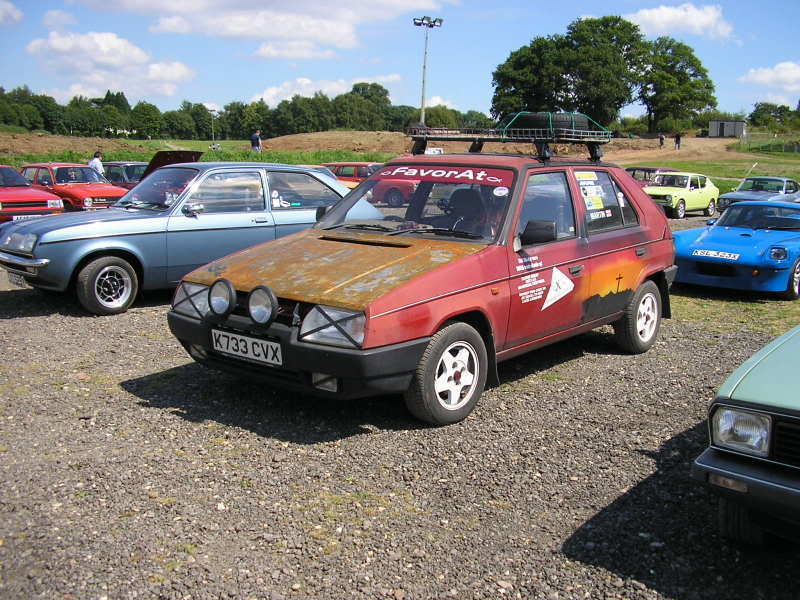 It saw many road-trips and was back in England a couple of times at least.
The first time was the national Skoda show, and I remember my friend Jonny and I driving through Scotland at 6.30am, with a raucous CD called "Moskva" playing (which went missing after that and I never saw it again) while I wore a Russian military cap and he wore this: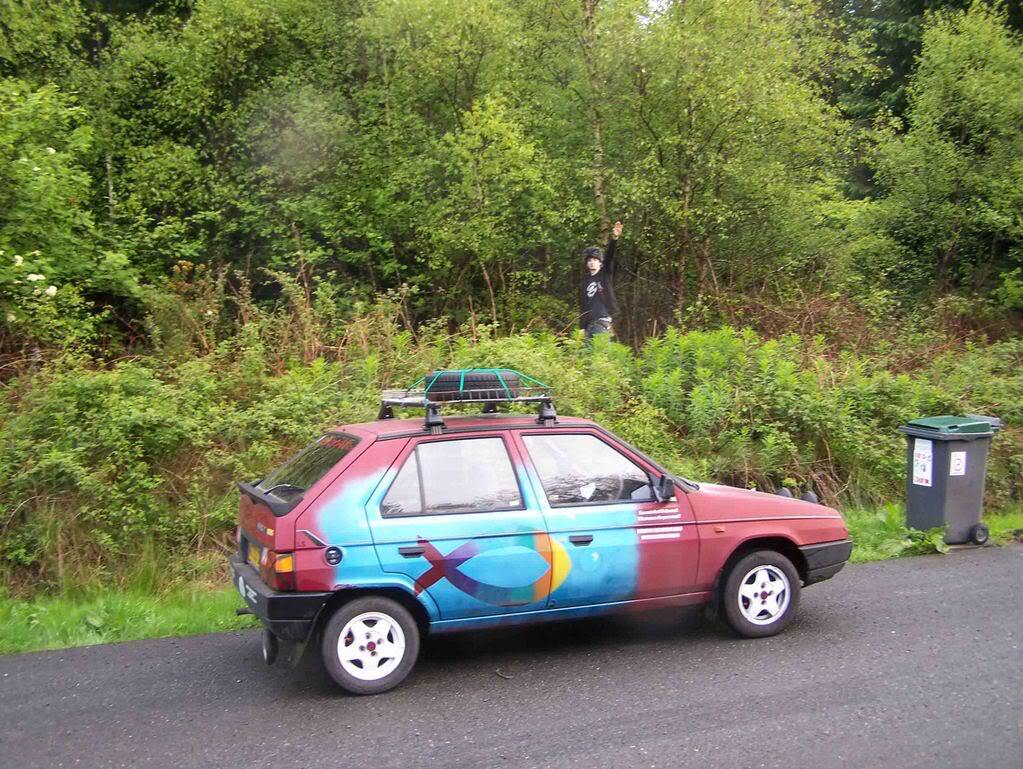 I have no idea why we did that, but we were young, and it was good silly fun.
On the way back during that trip, the warning stickers had to be covered before we were allowed on the ferry, because they said things like "Aquatic Pollutant" or somesuch. I also remember parking somewhere to go get some tea, and when we came back, there was a girl sitting in the carpark who had been waiting 30 minutes or more, so that she could sign the car! But at that point loads of people had scribbled things on it and there were Sharpies on hand at all times.
Along the way, another Favorit bonnet got stripped with Nitromors and became the "Skoodride" rusty bonnet. That later got a scoop cut out and riveted on to it, but that just made the carburettor ice up.
It also got a roofrack made out of bakery oven trays and jubilee clips, and the insides were totally stripped out - it had a yellow bucket seat, standard passenger seat, harnesses, helmet net in the rear and many spotlights. Four I think, and there were microphone headsets to wear inside. It was part rally-car, part "rat-style", part bitsa, just generally whatever I wanted to do to it. And I loved it.
I still have this, hibernating after terminal rust in the floor and sills put it off the road.
Lots of Estelles, a couple of Rapids and a couple of other Favorits floated around during this time. So did some other detritus. I liked 106s for a while (still do!)
One of many: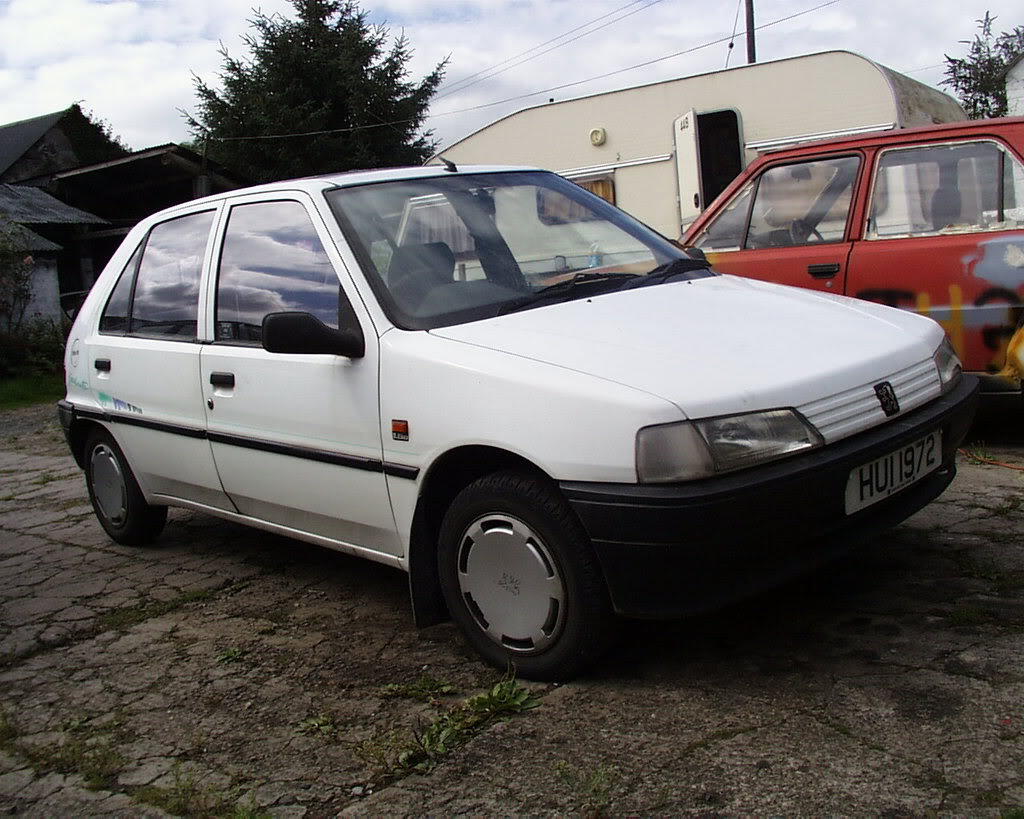 Then the first BMW arrived.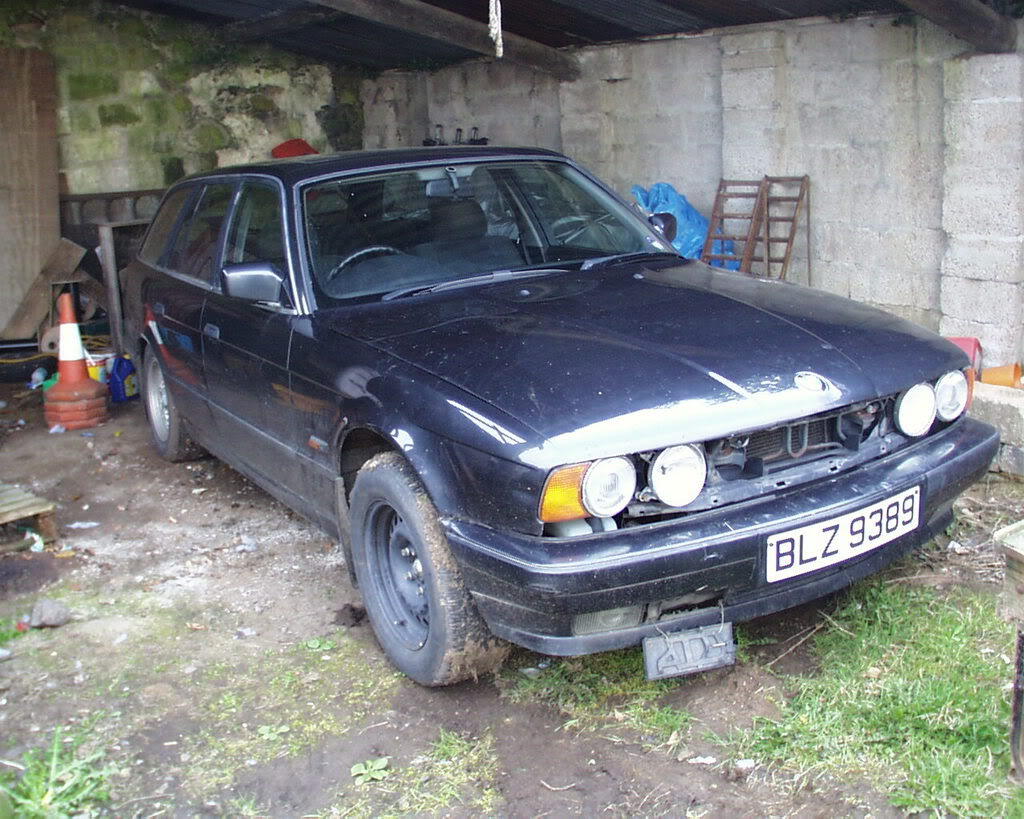 It was a wreck, mechanically. It was given, in theory, to my 14 year old brother, but in the end my mum and I had to go halfs on the cost of repairing it, and financially it was a terrible idea even though in the end we got a lot of use and enjoyment out of it - after it was fixed.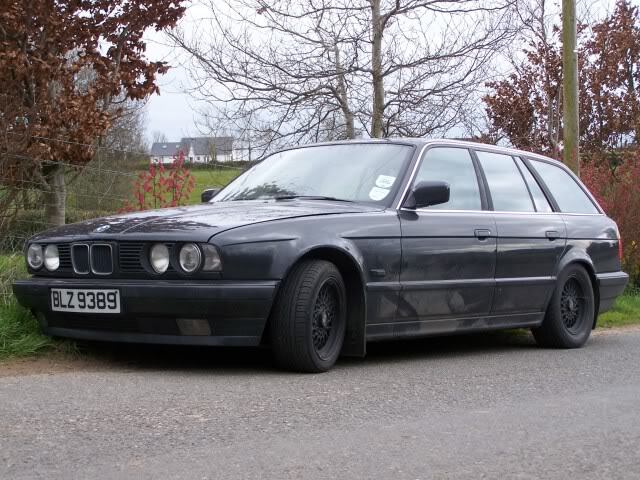 It got lowered a good bit, and experienced many wheel swaps as it progressed. I cannot say a bad word about this car because, despite it's many faults, despite it's previous owners (friends of my mum) trying to manipulate my mum, then falling out with us in hysterics once she realised that, it was also the car that made me first buy E34s for parts. Running old Skodas, I was no stranger to buying a spares car for parts, but I stripped those and kept everything that was good. With the BMW, I bought a spares car for what I needed, then sold the rest. I bought a red LHD 535i manual for the windscreen, then a red M20 525i, then a white M20 525i, and next thing you know, people started throwing money at me for parts from them. In fact one of my best friends today, I first met when he drove up to buy the skirts off that red 525i.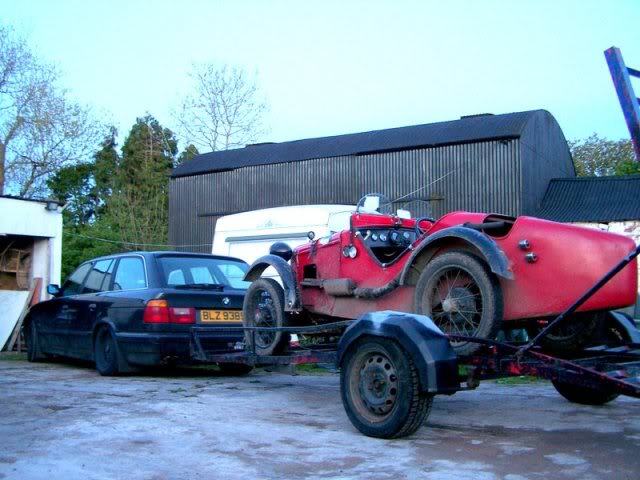 It was a good tow-car of course.
The last iteration was a set of E38 Style 5 wheels: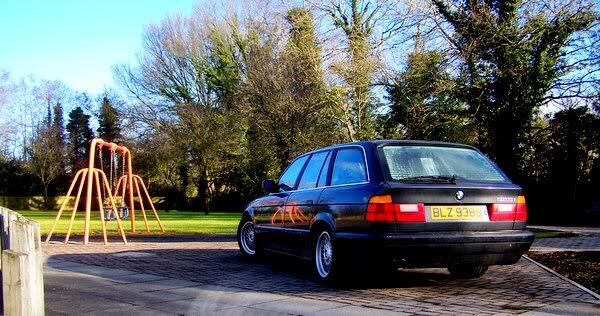 It went through several wheel/stance guises over a few years then put back to standard and swapped for a white E32 as we were sick of the never-ending cost of repairs. The white E32 was only a 730i M30, and was a terrible move. It wouldn't sell, then failed it's MOT a few months later and ended up broken for parts. I did don a chauffeurs suit and hat and take a lady I worked with to her wedding in it though. It was also the first Auto I used daily (not the first I'd owned or driven though) and during work one day I had to deliver something, and I remember driving through Cookstown drinking a cup of tea, then setting it on the wooden centre console; the car was so smooth, the mug didn't move.
Followed by more, more and more. Went through approx 75 E34s. This one
was
the first Auto I drove. The seller threw the keys at me and told me to take it for a test-drive. I had no idea but my trial by fire didn't result in any major incident, so that opened the world of automatics up to me.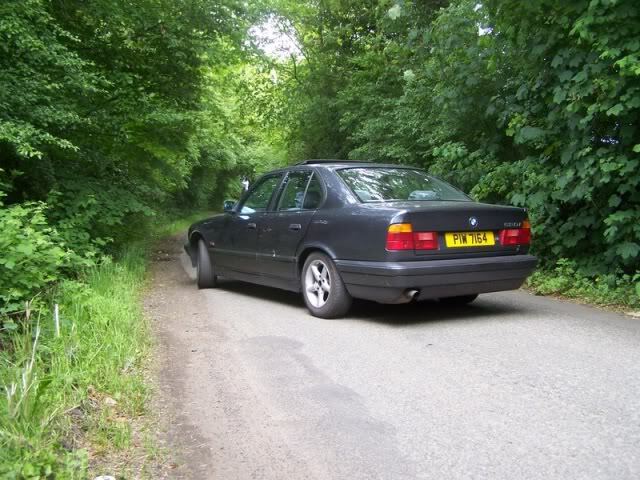 Took a break, had a Rover. Loved it.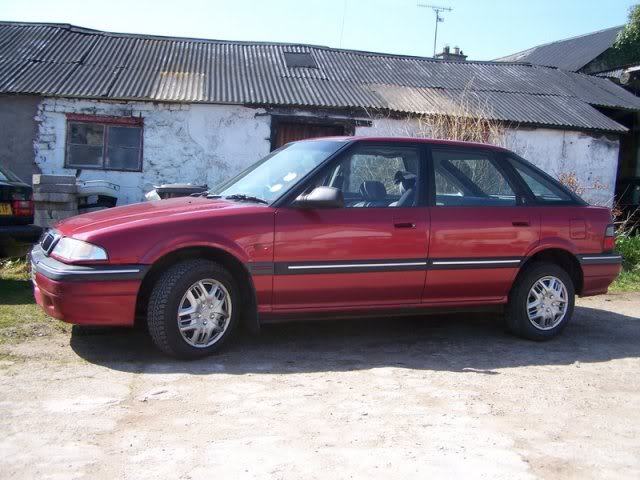 But...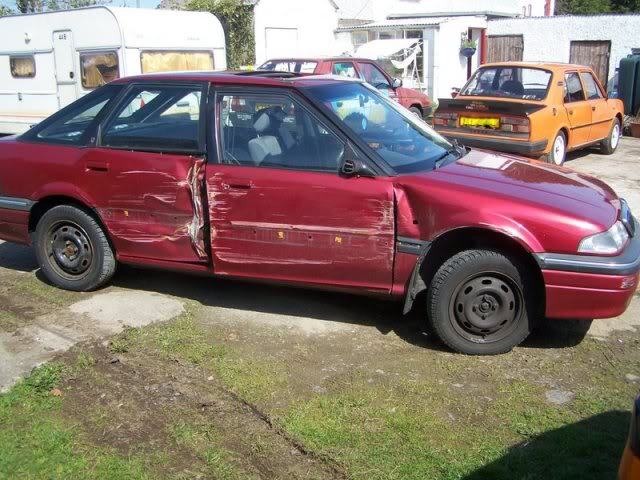 I needed a car quick. Found this in the small ads paper (remember them?!) for £100, smashed into on one side. I climbed in from the other side, e-braked everywhere as there was no pads left, used daily for two weeks, then got told off by my boss and spent £100 on replacing the doors and wing, only to find it had a bent B pillar, and scrapped for £100 when the T&T ran out. Would have broken even if I hadn't bought the panels!
Although I kept the peachy 88k 1.4 engine for future something-something.
Also had a Xantia, Pony, 820si, Safrane, more Favorits, and lots of these: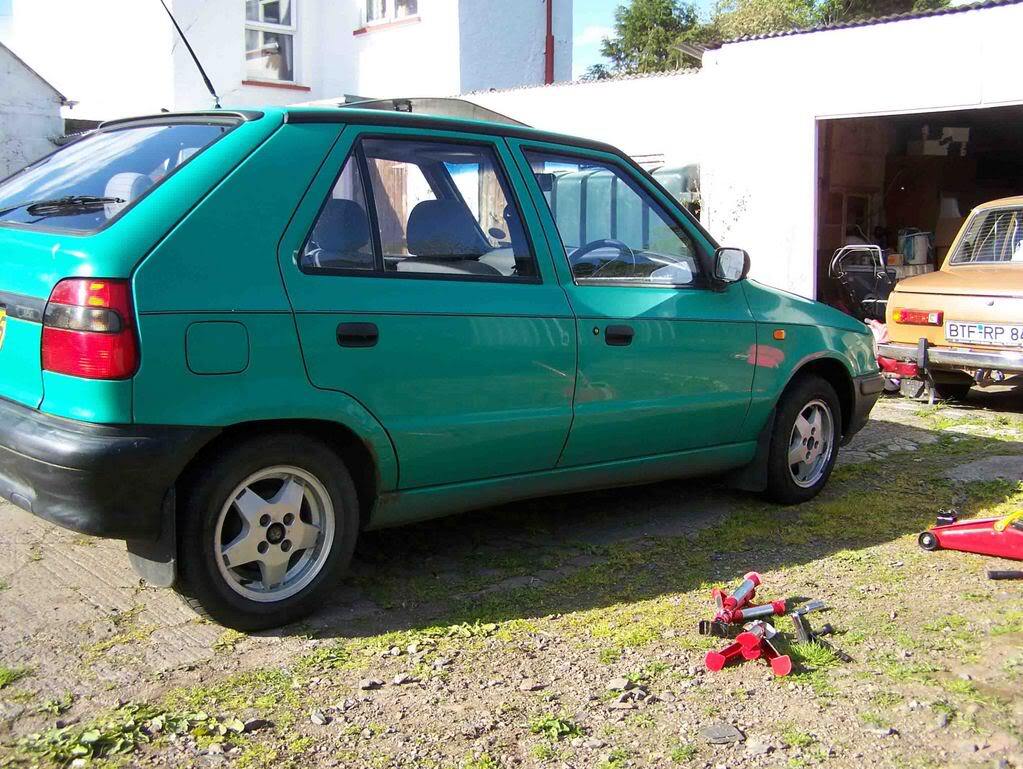 This one cost £17.01 NOT off ebay! and needed a wheel bearing to get past MOT.
A friendly tyre depot owner rang me as he knew I was old-Skoda-mad, and sent me round to the nice lady that owned this. Some garage had tried 3 times to get it through the test and failed, so she bought a Saxo and gave it up. It was half full of petrol so we agreed I would give her whatever I had in my pockets, and £17.01 was everything on me right then. It was called "Florrie" by her daughter and I went round a couple of weeks later to tell them it was MOT'd.
I sold it to a mate from work. I shouldn't have, it was a great car and owed me only £100 total once fixed. A friend of his then used it, stuck a CB antenna on it, put white stripes on it and then it got stolen from the Gilford road outside Portadown a few months later, never to be seen again.
Built a drift car. Never used it.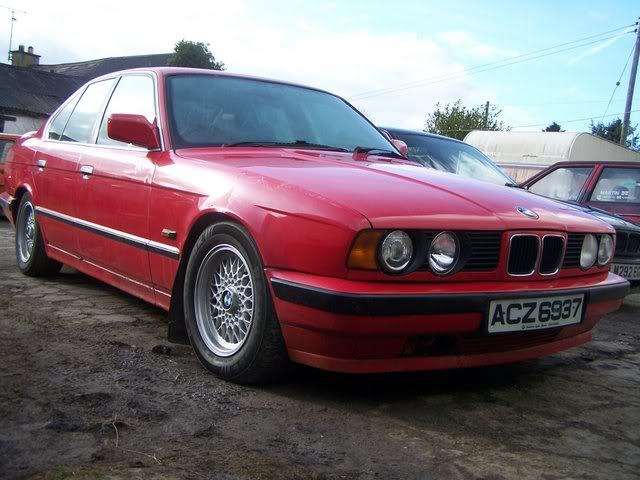 I tried to sell, yoof came and bought it, took for long "test drive", broke the engine, limped it back, assaulted me along with his brother and father, and retrieved his money. Police showed up over 90 minutes later. I scrapped the car in disgust, and because it wouldn't run right anymore.
and there were a couple of these, silver one for my mum and a navy one for me. Hateful things.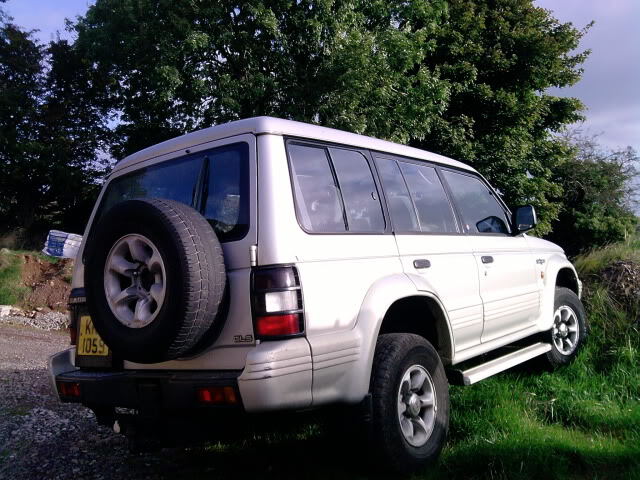 We needed a bigger car for her, and something I could tow with to replace the 525i Touring. We settled on a Shogun, and went to see this one, right at the top of the market at that time. The seller met us at the main road and took us into the development where he lived. Little did we know that this seemingly kind act was to cover up the difficulty in cold starting a worn out 2.8 engine, and over the ensuing 13 months we spent thousands having everything fixed - the head was skimmed at a cost of £400, the injectors all had to be rebuilt, the turbo also, and the HP pump was definitely done as well. I believe I had to patch the chassis for the MOT and thereafter my mum wanted shot of it - and the first offer was a swap for a 1997 BMW 525tds with a towbar and MOT, and we grabbed it.
Busy now: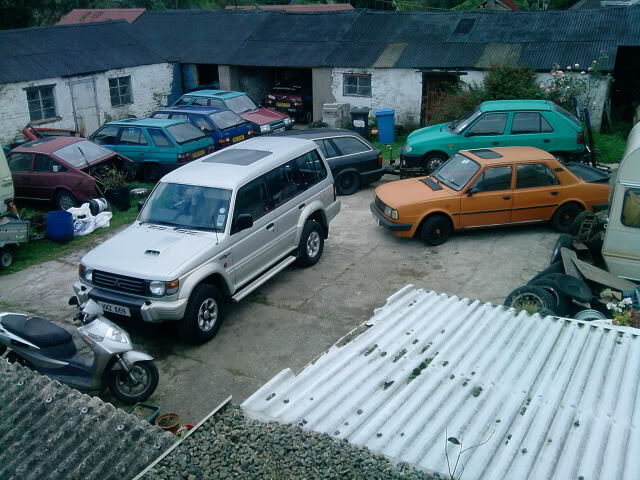 Somewhere in there, Minis became the next fad.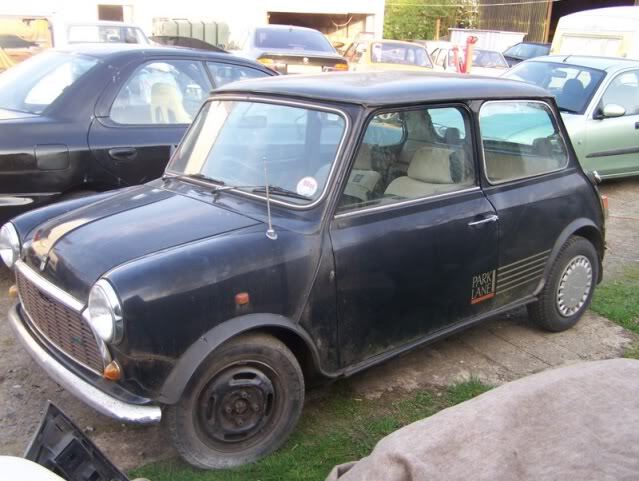 Did not last long, sold all 3 on in July '11. Will have another later.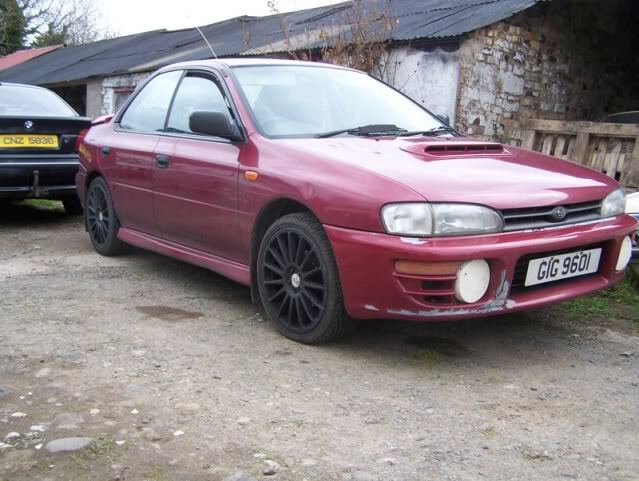 Did a couple of Imprezas...both sold on after a few months.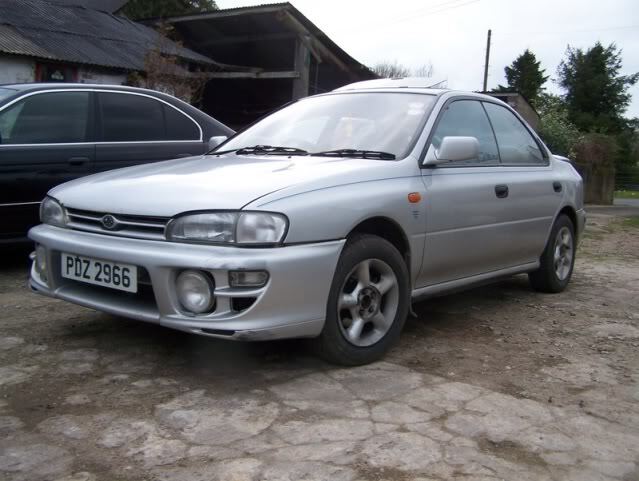 The red one was a good car, bought for my mum to replace her E39 525tds (I think), but I ended up driving the Subaru probably more than her. So I bought the silver rust-bucket for myself.
Once again I had some fun with a worthless car...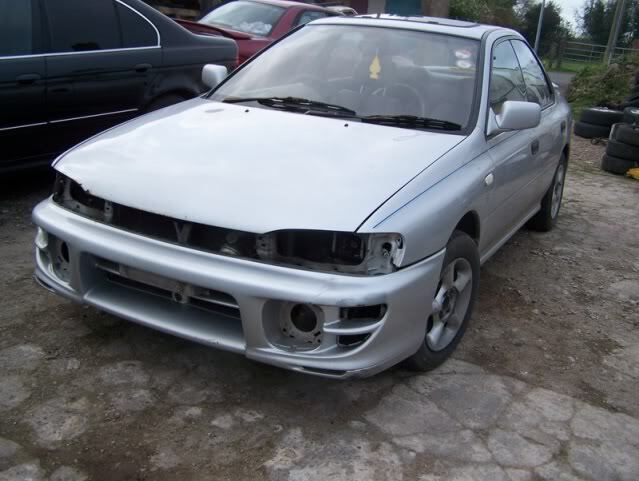 A tin of Granville Metal Paint was bought, as was a roller and tray... and for about £30, I repainted my car.
You scoff, but the finish was great, and nobody believed it was done with a roller.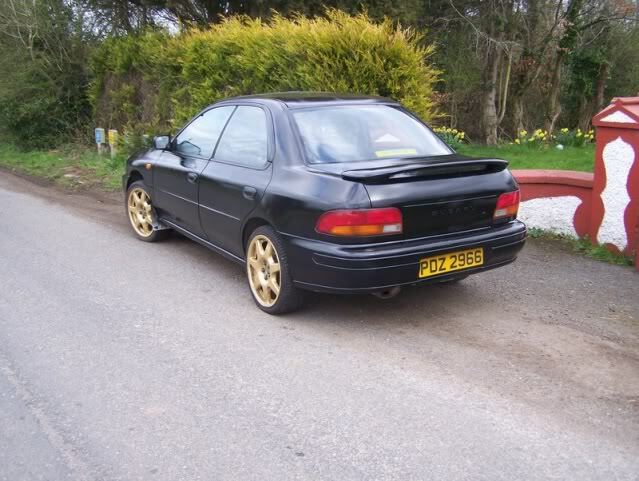 Smile!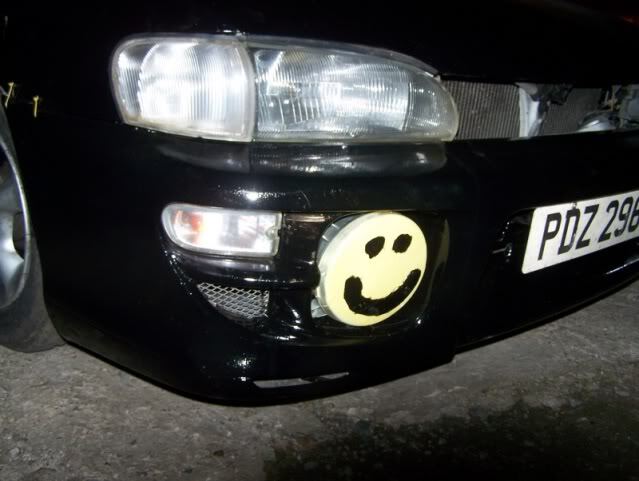 That was painted direct on the glass, so it cast a smiley face light out in front of it, which looked well cool.
This one was a complete heap, and the exhaust fell off it. But that made it pop and bang like mad. I took the yellow bucket seat out of the FavorAt and installed it in here for a while, with no other seats or trim or carpet at all, so it was very, very loud. Sold it on for what it had cost me in the end.
While selling it, someone that came to see it did not like my "improvements", but very much liked the red one. I told them it wasn't for sale but they kept upping their offer until it was what we'd paid for it, plus the wheels I'd bought for it, plus a Golf with T&T as well - so it seemed silly not to take it.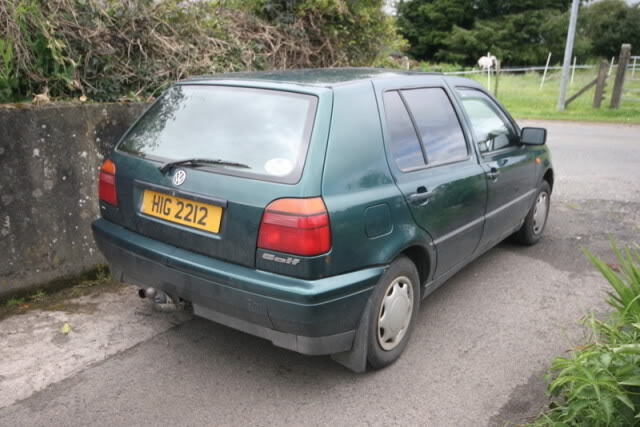 I drove that green Golf for a few weeks until it sold to some students going on a tour around Europe. By that point, 3 weeks I think, the sluggishness of the 1.9 SDI had all but killed my soul.
Moved to E32s.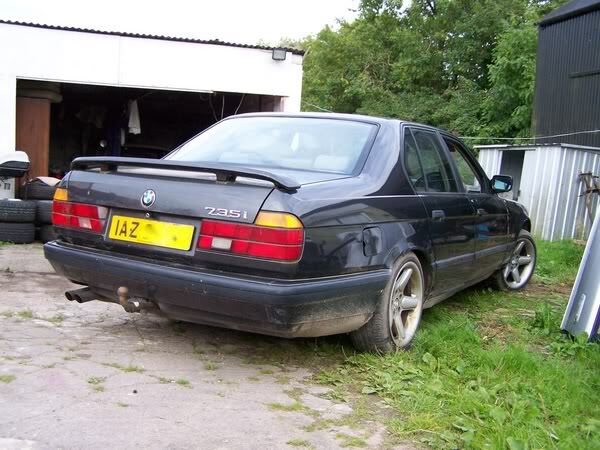 Full thing here:
retrorides.proboards.com/thread/87178/1991-bmw-735i-12-project
I could have cried. It took years to build up the most fantabulous stash of awesome bits to build this, E34 M5 LSD, 6 speed Getrag, proven strong 4.0 V8, oxblood red leather, Zender body parts - and then the chassis rail crumpled under the jack when I went to start trial fitting the engine. Scrapped car and project in the end.
When I went to first see it, advertised nearby for about £800, the autobox failed on the lane on the return from test driving. I still agreed to buy it, at half price, and the seller stayed in touch, with the odd text message here and there. We had similar tastes in music, cars and bikes, despite a fair few years difference in age and very different backgrounds. Two or three years later, the same guy asked me if I knew anyone hiring as he'd just been laid off from his engineering welding job, not knowing that I had the previous weekend been beaten senseless trying to break up a streetfight. I'd stepped between four strapping lads and the young teenage girl they were trying to attack, and despite the mid-20's me being reasonably fit and strong, I ended up on the pavement with three or four of them kicking me in the head and arms with steel toecaps. The girl got away, the police let the boys go, and I fought off concussion and brain damage; and was standing in my newly rented workshop with my business taking off, wondering how I was ever going to pull an engine out of an E30 with my arm in a sling, when I got his text.
I started him as my first employee the next day, and he just never left.
In another twist, three months later the business was burgled and all my tools were stolen, as well as an expensive racing bicycle belonging to a friend. Everyone said it was my new guy. Everyone. But I stood firm that it wasn't him, which it wasn't. We never did find out, but every other business in that complex got hit in a 3 month period, one losing ~£40k in industrial wiring reels, one having a customers lorry unit burned out. We were the first to leave, and we sneaked out at night, so nobody would be aware, over the course of a week. The other businesses all followed suit soon after. That whole experience forged a bond of trust, and it all started with a 735iA.
Along the line I had developed an E28 crush
retrorides.proboards.com/thread/88332/1988-bmw-525e-saved-scrap#.U_0_H2OUGic
Another RetroRidesGathering visit (2010?)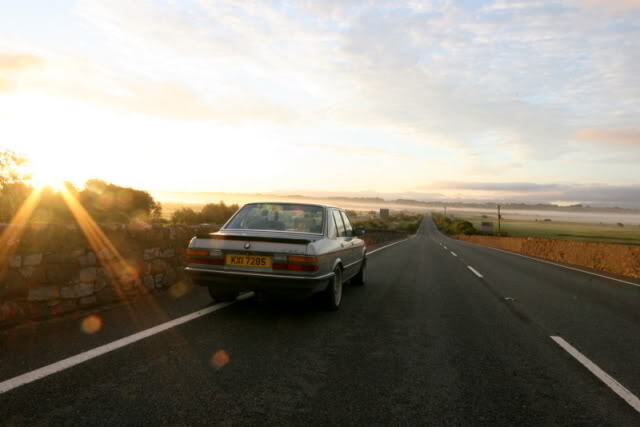 It was another car that had a few wheel changes, and saw a few shows as well.
En route to Ultimate Car Show, Larne (2011?)
I loved this car as well. I learned to weld on it, and it was a great, reliable machine. I can even remember how it smelled inside. I remember arguing with a girl I knew that we (four of us) weren't going to Monaghan in her miniature Korean micro-car and we would take my old thing, which was far more pleasant, spacious, and capable. She bickered the whole way there, got us lost continually, and annoyed me so much that she was told to sit in the back on the way home and I just went the way I knew and we were home in half the time.
[this went to fund business. Still around, have almost bought it back twice. Needs rescued now, current owner not being good to it (written in 2014)]
[edited in 2019: still feel the same way!]
So to recap:
Rode Yamaha 2002-03
Rode Suzuki 2003-04
Drove Estelle Aug 04 - Apr 05 on L plates
Passed test April 05
Drove Arosa 05 then Favorit Estate (green) 05-06
Drove Estelle 06-11
Drove 525iT 07-10
Drove FavorAt 07-09
Drove 525e '10-11
Then I went car-less for a little while as I sold everything that moved to start my business (in June 2011).