&nbsp
The Audi TT got a bit of an overwhelming response, and sold within nanoseconds.
AND NOW FOR SOMETHING COMPLETELY DIFFERENT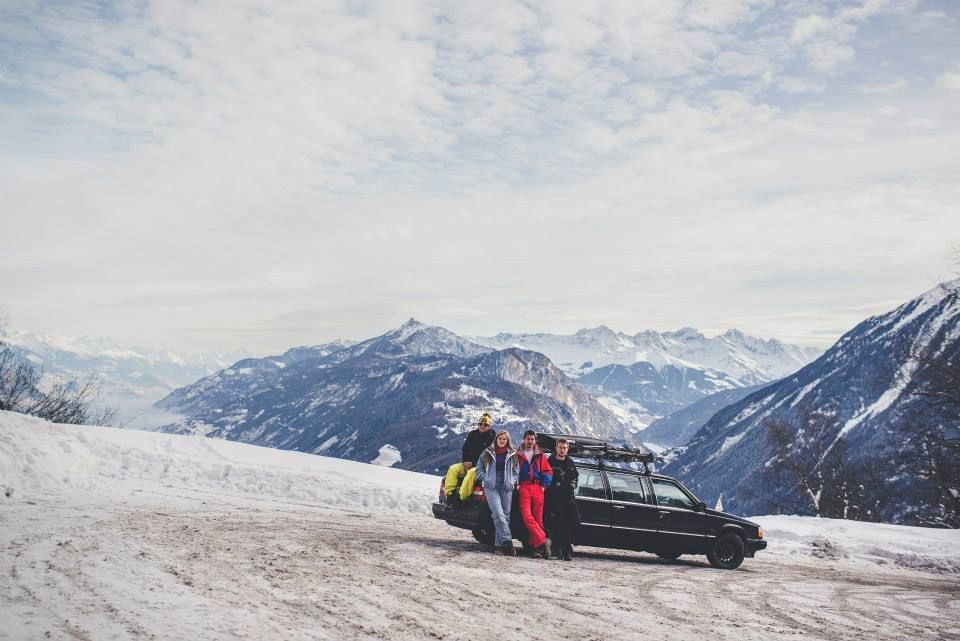 What we have here is 19 feet of pure Swedish brilliance.
A genuine, original Nilsson 940 Limousine. MOT april, 95,000 miles, don't remember how many owners, but many many many sad people have sat in it. It now deserves some happiness.
First off, before anyone says (and people will say this a lot...), it's not a hearse.
It IS however, an ex-funeral car, so would have been in hearse company quite often. Today, given my house in the Cotswolds, it's more likely to see a horse than a hearse on its travels, but that's by the by. It's a car, it doesn't know the difference between a deceased-in-transit and a four legged animal.
We bought this fine vehicle to go skiing over new year's in the Alps - yes, a RWD limousine is the natural choice for this task. It performed admirably over 1,500 miles, going up snowy passes through blizzards, transporting drunkards and skis and generally bringing joy to the Alpine community.
Having served its purpose, it's up for sale on Retrorides and Locostbuilders, to folk who appreciate the eccentric (curse word weird) car that it is.
Let me hit you with some numbers for this beauty/beast.
5.7 metres
6 doors
8 seats
1000 mega-coolness points.
For the statistics lovers amongst you, in man-maths that works out to:
£140 per metre (which according to useless google searches suggests is cheaper per metre than the cost to repair the Grand Union canal - can't argue with that sort of bargain).
£133 per door (cheaper than a solid oak hardwood interior door from B&Q)
£100 per seat (less than you'd pay for a VIP fan package seat to go and see One Direction)
£0.80 per mega-coolness point (well, do I need to say any more?)
It's more Swedish than Ikea meatballs which means:
1) It comes with a ski hatch - interesting fact: you can just about fit a 3m skirting board inside this car.
2) All seats have 3-point seat belts except the middle middle seat - we used that for the beer cooler, so a lap belt sufficed.
3) All 8 seats have safety head restraints, thereby reducing any potential whiplash claim thus giving you a great excuse to fob off all those vulture-like injury lawyers ("Have I suffered whiplash?! Please dear boy, I drive a Volvo don't you know!")
4) The design is utterly fabulous. The gun-mechanism interior release door handles are an utter delight, and will make you giggle with Scandinavian glee.
5) It's got a high pressure turbo and the "larger" brakes, which in 2015 means "really small brakes that fit under 15" wheels and are hilariously useless in a fully laden 2,500kg limousine"
As it's an official Nilsson limo, the middle row of seats is a full-fat comfy bench, which can fold and tilt forward to create a truly hilarious amount of legroom/shagroom/storage space in the back.
Great:
- It's long
- It's supremely comfortable
- Turbo works great and it shifts along quickly enough to confuse onlookers, and overwhelm the dwarfish brakes.
- It's got MOT till April
- The iron girders underneath are rock solid
- It'll do ~120mph and will happily do burnouts
- The interior is all complete, all matching and cleans up nicely. It also comes with an original glass partition that you're welcome to figure out how to install.
- The boot is cavernous. You can probably fit another (non-limo) Volvo 940 in it.
- Passenger heated seat works
- The exhaust hasn't fallen off
Less great:
- The exhaust is about to fall off. It's pretty much a straight pipe 7 miles long, so should be an easy repair for someone with a ramp/welder.
- Driver's heated seat doesn't work. But the light does, giving you a glow of hope that your bum might warm up at some point.
- Bits of surface rust and paint bubbling, where body has been filled during the limousining process and the filler has cracked - roof gutter, and behind rear door on driver's side. Also on front wing lips. It's solid underneath, feel free to come with a poking device and/or magnet.
- Brakes could do with a refurb. Like the Exxon Valdez, it stops eventually, but rear right hand caliper has a seized piston, and all the calipers mounting bolts are rounded so could do with extracting and replacing with new ones. Pads are full of life, and discs are fine.
- The handbrake is decorative.
- It burns a bit of oil. By a bit I mean about a litre over 1,000 miles. Which is less than a brand new VW TDi apparently.
- Interior is in pretty damn good condition but not mint - like Essexonians on a Spanish holiday, the door casings have spent a bit too much time in the sun and so are peeling near the top.
- Some of the interior light door switches have dodgy contacts so work when they feel like - not far different to tube/train/bus drivers.
- The driver's seat has a bit of a gangster lean thing going on. Or it's had a stroke. Either way, it's a bit lopsided, but still solid, adjustable and comfortable to sit on. Like a big gangster who's had a stroke.
And now for the frequently asked questions:
1) OMG is it a hearse?
No. See above.
2) OMG it's long. Does it go around corners?
Yes. The turning circle is surprisingly tight and it can tackles bends of all sorts. It will drift like you wouldn't believe, and since its length is largely the same as the Exxon Valdez, it means you can proceed sideways with uncanny calmness and in slow motion.
3) OMG doesn't it just bend in half?
No. Underpinning this monster is a structure that most bridges would be envious of. The rear axle is a heavy duty solid beam which must have come off a Volvo truck (maybe that one that tried to de-testiculate Jean-Claude Van Damme in the advert?)
4) OMG wow, is it a manual?
No. It's an automatic. Why would you want a manual? It'll drift, has great kick down and is stress free like any Scandinavian car should be. This also leaves your left hand to play with the hilariously non-functional handbrake, or your much embarrassed female passenger.
4) OMG I want it but I don't have any money. Will you take the wheel nut off my Morris Marina as a swap?
I know how you feel every time I look at a Patek Phillippe watch. And you know what I do then? I don't offer them my used chewing gum as a swap, I accept that I'm poor, and move on to the Swatch shop. No swaps.
5) OMG I'll take it. Full price, and my Albanian uncle will pay you via his Nigerian company. Will you ship it?
No. It's got a steering wheel for a reason (curse word, forgot to mention it's got a fully functioning steering wheel with airbag!!) - come over, give me some english (or worst case Scottish) cash, and pilot yourself home in your very own limousine.
As always, any questions, please PM - I find my cars are normally described pretty honestly! If you'd like to view it, I can provide tea/coffee.
Pics to follow.
Thanks
Pavel