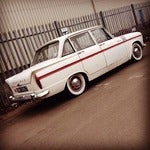 From the GCR website
Reunification – latest Bridge Statement
Richard Patching : December 4, 2015 4:39 pm : Main Line, Main Line Xtra
Contact: Bill Ford – 07515 598329
Date: Wednesday, 2nd December 2015
GREAT CENTRAL RAILWAY BRIDGE STATEMENT
The recent delay and revised timescale of the electrification of the Midland Mainline has had an inevitable impact on the Bridging the Gap project in that the efficiency savings, which were originally anticipated as a result of contractors combining work on both projects, are now lost.
Following meetings with Network Rail in both Derby and London, GCR plc has decided, with the full cooperation of Network Rail, to take over the management of the total project to reunify the two sections of the GCR north and south of the Midland Mainline 'gap' at Loughborough. This includes replacing the missing bridge over the Midland Mainline.
GCR's project managers, FJD, have now taken over the management of the entire project on GCR'S behalf and will continue to liaise with Network Rail to secure the required consents and collaboration. The 'pause' has also given GCR the opportunity to review the MML bridge design and look at combining it with a new bridge over Railway Terrace together with the section crossing Preci Spark car park. The two Reading bridge decks will be incorporated into this structure to save costs.
It is now anticipated that work on other sections of the Gap project will start in the spring with the restoration of the Canal bridge and preparation work on rebuilding the embankments.