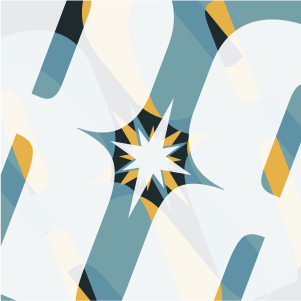 I built my own setup but it's only ever been used with a Playstation. I am pretty hopeless at most games but because of the setup I have it's pretty good. I have the screen set so you either sit in the car but can't quite see the steering wheel or have it so you just see the track. It does have to be dark though and any distractions really put me off.
I used to work for the MOD and as an apprentice we got some time working in the department that looked after the flight simulators. One of them at the time was still using what looked like a huge model railway layout with a camera flying above it !
Steve, the simulators were OK, much better than 'fairground' types but obviously not professional. You're right about the light levels though as a lot of sims play in the dark to remove distractions (see later). The software on these was pretty realistic as they are using tracks that have been laser mapped at £75k cost so when you come off into a gravel trap you can feel the gravel and in race mode you start to build up damage to the car. One of the instructors said that if there was a mole hill when they mapped the track then if you come off at the right point you will hit it. Where it does not have the real physics model is that it cannot duplicate real world gee forces and inertia as I hit a tyre wall at about 120mph once and obviously walked away from it.
I've had some experience of the next level simulators as we do some work for BRD and these are really high-end machines. You can see the difference in the chassis dynamics from this picture.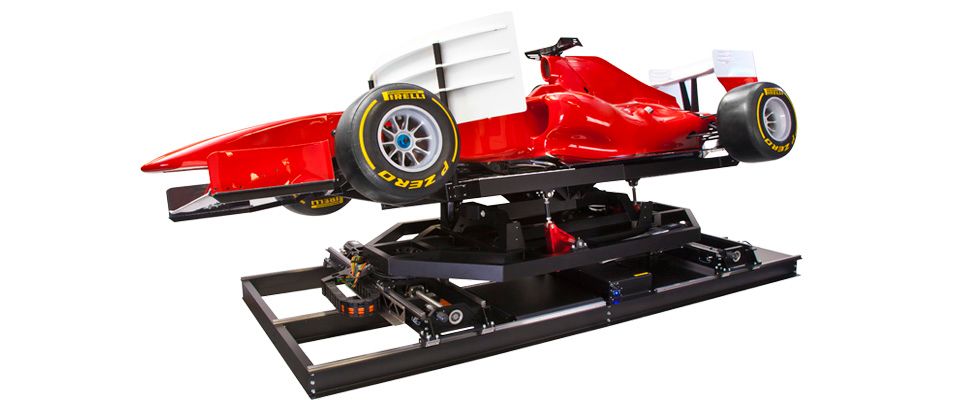 This simulator definitely can give the sensation of real world gee forces and inertia as it is not limited to small movement angles of the floor based simulator. Being in the car body also helps and as you say racing in the dark.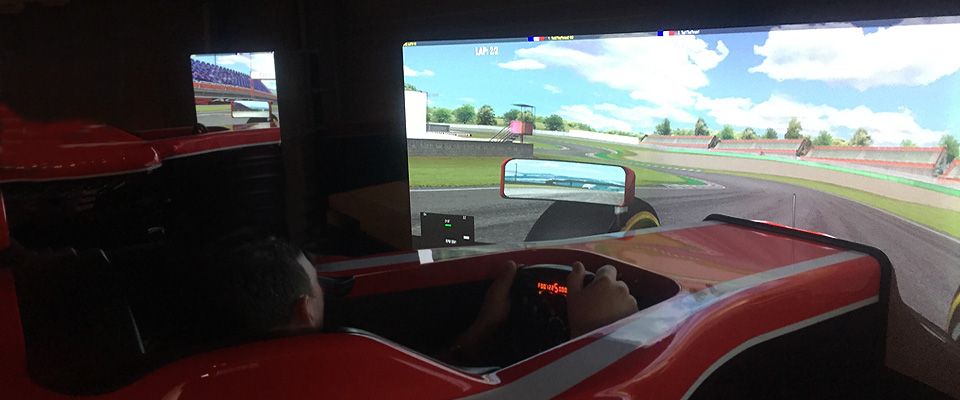 Here we have one of the latest multi-projector units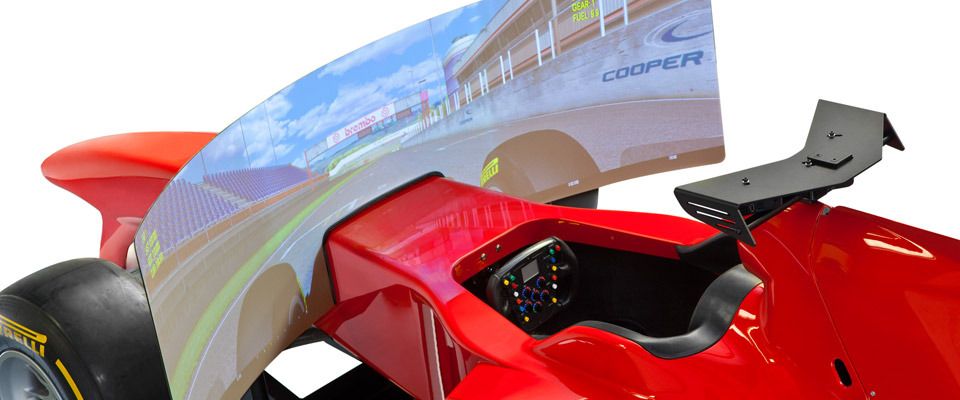 But they have also have three screen offerings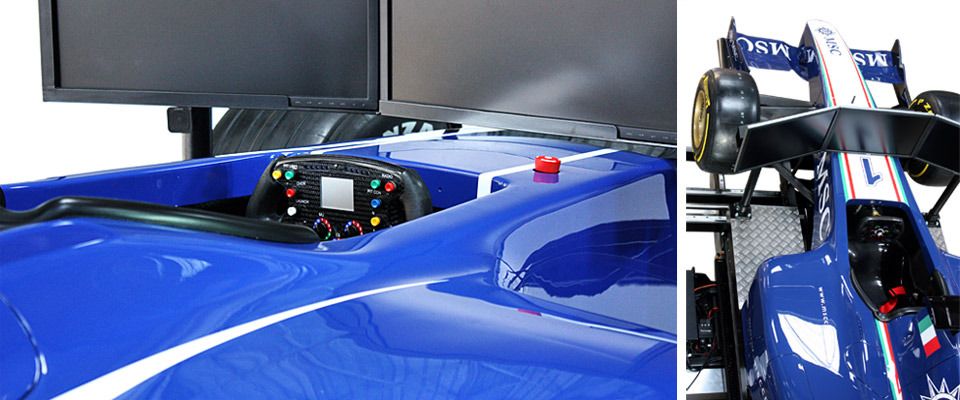 The big problem for old-skool old farts like me is this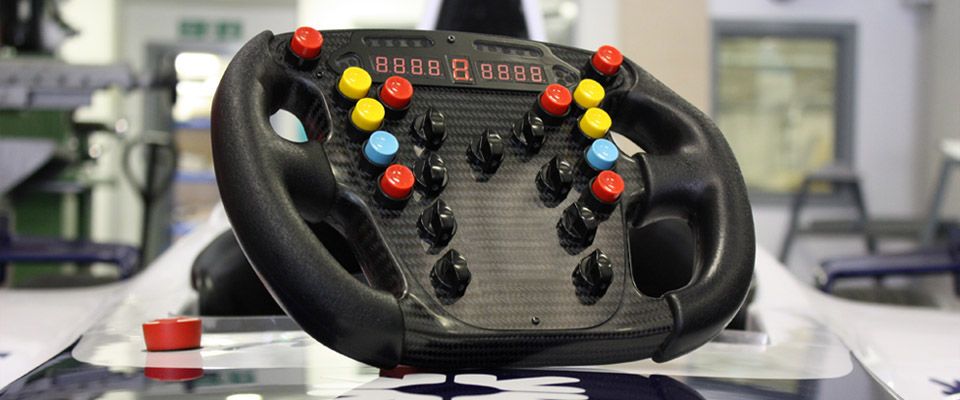 or this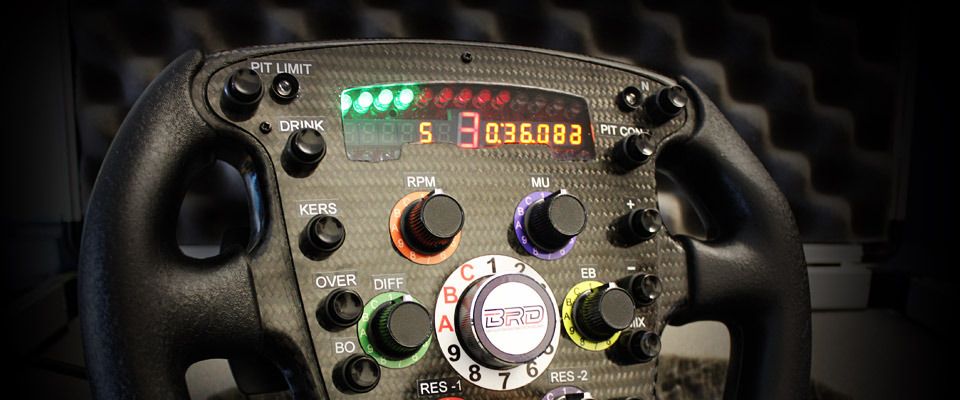 I have but two computers in the Healey; the one between my ears that judges speed and distance and the one located in my
rse
that tells the computer between my ears about grip and slip angles. There is just, IMHO, too much technology today. I used to have imaginary competitions between modern FI drivers (overpaid primadonnas) and old-skool F1 drivers (hard-drinking party animals). I have a feeling that if you put Lewis Hamilton and a young Stirling Moss in a Mercedes-Benz W196 then Stirling would pee all over him (Lewis would still be looking for the 'Drink' button) but put Stirling in the latest Mercedes F1 and although I'm sure he could drive it, the technology would overwhelm him. I never got to push any of the buttons on the basic simulator's wheel as I had enough on my plate with the uncommunicative brakes and the flappy paddles. However would I go back: YES!