After owning this car for just over 4.5 years (I won't lie - most of which time it's been off the road) and promising in several threads that I would start a thread on my antics with it, I thought it was about time I put digits to keyboard and regaled the tale of how I got myself into the right mess I now find myself in
, perhaps naively hoping in some vague way that it might be a cathartic process of some kind

. The intention is to update this in stages to bring us back to the present day.
Now admittedly a lot has happened since I got the car, including but not limited to renovating a house, moving job, getting married, trained for and ran a marathon and acquiring several other projects (see other threads), plus a whole host besides... basically life. However excuses aside, the car has been ever-present with the hope that one day it will be completed.
I should also point out at this stage that although I wasn't necessarily looking for a project at the time, the journey I've been on and the skills I have learnt (and am still learning), plus the people I have met along the way, I could never have imagined, it's been on the whole great fun. Yes I could have bought a heritage shell (£10,798.38 plus VAT at time of writing - no thanks!) or simply paid someone to do it for me (where's the fun it that?!).
Before we go right back to the beginning, it's probably best to go grab that mug of tea or coffee... we may be a while!
So why an MG... well I've essentially grown up hearing about them, my aunt had a B GT, uncles on both sides of the family had MGs of varying guises and they are one of the quintessentially English sports cars from an era of car manufacture I love. Throw in the need for it to be a relatively cheap 1st classic (I look back fondly on this notion), with spares a plenty and loads of information about how to do things - and it was a bit of a no-brainer for me.
Now as I said, budget for purchase wasn't huge, however what played in my favour was that I wasn't particularly bothered about a roadster and preferred the look of a GT which tended to be cheaper. However wanting best of both it had to have a webasto and preferably was in Old English White - it turns out there are many, many shades of this!
While idly browsing the classifieds one day in early 2012 I spot something that pricks my interest - a '69 chrome bumper car - tick, GT with webasto - tick, old english white - tick, local and at a half sensible price - tick... this is it - time for a closer look. Cue a couple of calls and after a viewing the next day the car was mine - result!.. or so I thought...
So I present to you as bought for the grand sum of 800 english pounds - the white elephant!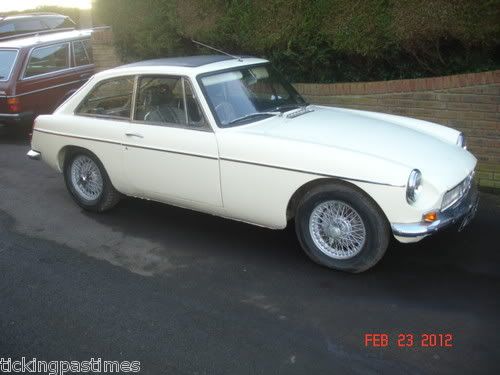 and yes... there are so many things I see in this picture that I didn't at the time... rose tinted specs, blind ambition or simply fate... either way the journey had started.