A belated happy easter all, hope there aren't too many chocolate-fuelled coma's going on! Needless to say, but after such a delightfully long and sunny weekend, being back in the office is a bit rubbish... so have another MGB (and some other bits), update

Before I get to the MG however, there was a minor distraction in the form of an aforementioned shoot for the Austin 7. The MG was pushed off the drive and the 7 got wheeled out from the garage and polished up ready for it's moment on film. All of which seem to go very well on what turned out to be a perfect day. (It was 30's gangster or similarly themed if you were wondering - hence the need for a 30's car. Although I can't imagine any gangsters making rapid getaways in a '7!
)
'On location' somewhere in deepest East Sussex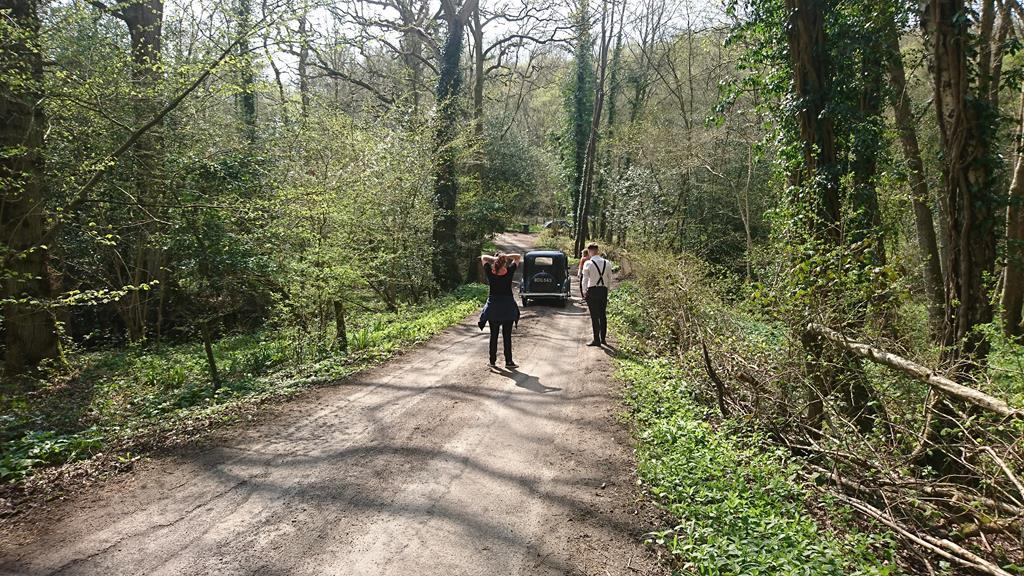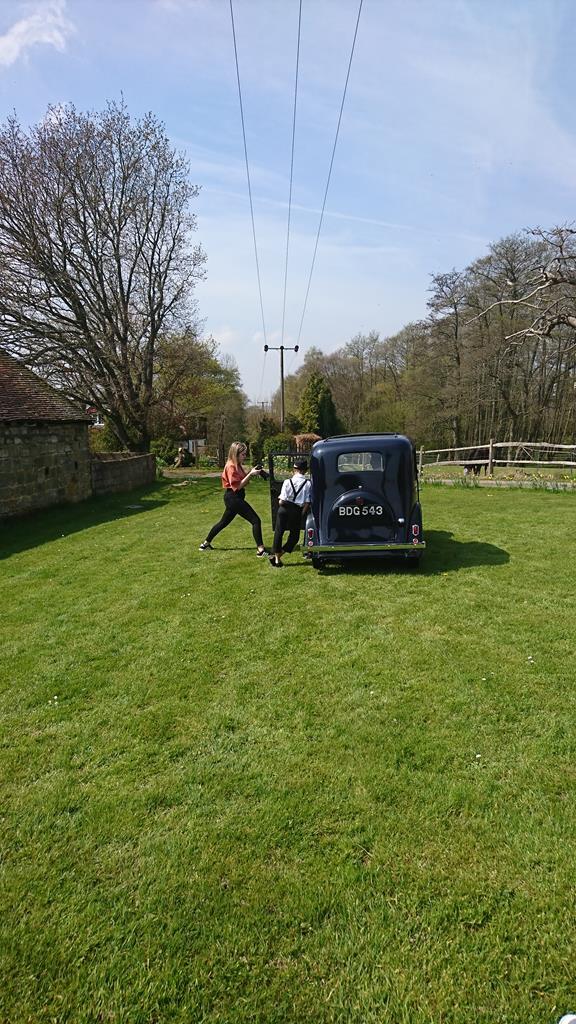 Suffice to say the little car delivered and caused plenty of smiles and pointing fingers as it was driven through town, it's now booked in for a wedding at the end of June as well. Tempted as to whether I bring it to Goodwood in May as I don't think the Celica is going to make it at this rate
.
Anyway shoot over, it was back home with the trailer in tow to load up the 'B' as it had a little date at a weight reduction clinic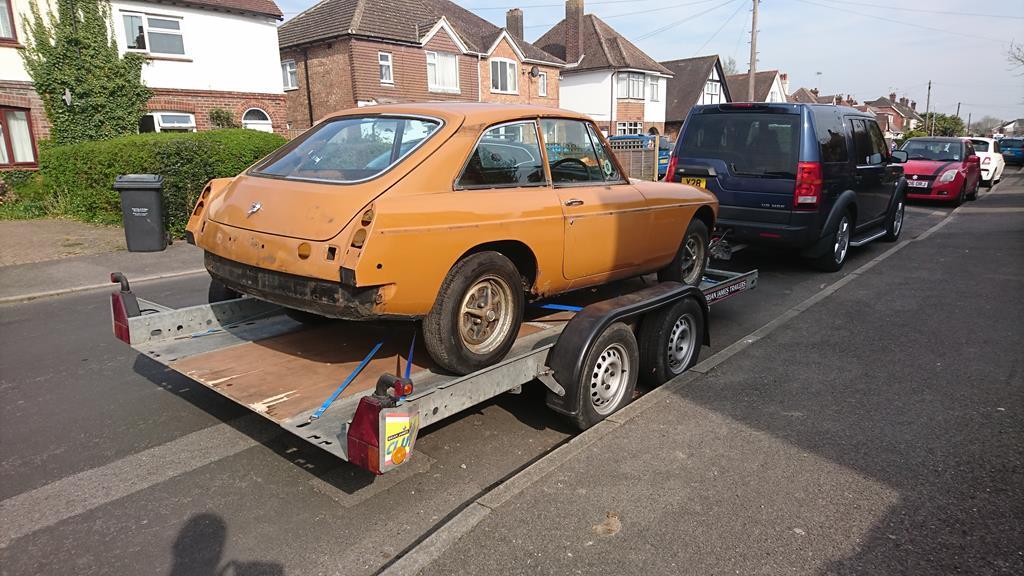 Which in reality is a friend's rented space that happens to contain a rather handy lift
A lift which Neil, pictured shortly, (an avid lurker on here and someone readers of my Celica thread will recognise from pics as one of the secret liberation crew), kindly removed one of his projects from so we could get the MG stripped bare. Said project that he should start a thread on *cough*. Yes I know you're reading this... Do it, do it now,,,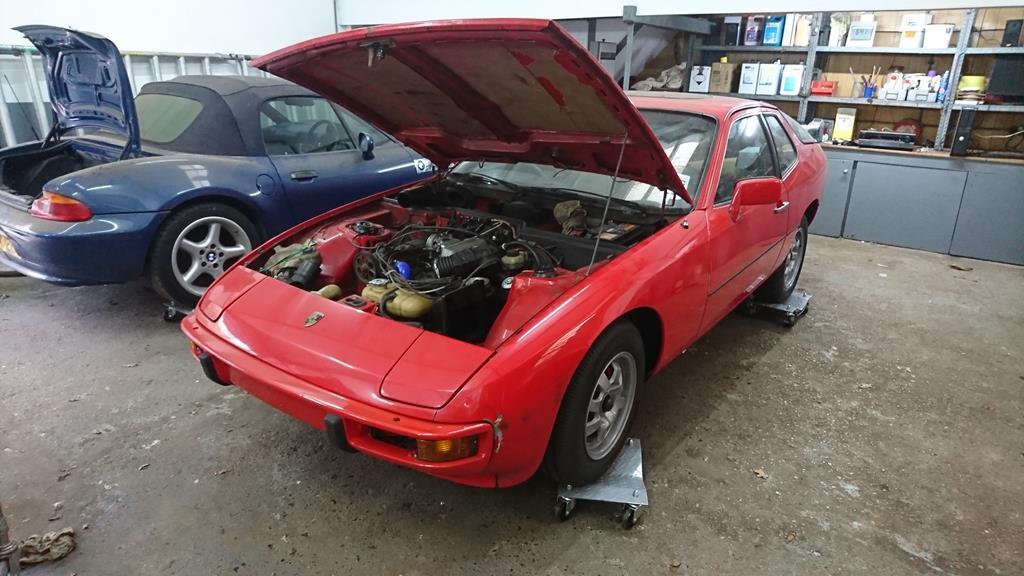 Wheels off, it was time for the fun to begin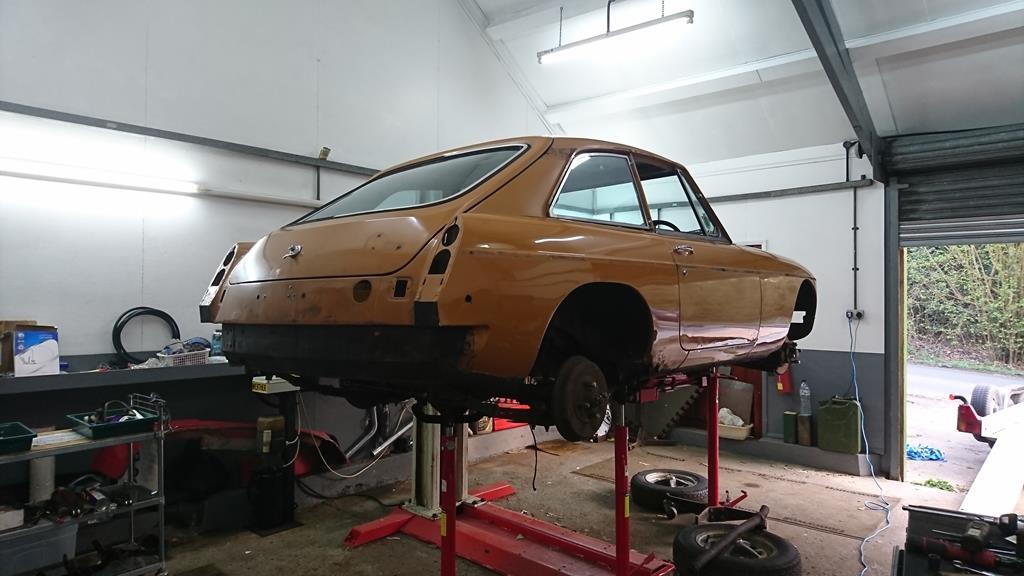 and armed with plenty of penetrating oil and a new impact gun, the first target of our efforts was soon liberated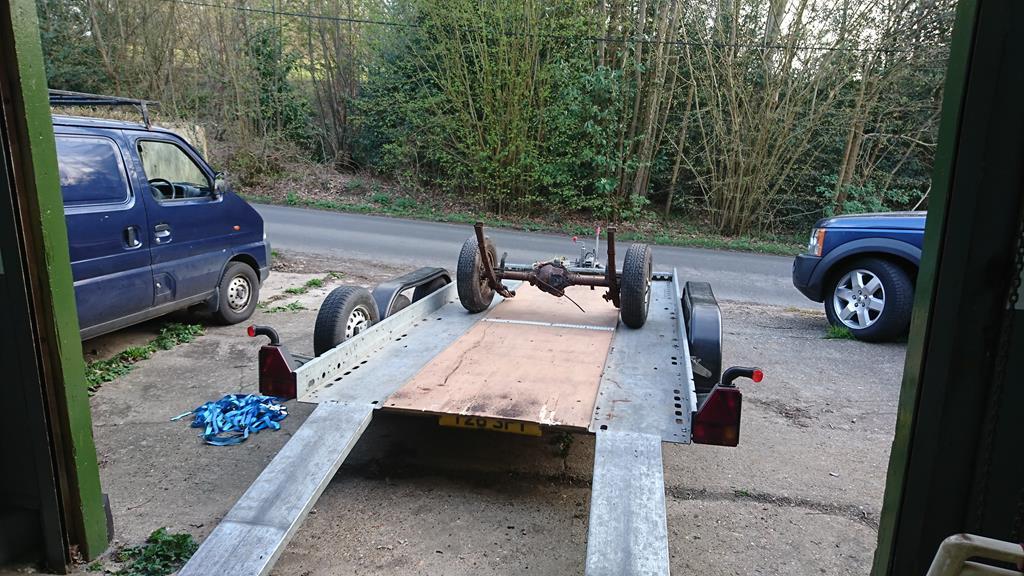 A little bit of stabilising and we were on to part two: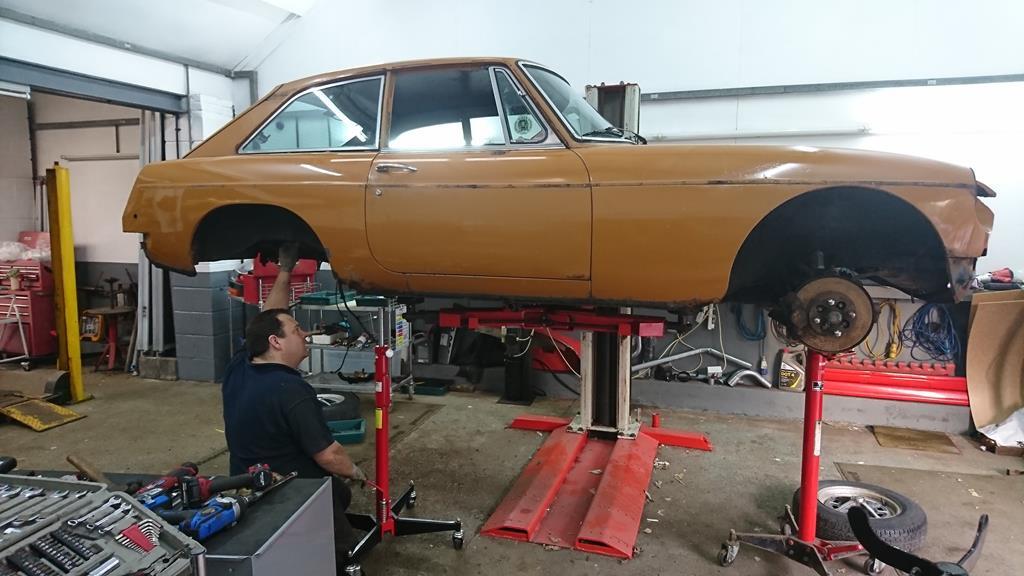 Which we decided would be easier to drop rather than lift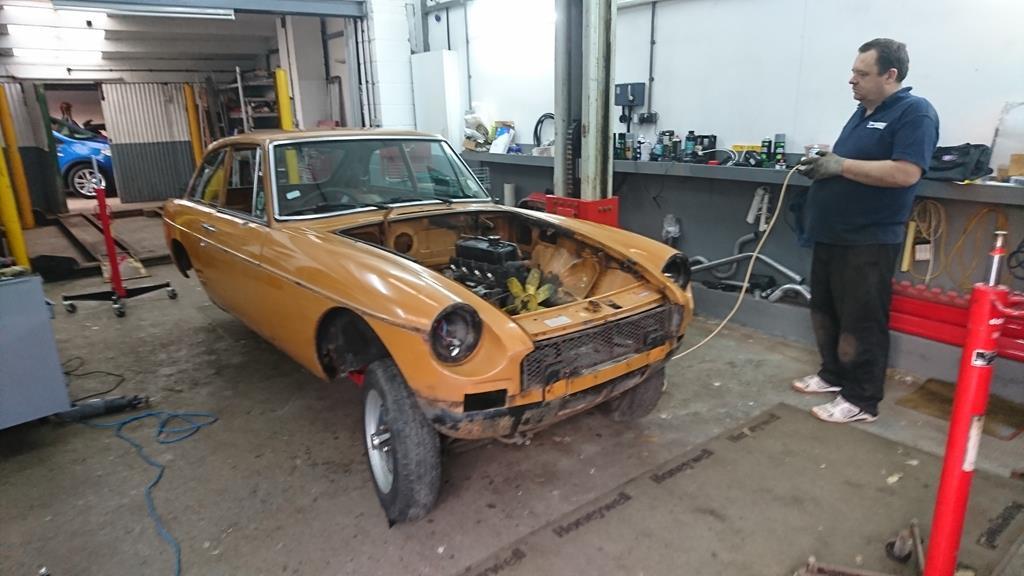 and in not too much time at all, it was just the gearbox left (have an action shot of me this time!).
Now I'm roughly 6' and so this shows how high this thing goes, to say it was a bit of a revelation is an understatement, I'm now a full convert to getting a lift when I have the space to put one... as it happens I nearly got a mid-rise lift this weekend via a local facebay ad but just missed out (thanks for the tip off anyway JB)
In the meantime, this car continued to amaze with how solid and original it is, ok there are the usual rot places in the sill ends, but the inners were remarkably solid still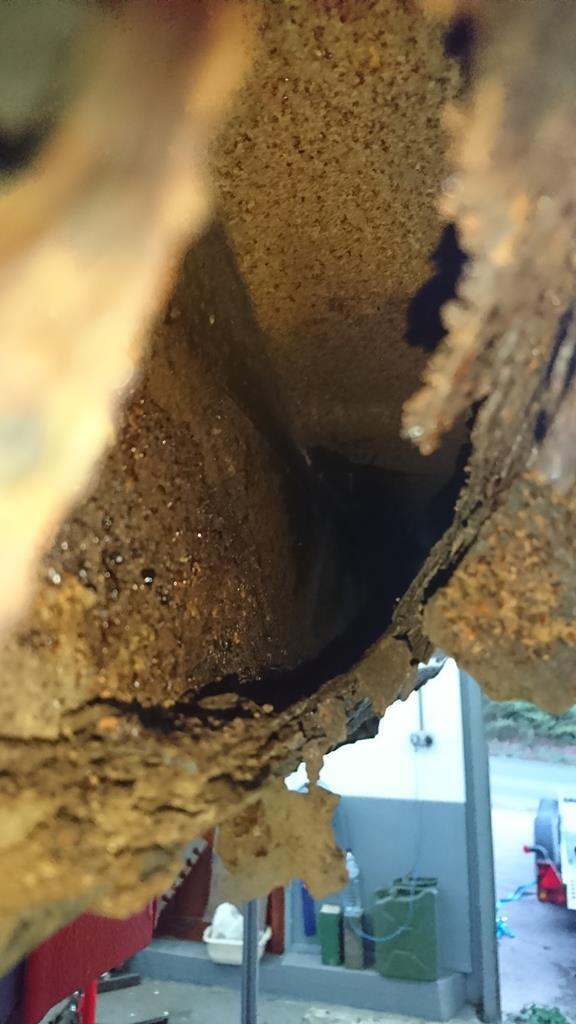 Even the front panels where the door hinges bolt through were solid behind the sacrificial splash guards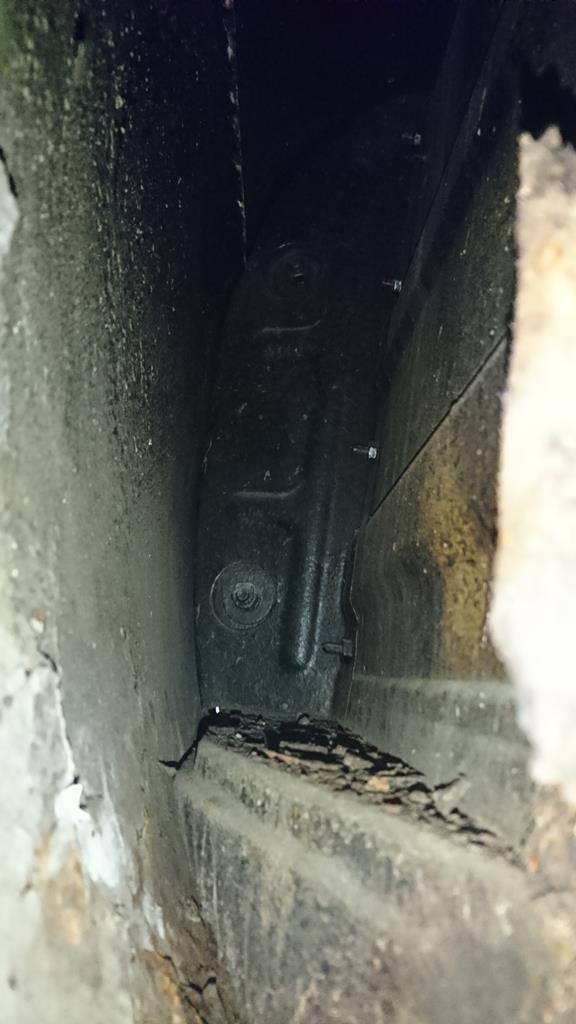 Tunnel was now clear and we could start thinking about how to mount the shell to a dolly
...and that's where I'll have to leave it on the MG for now as time was against us and Easter activities beckoned. Some more box section has been ordered so the fun will continue this weekend.
Instead it was time to head home and prep for a bootfair on the Sunday (selling not buying at SWMBO's behest!), which suffice to say was not only hot but very busy! There aren't many bootfairs in such a stunning location as this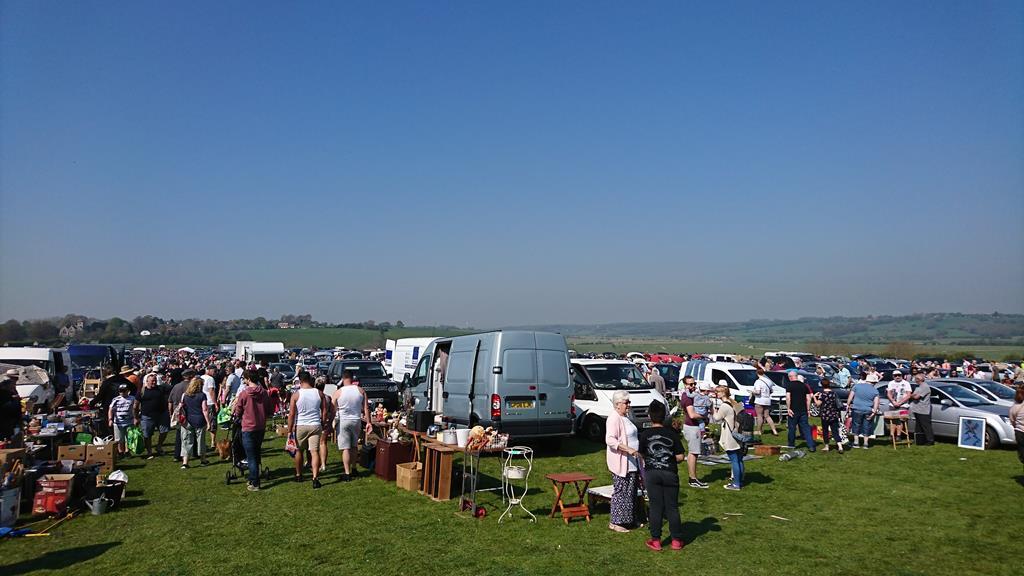 Although the object of a bootfair is not to admire the scenery, if you're there to buy then a keen eye is all you need. @johnnybravo had already scoped the stalls before we were even unloaded and announced that there were some tempting bargains to be had... he'd already done rather well but had been generous and left some for me to find
. One such item were these minilite wheels in Ford fitment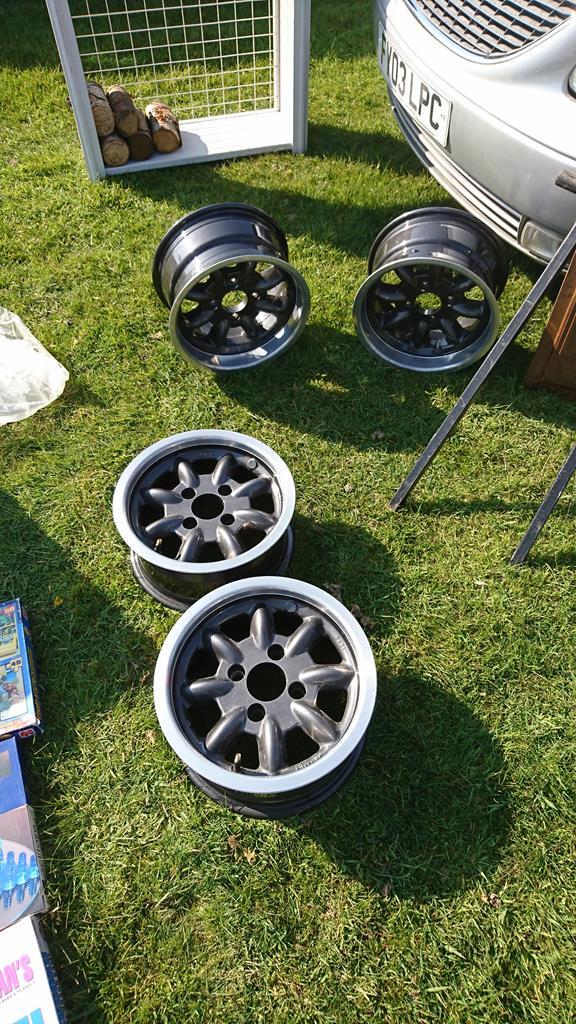 Alas the wheels were mentioned within earshot of aforementioned SWMBO and so I was told in no uncertain terms that they were not going on "her" A35... and I wasn't to buy them... and there was me thinking it was "ours"
Boot fair turned out to be a good one, and we managed to clear a load of our old and no longer wanted... errr 'quality merchandise'. It was then back to the parents for some well-earned beers, BBQ and a play with my dad's toys... proof if you ever needed it that you never need to grow up... "it's for the grandkids..." yeah right!