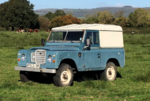 So have you got all the bits for the engine now in an expensive pile in the corner ? I've lost the plot slightly.
James
Yeah that won't go in the back of the car, could borrow a couple of bits of kit from the farm but imagine it wouldn't be the most efficient way to go about things 😂
You think you've lost the plot, given this year so far I'm starting to question of there ever was one...
Anyway all bits for the engine are together in a very expensive plastic storage container in the shed, they were expelled from the house due to viewings etc. ☹
Once I've finished stripping the celica and moved the shell I'm hoping to get the engine on the stand and start to build things up, although I need small bits like cooling pipes, cable retainers and dipstick tube etc. Have given up on A/C for time being as not got much response from the folk who were looking into a solution for me and how to run it with the front pulley system I've gone for. Something to come back to perhaps... although that does now mean there is room for a small snail in the engine bay... 🤔
Sounds like an Ideal time see if a nice Rover V8 fits into a celica......