&nbsp
Hi All,
Having bought our first house at the end of the year before last and spent the intervening time doing the usual decorating, remodelling, choosing of curtain fabrics

- oh, and having a baby, it's taken me until now to get on with the thing that I've been itching to do since we moved in - the garage!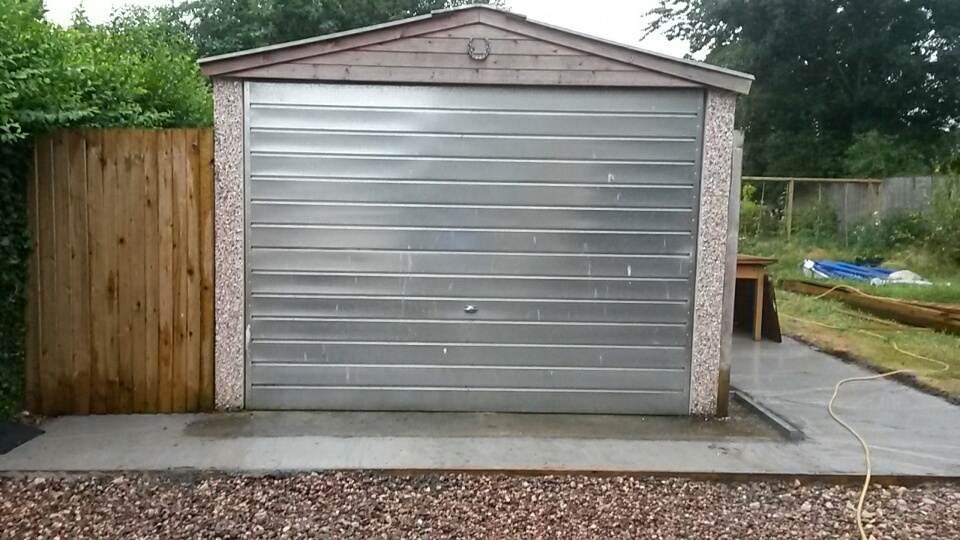 Here it is just after having poured the concrete for the base - forgot to take pics but base extended all the way round with reinforcing mesh tied in to the existing base with lengths of rebar inserted into base sides.
The existing garage is a concrete sectional job with cheap, nasty doors, no windows, no gutters and it's clearly too small
The good thing about it is that it's fairly new and so the roof is not asbestos, it's in good condition and it is easy to take apart and err, shall we say 'reconfigure'?
The plan then is to take it all down and use all the concrete wall sections in the left and rear walls as you see it in the pic, put in a whacking great big door in the front and make a new side wall facing the garden out of wood, for better breathability and aesthetics, with added windowy and doory goodness and add some translucent roofing sheets into the extended roof - all on the stringiest of shoe-string budgets.
Will put some progress pics up if anyone's interested..