&nbsp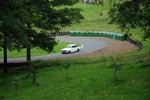 It was a deserved winner that collected it. Lovely little kids carts. (But no engine)
Personally I probably would've chosen the pit bike powered crate. That was pretty cool imo
yeah there were some pretty cool builds in that tight little area - I think the suspension setup must have swung it for the winner - I liked the crate too, reminded me of a similar build from a beer crate I've seen a photo of somewhere in internet land.
Yours was obviously the most little tikes like but maybe considered too big in the end - I'm glad I got to see it in the metal / plastic though - I did try looking out for you but didn't spot you.
I'll add photos in a bit...