&nbsp
As others have I thought I'd start a thread about my collection of 1:43 die-cast models.
As a boy I mainly played with Corgi (not Dinky) cars and Lego, my collection of Corgi's ended with what I would think is the golden era of Corgi, Golden Jacks. I only had 1 whizz-wheels which admittedly is one of my favourites, the Graham Hill Cortina MKIII (but that's a separate thread)
Anyway back to die-casts, after resurrecting some Corgi cars for display I started to buy a few die-casts about 30 years ago, when they were relatively cheap. I was buying at the budget end, Brumm, Box, Quartzo... but good models. Initially it was a case of buying what I liked but over the years a few themes have emerged;
F1 World Champions and Le Mans Winners for the decades of my birth, '59-'09 (got all 12, interesting to see the evolution of designs)
F1 World Champions (35/59)
Le Mans winners (17/60)
Cars that I've owned (or as close a model as I can get)
Graham Hill (F1 champions cars, Le Mans winner, Indy 500 winner, some others)
Tony Pond (Metro, Sunbeam, TR7)
Derek Bell (Le Mans winners 2 out of 5 so far)
There are also small sub collections of Aston Martin's, 70s/80s Rally cars, Triumphs...
What I want to try and do is showcase some models, or groups of models, with an explanation of why I bought that model.
To start with my most recent buy, a Brumm twin set of Graham Hill's 1962 BRM stack-pipe P57 chassis and car (£20 eBay buy). I've already got the separate Brumm models of the P57 but couldn't resist this set with the separate chassis. Graham Hill is a particular 'hero' of mine (along with Tony Pond and Derek Bell) very under rated and under the shadow of Jim Clark and Jackie Stewart but 2 F1 Championships, a Le Mans win and an Indy 500 win can't be too bad not to mention the Monaco wins. Yet it never seems to get mentioned when every body talks about Alonso going for the golden crown.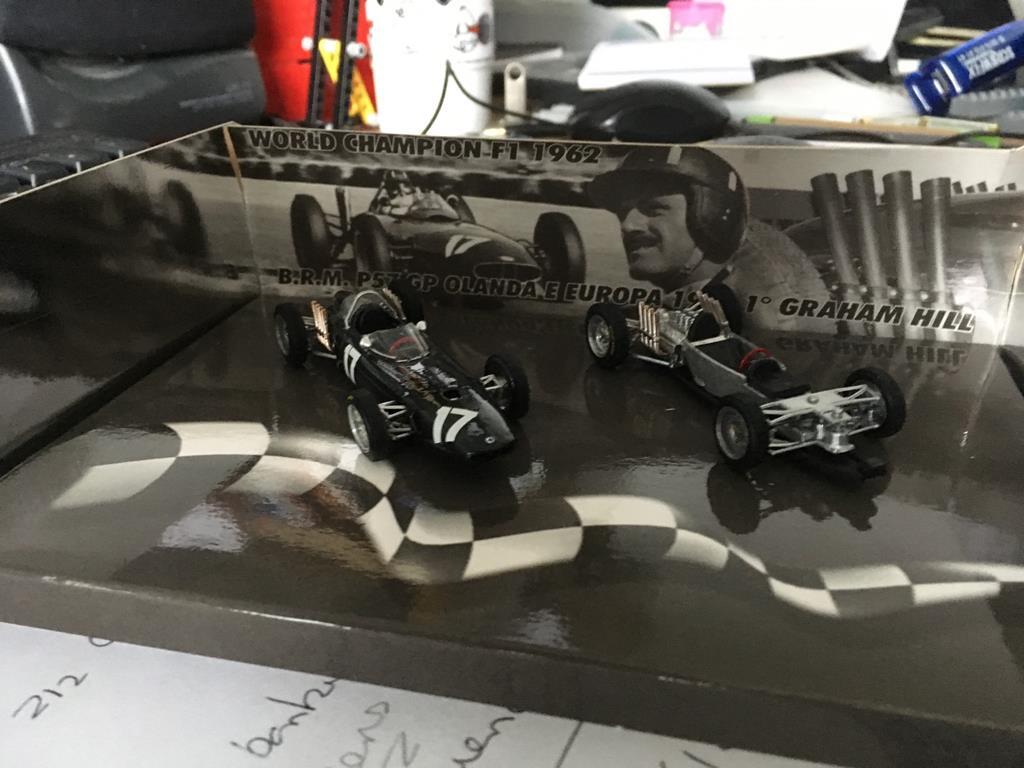 They also do a John Surtees Ferrari 158 as a twin set.

This is a phone picture, future images will be taken with a proper camera, I'm going to build some dioramas/backgrounds for the cars. I'm looking for some 1:43 (O gauge) figures as well that are realistic and not too expensive ready painted.