&nbsp
So herein lies a initial tale of woe - it needs some background to really complete the story / picture so here goes:
5 years ago we sold our London flat and did quite well out of it we had owned it for 15 years and had done a load of work to it - anyone whom knows me & my work will be aware that when it was finished it was the best available in the area hence it broke the market ceiling price - we were lucky that we had purchased in a area that we realised had potential and it paid off - it was not without some very hard slog and the last thing I want to do is appear smug about it - having sold the flat for over 5 times what we had initially paid for it means we could purchase something slightly special
We had a long list of boxes to tick and a wide search area - viewed loads of rubbish, many possibilities, considered many compromise's and when we found what we wanted we then had to get in a bidding war at very short notice but eventually it all came good and we purchased what we considered was our dream home - relocating 60 miles West out of London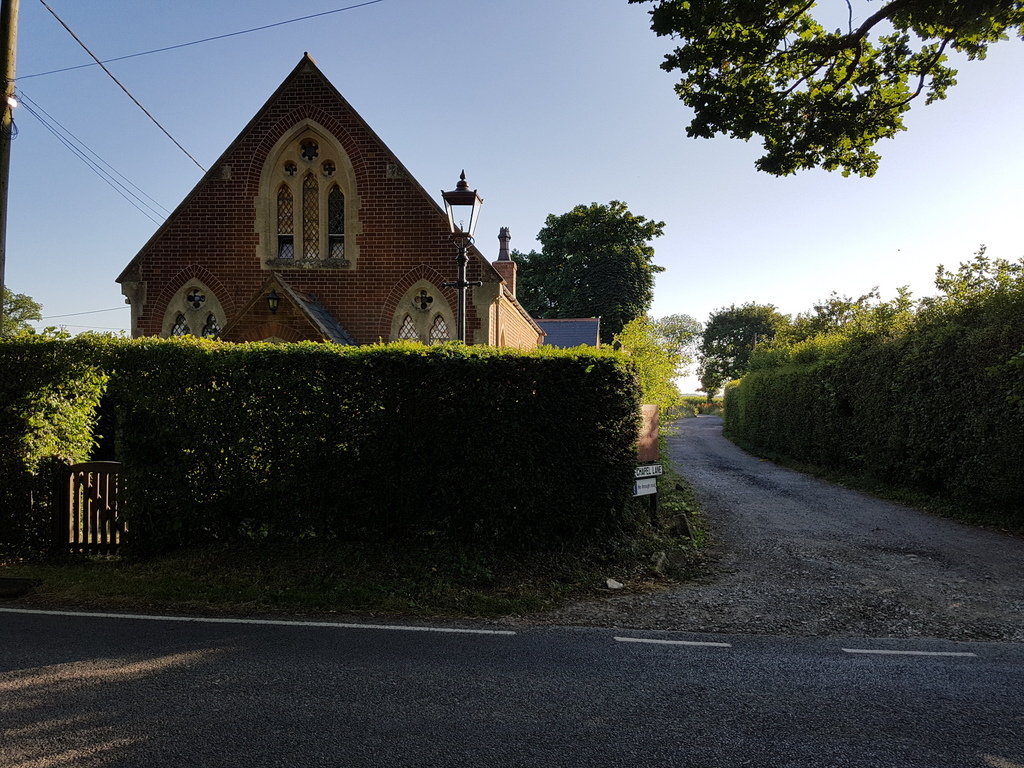 We became the proud owners of a former Methodist Chapel built in 1872 - converted to a residence 30 years ago - in a nice semi rural small village - M3 & M4 motorways both within 15 / 20 mins - all services - bank / doctors / supermarket / garage etc located in the next village 1 mile away - the Chapel required some work but the potential to make it our forever home was huge - well 5 years on the work is still ongoing but it's most certainly our forever home - well at least up until last summer it was anyway
So just backtracking a little - from arriving with the removal van we were made very welcome by our neighbours who reside on the same lane - which serves 4 other properties and along with the property on the other side of the lane - not just welcome - said neighbours have become our close friends and we don't need to find an excuse for a gettogether with each other - you could not make this up and you most certainly could have visited and thought you were on the location set of the 'Darling Buds Of May'
I have had classic cars in my blood from the age of 10 - was working in a garage part time from the age of 13 - served an apprenticeship in classic car restoration and stuck at it for 8 years but it did not pay the bills back in the early 80's it was more a love of the job vocation - I jumped ship sought a different career in order to earn enough money to run a car / fund a mortgage and get on with my life. The classics were always in the background though - I always had something on the go - something was always getting worked on / restored / painted or I was helping others out with the same tasks and on a few occasions I undertook restorations for others
Fast track to a few years ago now in my mid 50's successful career in project management, well thought of, well paid but never at home, 60,000 miles a year driving 60 - 70 hours a week and increasingly given idiots to work with hence my tolerance levels were increasingly diminished (they don't call me the 'Grumpy Northerner' for nothing) - something had to give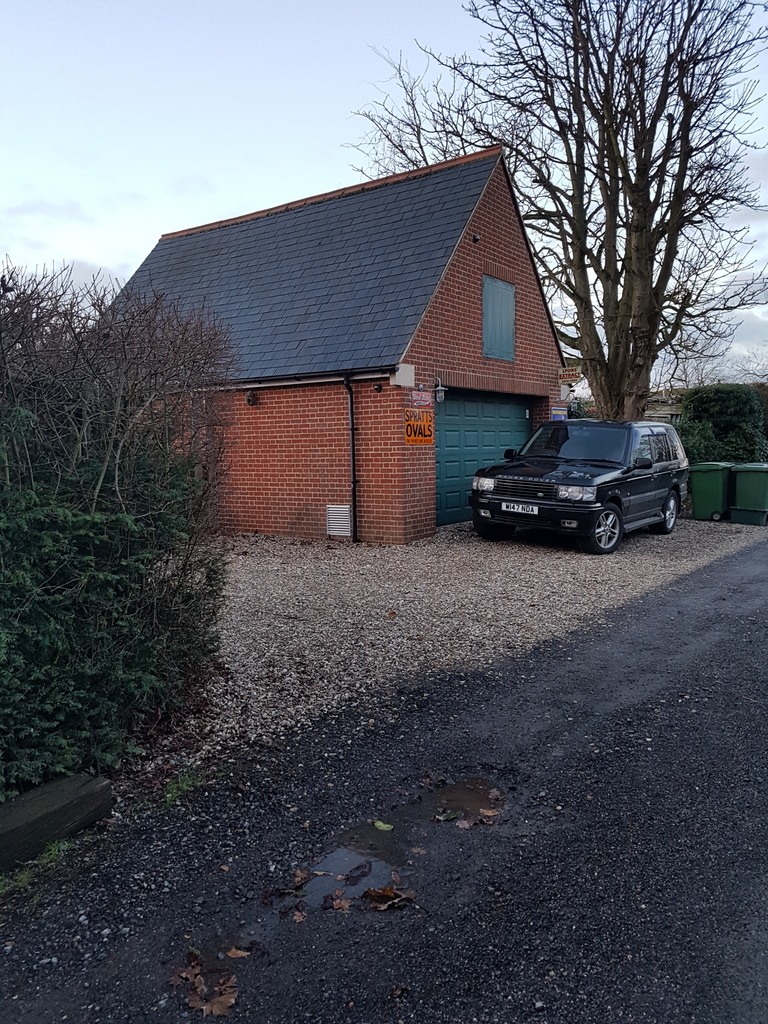 Several of the tick boxes on our property search were firmly met when we purchased the Chapel - first one on my list being the garage - reasonable in size its 2.5 bays wide just long enough - proper loft storage area with full width staircase, insulated, power + services to fit the WC (which I still have to get around to) - I also had parking for about 6 cars
2.5 years ago I bit the bullet and hung my boots out to dry on the day job (river & waterway engineering) and formed a sole trading classic car restoration business - working from home - I had most of the kit but it still required investment and a small part of my pension was invested - my neighbours were supportive and 'Flat Cap Classic Cars' was born - I was very quickly overrun with work and the workshop diary became heavily stacked - I believe in high quality work at fair prices - I don't earn a lot from the business but money is not the sole factor for running the business in the first place - working from home allows the flexibility to work sensible hours but I can also pick / choose my clients too has I am not committed to huge financial overhead of a building premise lease
I get 'pigeon holed' a little has some others don't think that quality work can be produced from a small premise by a sole trader and that you need a fancy reception area with an expensive coffee machine & an attractive receptionist plus all the latest workshop equipment to produce concourse winning restorations but obviously you need to charge fancy prices to fund this - let them think what they want - I will let my work do the talking - I've had 3 restorations go on to collect a class concours each along with a 'Best Pre War Car in Show' & 'Best Post War Car in Show' in the last 12 months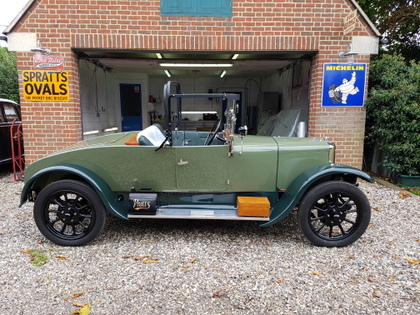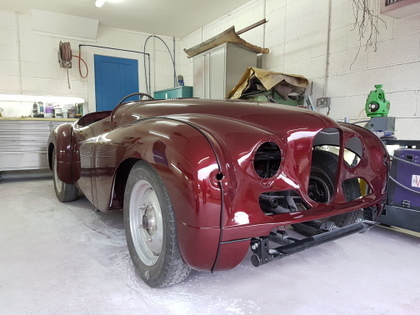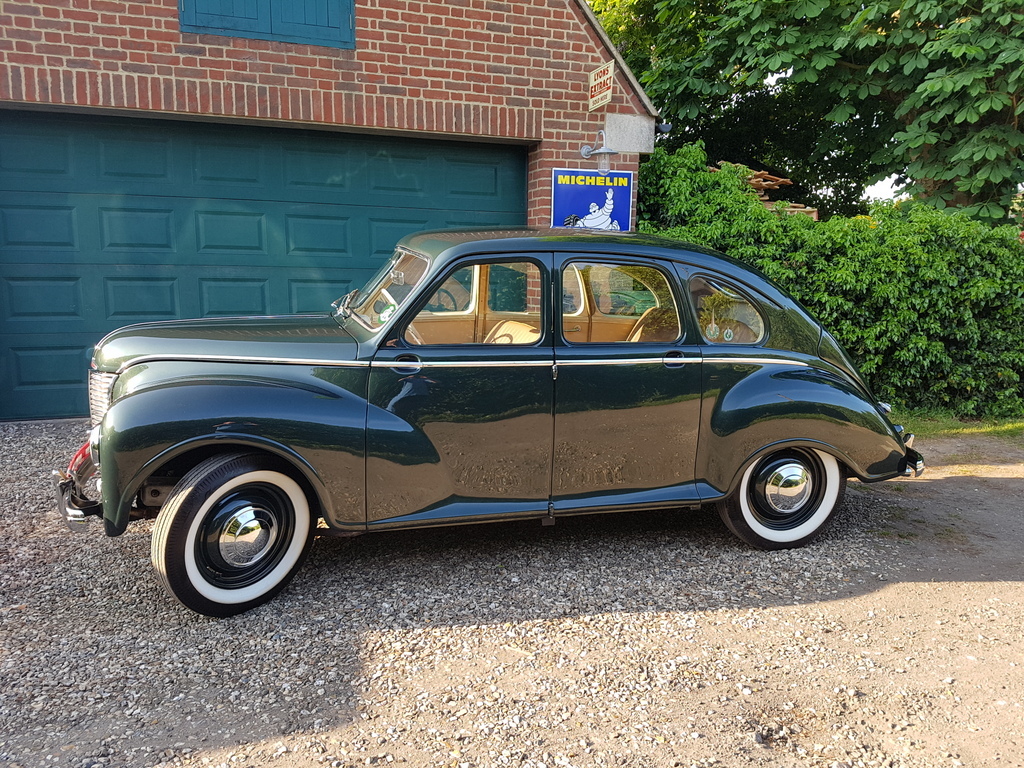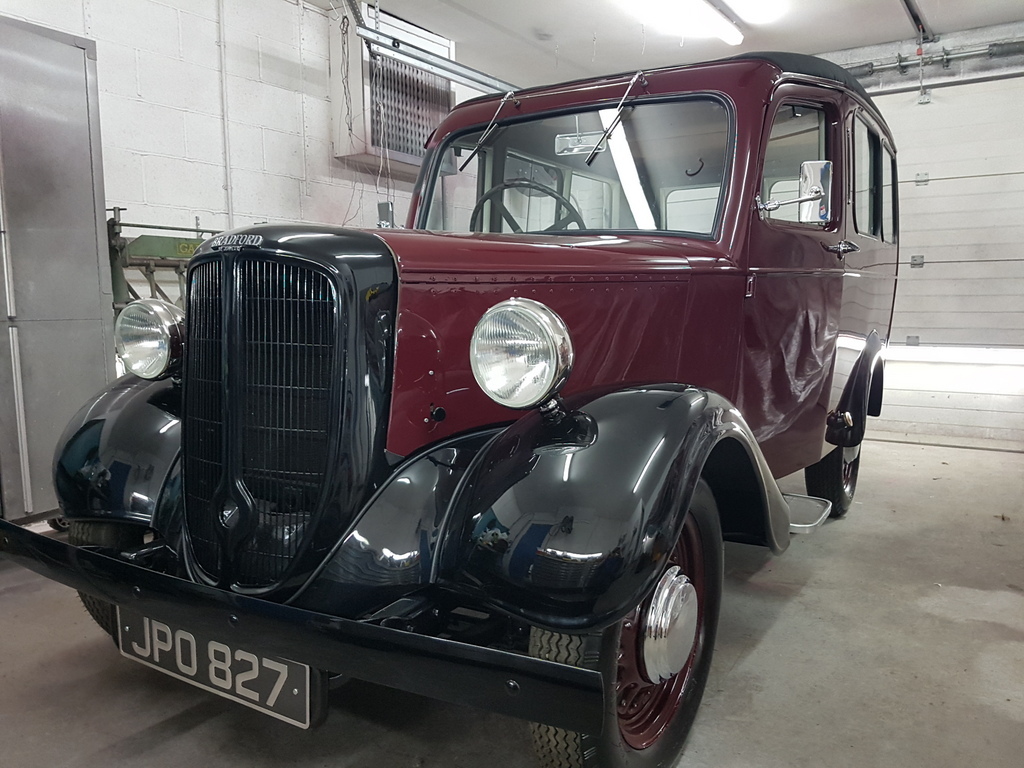 I was always considerate that the business did not impact upon our own or other surrounding properties and has I was starting to get short of parking space sourced barn storage for any overflow of vehicles - I invested in the best kit - acoustic housing for the compressor, added further acoustic insulation to the main door & was mindful of any noise or dust generation.
Middle of last summer I was doing a few bits on the house - I happened to be in the garage and was manually taking some paint off some long strap hinges for the new oak doors in the kitchen nothing noisy and it was the middle of the day - the immediate neighbour started to kick off about noise & dust etc and why did I not f**k right off and get a business unit. I politely requested that they did not shout nor use offensive language but if they had a problem to come and talk to me about it - I got a load more threats about reporting me to the council - I am very much a 'All or Nothing Man' and refuse to have anything held over me - I told her to get on with it.
Now take into consideration the proximity of their property to my workshop (50 metres) that I had always been very fair & honest with them - even repaired their daughters car (£2,000 of work but just charged for the £200 of materials only) Said neighbour rears & keeps chickens & cockerels 11 metres from our bedroom window - has a large Airedale Terrier that requires no excuses to bark endlessly and they make enough noise with the shoeing of horses along with the maintenance of a very large garden, run a 5 vehicle fleet & horsebox etc - but I had always considered it has a 2 way street approach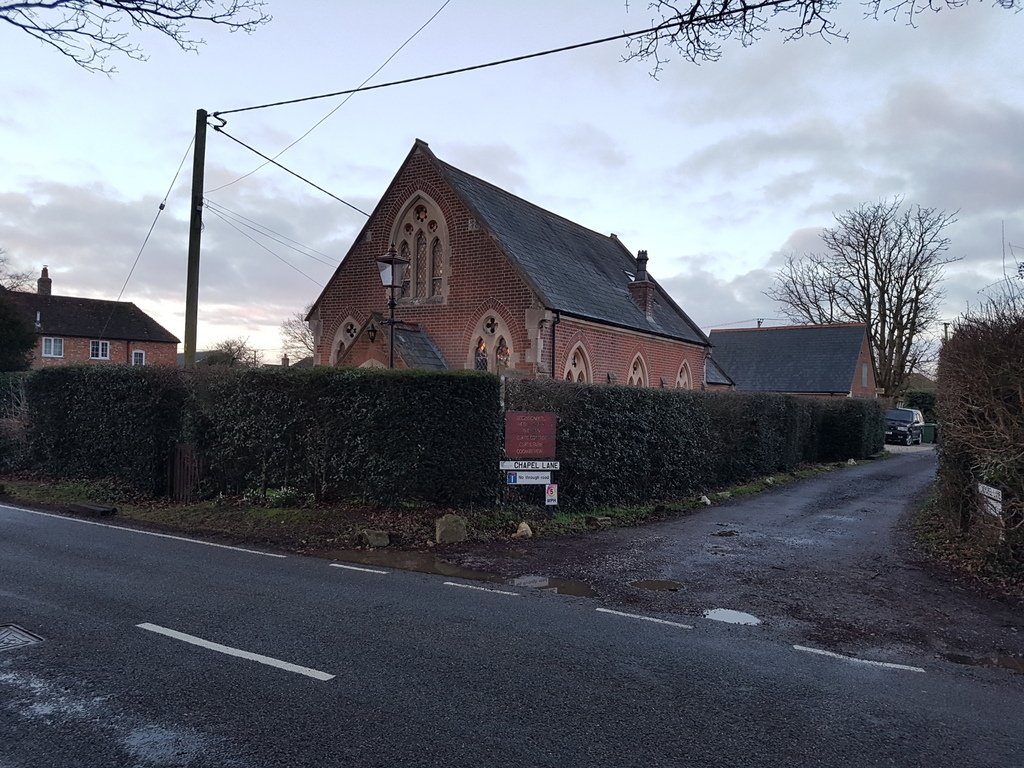 The Chapel with the Lane and my garage can be seen in the distance behind the Chapel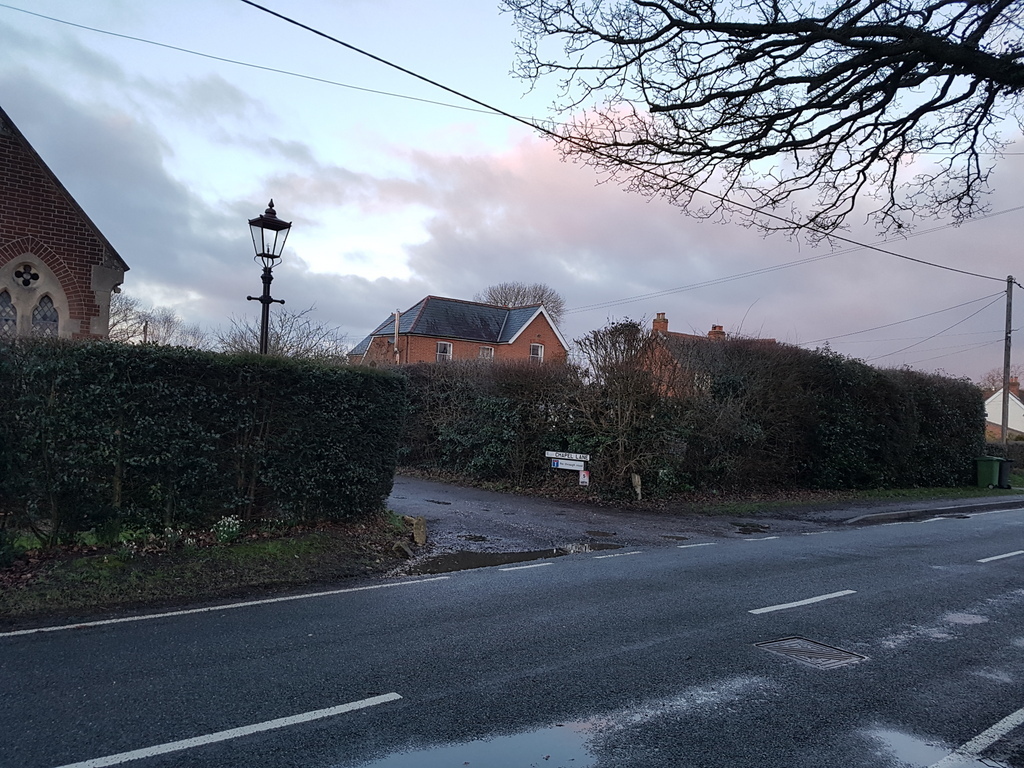 Complaining neighbours property and distance proximity from ours / lane etc
So in went the complaint - and I considered my options, talked to the planning department of the local authority whom were very supportive with advice etc but essentially I was in clear breach of planning regulations - the permission on the garage given in 1998 held a clause that stated it could only be used for residential purposes - they offered further advice and I went & found a planning agent - with further information on board I took the decision to apply for a change of use in order to reflect what the business does 'Small Scale Classic Car Restoration'
I can go on for hours - even write a book on the subject - I had to commission a 'Environmental Noise Impact Assessment' and forward all sorts of other information meanwhile said neighbour launched a propaganda campaign - no end of fabricated / invented nonsense - covert image taking from a velux window of their property - they even put a video together with a overdubbed soundtrack of machinery noise then used the video to show to other neighbours in a bid to generate more objections - along with inventing a second address in order to lodge an objection to the application - it dragged on forever with endless deferrals from the planning department - in the end they had 9 objections but I had 16 supporting the application
It just went on forever - I had to suspend my website has I could not be seen to advertise for business - my restoration threads on any forum went on hold - my objectors were using whatever information they could gain and using it against me - I had to be very careful about what was in the workshop - everything was being watched - photographs taken of even friends cars that visiting or staying with us were being used to build any case that could against my business
So last night and after 8 months I attended a planning committee meeting of the local authority - my neighbour got 4 minutes to speak to the committee and I was given the usual slating that I have come to expect from them - no end of untruths - then I got my 4 minutes to state my case - thankfully the planning committee had already recommended the application for approval - my neighbours then had a local councillor speak on their behalf and I took another slating - it all then hangs on a vote from the councillors on the committee - with two voting against the application but the rest of the members voting for approval
So there we have it - I can now get back to doing what I feel that I do best - it has not been easy - I can't say that I have slept properly during the entire period that this has been going on - it's always been hanging over my head and it's been difficult to concentrate at times whilst this has been in the background
Should I have applied for the change of use on the workshop before starting business - well officially yes I should - but it's so difficult with a new business - it's not just a matter of flicking a switch and the money pours into your bank account - it's worse still when you are in a trade where so many don't understand the true cost of good quality work - there are so many out there that think you can paint a car for £1500 and you know what - you can - how good it looks and how little time it lasts is another thing entirely - however that's not my type of work
So I'd better wrap this up and get back out there to the workshop - I think that I have sobered up enough from the few bottles of bubbly that we got through last night with the neighbours that have supported me
I am no expert in planning matters but having gone through it - I would offer the following advice:
Be considerate at all times to your environment & neighbours
If you do have to apply for planning - seek professional advice from your local authority
Engage a good planning agent and act upon their advice
Seek the support of your local community & parish council
This is not a light or easy undertaking and you need to expect costs running into a few thousand has a absolute minimum - it's also cost me work having had to turn some of it away due to the issues surrounding the application
Restoration thread updates & new thread restorations are imminent please see the Readers Rides threads - Chris