After a suggestion that I should start my own thread covering my customs,and cover a bit more about how I do them, I decided to do just that. I tend to do them on impulse, and if they start going wrong or don't go as planned they get chucked, not out of temper or owt, just because if I have a plan and i feel like in trying to fight it, id rather start again. At the moment I'm doing Hotwheels/Matchbox/Corgi mashups, but ive done Scalextric ones as well. I don't tend to collect like I used to, i prefer spending time creating them and getting an idea in my head into something 3D. Its also helped with giving up smoking, none of that vaping rubbish, I just stopped, and these help me not think about it.
The current one was started because I had an old Matchbox Kenworth car transporter, and it bugged me that the lorry cab was a long way out of scale. So, take one Hotwheels Dairy Delivery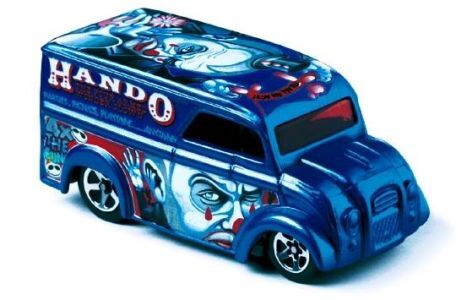 And chop a chunk out of it and shorten it. To do this I simply stuck a band of masking tape the right width around the body to ensure the cut lines were parallel, and cut it with a dremel cutting disc. I tidied up the cut edges on a large file until both faces sat straight. Then I taped both ends together until they were stable and slapped some Araldite on the back.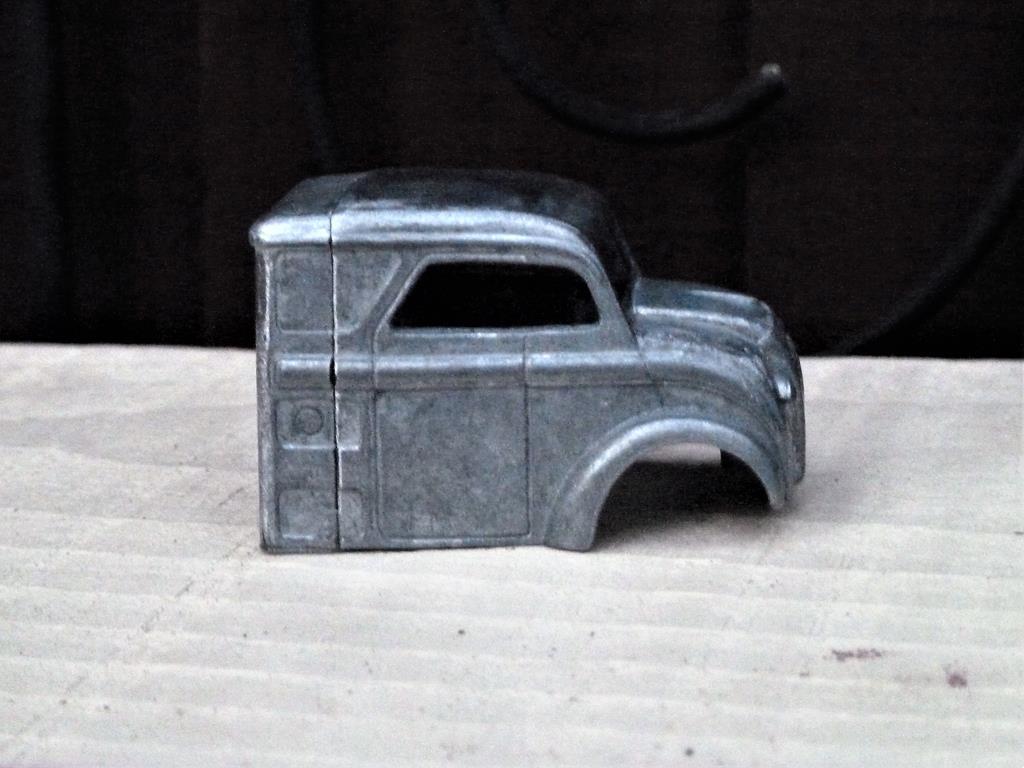 The only thing that needed matching up was the roofline. With the bodylines being dead straight everything else lined up. The join was filled with Milliput and the details in the lower rear panel were filled as it was easier than trying to make them look anything decent.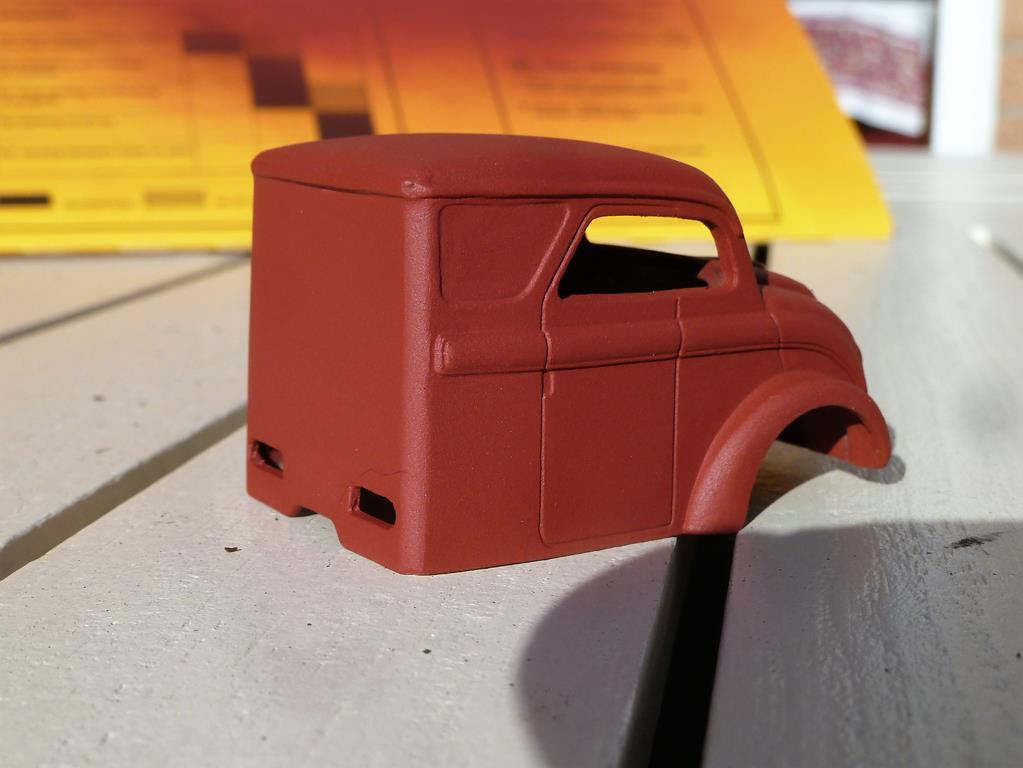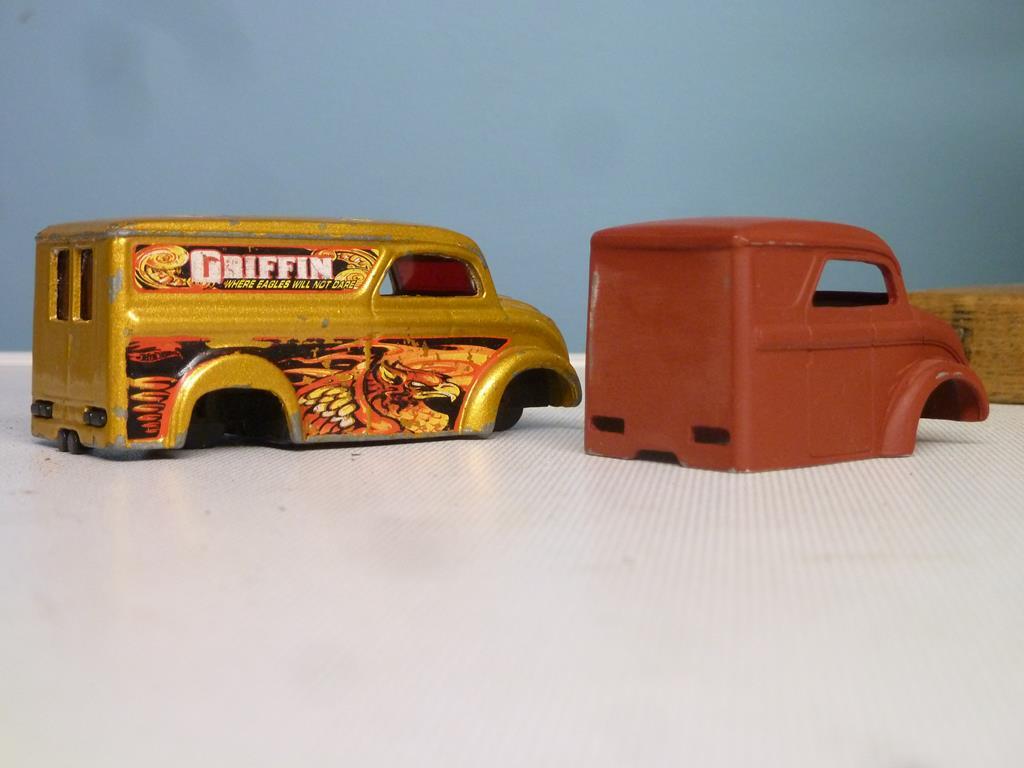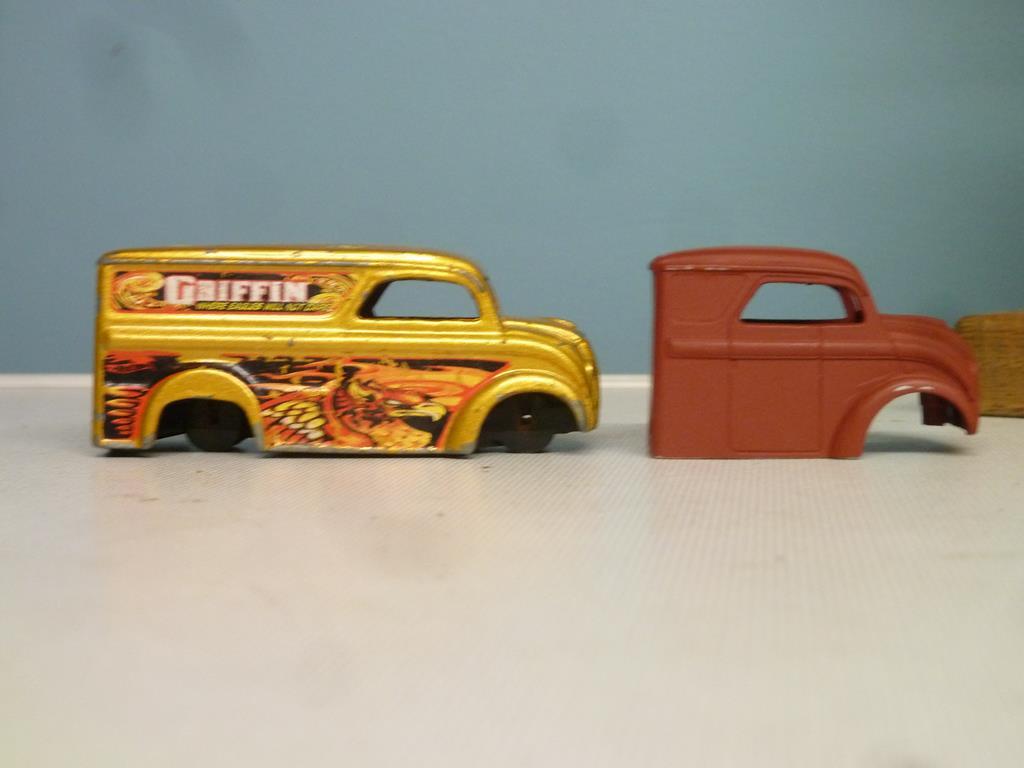 Next, take a Matchbox Kenworth Lorry like this, but red.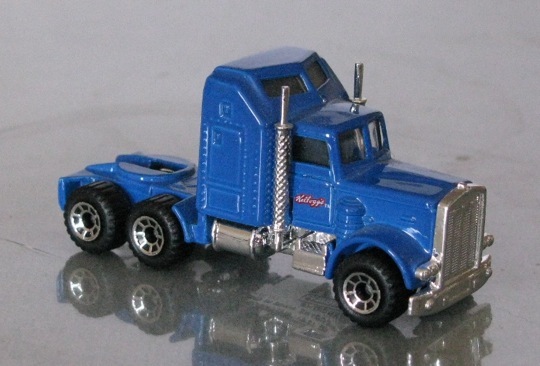 And cut it in half.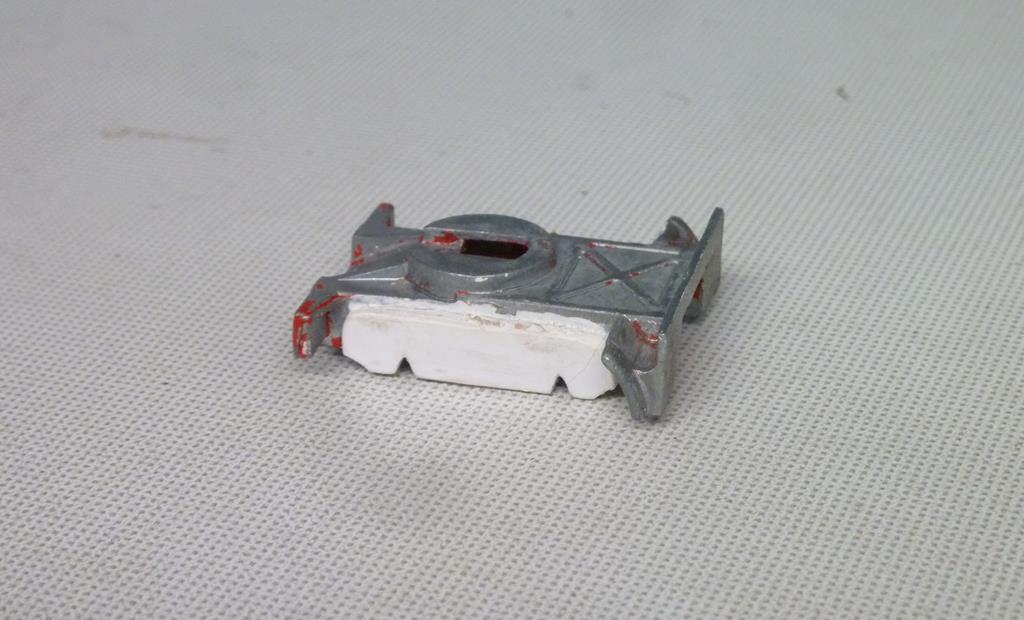 The axles Ive chosen are slightly too wide, so I added the white plasticard to space it out, using Evostick to stick it on with.
Then, take a Matchbox car transporter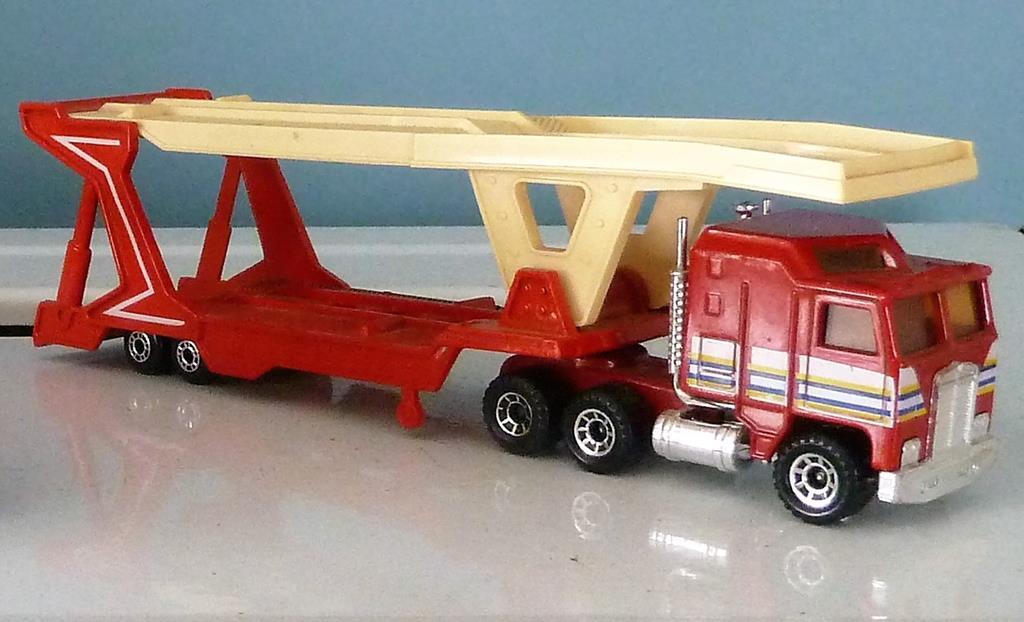 Try as I might to get a rough one, I ended up with a very good one but destroyed it anyway.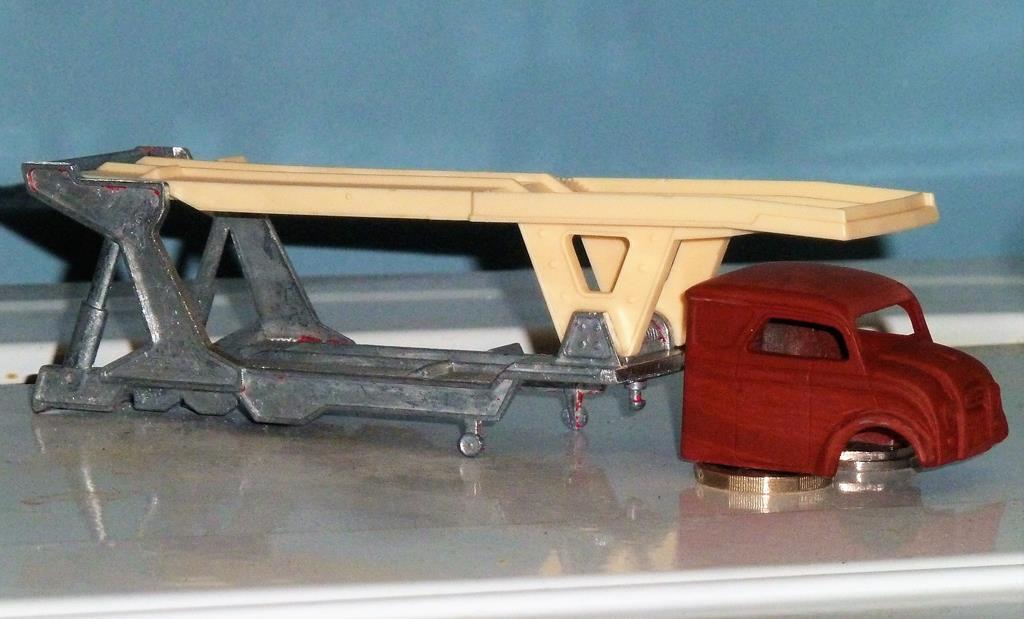 There wasnt much I could do to the trailer to modify it, but I cut the tiny front wheels off the casting and stuck a strip of plasticard on the top deck, and blended it in with Milliput.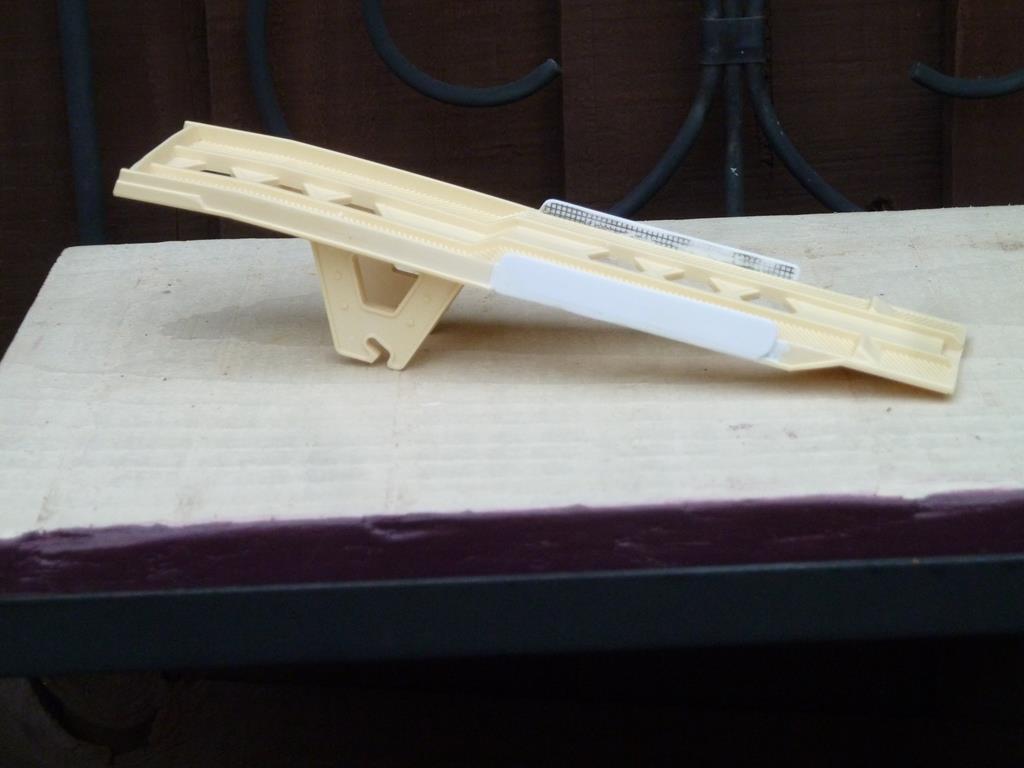 I had to do this twice because the first time I did it I realised that it interfered with the bottom deck when it folded down, so I shortened it an redid it. It was then blended with the rest of it using milliput.
Managed to do a bit of paintering today.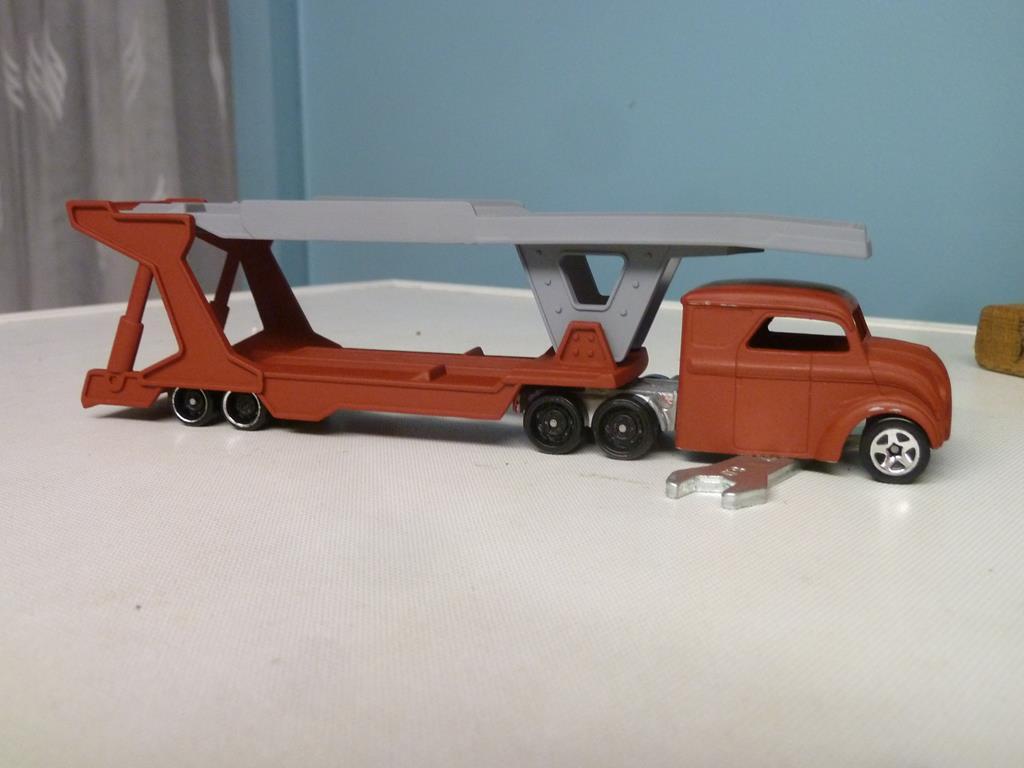 Thats as far as I can get until I get another pair of correct wheels for the front, then I can set the height of the cab and glue it together.