&nbsp
FOR SALE SOLD– ST170 2.0 Powered 1983 Mk 5 Cortina Estate:
'A Wolf in Sheep's Clothing'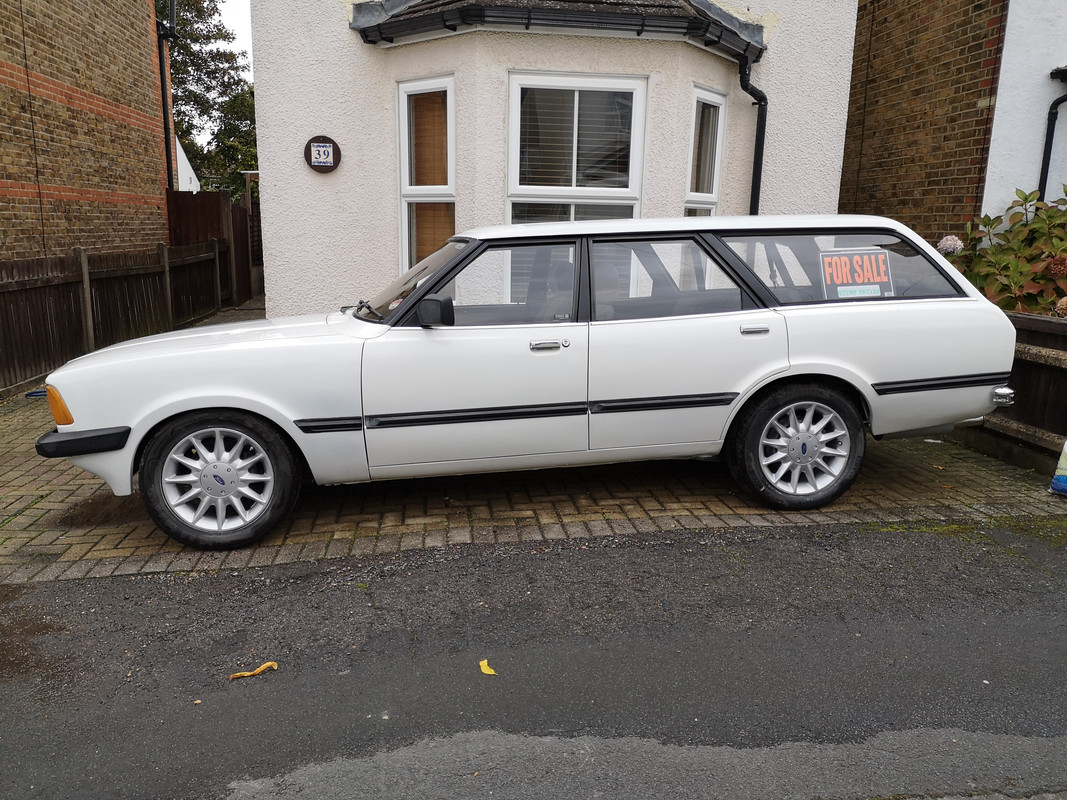 • Ford Cortina Crusader Estate
• First Registered 29/01/1983, so one of the last Cortina's
• Long MoT – expires 3rd June 2020 (no advisories)
• 88,000 ish recorded miles (not verified, but MOT history on
www.check-mot.service.gov.uk
goes back to 2006 when the mileage was 35,000 so it may well be genuine).
• Re-sprayed and extensively re-built about 3 years ago, since then it has done very few miles and was in storage for 2 years with the previous owner.
• Modifications included: re-built 2.0 litre Focus ST170 engine fitted, new silicone hoses, Type 9 5-speed gearbox, new clutch, 4 branch manifold with custom made big bore stainless steel exhaust, Weber down-draught carburettor, new alloy high-flow radiator with additional fan, custom made prop shaft, conversion parts supplied by 'Retro Ford', poly-bushed throughout, slightly lowered springs and adjustable 'Gaz' shocks, 15 Ford alloys with good tyres, LED headlights, Capri front grill etc.
• Quite a well-known car among Cortina fans and the last few owners were Cortina Owners Club members.
• Registration number independently valued by 2 companies at £400 (SGL 64Y)
• Original velour interior in very good condition.
• Current V5 in my name.
£3995
REDUCED TO £3495ono
SOLD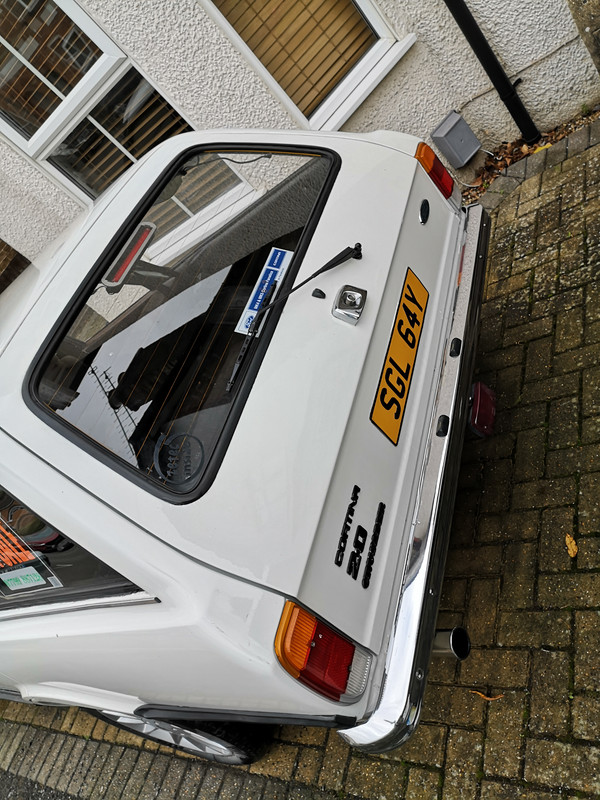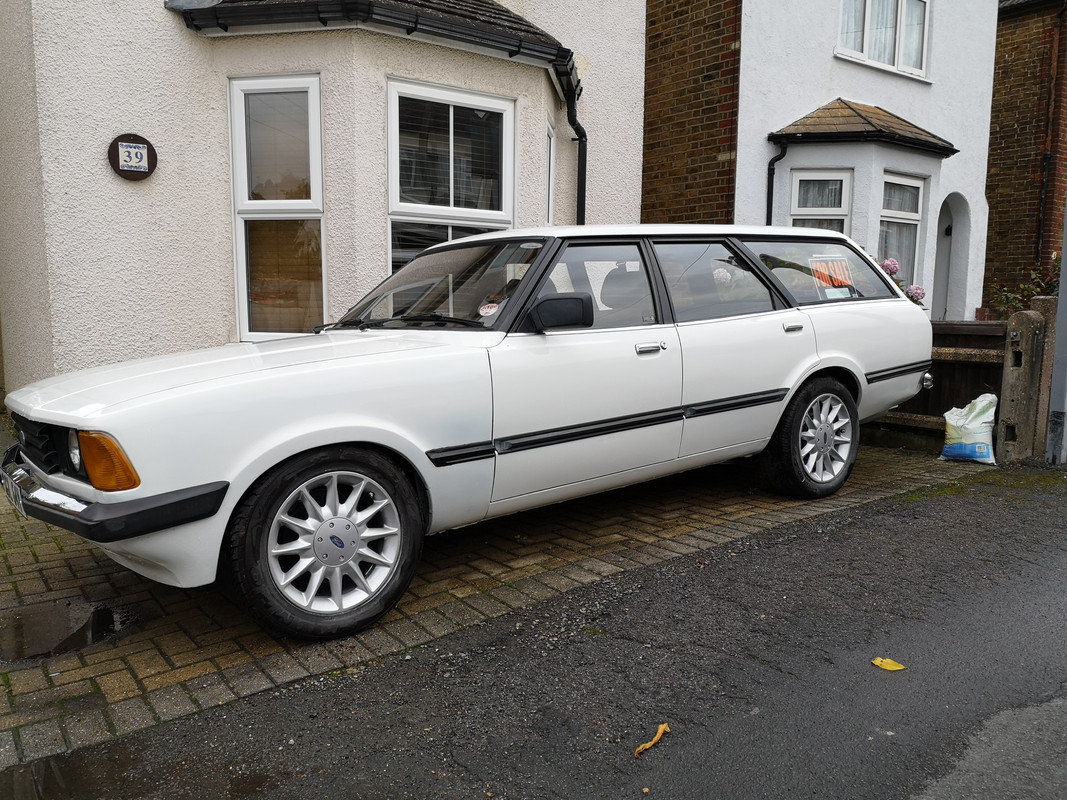 Bodywork appears good with no visible rot or rust. It was painted about 2-3 years ago, and while it's not the best paint job I've ever seen, it's not the worst either and more importantly no rust has come though since being painted so it must have been in good shape and prepared pretty well before painting. The guy who did the conversion has sent me a number of photos pre-paint so you can see he did a thorough job, front wings were replaced then with good second hand genuine Ford ones.
After the conversion work in around 2016 the owner put the car up for sale. It was bought by a guy living on the South Coast who only wanted to use it as a donor car and to remove the drive-train for a Ford Escort project.
The Escort project never got going so earlier this year the chap took the Cortina out of storage and put it through an MOT in June this year (it failed first time on just an insecure brake line – passed 2nd time with no advisories).
I saw the ad for the Cortina earlier this year and to be honest it was a bit of an impulse purchase.
I collected the car near Southampton and drove 55 miles home on the motorway at motorway speeds and the car behaved perfectly. I suspect the ST170 engine is actually better on fuel than the old 2.0 it replaced, as well as being considerably quicker!
The interior of the Cortina is in good condition and is a nice place to be, the seats are huge and comfortable and being an Estate it is huge inside. It has rear seatbelts but no stereo currently fitted (removed by the previous owner).
So what's wrong with it?
Basically, not much, except my wife hates it and refuses to drive it (thinks it's too big and heavy with no power steering). That said, I've not really warmed to it either – I've owned a lot of cars and some you love instantly, some you just don't – this comes into the latter category for me. I also want to cut down the number of cars I own ( 5 currently, I'm also planning to sell VW T4 Camper and my Jaguar XJ8).
The rear bumper is from a Mk 4 Cortina, not a Mk 5, but it does it's job and looks ok.
After a few days of running around I noticed that the fan no longer kicked in when sitting in traffic. It was working when I bought it. I took it to my local mechanic who ended up replacing and tidying up much of the wiring and adding fuses and relays where they had been left out.
My original plan was to replace the headlights and wheels with standard items to get it even more 'stock' looking and to replace the missing 'Crusader' decals on the sides and bonnet. All these items are easy to find on eBay etc.
In summary, this is a good solid Cortina Estate and becoming quite a rare car. It also has the advantage of the ST170 engine and gearbox conversion and all the other work which went with that, making this a really cool car. It's not quite old enough to be tax and MOT exempt, but I got classic car fully comp insurance on it for around £120. Cortina prices are rising.
I think I've priced this competitively for a quick sale at £3495.
I'm just looking to get some of my money back. I'm in Woking, Surrey if you want to view the car.
I'm not looking for a part exchange or swap, unless you have a good condition 70's or 80's trail bike like a Yamaha DT175 or 250, Suzuki TS185 or 250, Superdream or Yamaha RD etc.