&nbsp
Never was a huge fan of cats - they always seem really compromised for living accommodation unless they have a really fat mid section and then they look like greenhouses on pontoons
Good luck with the rescue it's a worth cause
Thank you - it is indeed a strange looking beastie & certainly looks better from some angles than others. Most of the modern cruising ones do look very over bodied, but this is due to the very high bridgedeck. The 1979 Prout Snowgoose 37 in my previous post is full accomodation, but carries the bulk well compared to pretty much all cats of its size & age, and also many later ones due to a lower bridgedeck (with nacelle to break waves), and also due to very good control of the coachroof surfaces to trick the eye. Accommodation is much more limited on this one though, with just five berths down below but the plan is to sort out a deck tent for the cockpit to allow space for two more as it is shared between mine & a relative's family. Whilst definately not as spacious as a modern 31' cruising monohull, it has a much bigger cockpit, vastly more deck space (even if we don't set up an aft trampoline), can also dry out easily & is much faster.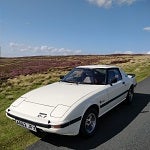 Looking forward to seeing how it progresses, will you be painting or going gelcoat?
It will be painted - it has been painted for decades (possibly always) & whilst there aren't that many layers still remaining as most were stripped off during previous repaints, the bridgedeck & front wing are sheathed marine ply (these are the areas that have also needed repair).
Regarding the blocks, whilst some of the modern ones are roller bearing, as far as I can tell it was more a case that the Tufnol style went out of fashion / was easier to make usig other methods than the sort of technological advance of drum to disc brakes. They are certainly robust though & my late grandfather's Prout still had most of its Tufnol fittings intact when my brother sold it two years ago & this was on a boat that had been used all year round for the vast majority of its 40 years. I think that some of the blocks on my uncle's boat may be the modern internals with wood casings type that you mentioned however I suspect that they will be much more expensive compared to normal fittings.
Anyhow, I really must start writing some proper updates...