&nbsp
I tried to look, if there was thread for something like this but couldn't find one. I don't know if it's of any interest to anybody but here are some of the retro cars, I've owned in the past.
First there was a '72 Opel Ascona A, that had a 2.0 CIH with Bosch Jetronic injection fitted. I got my license in 2001, and this was one of my dream cars back then. Didn't do much to it, and mainly just cruised around in it from dawn to dusk. I guess this has happened to a lot of you folks, but selling this car was the biggest mistake I ever made.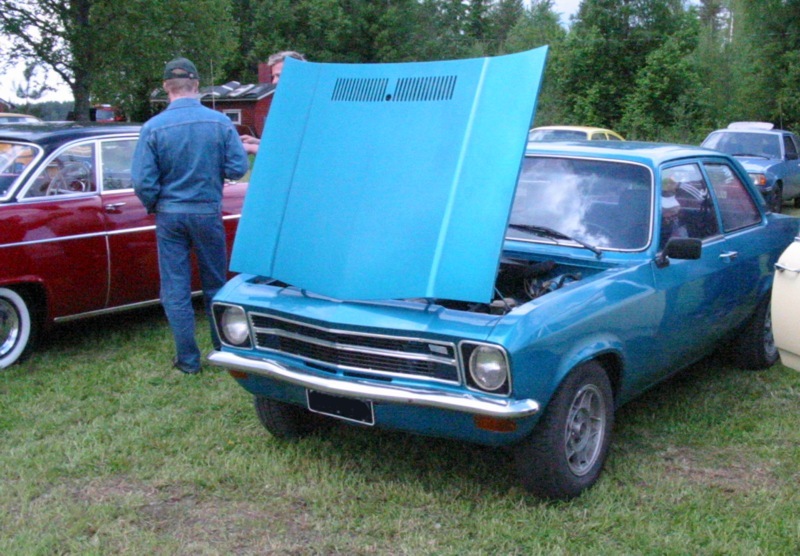 After the Ascona I had a black, mostly stock Opel Manta B GT/E, of which sadly no photos remain. I drove it for a few years, got more into competing in enduro, and motocross, thus the car stuff got put on hold. After my "career" in dirtbikes, I did a tour of duty as a peace keeper in Kosovo. So there was lots of time to dream about cars.
I then got back into it, and this time it was the American variety. I had always lusted after an American muscle car, but a luxury cruiser was what I got! It just so happened, that the production manager of the machine shop I started working for, had a mint '63 Buick Riviera. I had just gotten a loan for my own apartment but surely there was some more to be had, to be able to buy an old car. Being young, and eager I hadn't even driven the car before I said yes to buying it. The production manager, being the responsible adult he was, made me drive it first. It was my first time at the wheel of a big American car, and it felt weird. It also felt so cool, and I had to have it! So I bought it and enjoyed it as it was. The car was totally original, and in really good condition.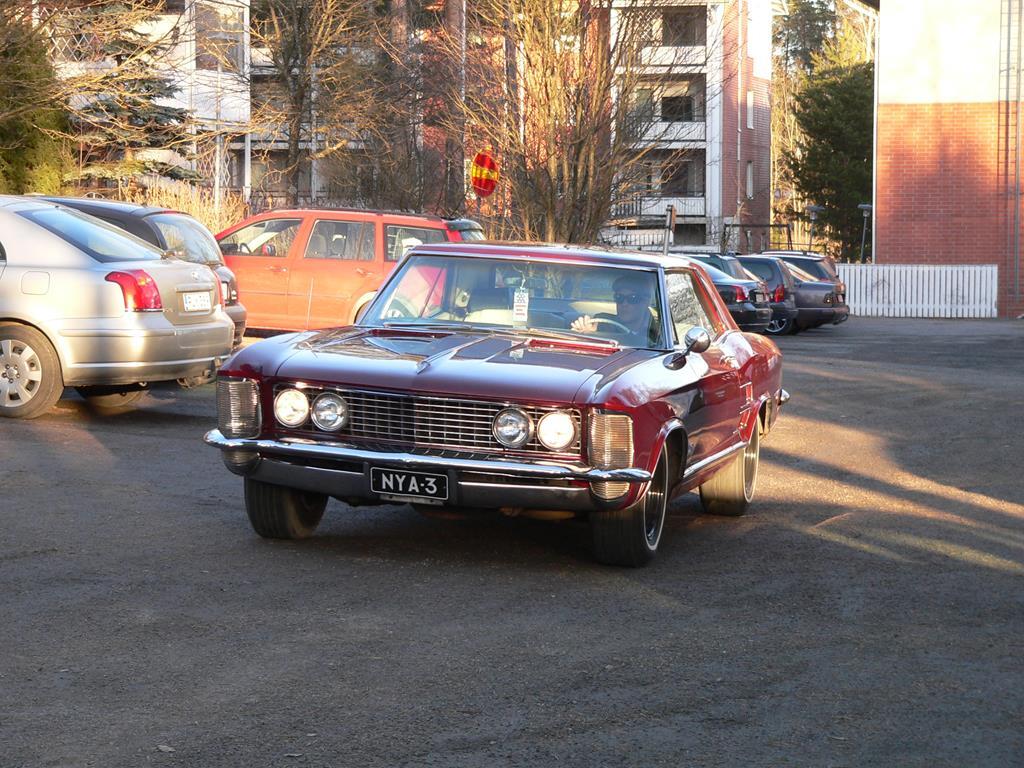 That was also, what started to bug me after a few years. I wanted to customize it but had the sense not to, so I started looking for a muscle car that I've always wanted. So I made the only sensible thing I can think of. I swapped the mint Riviera to a ratty '72 Pontiac Firebird with a wheezy 301 V8. Later on, the car turned out to be a rust bucket, and I should have known better at the time too. The thing is, again I was young and eager (for how many more years now?!), and finally I was at the wheel of a true muscle car.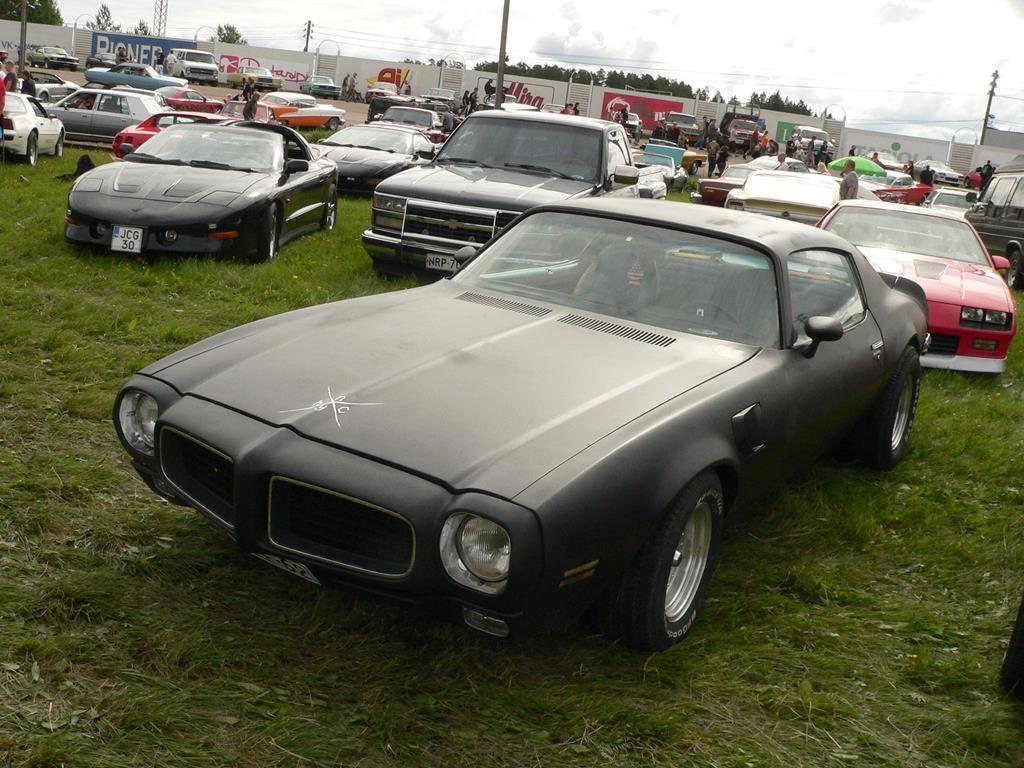 The perfectionist (idiot) in me wasn't satisfied though. I had the lingering feeling, that the body of the Firebird might be hiding some rot under the coat of that matt black paint. Also at this point, I was really optimistic about my own abilities. So I blew up the car, and started working on it. I guess it wasn't in no worse condition than most of the cars from the 70s but there was a lot of rust, and bondo. Yeah, a LOT of bondo.. The white powder flew everywhere as my angle grinder got to work. The rear bottom quarters had no sheet metal in them, only bondo. I was gutted but still I soldiered on, and actually did a lot of welding on the car. I fitted a 2nd gen Camaro tail light panel on the Pontiac, as I thought it looked cooler, and it was something like $350 cheaper than the Firebird panel at the time. I then built a healthy 355 CID small block Chevy to go in it but then I just gave up. I guess the Pontiac was my first lesson, in how you should keep a cool head with old cars. I'm not sure, if I still have understood that lesson completely but I'm getting there. Eventually, I sold the car as an unfinished project, and then sold the engine separately. I lost money, and was devastated. Here's some photos of the disaster.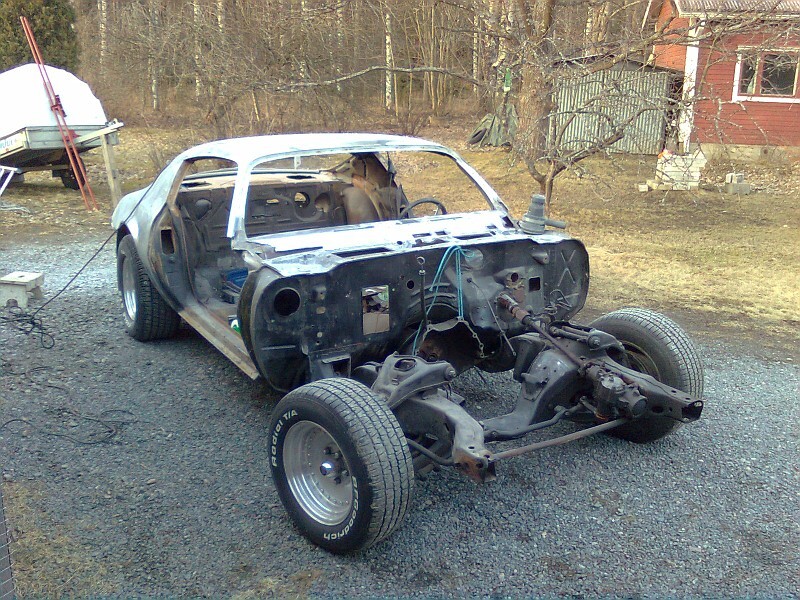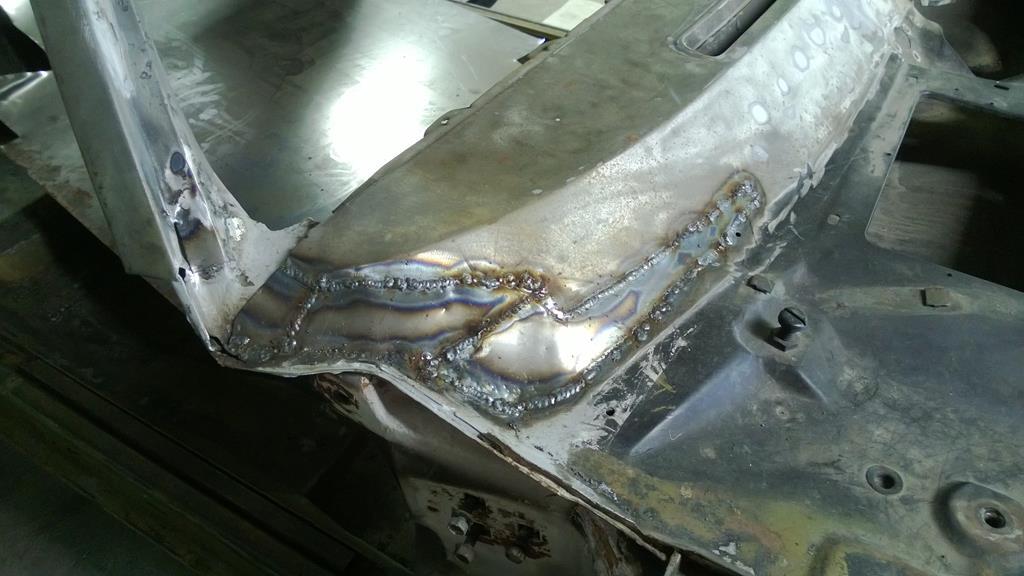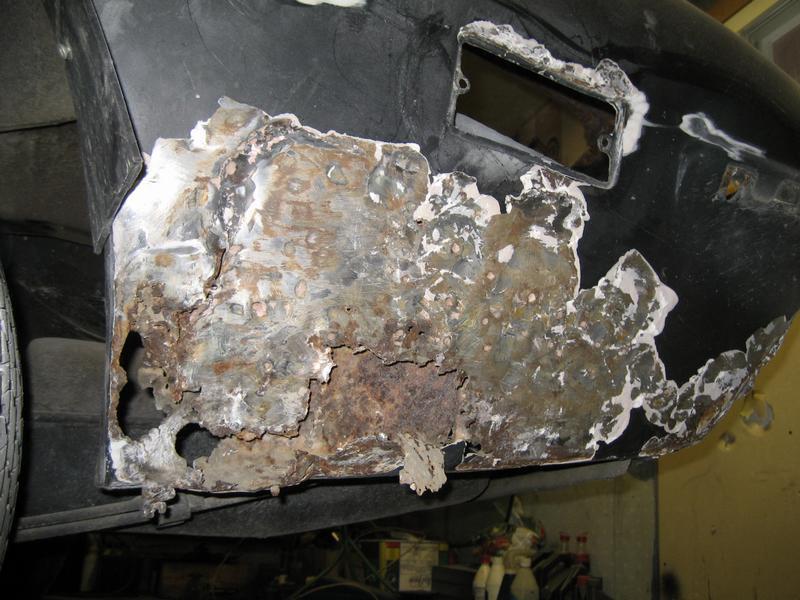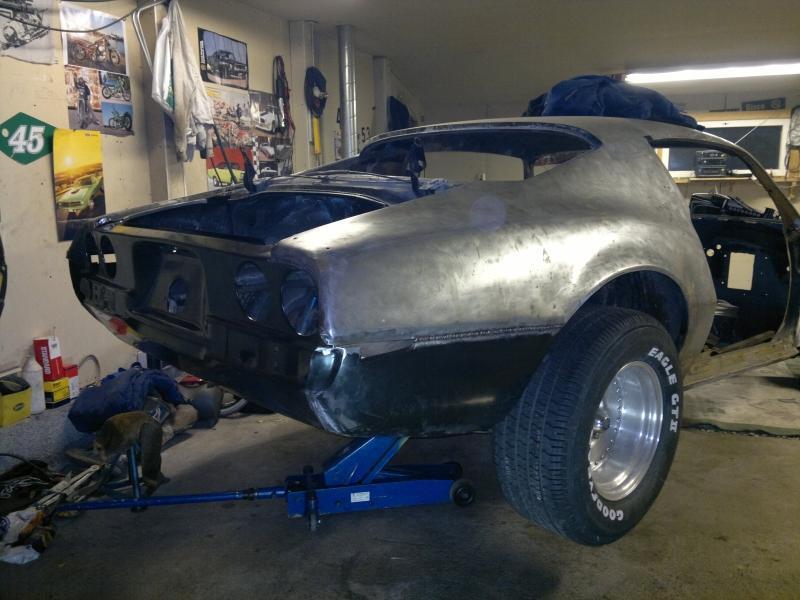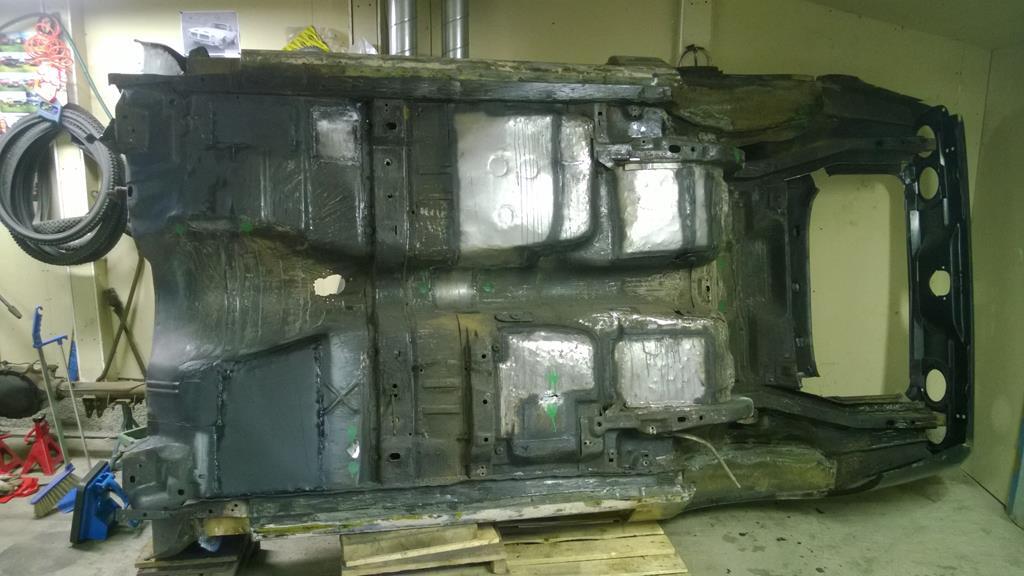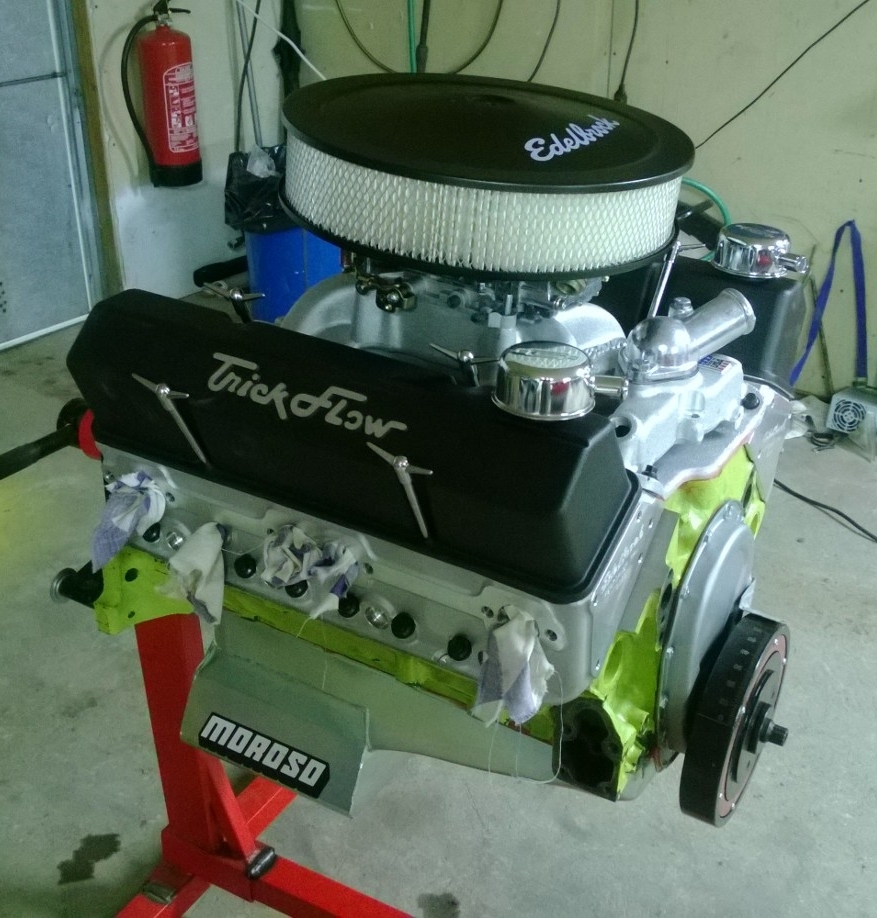 The new owner finished the project, and the car turned out great. It has some 500+ CID big block Chevy with nitrous on it now, and it's back on the streets. While I still had the Firebird in pieces, I tried to console myself with other retro cars. First up was a '67 Opel Rekord C Coupe. Looked good on the outside but someone had done a 2.0 OHC swap on it, and hadn't executed it with finesse. The car worked well enough, and I drove it around for a while. At the same time, I had a black Chevy C1500 pick-up with a 5.7 TBI V8 + TH700 transmission as a daily driver. It was lowered with a Belltech kit, and it was a really fun car, especially in the snow! Sadly, no photos remain of that car.
Here's the Rekord C though.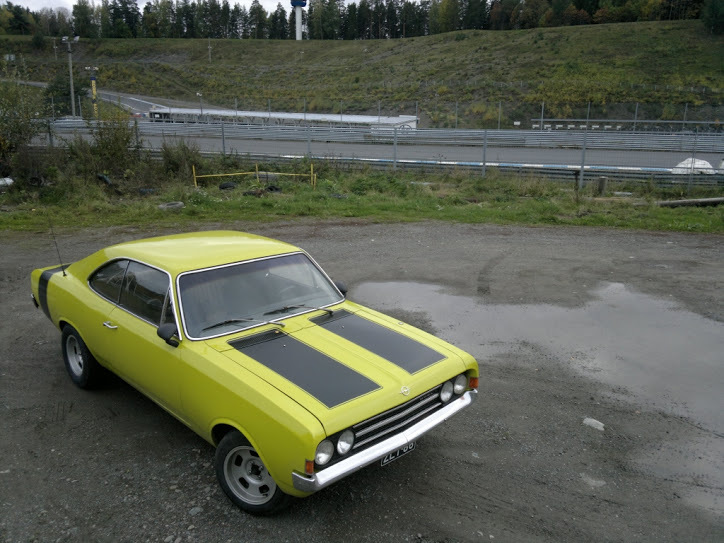 I then got into motorbikes, and customised an '81 Suzuki GSX 750 to look like this.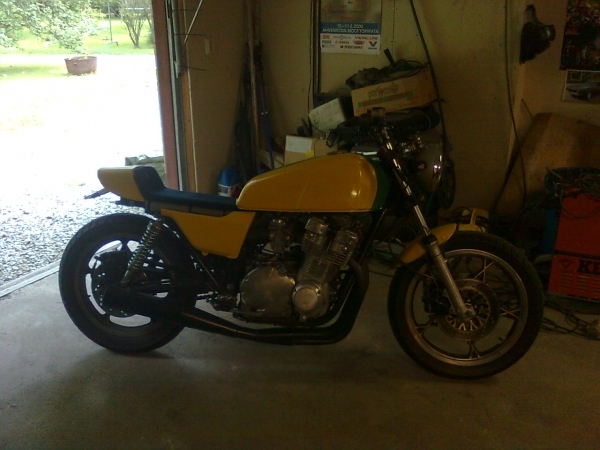 Sold it, and got a '75 Harley "Ironhead" Sportster. It was pretty wild, being a hardtail with a girder fork, hand shifter behind your butt with a clutch lever attached to it, and no front brake. Once I had the rear drum brake split in half on one of my rides, I quickly fabricated a front brake from a motocross bike on it. I customised the bike to many different forms but mostly, in the vein of 60s to 70s style psychedelia. I kick myself for losing many of my photos over the years, and all I have left of the Harley, is the photo from the day I bought it.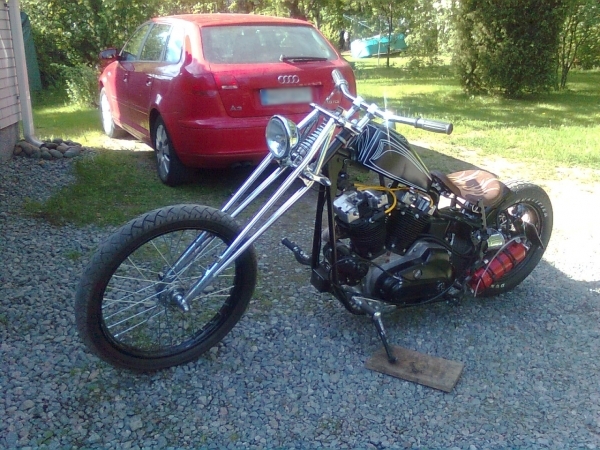 Once I had my fix on two wheels, it was time to swap the Harley for a '65 Pontiac Tempest. This was not exactly a good car either. It had the basic 305 CID Chevy V8 in it, mated to a TH350 autobox. It was originally a four door but someone had made the conversion to a two door, probably as early as in the 80s. The conversion had been done well but the more I looked at the car, the weirder it looked. The roofline around the C-pillar is different in the four door, compared to the two door so It didn't look quite right.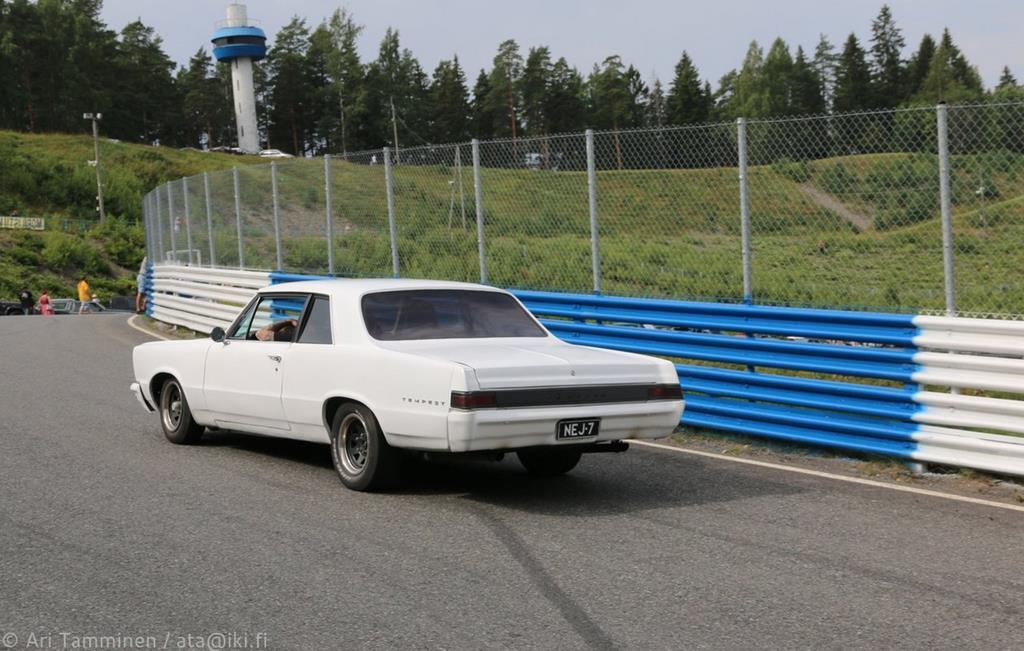 The car also rattled a LOT, because all of the bushings between the body and the chassis were totally shot. Someone who knows how the body is bolted on the chassis on these old American cars, knows what it takes to swap the bushings. It's not an easy job, I can tell you that. Didn't have the interest so I sold it, and this time believe it or not, I made a really good deal.
Having gotten rid of the Tempest, I focused all my energy on making the
Manta B
I have now, the best car I've ever built. That, and I was on a mission to prove myself that I have what it takes to finish a big project like that. Something that had been a lifelong dream of mine. To strip a car to pieces, and use it as a blank canvas to realise my vision. I did that, and because of that I have a lot more confidence in myself, when it comes to messing around with car projects.
I guess you need a few wake-up calls before you have the humbling experience of realising, that doing this stuff is hard, time consuming, and costly. I know I learned the hard way, and it took many years of beating my head against the wall.
Well, I don't know what's the point of this story. There might not be one, and I'm certainly not special because of it but there you go. Hopefully this is of some enjoyment to somebody.