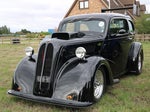 There is no add pictures button and no full reply function either? Tried it in desktop format as well but still no options?
Yes, I have to go to the desktop version to do those too.
Oddly, on the mobile version there's a "profile" tab which shows "notifications" with a little number, but that's not on the desktop version.