Afternoon guys and girls. We've had our house for nearly 2 years now, and moved in last Christmas after a pretty extensive (and expensive!) renovation.
A big part of the appeal for this house was the large garden, meaning I could take up a lot of it with the garage but still have a nice sized garden area to enjoy when I'm not messing with cars.
Probably going to be saving for a while yet, but I'd like to get the wheels in motion come spring, so now's the time to start planning.
This is how the land currently lies: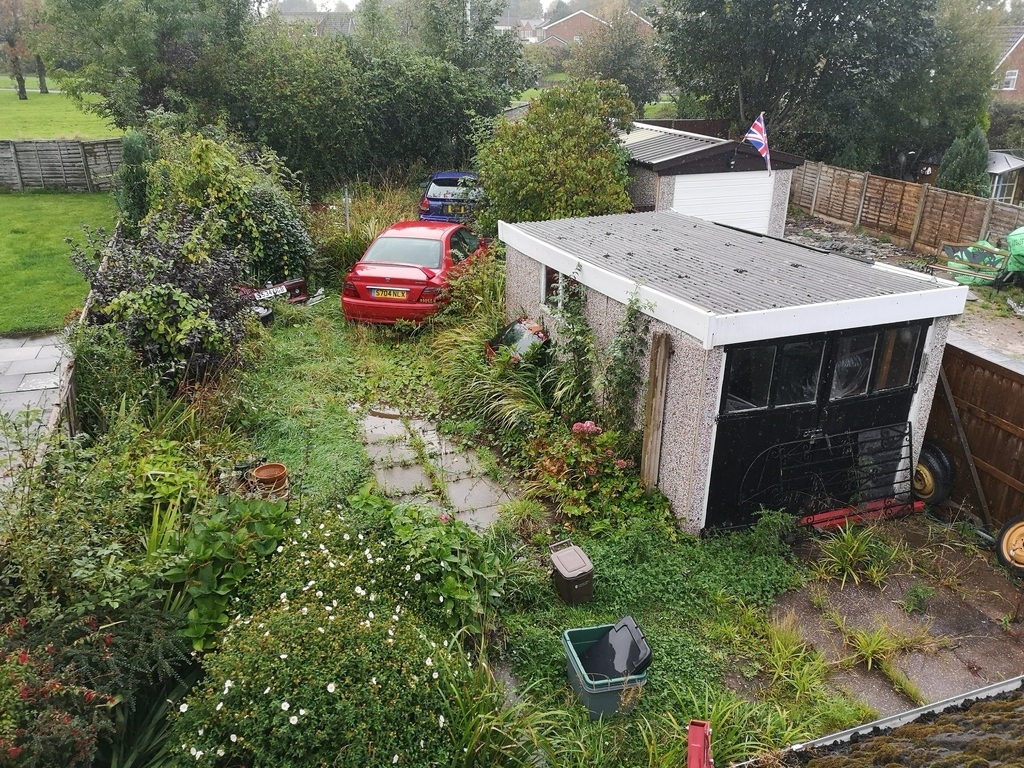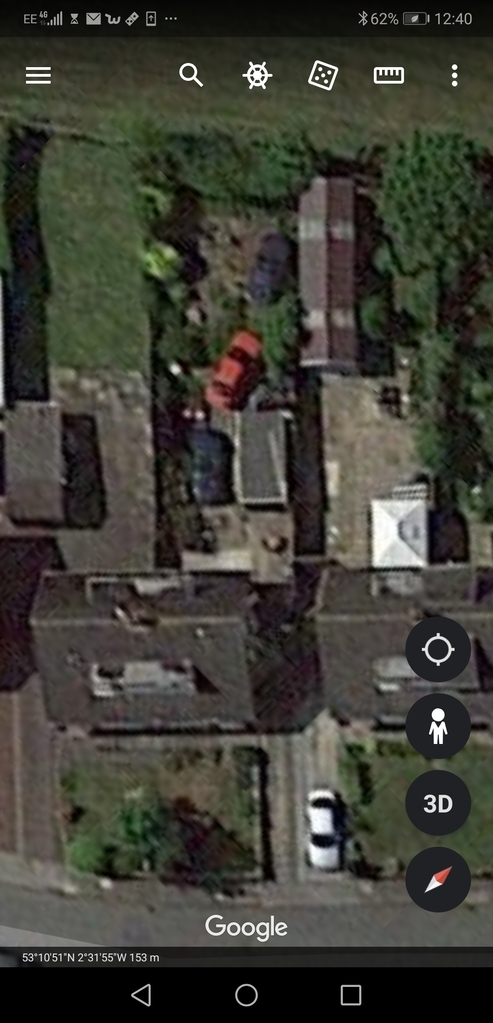 Excuse the mess and overgrownness, not much point keeping on top of it as it's all gonna go (except the cars) and it'll pretty much be levelled. The current garage is no use - way too small, too narrow (could maaaybe get a car in but no room to work on it) and it has an asbestos roof. That's another whole issue in itself (I've developed quite severe contamination OCD as a result of this, I filled it with all my junk before starting to worry about asbestos, so now don't know what to do with all my stuff inside, which has been in there gathering dust for 18 months. Don't even want to go inside and clear it out, let alone reuse any of the parts that are inside. I'm currently receiving therapy for it amongst other stuff, but no matter how many times I hear that it's safe unless damaged, I just can't do it. But as I said, that's a whole nother story.)
Enough about my fried brain, this is what I was thinking: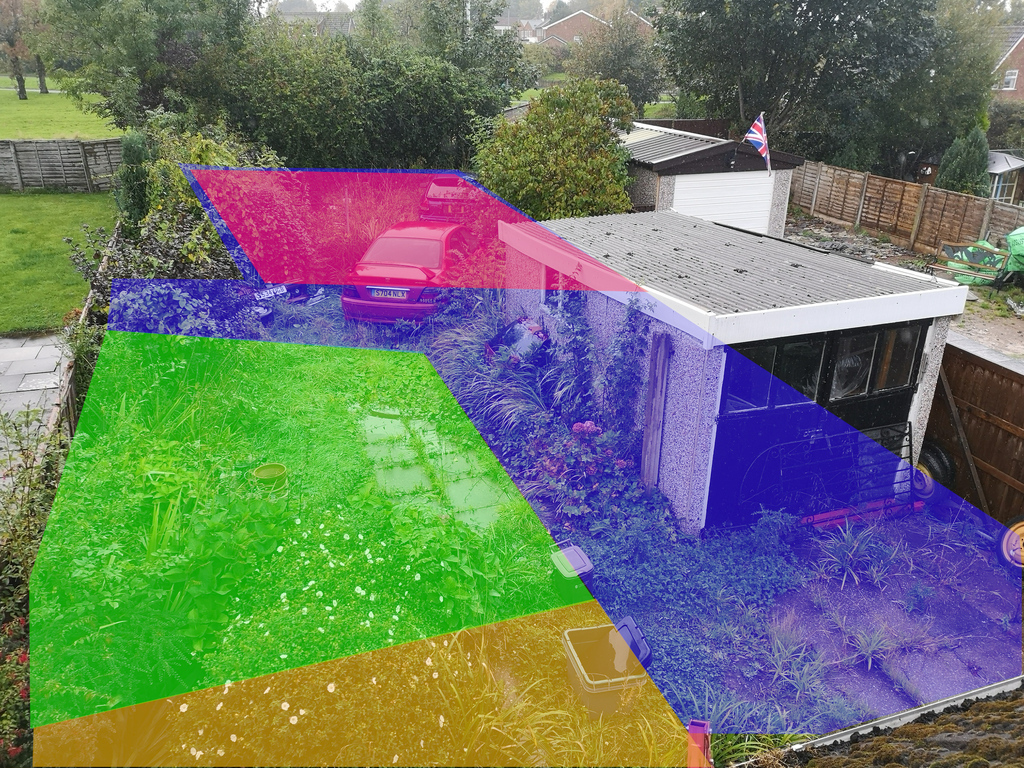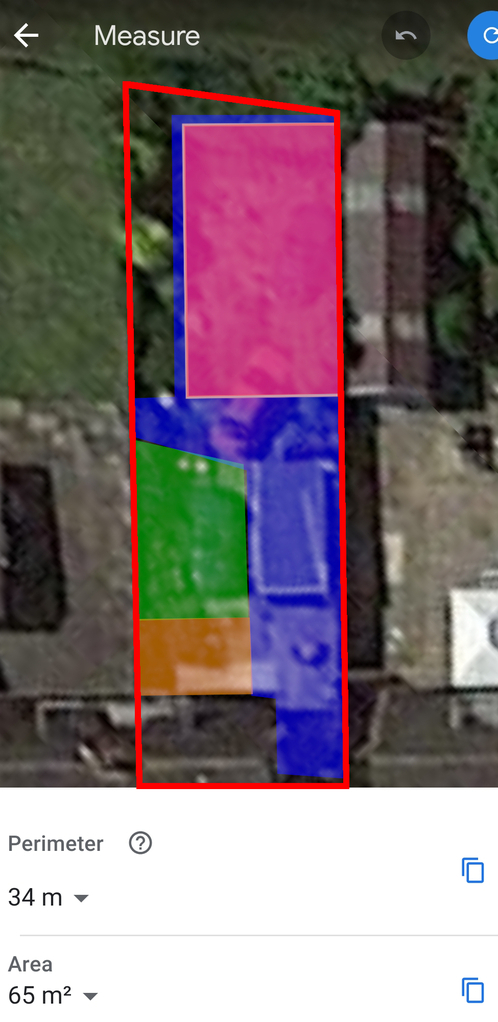 Orange - Patio/Decking/BBQ type area
Green - Lawn/plants
Blue - Concrete slab for garage foundation/driveway
Pink - Garage
The garden is approx 8m wide and 23m long from the kitchen window to the back fence.
This would put the garage at approx 11x7m. My biggest car is 4.6m x 1.75m, so I should be able to get 4 cars in (2 rows of 2) plus have a bit of work bench and storage space at the back. It'd leave around a metre between the side wall of the garage and the boundary fence to next door. This could be used for storing stuff like wheels, and if we build a roof over this section, a lawnmower and other garden tools. However it seems a bit daft to use this space in this way, maybe I'd be better just having the garage take up the full width of the garden and having that stuff stored inside?
This would leave the footprint of the garage looking something like this: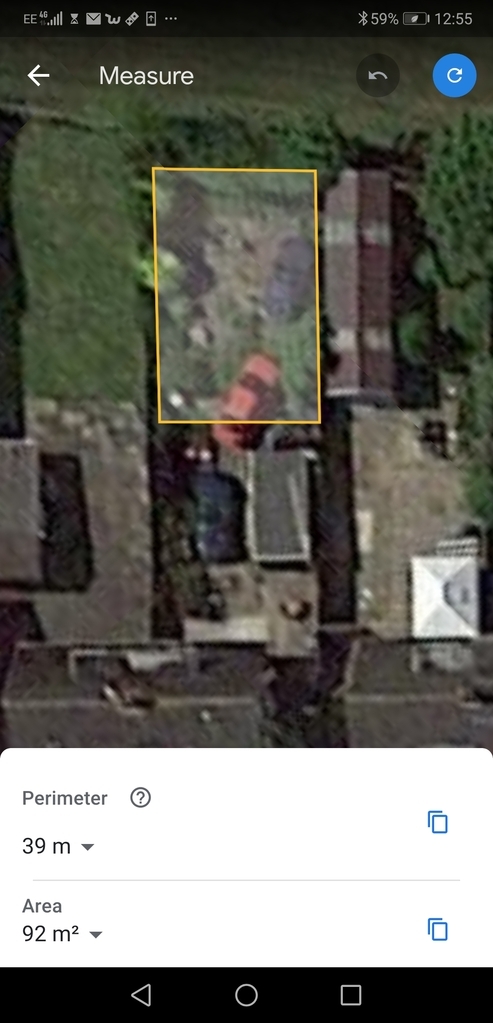 I've added a bit of length too because why not.
Some context to explain what I do/don't want:
I'd like to avoid planning permission if at all possible, so it needs to be of 'temporary/portable' construction. Timber is the obvious go-to for this, but I'm concerned about the fire risk, my worst nightmare would be to lose everything in this way. I know fires can happen in any garage, but to have the actual thing constructed from a combustible material seems a bit risky for me. I'd like to have it useable all year round, so ideally it'll retain heat well and I can turn a heater on an hour before entering and not need to have it on constantly whilst in there in winter.
Metal seems the obvious solution, it's not as nice looking as timber but it's not combustible and I'd expect it to be cheaper overall, if construction is from bolt-together girders and steel sheeting.r I assume there are ways of double-skinning and insulating this type of construction?
Does anyone have any suggestions that may improve my layout, or advice on what materials to use/how to avoid needing planning permission?
And I know it costs as much as the length of a piece of string, but does anyone have an approx idea of what I'd be looking at spending? I don't want to borrow any more cash as I've just paid off my part of the house renovation. Doable under £10k?