And here she is... the much vaunted 1981 Toyota Starlet KP61 Lisse (a spec level I assume, from what I can gather she was the top-spec KP61 in it's day!). Known colloquially (at our place at least!) as the KPimp. It's a Japanese market KP as well for those wondering about the bumpers and the front grille!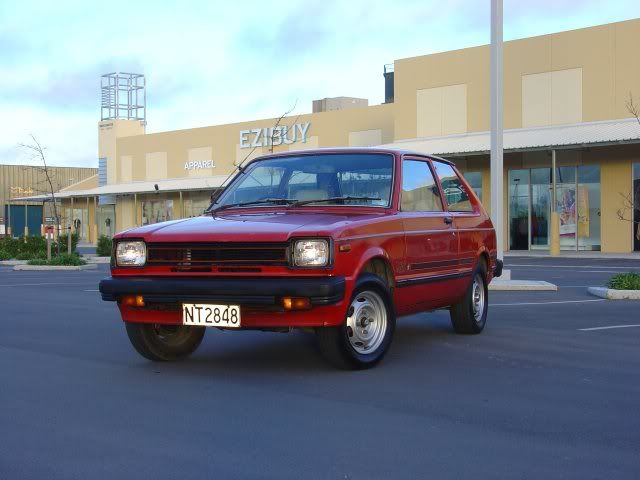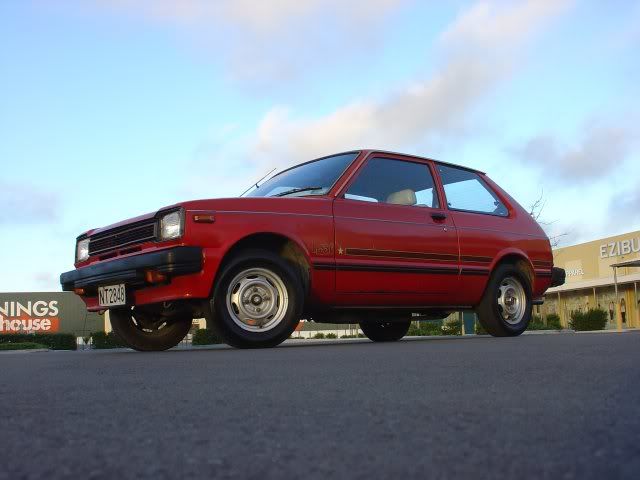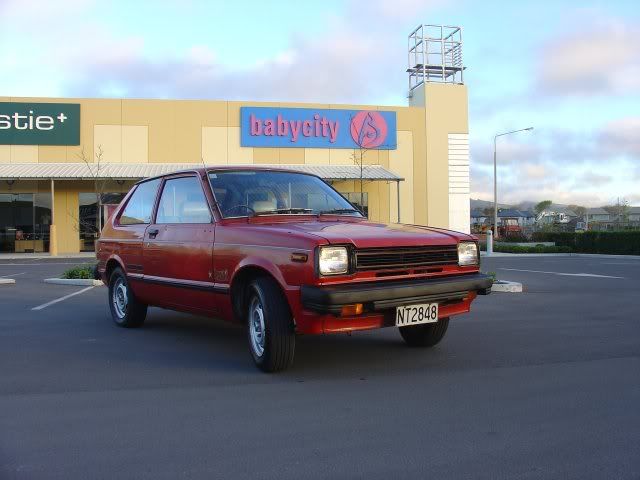 So there she be.... all $490 dollars worth of cult-classic J RWD Econohatch. Motovation is provided by the perennial 4K pushrod engine, in the case of the KPimp it's a 4K-U, U being the designation for J emissions package... however this is also the most powerful of the carbied 4K engines with a reputed 74hp. Due mostly I would think to the heron-head combustion chamber design, the higher compression and so forth... the 4K-U also has a stronger bottom end (or so I read) than garden variety 4K's. Soon to receive a freer flowing exhaust courtesy of a parts car I've scored. She runs a very sweet K40 gearbox, great for round town work, sadly not-so-great for open road stuff as it's noisy and generally plop.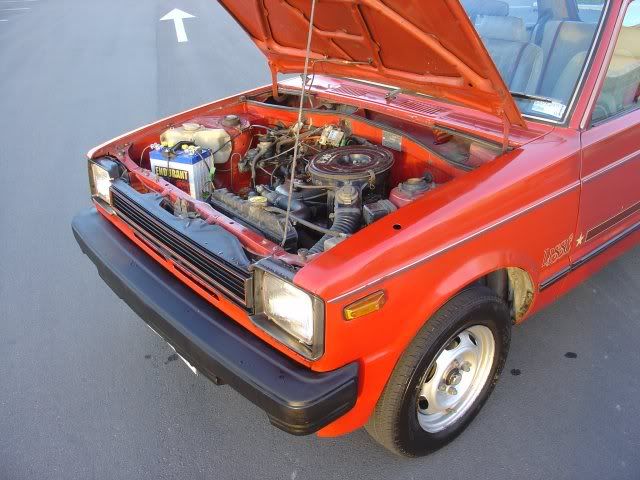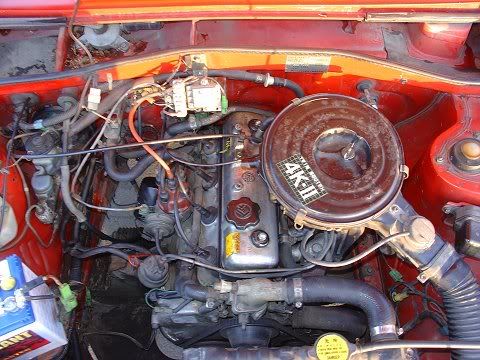 Inside the KPimp showcases the very feature's that contribute to it's name... the rich, enveloping white velour/vinyl and maroon interior. Truly this is the interior of the kings... albeit with added dirt from years of ferrying round Joe and Jolene average in the course of their daily chores. Unfortunately 1981's idea of an audio system is not by any means acceptable.... the only acceptable facet of said audio is that EVERY (yes... all 5! 5 presets!) preset is tuned into Radio Hauraki. Classic rock hard. Note the brushed alumnium trim on the dash - now we know where Audi got the idea's for the TT from... GO TOYOTA! Steering is controlled via a premium public-transport issue steering wheel, which at some point will also be binned in favour of something less plop. A tacho is also an addition I think I will require, to allow me to keep tabs on the fearsome 4K lest it slip from it's incredibly narrow powerband (I am yet to find said powerband, someone once told me it was actually there..... somewhere!).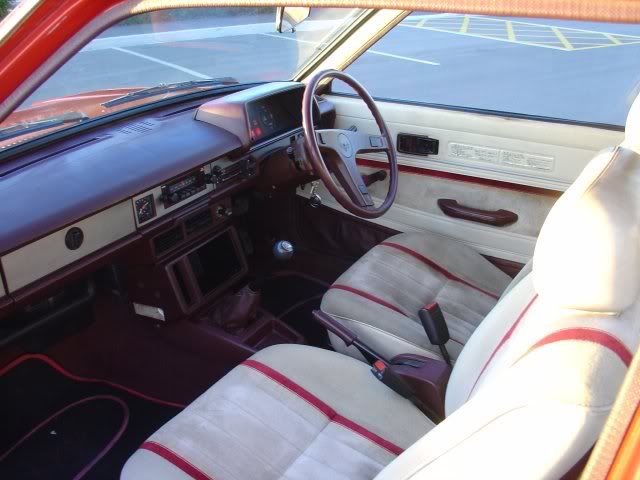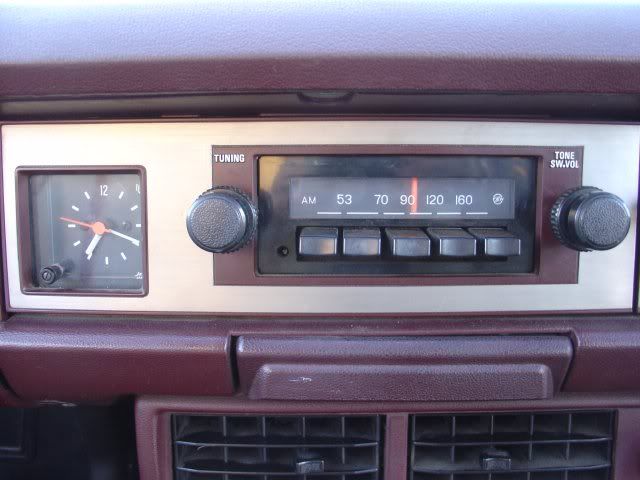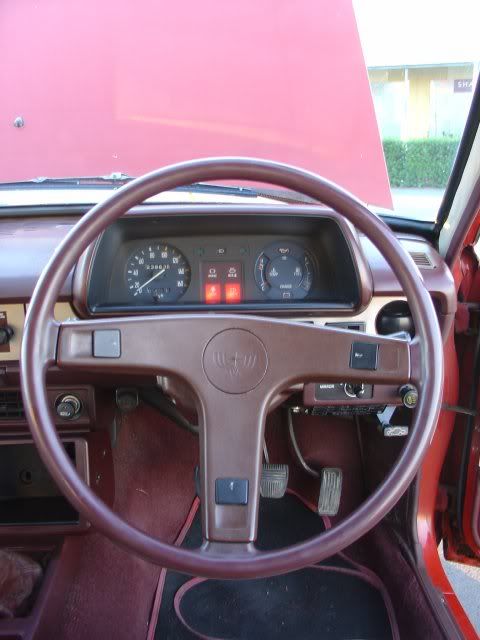 And here she is showing off here insides... filthy wee thing.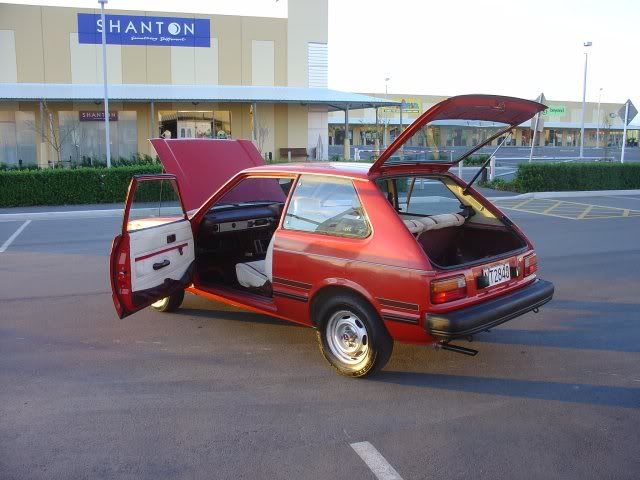 So.... what are my plans for this, the pinnacle of Toyota's automotive prowess? Well, to begin with, I'm sorting out a basic (read: cheap but reasonably effective) sound system.
The source unit will be (sale pending) Pioneer DEH-P6450, which my flatmate is kindly selling me for $120. This will send musics to my recently acquired Audison VR404 amp (4x45wrms), which I also acquired for $100. No LP or HP filter though so an electronic crossover will be in order... I can sort that cheaply from Jaycar with my super-excellent rates! I ideally want to run components in the front, so I've got my peepers peeled for something cheapish and half-decent quality... probably actually going to go for a set of the Jaycar kevlar coned 6.5" component speakers.
As for rolling stock, I already have a couple of options open to me... what, did ya think I was going to run around looking stock??? I just bought a set of SSR Mark I 14x7" rims off Trademe, ($100... there's a pattern emerging here) one of the early J 2 piece racing rims, stupidly light and very period! The parts car also came with a set of 13x6" Cheviot US800's... which are a tad bogan looking for me, but at least they've got tyres.
Here's the SSR's... (sorry about the pic I didn't take it!)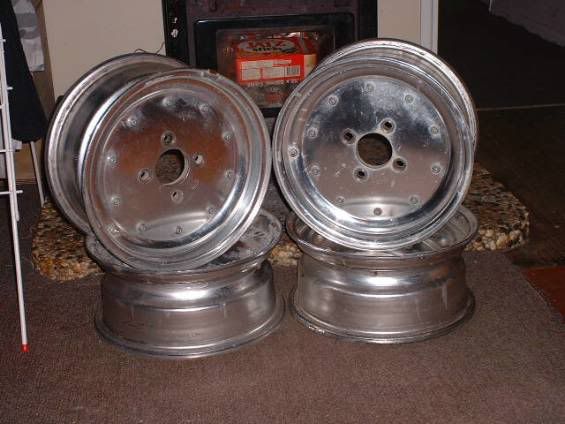 Anyways, that's the intro, I'll keep this updated with any progress! The best thing is, I'm not putting k's on the Alfa any more!
Cheers, and thanks for reading!