I thought it was about time I actually started a proper thread on my latest acquisition. Have a few pic's for now, there's a bit of a story with it but if I start on that this afternoon I won't get any work done: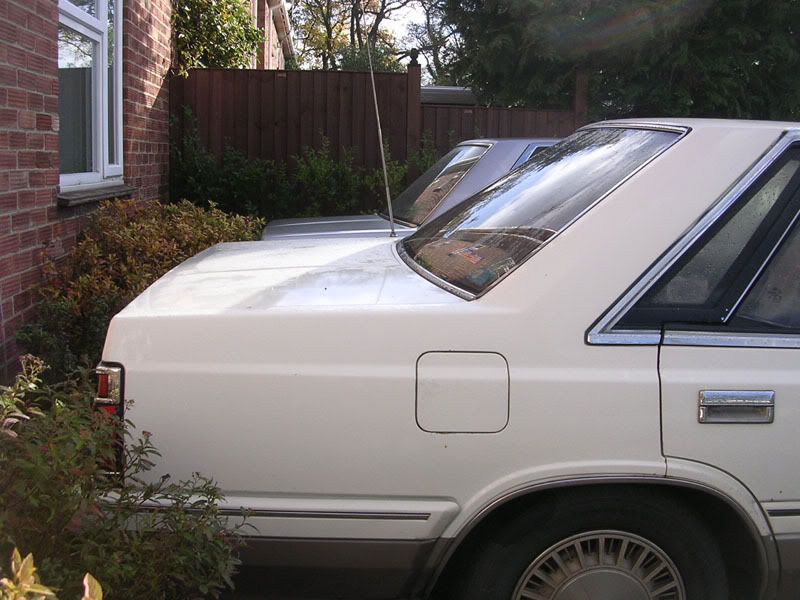 My dead UK pillared saloon in the background, showing that pillarless car has a completely different roofline it's not just a case of not having a B-post full height.
The 'gatepost' arrangement for the rear doors. It passed the MoT with no need for welding but there are odd bits of rust that do noeed to be dealt with. I wonder if those stainless sill covers hide anything?
The shots that amuse me most.
Current state of the dead car. Glad I still had it, has provided several invaluable bits.
Ah, the interior. Words can't do it justice.
Those foglights have covers which rotate round on little motors. One catches slightly and I'm not 100% sure if the bulbs are any good. They're the customary yellow. Note rectangular theme.
Subtle differences at the front too. Bigger and deeper bumpers and the grille extends up onto the bonnet. No headlamp wipers, unlike UK car.
Massive lights, all tail and brake not half-and-half. Most of rear bumper trim missing, hopefully that universal stuff should replace that OK.
Comedy 'window fallen off its runners' look.
I like to pretend I live here.
One for the Photoshoppers. Hirst has already had a quick go at it.
Still got the tailored and embossed mats, which even extend over the tunnel in the rear. Flare still there, Hirst has got me worried by saying these get changed every year yet this must have been here since at least 1996 when it was first UK registered.
What I found inside it. I'm no Guns n' Roses fan but the coins etc will stay. Anyone know what the other book thing is? At least there wasn't a wee sample bottle as I found I the other Laurel.
Marker lights on the wing tops.
Replacement bonnet badge which Kyteler very kindly sent me from NZ, where there seems to be a few of these.
What's under the bonnet. That's an RB20E engine, baby version of the straight-six range which goes up to RB26DETT in the GT-R Skylines. There's also an RB30 lazy version in some Patrols and Australian/South African Skylines. A naturally-aspirated RB25 would be a great upgrade, but I'm happy enough with the 130ps this smoothly churns out. Other technical things are that it's an auto (got overdrive, suits me fine) and has IRS unlike early UK car which has a solid axle. Yes, it's RWD (this was about the cheapest means of keeping an interesting, RWD, six-pot Japanese car in my life).
Finally, in better company the day Stuyizz and I collected it from R-Rer Manualtrummy.
Plans? Lots in my head, but in the short term just use it sympathetically over winter. A few chips, scrapes and minor bits of rot need addressing sooner rather than later. Its sits low enough to suit my taste, but the wheels might get changed – Utterpiffle has loaned me a set of Lotus rims. Or there's my slotmags! I do quite like the standard stainless trims though, nicer than the ugly alloys fitted to UK cars. An impending house move might delay even those limited plans, but this is something I want to keep for a while as it replaced my beloved 240K so eventually things may happen, just don't expect Slater-esque levels of activity!
Of course, I fully reserve the right to do nothing at all with it, just enjoy it. Not like I'm going to see many others about is it? Having said that, I'm keen to meet up with Billyfive and see his Chaser, which is an intriguingly similar car though his now has rather more attitude than mine.
Phew, sorry about the long post!