Just over a year ago, me and the family moved into a great house, big, plenty of rooms, plenty of garden, but only one 'little' problem.... A single garage! Given that my Mrs knows how I need my space, the plan was simple - move into the house, do any repairs that were absolutely necessary and decorate my little girls' bedroom, then when that was all done (and I stopped spending money...), I could get on and build my dream garage.
Currently this single garage (with attached coal store, it's an original 1927 garage!!) stands at the end of my drive: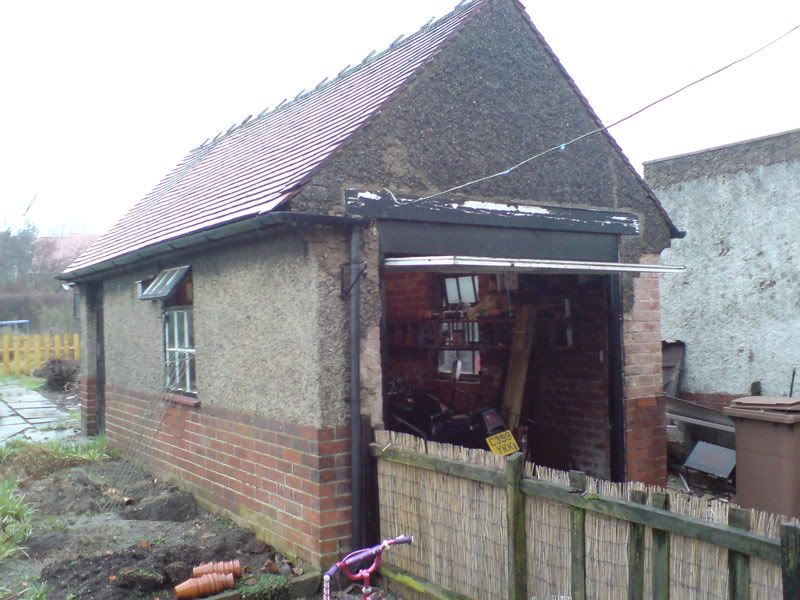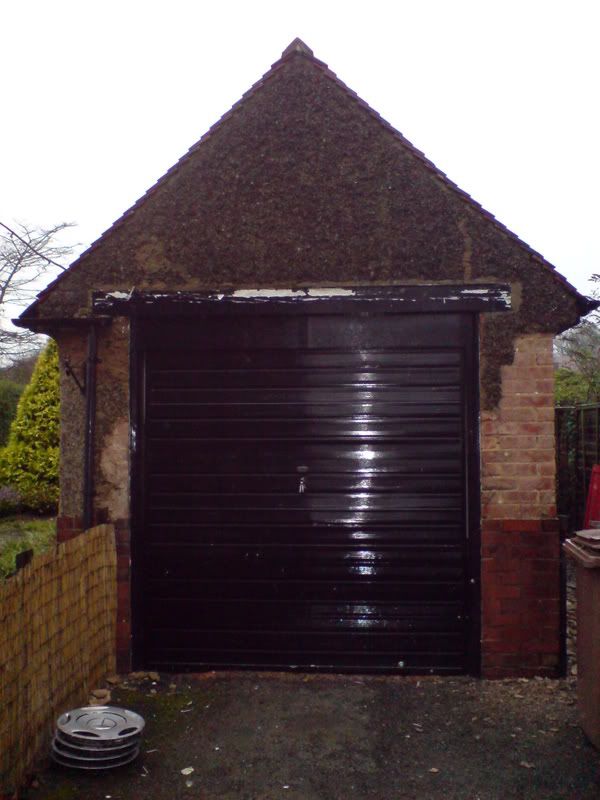 Although it looks a reasonable size, the attached coal house makes it barely big enough to get a mongdeo sized car in, let alone my Merc or truck!
The plans have been drawn up, building regulations have been approved, no planning consent is needed (the rules for where I am are that it must be less than 3.5m tall, more than 5m from the house and less than 50% of the garden!).
What I'm building is a 12.5m long, 5m wide garage/workshop. I'm going to build so that it looks similar to the old one on the outside in that it will be brick (hopefully re-using the old bricks) up to the waistline, then rendered above as it is now (matches the house). The top half will be built from block and it will be a single skin wall with pillars as oppposed to the current double skinned wall, so if my calculations are right, I should have enough bricks for my plan to work.
Building control at the council have specified it's got to have a suspended floor on top of (at the back end) 2.5m deep foundations! This is apparently due to the clay soil and close proximity of trees
It's gonna take 25 or so cubic metres of concrete for the strip foundations alone! Still, there's apparently no way of wriggling out of it (unless I halve the size of the garage so I don't need building regs, sub 30m2 outbuildings don't need them - and that ain't gonna happen!), so I've just got to get on with it!
Now, I've never actually built anything before in my life, but with the help of a mate or two, the hire of a 3-ton digger for a weekend, a 'bricky' tool and a lot of hard work I'm hoping to get it built this year, for under £5k! It's only like grown up building blocks, surely

Only joking, I know it's going to be difficult and a steep learning curve, but I'm pretty handy (and modest too

), so I reckon I'll be ok.
The work has begun today (in-between spraying my Mrs' motorbike panels in the house!) by knocking the render off the outside walls, so I can see if the bricks are good enough to be re-used or if I'll have to try and match some new ones up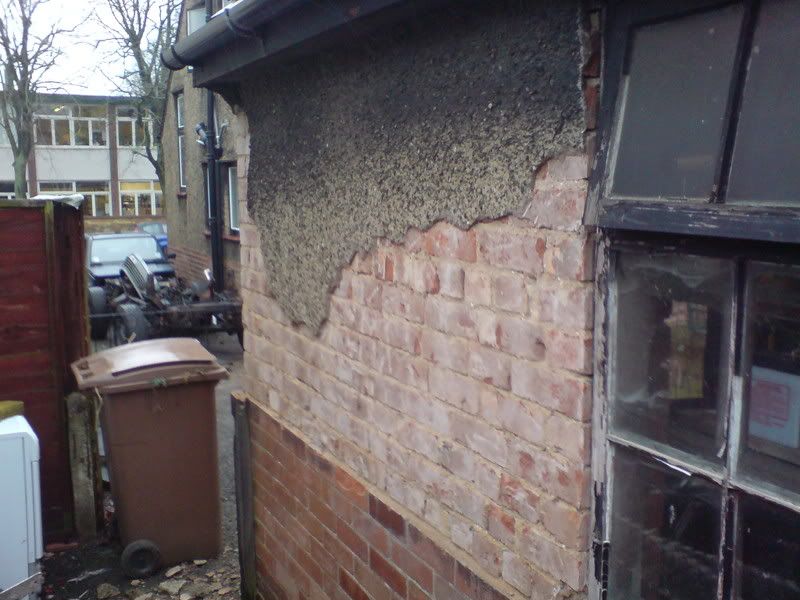 Progress will be slow, as I work full time, so can only really dedicate weekends/evenings when it gets lighter to it, but I'll keep it updated here as a 'build diary'. Hopefully it's sort of on-topic as it will be housing retro cars/bikes when done!
Cheers, Martin