I was a bit low about all this after the bank holiday as I had hoped to get more done. I wasn't able to do anything on Sunday because of rain and drizzle all day and I could only spend Monday morning on it and it rained then too! It came out lovely in the afternoon too when I had other commitments to keep. On the Monday I did get the spot welder out for a play on some scrap but I was getting poor results so I was pretty hacked off.
After work yesterday I thought I'd have another try but I was still getting poor results, I was setting everything up by the manual but it just wasn't working. I found a post on a Mini forum where a guy had suggested to someone else to ignore the book settings and to set the gap smaller and increase the pressure 'so that you have LOADS of tension'. Low and behold I got some decent looking spot welds out of it.
You can see the top half are the failed ones which were bubbling and blowing through. The bottom 8 are after adding more pressure...
Then I tried destruction testing by battering a chisel inbetween the sheets with a hammer...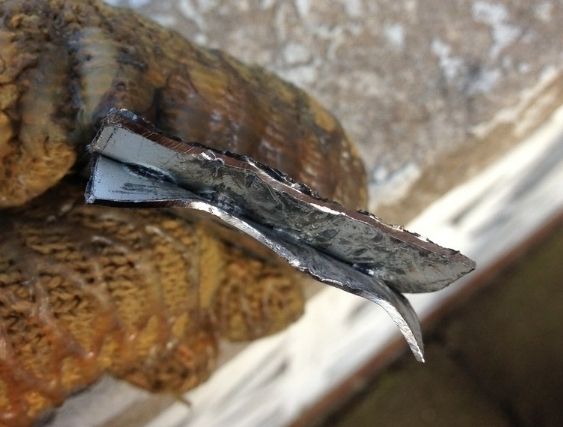 I couldn't separate them like that or by trying to peel them apart with pliers so I think they are good. Interestingly on the left most weld in the picture you can see how little the weld-thu primer has burnt off around the spot weld. It's only burnt back by about 1mm around the spot weld so it should provide some protection to the metal in the seam.
-Steve-