Had a fun little work project today I thought I'd share.
The customer wanted a new bow (the ring the chain fits to) put on this watch - you can see where it has worn over the years and become much thinner at the top.
The bow is kinda sprung into the stem of the case, located by the two lugs machined into it.
I'd not made a bow before but I took this on as I knew I had previously acquired the right tool, this funky little jem.
Around the flower shaped piece are several cutters that leave different sized lugs. Unscrewing the larger brass thumbwheel allows the flower to rotate and it is indexed to the right place using the pin (attached to the chain) that goes in from behind. The outer edge of each cutter has teeth that mesh with the larger gear and so turning the black knobed handle spins the cutter.
I formed the ring out of some wire I bought yesterday using shaped pliers and here it is fitted to the device. The sprung plunger locates it on the cutter and applies some cutting force too.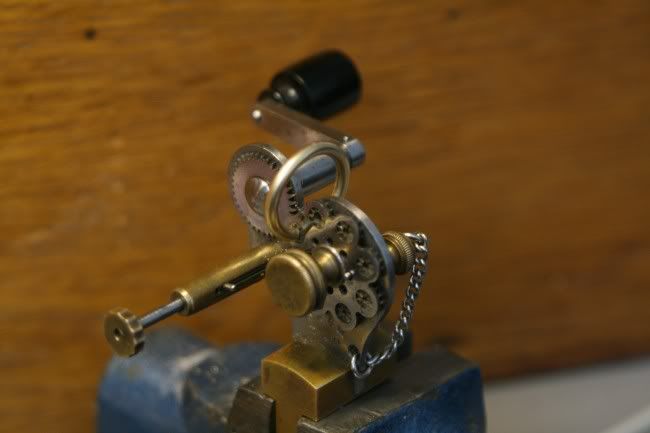 Ta Da! Didn't take much effort or time to make.
Cleaned the new bow up, removing any scratches from the forming operation, gave it a polish and fitted it back on the watch.
Hope it lasts for at least the 120 years the old on did