Hi,
I'm Richard from the Netherlands and this is my car.
I thought I would show my car to you car nutters on this great forum;D
Click on the thumbs for bigger pictures.
How I bought it back in 2006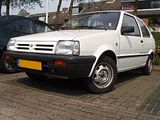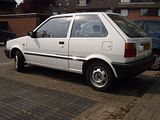 Nissan Micra Sail 1990 registered. Terrible basic apart from the striping, no radio, no tripmeter, only driverside actived interior light.
"Sail" is a event in Amsterdam for sail ships and Nissan did some special editions named after this event.
Futher specs include: MA10 engine carb, no cat, 4 speed, 64000km. I purchased it for 500 euro.
First modifications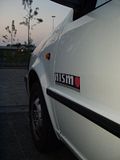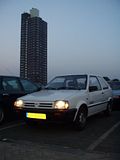 Removed all the striping (a b*tch to do) and added some Nismo decals (DIY), did a lot for the performance!

The Next phase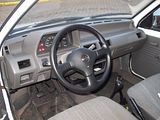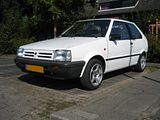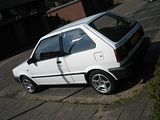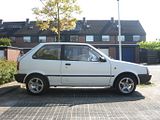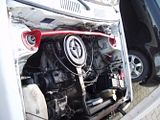 Put a 100NX steering wheel in it, gave a pleasent feel. It also improved the seating position. Great mod low cost and straight fit.
Then I bought a secondhand set of 6x14" BSA racing 187 wheels (offset 37/38) with 186/60R14 Continental tires and a Wiechers strutbar.
The rear tires rubbed when cornering very hard and when going over big humps, so I exchanged the tires for Bridgestones 165/60R14, looks great, more grip, better steering feel and no lost of comfort whatsoever. The standard 155/70R13 tires are really bad (even in Michelin form)
The body received some matt black detailling; B-pillar and numberplate area. The last mod also camoflage the ugly nipples, nice touch IMHO.
The Nismo decals were already faded away.(silly inktjet printer)
Milestone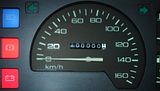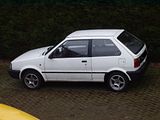 Done this in three years, never broke down (touch wood).
Suspension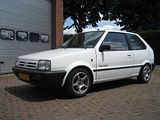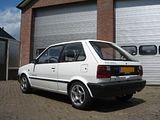 Due the fact that I wore out the rear shock absorbers, a stock K10 is excellent for hitting sleeping police men with 70km/h, I had to replace them.

I found some new Bilstein B4 dampers for great value (50% discount!) and put them with some cheap G&M lowering springs (35mm).
Major transformation of handling (less bodyroll)
Notice the new Nismo decals (profesionally printed), these don't wear. I also colourcoded the door handles.
Spoiler in progress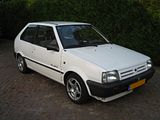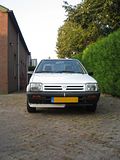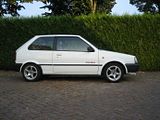 I also created a front spoiler in cardboard, still have to buy some aluminium sheet to make it.
Currently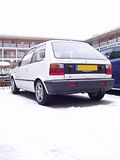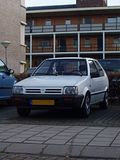 In the mean while I replaced the cam belt and waterpump. I have a new thermostat waiting for it. I also need some new boot struts since I have some headaches since a few weeks

It still turn 160km/h on the speedo (148km/h on the GPS) and still impress people with its fruityness (it is still a slow curse word), when I'm revving the nuts off it. (doing 90kmh in second and up to 130 in third ;D)
I would love to turn it over into a duotone black/ white pocket rocket with a bright red interior including sports seats, a CG13DE on bike carbs, Sunny/ 100NX brakes (and a added MA12 rear anti-rollbar), but that is not very important for now (also thisn't a sound financial investment plan :-))
Hope you enjoyed reading this!
Richard