Hi All. Been lurking around these parts since I found my way here Googling "supercharger". Been hugely inspired by all I've seen, so thought it was about time to return the favour. Although whether my project inspires or depresses folk remains to be seen… So far this has been about 15 years in the making. Like my avatar this project is prone to stalling…
The background: 1968 Triumph Herald 13/60 convertible. Bought by me as my first car way back in 1988. Ran it around for years as a bone-stocker. Soon got bored of being overtaken by 2CVs, HGVs and PSVs. So I took it off the road to 'pep it up a bit'. That was in 1993…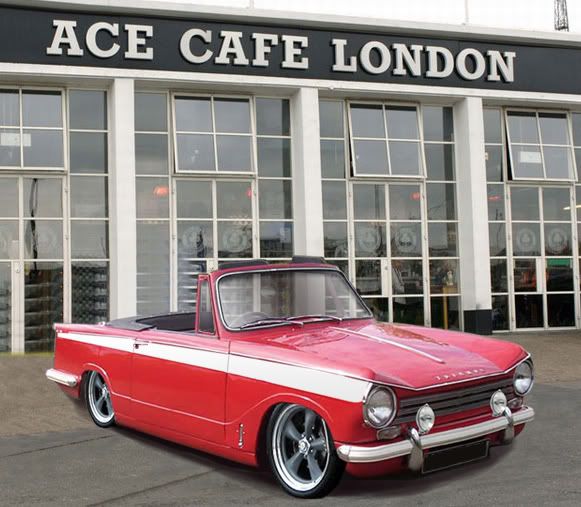 The vision: Excuse the ropey Photoshop-ery, but this is what I'm aiming for. Stock-as-a-rock body and interior, Signal Red with an Old English White stripe and sitting nice and low over a set of American Racing Equipment Torq Thrust Ds, when funds allow.
The reality: Believe it or not, there's almost a complete car in there! This was the state of play a year or so back, stored in a damp lock-up in North London with no light or power and surrounded by residents who wouldn't have taken kindly to the dulcet tones of angle-grinder-on-box-section.
The ingredients: some of the many bits and pieces that will ensure I'm lumbered with a pesky Q Plate. Hey VOSA, it's all British Leyland kit y'know, that should count for a few points surely?! Oh well….
Narrowed Series 3 Jaguar XJ6 rear end with LSD and ebay Gaz coilovers on a "Pop" Brown's cross member. Can't remember the diff ratio or spring rates offhand. Had this narrowed professionally years ago, didn't think my little Cebora Pocket Mig was up to the job…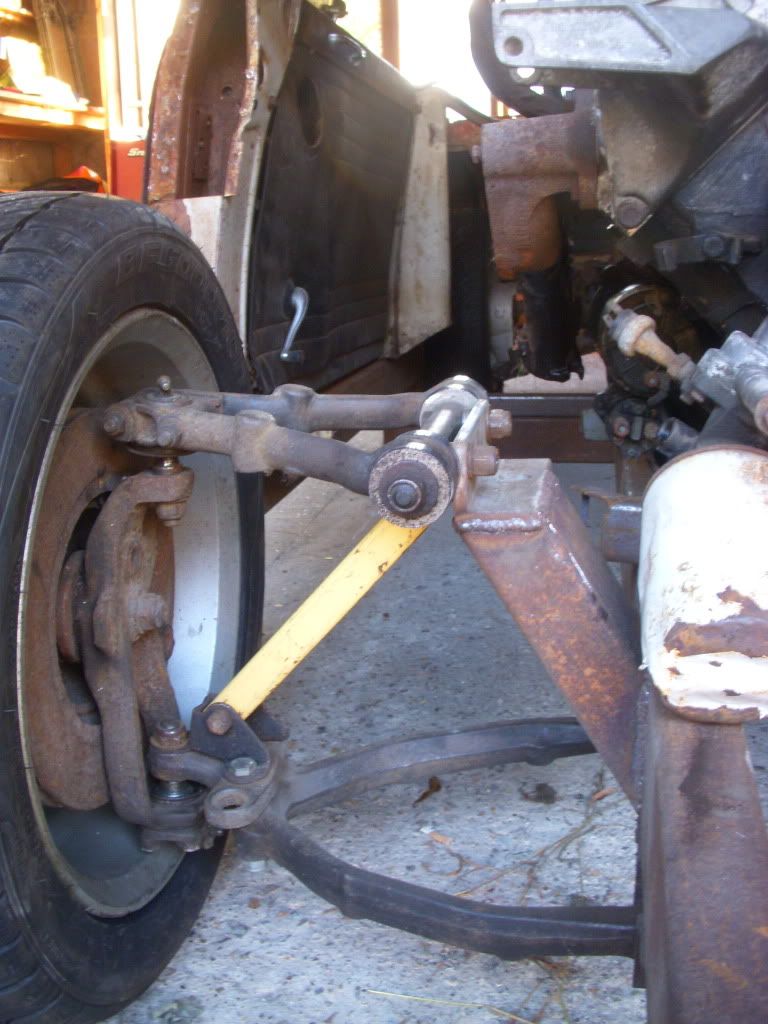 Series 3 Jaguar XJ6 wishbones, now with Superflex bushes on the inboard ends. Nice big vented discs, 4 pot callipers not shown.
Had my doubts about those box section shocks so I knocked up these brackets to mount the top of another set of ebay bargain coilovers, AVOs this time.
For the moment, the bottom of the shocks are mounted in the original Jag mounts. I think I might have to remake these in thicker steel, as on a Jag these just mount the shocks and the weight of the car is taken on separate springs that sit in a pan bolted to the underside of the lower wishbone. Even though a Rover V8 is roughly half the weight of an XK motor, I reckon asking these brackets to hold up the front end of the car is a big ask.
15X6 Cosmic alloys. Got these for next to nowt years ago from a Jag place I was working at. Gonna swap 'em out for some A.R.E. Torq Thrust Ds once I'm holding folding. Reckon with the low(ish) profile tyres they're a period kinda look, updated. Or maybe I'm just kidding myself!
Work starts again in earnest! After having occupied various lock-ups, sheds, garages and farm buildings across most of southern England, the Hi-Po Herald finally has a new home, a nice, dry(ish!) double garage. Here's the chassis starting to come together. The little 'legs' set the bottom of the rails off the floor by 6 inches. This will be about the height of the sills. Nice'n'low!
Early days on the chassis again, front has been kicked up 2" to give the lower front wishbones a touch of drop on their outer ends.
And here's some of the panels 'plonked' on to see how it looks. New floor and bulkhead will be welded into the chassis and the panels welded to that making it a sort of monocoque.
Engine is a 3.5 litre Rover V8 pulled from a rotten SD1. Can't remember the millage but it did run, sounded quite nice largely due to an exhaust system that was full of holes. Original plan was to run it with a 38 DGAS or a Holley 390 to try and avoid cutting holes or adding bulges to the bonnet, but then I spotted this on ebay:
An anxious bidding war and a mad dash down to Newquay and I was the proud owner of a Sprintex S102 supercharger! I've always wanted one of these ever since reading about a Sprintex-blown SD1 in Str**t M*ch*n* years ago. Narrowly missed out on one on ebay a few years back and there was no way I was not getting this one.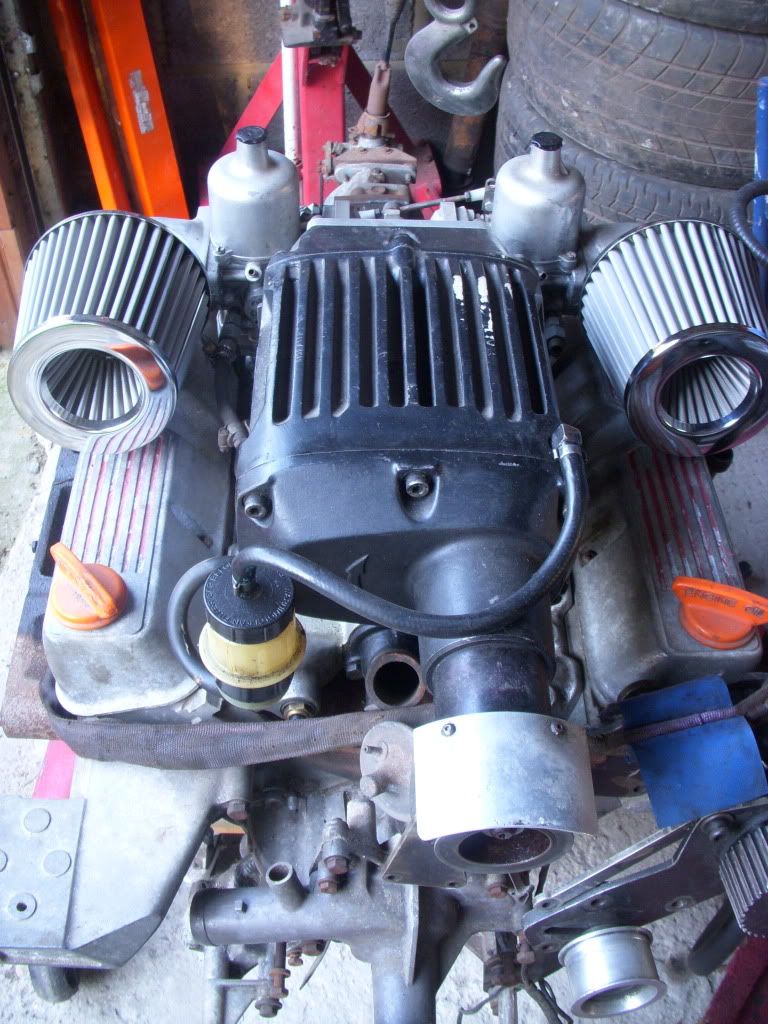 Here it is sitting on the engine, wearing an impulse-buy pair of Halfords air filters. Which don't fit. Knackers. Although it was a runner (once) this engine is just being used for mocking up (I'll build/buy a blower-spec motor at some point), not sure what adding a supercharger will do to tired, sludged-up engine with a higher that ideal compression ratio. Although I might just fire it up and see!
Even though I'd read somewhere that the Sprintex is so compact the whole shooting match is no taller than the standard SU setup on a SD1, there was no way I was going to get the bonnet shut. I think this is what is known technically as an "interference fit"….
Engine won't go any lower 'cos the bellhousing is fouling the narrower-than-I'd-like main rails. (Position of these is dictated by the mountings for the wishbones; wide wheels + wide wishbones + standard arches = narrow rails. Narrow rails = high-up engine….)
Popping the 'box off, I reckoned if I split the rails and moved them out 2 inches I'd gain enough space to drop the motor down and get the bonnet shut.
Rails are overlapped for a bit of added strength. Not too pretty, but will look OK with the ends capped by 45 degree filler pieces. Engine now sits pretty low, good for centre of gravity, bad for the sump!
Bonnet should shut now. Just….
There's more of this drivel if you want it....?
Cheers!
Em.