Cheers Rob!
Hi APB. Don't think so, that would still be on the 'closed' side until the 'stat opened, wouldn't it? I might try drilling a hole in a spare 'stat, anecdotal online evidence seems to suggest that works…!
Cheers for the tip Sonus! I'm almost (!) there with it now, will bear that in mind if I ever need to do another though!
Thanks Mr. S! Actually, if you do know a good belt supplier that would be useful! I've been finding out that although a company lists something on their website it doesn't always mean they have one or can even get one. Grr…
Cheers Seth!
Yup, I could, and that's exactly where the issue is. I'm hoping that as you say, I won't need to move the dizzy too much but what with my recent forays into diesel and new-fangled EFI it's been sooooo long since I've had to twist a dizzy I've rather forgotten how much is likely to be needed!
I think ultimately given that blowers have 'specific' dizzy requirements and all the bad things I've read about the stock Lucas system I'll look into some sort of stand-alone distributor-less setup like on your Herald.
Cheers Fella! Much appreciated.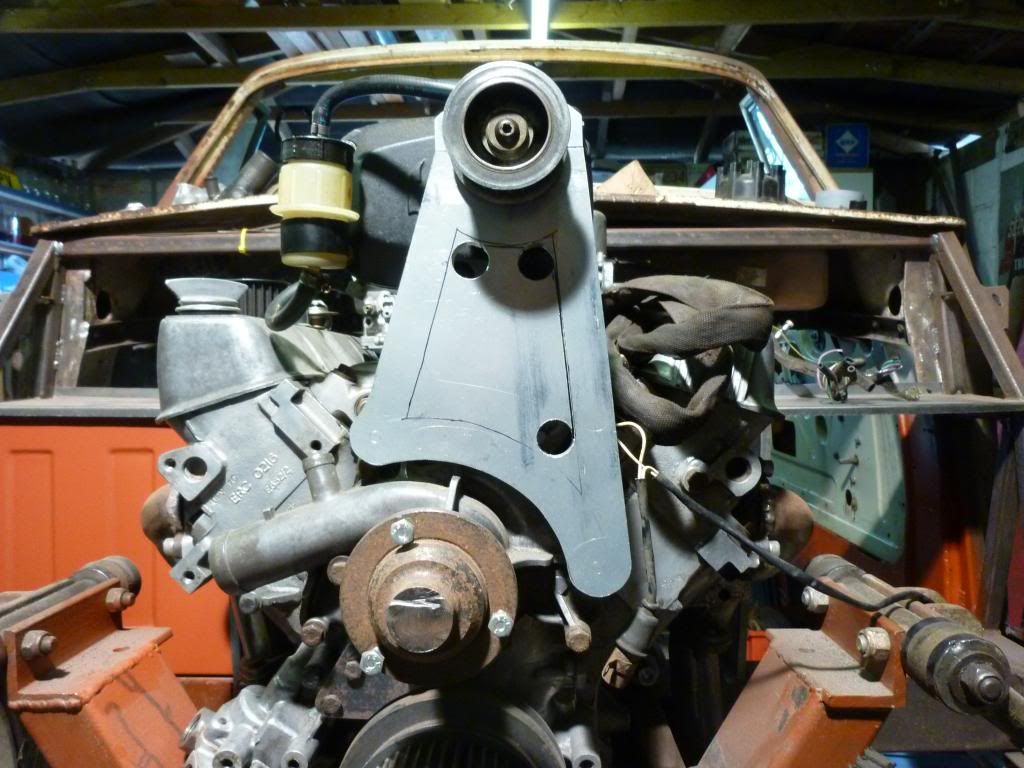 Back in the garage, I've got this far cutting my bracket. Don't want to go too much further until I've actually got the belt I need in my hands…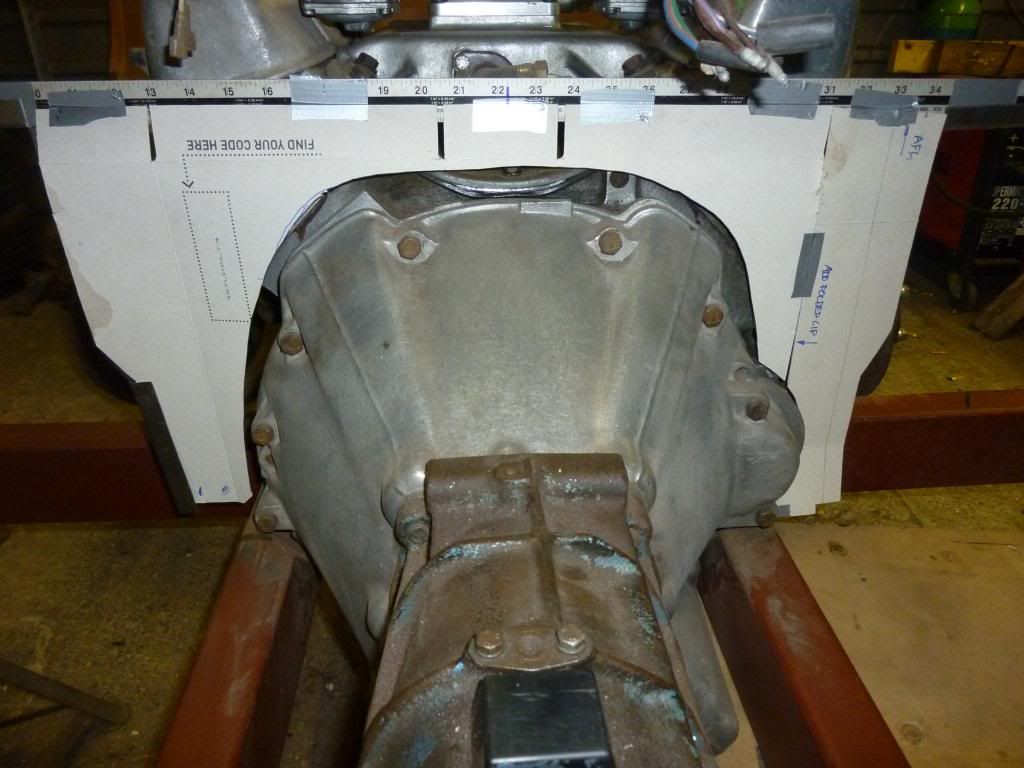 No shortage of other jobs to be getting on with though! I while ago I started thinking about finally filling in some of the many, many gaps that remain in the 'erald's panels. Here's a very rough guide to where the bumps are on an LT77 bellhousing.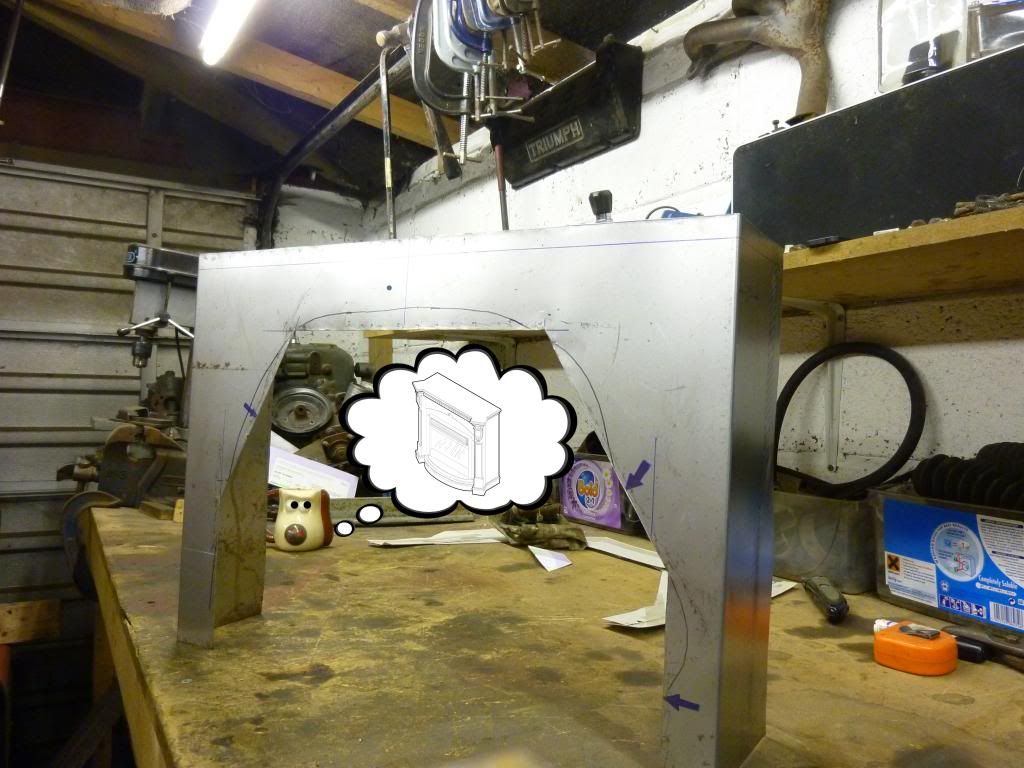 And here's how that might be accommodated in sheet steel.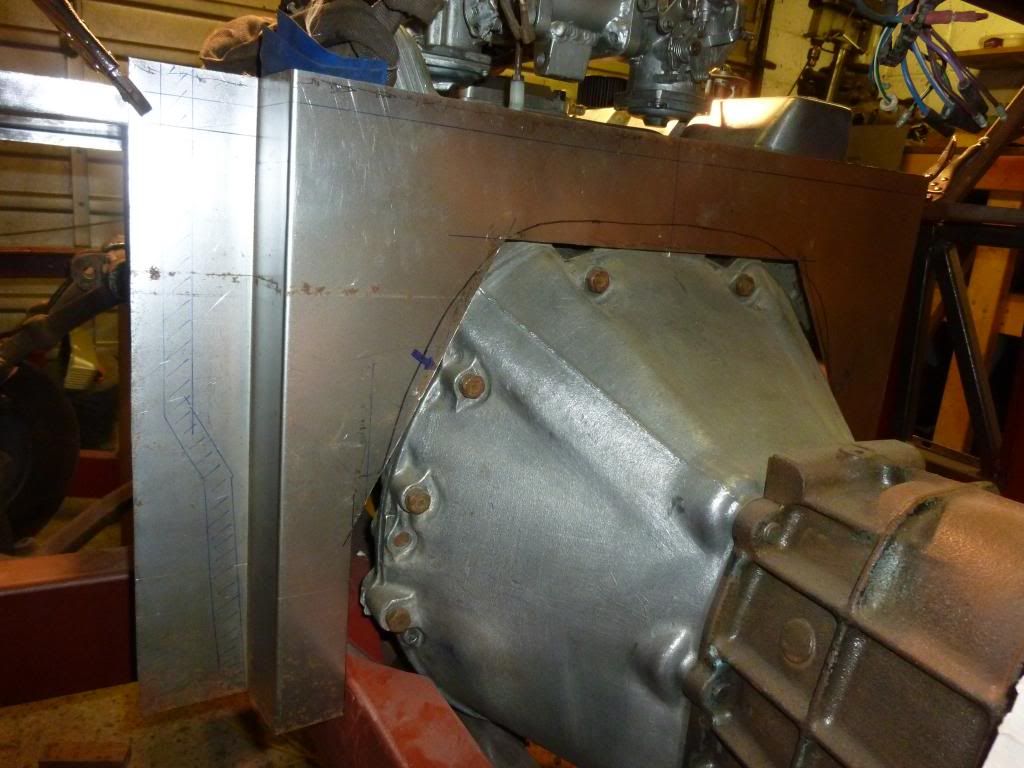 The same bit, in the car. You'll notice it 'steps back' a couple of inches – this is to allow enough space behind the heads to let the engine lean back when being lifted in and out.
And this'll be a clearance template for the 'box itself. Funny shaped things, these; they don't get any narrower as you go back…
A while back, to save time (or so I thought) I ordered a load on panels cut to size from 1mm mild steel, for area like this. Didn't realise until much later that it's actually nearer 1.2. Not much you'd think (and I guess I've got more metal for my money) but the downside is it weighs a load more and is much harder to work with than the 1mm I've been using thus far. Here's me trying to wrestle the tunnel section into shape…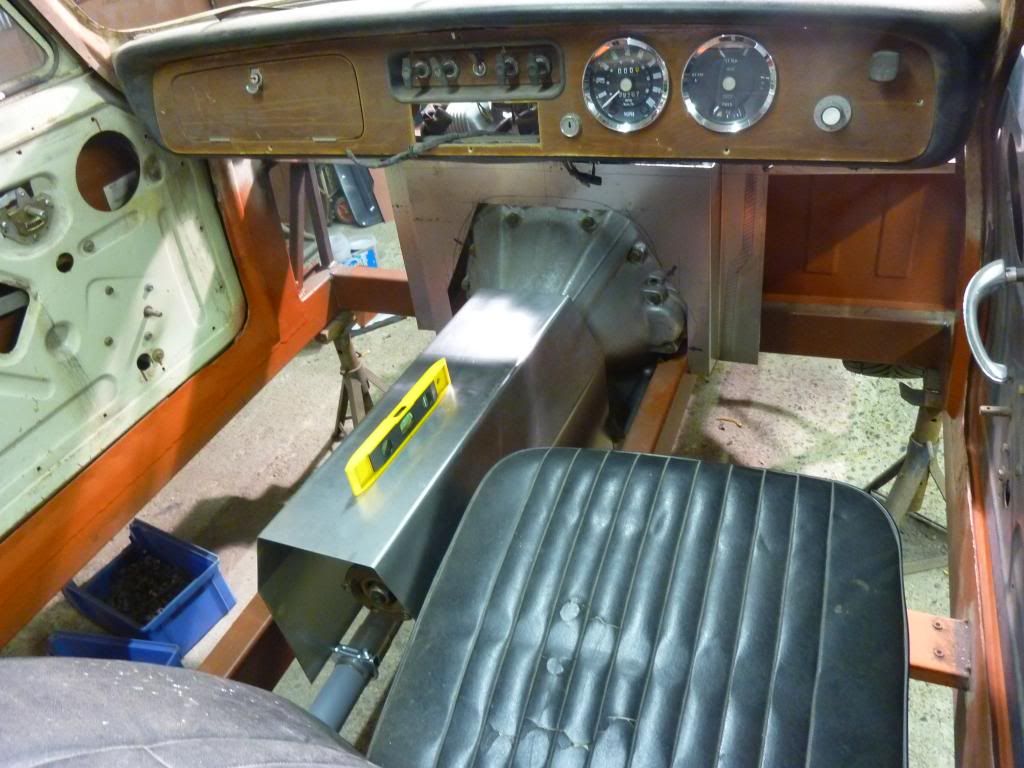 Beginning to get there. This is going to be one big tunnel, although it won't be quite as long as this.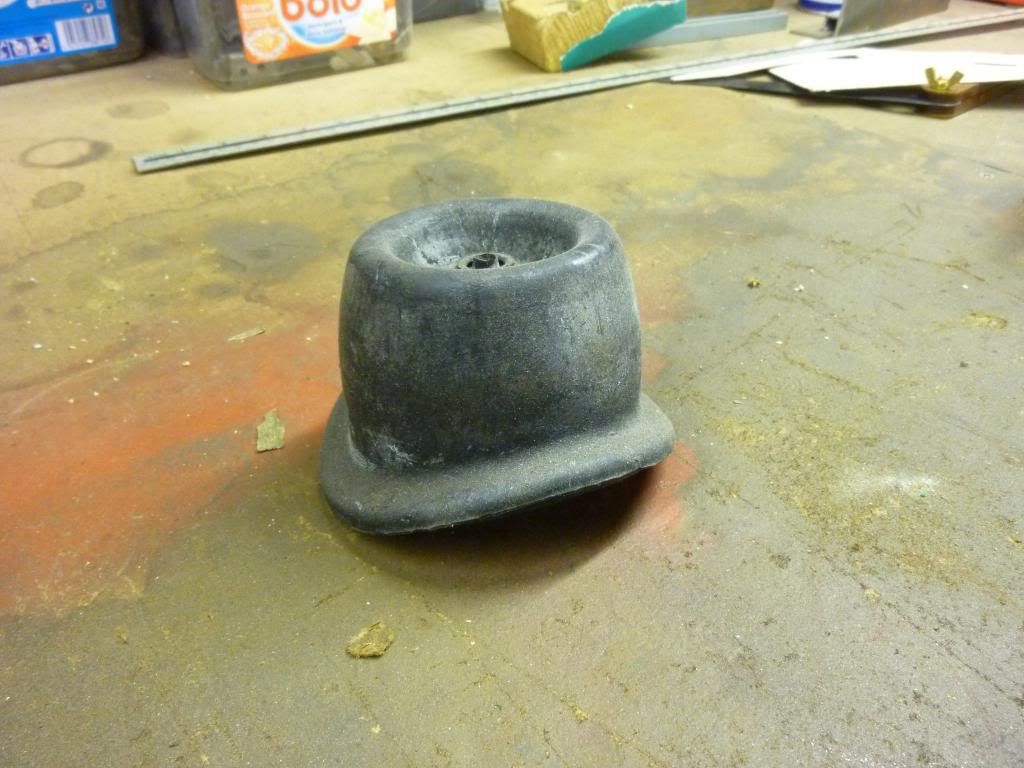 My plan is to keep the interior as standard looking as possible (I'd got hold of a stock Herald gaiter with this in mind) but to be honest, I'm not going to be fooling anyone!
Folded out the lower edges that attach to the chassis rails. Although the removable nature of the standard Herald's tunnel is a boon for easy access, I'm electing to weld mine on in the interests of keeping sound and fumes to a minimum. Hope I don't come to regret this…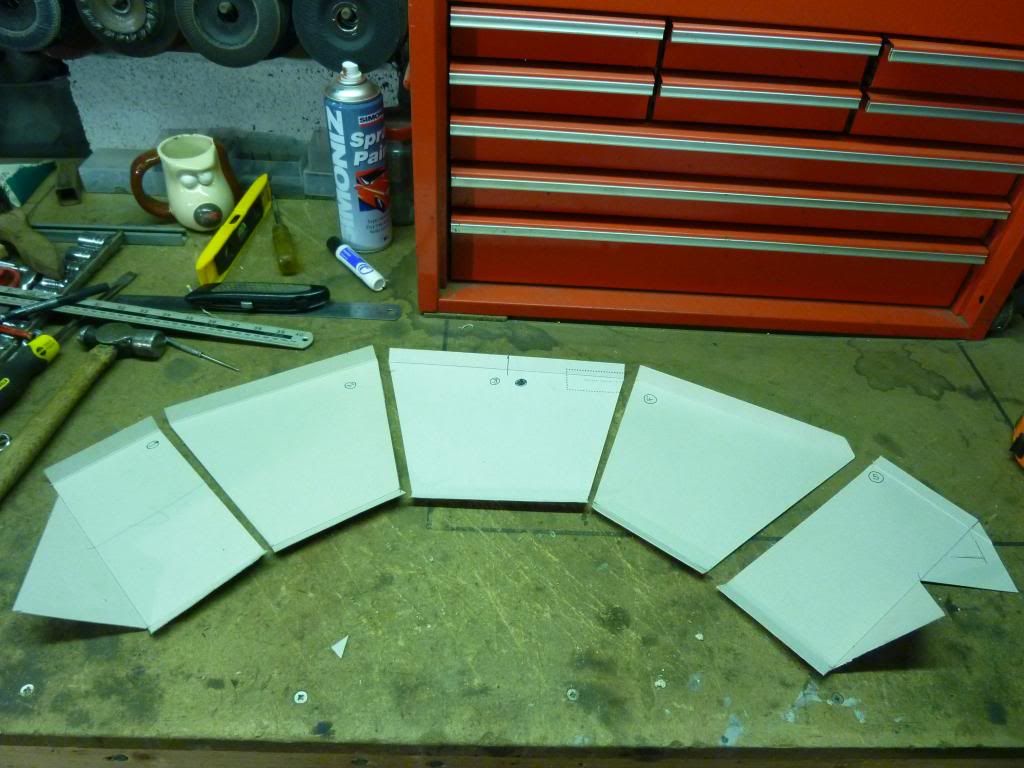 These bits of cardboard represent the individual panels that will make up the bellhousing cover.
This side is fairly straightforward…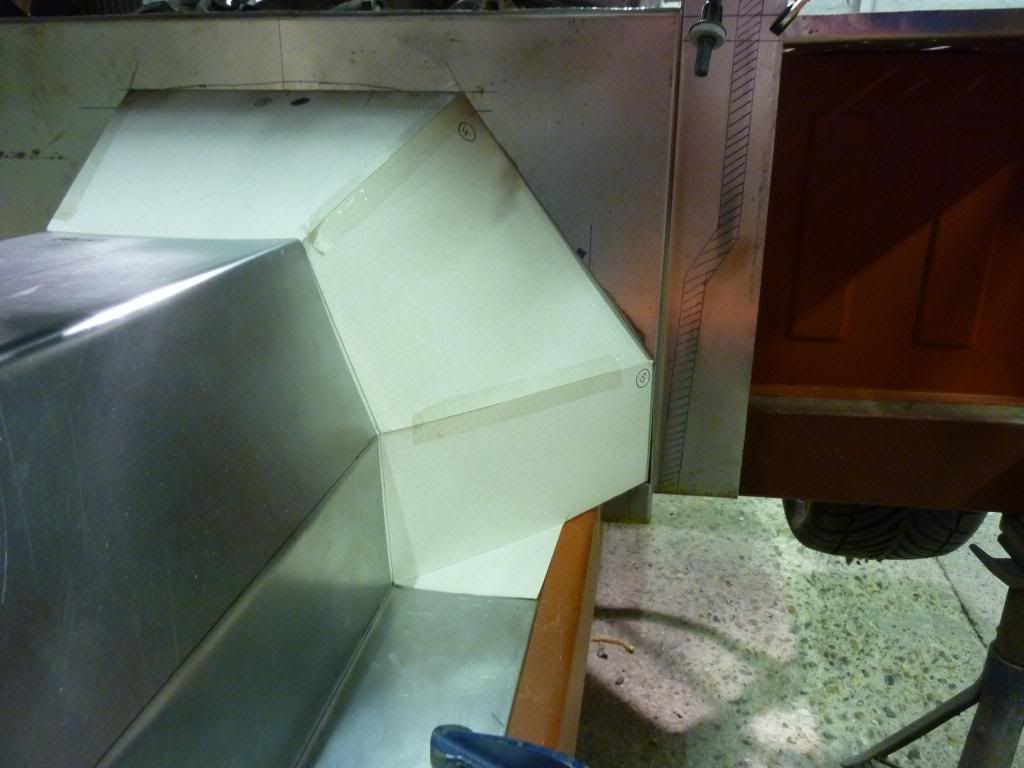 …this one's going to be a little more awkward because of the no-parallel angles in the middle panel, needed to get around the starter motor.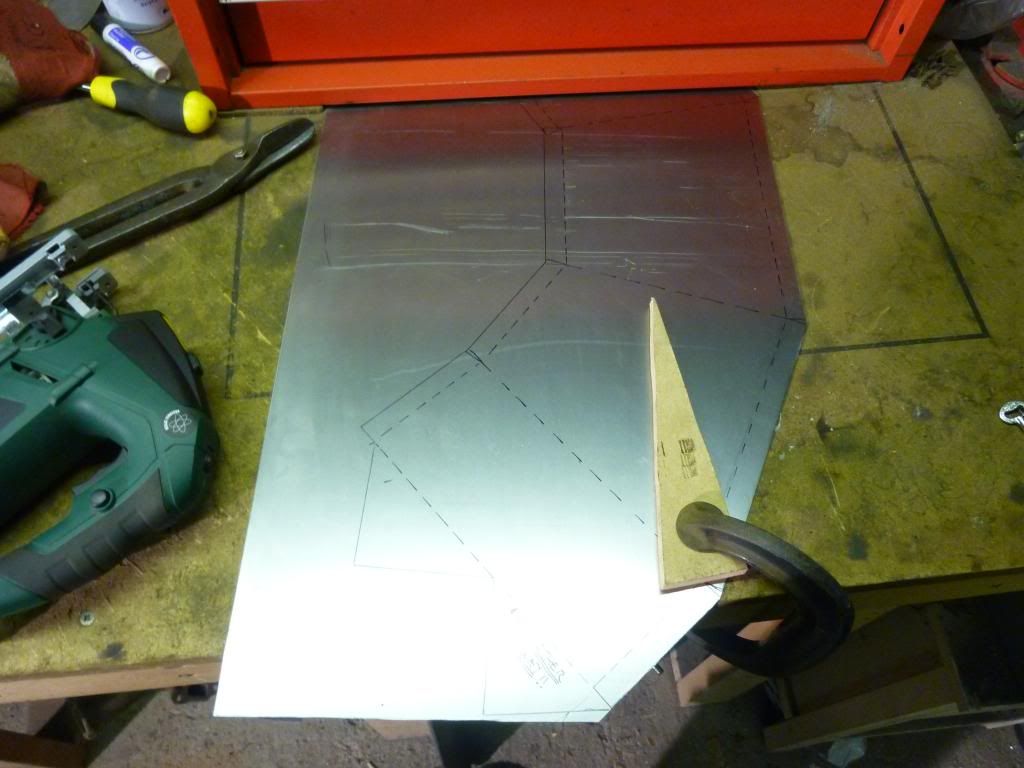 This might be ambitious with all the angles involved, but I'm going to try and make this in one bit. I'm struggling to cut this with my trusty old Gilbow shears, but happily the previous recipient of the "Bloody Useless Tool of the Day" award proved its mettle (pun intended) here. Next step, trying to fold it up accurately!
Cheers!
Em.