I've had this for a while now, haven't done a lot to it yet, but I'm hoping to bring it to the Gathering so allow me to introduce the 'Fish Van'!! (Might be a good idea to grab a brew, this could take a while

)
I bought the van when I was serving in Germany and imported it back to the UK when I moved back here in 2000, this is what it looked like back then,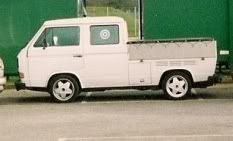 It's a very early van, but had much more modern running gear fitted, like a 5 speed box, 2.1 fuel injected DJ engine (112 BP) and power steering and had been 'customised' with a checker plate load bed, stainless side panels and a nice load cover, lowered on 17" Borbet A's. I loved it, but my then girlfriend (now wife

) wasn't quite so keen, hence the name of the fish van

So we ran it for a while, I was commuting weekly in it 125 miles each way, bit pricey at 20 to the gallon but hey ho, I still had money from my Germany days so all was good.
I'd left a 2 door Taunus (Mk 5 Cortina) in Germany that I was mid way through restoring so I decided to drive over, buy a trailer and bring it back and that was when it all started to go a bit wrong

It broke down about 15 miles outside Calais, I had no tools no phone and wasn't even sure I had roadside cover. Fortunately my mate who was driving over at the same time drove past and stopped, lent me his phone and the long trip back home via 3 recovery trucks, a tractor and a lamp post began. The engine was trashed, so ideas of ever getting the Taunus back were binned ( It broke my heart ringing my mate who was storing it and asking him to get rid of it. It was solid as a rock and I'd had it for 8 years

) and had a brand new engine fitted to the van. It never ran right even with a new engine and with too many visits to the garage and swiftly running out of cash I eventually sold it to a mate for the cost of the engine. I've always had a van since,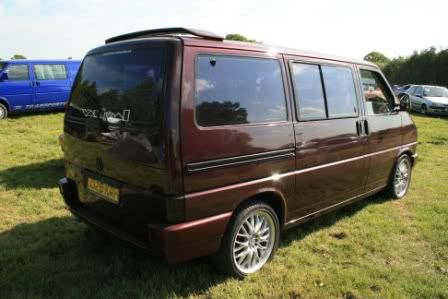 but always said if the DoKa came up for sale I'd have it back.
And then, on this very site last year there it was
retrorides.proboards.com/index.cgi?board=FSW&action=display&thread=69830
two weeks later, it was back on my drive, looking a bit sorry for itself, and it's been attacked by the old rust a bit, so there's plenty to do, but now the new garage is built and the Pug is 'nearly' done

and the Merc has sold I don't have any excuses not to get cracking on it. Anyway, Pics

Now in silver, not the best spray job, it's pretty thin in places and will need redoing
Golf GTI interior, Mk 2 I think, Projekt Zwo steering wheel, horrendous wiring and carpeting and hideous gear knob. Comfy though, but the new seats are a bit higher than before so can't see the dash properly

Ermm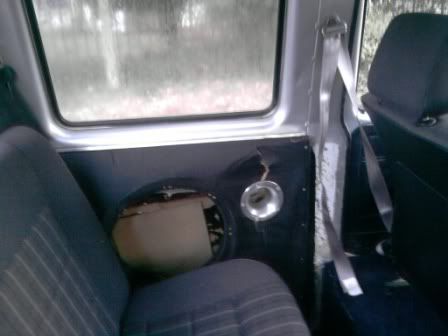 And rust

(Interestingly I've never seen another van with more than one set of vents, so need to keep them)
I think these front arches are extended, so this repair should be interesting as well.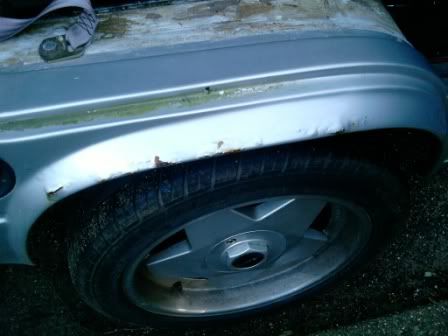 There's more rust, some of it quite bad, but the underside is thick with underseal and when I sold it it was immaculate so I'm hopeful that its solid and the rest is .
I love how it sits, looks mean ;D
I have lots of plans, but at the moment I'm waiting to hear back from the garage to see if they've fixed it yet

I've just had to replace the water pump, and now it's started randomly cutting out

I'm seriously hoping that it isn't going to be a lemon, but I have a sneaking suspicion that it's a bit intoxicated that I got rid of it in the first place

Fingers crossed it'll be at the Gathering