The Tale of The Knocker, the Stocker and the rusty Shocker...
Thought I would introduce myself and my cars to all of you lovely people.
I seem to have developed the habit of being given Saab 99s for free.
The first 99 I got given was donated by a mate I went to uni with. We were sharing the rent on a garage, but he graduated before I did and was stuck for something to do with his 99 which lay unfinished. When he mentioned he was going to break it, I said "nah don't do that, leave it with me and I'll see if I can finish it off"
I've now had the car for 5 years, and it's undergone some fairly hefty modifications since then, including a replacement engine, conversion to fuel injection, etc etc. The full build to date is over at
www.saabcentral.com
www.saabcentral.com/forums/showthread.php?t=67864
Its currently off the road, and waiting for me to find a garage to rent to keep it in so I can strip it for painting. Its shabby demeanour and outright refusal to depress the cam followers quietly has earned it the nickname of "the knocker"
In 2008 I helped my mate Chris restore a 1967 Wolseley 18/85, which required a lot of welding and a full respray. When I mentioned that I wanted another car to run around in while I tackled the paint on the blue 99, Chris promptly donated me his cherry red 99 GL. Unfortunately Chris's car had been sat unused since the Wolseley made its return to the road, and father time had not been kind to it. It is currently sat with holes in the sills, boot and floorpans, and due to the fact that Saab 99s seem to be worth the square root of naff all even when in fine fettle, its return to the road looks unlikely.
The sad tale of the Red 99 - now known as "the shocker"
www.saabcentral.com/forums/showthread.php?t=55968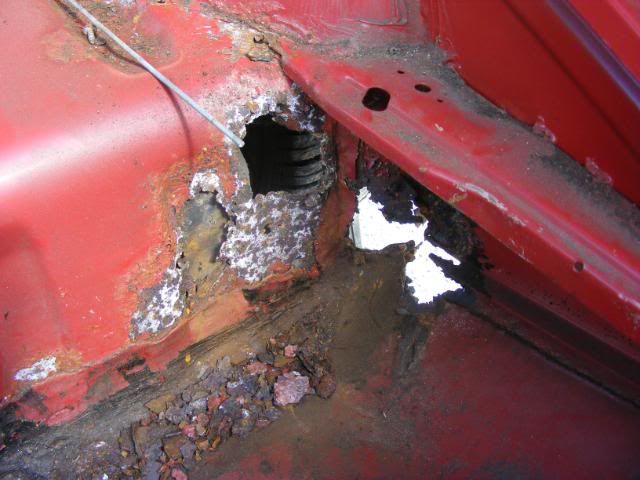 By this stage I had earned myself a reputation as "the guy who likes weird old Saabs", which led to my friendly local Saab specialist - Tom hagstrom - phoning me to tell me of yet another Saab 99 I could have for free. All I had to do was collect it from a chap in North Yorkshire. The fellow had unfortunately fallen ill and was unable to drive, and his 99 was sat on land that people rather selfishly wanted to build stuff on. He was therefore offering the Saab on the easy terms of No money down and zero monthly payments on the grounds that it went to someone who would treat her right. With the help of a work colleague we "towed" the car back to Chris's and a few replacement bulbs and a handbrake adjustment later the car was MOT'd and ready to roll.
The escapade and recomission is recounted in full over on
www.uksaabs.co.uk
www.uksaabs.co.uk/UKS/viewtopic.php?f=35&t=63453
Mint condition and only 56,000 miles on the clock, "The Stocker" completes the trio