I thought it was about time I did one of these ;D
It started back in August 2004. I was driving my first car a 1.1 Fiesta 5dr, that was my pride and joy. Highly modified i'd just bought a full bodykit for it and I was rolling on 17" alloys with neons and unique mods. Then my car was parked across my drive one day (my drive was being block paved) and my dozy old neighbour reversed out straight into my passenger door. I claimed off his insurance and with quotes around £600 for a new door sprayed and fitted I thought for certain it was going to be written off. So I set about looking for a replacement.
September was spent trawling Autotrader and ebay for various cars I wanted a fast fuel injected car as I had a couple years no claims under my belt. I narrowed my choices down to the following:
Peugeot 106 XSi
Peugeot 205 1.6 GTi
Renault Clio 1.4
Id tracked down a red 205 Gti for £250 and was going to look at it when I remembered that the Ax GTi was the same as the 106 XSi.
To ebay I went and found nothing. Now being a bit of an ebay addict I thought nothing of trawling through tens of pages to find something badly advertised. So I typed in GTI into the cars section and trawled through. low and behold up car the following advert:
Citren GTi 1992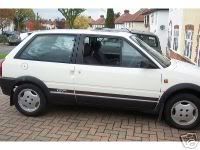 I had to laugh it was soooo badly advertised that it didnt mention the word Ax anywhere!! It was also local.

As is my habit I bidded on it blind!
I bidded up to what I wanted to spend (£400) and held my breath, very little happened until the day before the end when it shot up to £375 and then on the final day I was outbid. With 30mins to go I bid £450 and to my relief I won it!
I went over with my dad to pick it up a week later and the bloke (it was a p/ex he wanted shot off as he was winding down his business) knocked £50 off it as the speedo cable was broken. My dad drove it back and was quietly impressed with the performance (except for the slightly skippy handling and brakes where it had sat for a month or two).
£400 well spent ;D
Before i'd had a chance to properly drive it some moron in a mini cab wiped out my wing mirror whilst the car was parked outside my house! I jumped in my Fiesta and chased him down the road where he got stuck at the traffic lights so I jumped out and shouted and banged on his car window at which point he looked at me, put his foot down and jumped the red and burned off.
Thus began my hatred of minicab drivers!!
So first purchase for the Ax??? A new drivers mirror

I thought it would be cool to add some big mudflaps and a sticker to cover up the scrape the mini cab driver did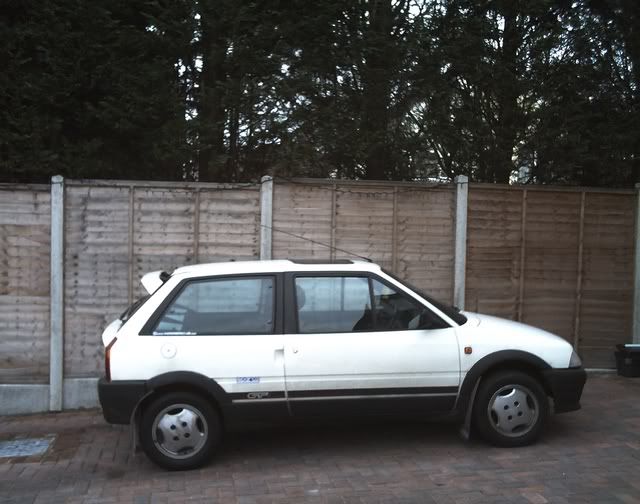 Insurance was duely swapped over whilst the Fiesta was in the garage being assessed (turns out they wanted to repair it the fools

its why I still have it to this day
;D) and I was off burning up the streets!!
Within days of buying it I joined AX Owners Club and it has spiralled since then!
The modifications started to flow but I didnt wanted to go the route i'd gone with the fiesta (show not go) and I told everyone this one would stay standard lmao.
I blame my job at the time, Halfords fitter, for never leaving cars standard, parts were accesible and cheap ;D
Besides I was so used to my Fiesta turning heads all the time (mostly for the loud exhaust, booming sub, crazy driving, and looks of WTF) that I like my cars to look different. Except this time with more subtlety (hopefully)
First up was a tweak of the front number plate and a subtle sunstrip with AXOC logo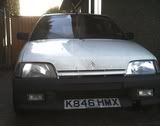 Then an OMP mild steel back box was added and those mudflaps and headlamp brows

(noooooooooo)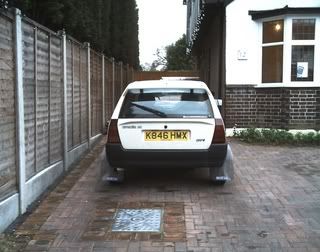 and a set of 6x9's in a custom shelf I made, covered with a massive Citroen flag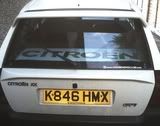 Then a bargain purchase of some Saxo VTR alloys with tyres for £100! (the rears are still going strong!!)
Oh and I cleaned it for once, a real rare treat!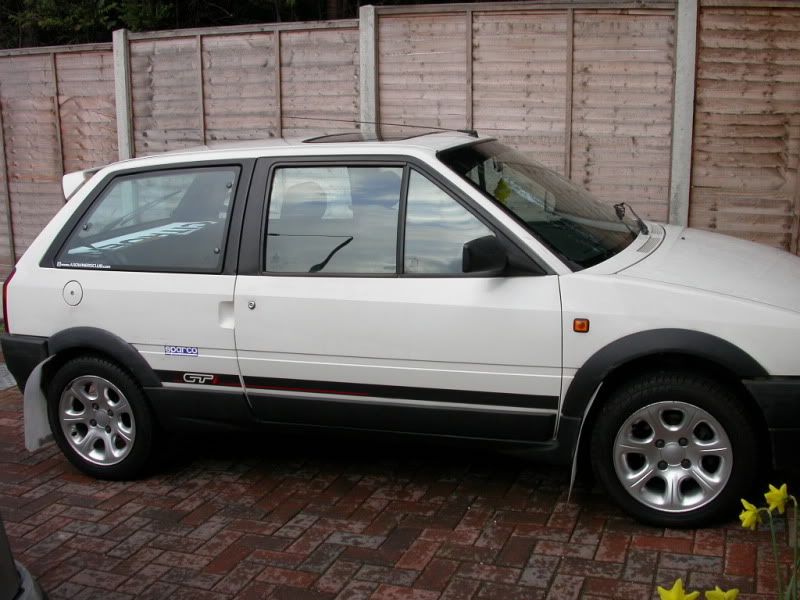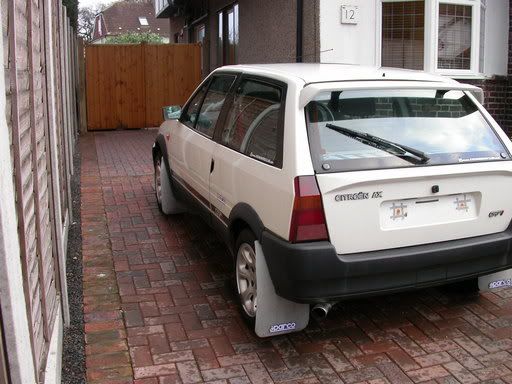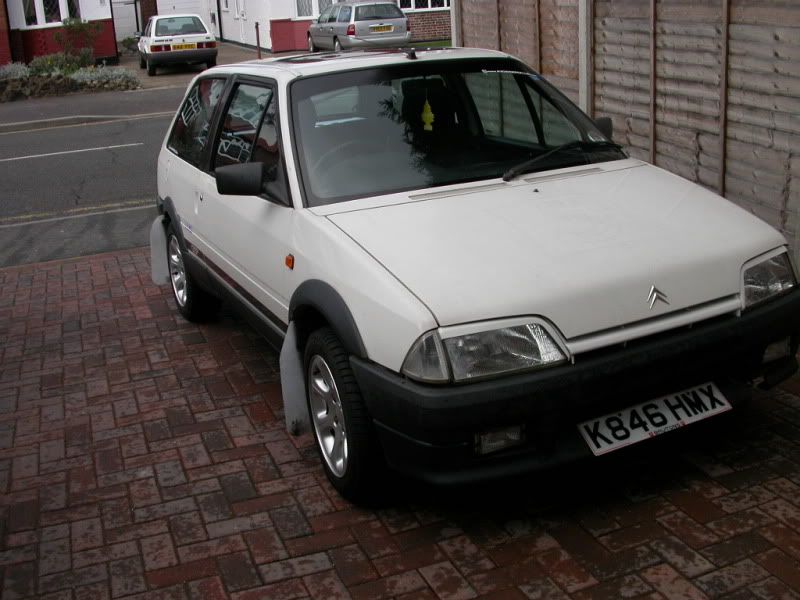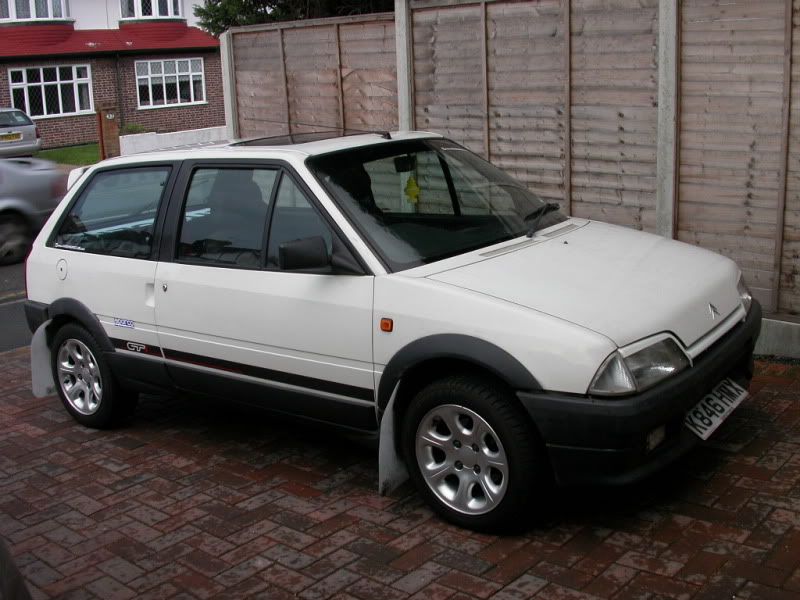 that takes us up to 2005.........to be continued. The best is yet to come...