Post by mikeyp247 on Feb 28, 2017 16:24:51 GMT
Seeing as how there are other 'space' builds up on here, I thought I'd document how mine develops too.
The wife and I managed to buy our 'forever home' in October 2015 - a 4 bed property with 4 car drive, conservatory, half-boarded loft, large wooden 'summerhouse' and a garage.

I had plans, great plans, but as the loft is half-boarded (and indeed, carpeted) it was immediately filled with cra…I mean, those precious things, you accumulate over the years. However, a year and a bit down the road and this has now thinned and roughly half of the loft will, over the coming months, house a permanent slightly raised (for wiring for lighting etc) floor/table for a semi-permanent Scalextric track.
This is how it currently looks: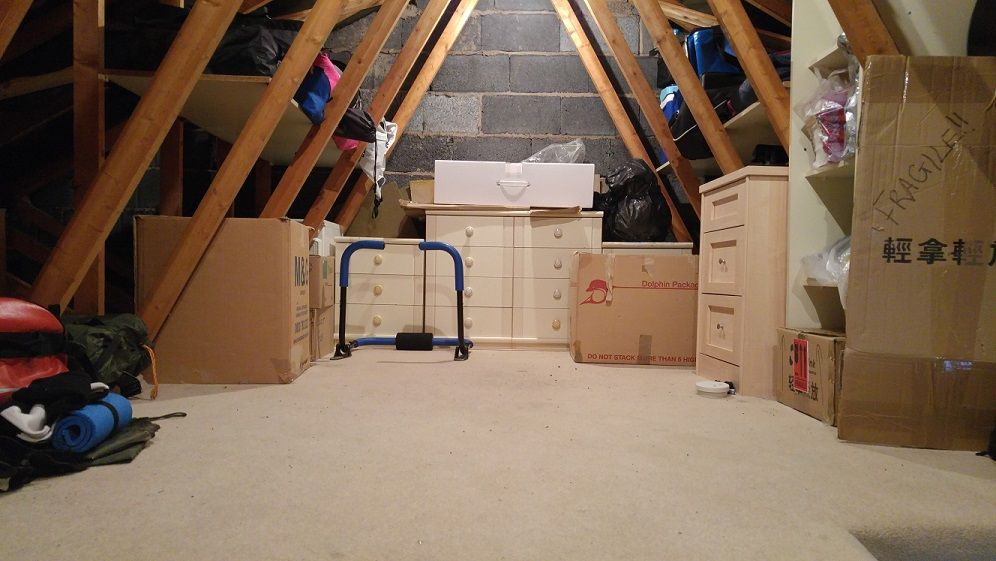 The other side (behind me) is smaller, so will be the storage area.

I need to design my layout so I can work out what size the raised flooring needs to be – need to decide if I am going outwards past the rafters or not – might make getting de-tracked cars back a bit more of a challenge if I do that – but imagine the speed possibility with the straights!
Anyway, I have picked a few kits up from eBay over the last few weeks, first layout tried in the conservatory: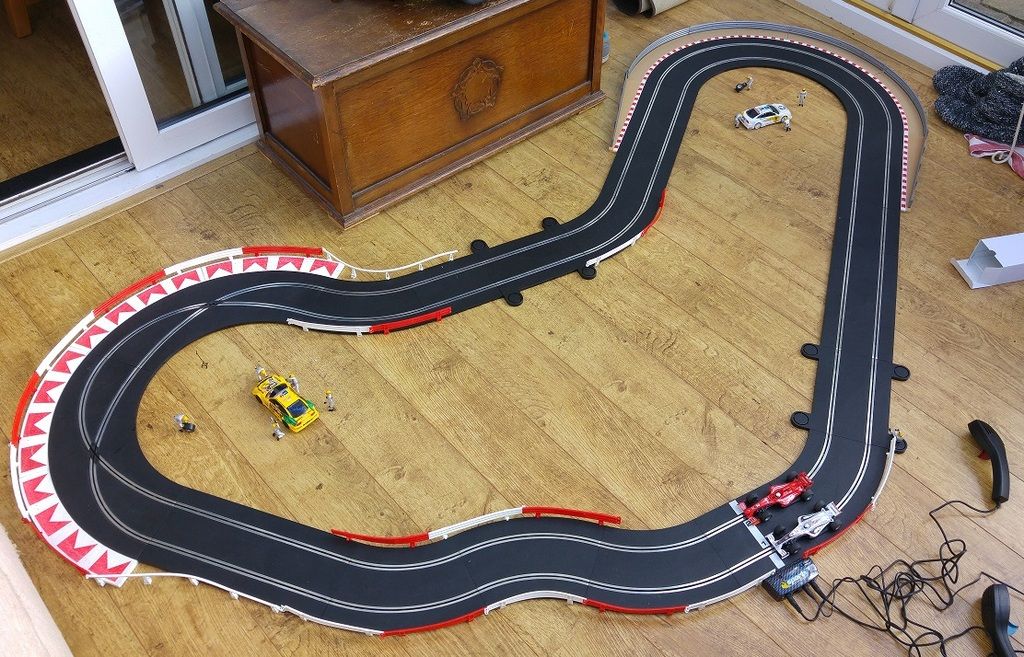 (the conservatory is normally woman's territory as it houses a family heirloom chaise-longue and our older sofa. Oh and my chilli plant. So I was quite honoured to be left alone long enough to sneak this in and build it up!)
UPDATE: few more layouts tried:
(F1 cars getting air!!?)
I have another 'Drift' type set coming along with a hairpin, sideswipes and jump. Hopefully it'll arrive before the weekend and my Daughter can have a go at drifting – she's 9 and has fell in love a bit with this setup. Although she did seem just as interested in racing as she did in making up a game involving the pit crews fixing up the cars…
UPDATE: the Drift setup arrived:
Cars are b*ggered though so will become scenery.
So now I have a good idea of how much space I'll need, I think these kits with a couple more straight and possibly raised sections will fill this space up nicely. Need to decide if I'm going to board off (to stop cars flying away) at the angled or vertical roof joists.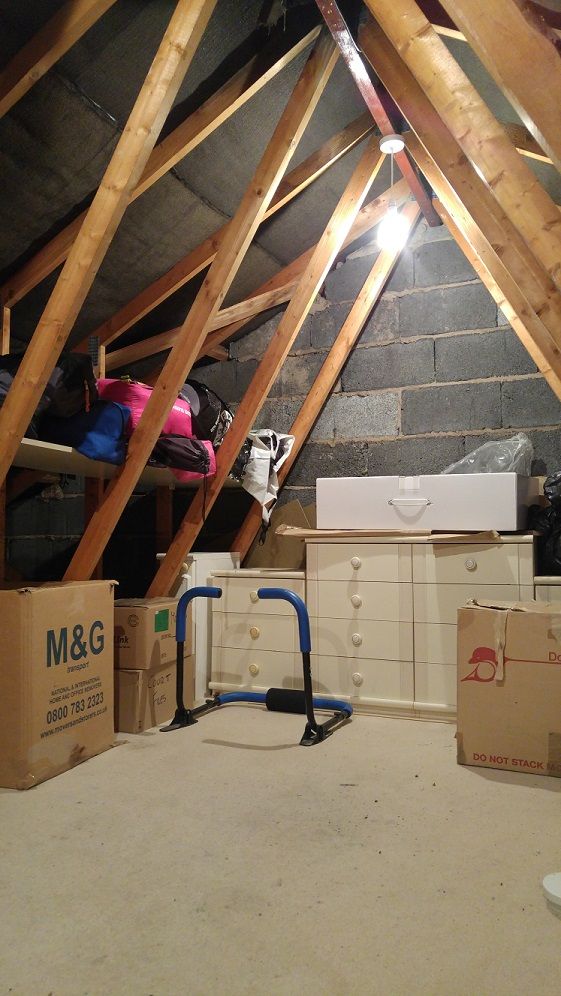 Need to tidy up and get rid of those drawer units.
The summer house is also woman's territory – it holds garden furniture and some wicker sofas. My wife has a condition meaning that she can't spend a lot of time sat in the sun, but loves being outside.
**PICS TO FOLLOW**
She's bought herself a garden table and chairs set with mahoosive sun-brella, so I'm tempted to try and get the Scalextric up in the summerhouse….?
Anyway, man-space is currently restricted to the garage:
**PICS TO FOLLOW**
Yes, it does have a minor white goods infiltration, the previous owner installed and left their tumble dryer and I've installed our old fridge up in a cupboard space. This isn't so bad though, the tumbler is only on in the colder months when I spend less time out there and the fridge spends it's time full of meat and not-so-full of beer.
So far, I've got some BigDug racking from work for nowt when they were having a clear-out (you can see it on the left), although it's currently covered in bits from a Meriva (more on that in a minute). Also got a sturdy as you like, wooden workbench from a guy who used to build engines – the top of it is over an inch thick. I added the raised back section/shelf and lighting:
**PICS TO FOLLOW**
My welder fits lovely under there, ready for working on the
Soapbox project

Got a posh kitchen barstool from a relative for pennies to use at my bench when soldering etc. I need to swap the lawn mower for the cycle racks so the fridge door can open fully and get around to selling/chucking the daughters old bike. The stool matches the posh downlighter fittings (again, freebie clear-out from work) with LED AR111 fixtures in. I installed a pulley system in the rafters for storing our bikes inverted - I think it's a good use of the space and keeps them out of the way:
**PICS TO FOLLOW**
I tidied it at the weekend getting rid of LOTS of unnecessary rubbish – first time in ages I've been able to get to the silver shelves! I've got a few ideas to improve things further:
One: Music.
I always find it's better to have some tunes on while working – keeps the motivation going when it's cold. So I first bunged an old TV up on a Freeview box but the reception is poor and I have only ever used it once – so will get rid of that. I've been using the little laptop on the back shelves, but it is my diagnostic tool so isn't ideal as it gets unplugged regularly - something else is needed. I have been breaking a Meriva over the last few weeks and of course this came with a paired stereo (albeit fairly basic):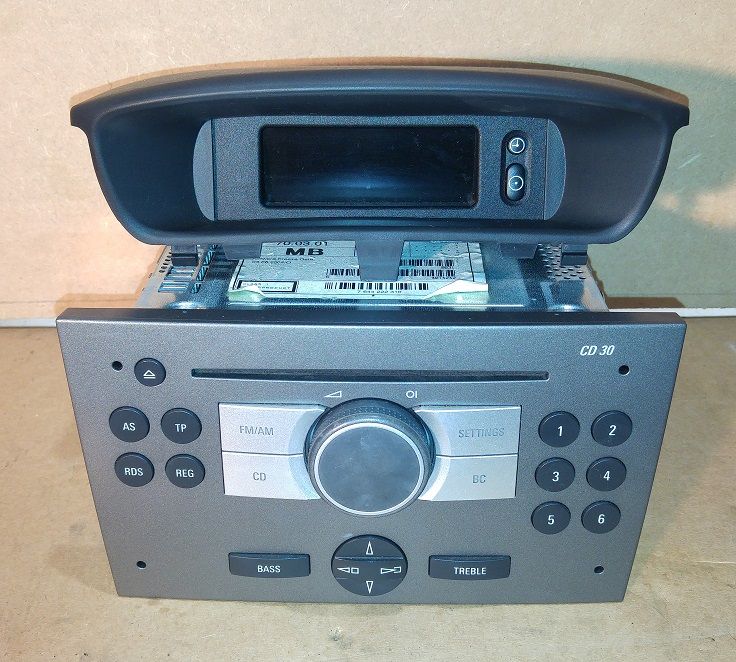 But of course, this also came with a cars-full of loom, so needed to release this from the car: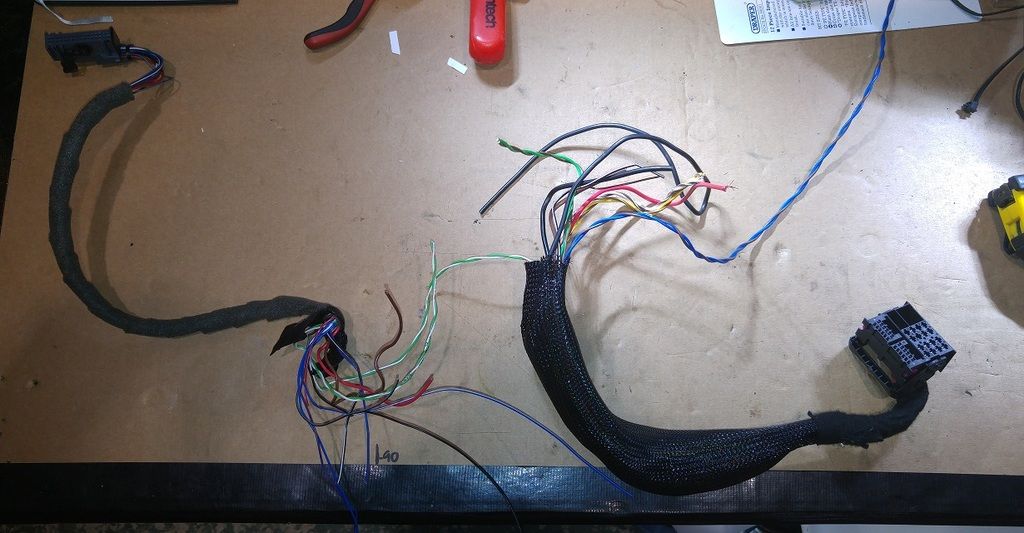 Quite a bit of excess in there still, like temperature sensor feeds and rear audio accessories. Tidied that up a bit:
Sorted, braided and 12v input length conencted:
**PICS TO FOLLOW**
I'm undecided where to install it, either on the front of my workbench shelf, or maybe build up an enclosure on wheels to move it around the drive/garden – I think a retractable extension cord from an old hoover would work well for that….? I have suitable speakers either way - a bit different.
Two: Better tool storage.
My hand tools are in various places/boxes and my power tools are currently across the shelves at the rear of the garage, but I think I'd like to turn that area in to the garden tool area. I'm looking for a metal cupboard to replace the smaller silver shelves with to store/lock my powertools away in. Now I'm not tight, but ones in decent-ish condition on eBay are £60 upwards. Plus work has about 6 that they hardly use (sadly not hardly enough to get rid of - yet).
I then plan to get a wheel-out box/trolley for carting hand tools down to my car when I service it.
Three: flooring and insulation
I would like to do something with the floor, as the tired paint on the concrete looks woeful. I've seen some people on here install a resin floor and that looks the nuts and would improve cleaning. I'd also like to insulate but need to decide if I am replacing the up-and-over door yet.
And that'll see me happy with there for now.
Will update with pics over the next few days, for some reason the ones I took came out poop…