Post by Colonelk on Dec 15, 2010 0:16:23 GMT
So, a few of us were chatting at Area52, and basically decided it would be good to have a thread to share recipes on in here, as we love our food and its a good way to spread the info.
EDIT: Going to make an index here or this'll get confusing!
1) Colonelk's Guiness Chocolate Cake (first post)
2)
StealthStlyz'z'z Ribs
3)
WillCarter's Meatloaf
4)
dbizzle's brilliant wierd little snack things
5)
dbizzle's satay with coconut noodles and stuff
6)
gtvsaviour's all-in-one-pot chicken & couscous
*GR8 4 CAMPING
7)
gtvsaviour's Lime Chilli Beef
8)
gtvsaviour's desserts! (Chocofruitpancakes with caramel nut cream & alcoholic pineapple cake... erm... thing
)
9)
touretteseddy's Diced Game Birds Pie with Whisky
10)
Ben90210's Chocolate Brownies
11)
Skinnylew's Caravan Special
12)
Colonelk's Chilli Poppers
Sooooooooooooooooo first up.... the Guinness Chocolate Cake (one of my personal favourite cakes EVER)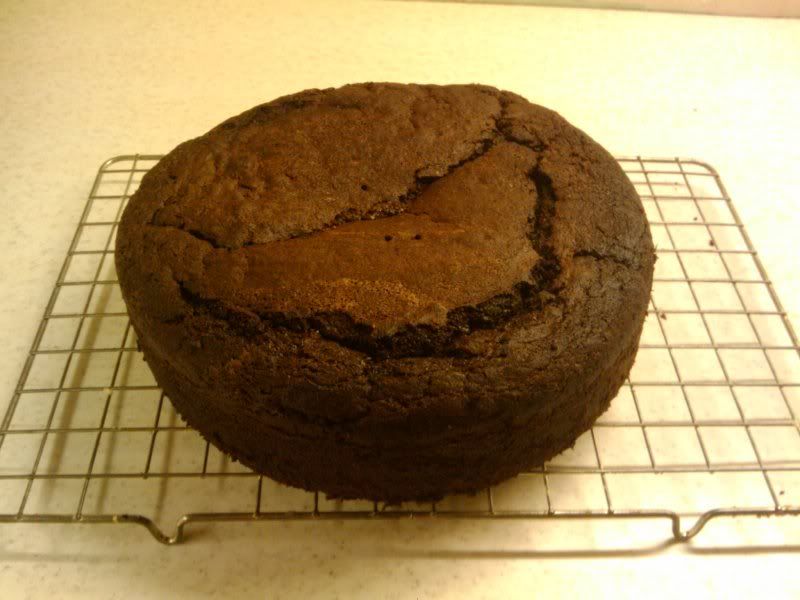 Ingredients:
225g (8oz) Unsalted Butter
350g (12oz) Soft Brown Sugar
4 eggs, beaten
225g (8oz) plain flour
1/2 teaspoon baking powder
2 teaspoons Bicarb
400ml Guinness (if you love really dark and bitter stuff, swap this for FES, its a brutal cake and not as scoffable, but worth a try!)
100g (4oz) Cocoa
225g (8oz) Dark chocolate

Right, first off grate the dark chocolate. I recommend using a blender with a grating attachment, otherwise this WILL take forever and get chocolate EVERYWHERE!
Next mix the Guiness and the cocoa together in a bowl, put to one side. Sift together the bicarb, baking powder and flour in a seperate bowl.
And in a big bowl (preferably a mixer) cream together the butter and the sugar. When creamed, gradually add the eggs. don't worry if you add them too fast and the mixture splits, doesnt really affect the overall cake

Now add the flour and stout mixes alternately to the creamed eggs/sugar/butter mix.... do this with the mixer going... but be careful not to spray it in your face
Then add the grated chocolate.
Next, get a deep 8inch or ordinary 9inch cake tin, butter it (should do this before mixing really) then pour in the mixture!
Cook for about 1hr to 1hr15 at 180C degrees!

Makes a really moist, REALLY chocolatey cake

It looks almost black, this IS correct
You can make a lush icing for it too by......
Melting 175g (6oz) of white chocolate in a bowl with 175g(6oz) of butter and 1-2 measures of Whiskey. Get it just soft and mixed evenly, and when its a suitable consistency spread it on the cake. This too is epically awesome.
Recipe from my mum, think its a slightly modified Gary Rhodes one TBH.